Page 3 of 3
Virtual Brands Boom
Virtual brands, an extension of the ghost kitchen phenomenon, add another layer of complexity and opportunity to the burgeoning digital-first restaurant universe. Facilitated by production-focused ghost kitchens, concept-focused virtual brands are fast becoming the next frontier. Existing only online and in apps, they bypass the whole messy, expensive, risky and time-consuming process of developing traditional restaurants in traditional buildings with traditional marketing. It's a novel idea that's taken off during the pandemic as a way for ghost kitchens and brick-and-mortar restaurants, alike, to create new and diverse revenue streams and/or to test targeted menu concepts with minimal additional investment.
Source: Datassential Virtual Brands & Ghost Kitchens Report, January 2021"There are a lot of opportunities with virtual brands," notes Mike Kostyo, trendologist at research firm Datassential. "They allow a brand to target a particular demographic with laser-like precision, to use excess kitchen capacity, to test trends and items that may make it on to the main brand menu, to cross-utilize ingredients across concepts, to target particular dayparts and do it all with low startup costs. Their growth is also self-sustaining in some ways, because they create more competition for existing brands, which forces them to create their own virtual brands to compete."
Consumer awareness and general acceptance of virtual brands is quickly increasing, Kostyo adds. Last October, for instance, Datassential research found that 35% of consumers said they'd heard of virtual brands. The same question was asked this March, when 50% of respondents said they were aware of virtual brands. "That's a remarkable increase in less than six months, particularly for a category that by definition is somewhat hidden from consumer view," he notes.
Big third-party players in the virtual brand space include C3 (Creating Culinary Communities), a spinoff of global hospitality firm sbe Entertainment Group, which owns and operates restaurants, nightclubs, and other hospitality properties around the world. Founded by Sam Nazarian (see Q&A here) in 2019, C3 focuses on offering multiple virtual, chef-driven brands with limited but very distinct menus, all internally owned and operated, from a single kitchen. The fast-growing company has targeted its initial ghost kitchen development in retail centers, hotels and food halls.
Another is Virtual Dining Concepts (VDC), co-founded by Robert Earl, former CEO of Hard Rock Café and current chairman of Planet Hollywood International and Earl Enterprises, whose portfolio of restaurant brands includes Buca di Beppo, Earl of Sandwich, Chicken Guy!, Asia Street Eats, Brio Italian Grille and Bravo Italian Kitchen. Big in the brick-and-mortar world, Earl and his son Robbie, VDC's president, are going big in the virtual brand space as well. To date, the company touts nine concepts, some internal and several developed in collaboration with celebrities, including Tyga, Mario Lopez, Mariah Carey, Pauly D and YouTube star MrBeast (Jimmy Donaldson). VDC also serves as the engine driving Flavortown Kitchen. This delivery-only brand from Food Network chef Guy Fieri now operates more than 100 ghost kitchens, and it recently added NASCAR Refuel, developed in collaboration with NASCAR.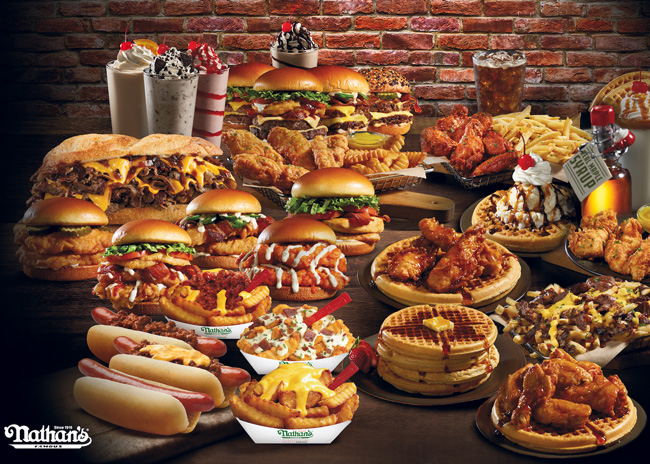 Nathan's Famous partners with multiple ghost and host kitchen companies as part of a strategic focus on making its core brand and virtual brands more convenient for consumers to access. Photo courtesy of Nathan's Famous
Nextbite, still another player in the virtual realm, follows a similar model, licensing a slate of 10 internally developed and 2 celebrity-affiliated (George Lopez, Wiz Khalifa) brands to be produced for delivery-only out of existing restaurant kitchens. The company, which launched just prior to COVID-19, reportedly has more than 1,000 kitchens in markets across the country producing its virtual brands. It's a division of online ordering tech company, which recently closed on a $120 million funding round to facilitate growth.
Well-established restaurant companies also continue to conjure up their own virtual brands, doing just what the third-party players do but keeping the process and the profits entirely internal (minus delivery-provider fees). In most cases these new online-only brands are digital offshoots that build micromenus around a single popular item or category, such as wings, burgers, chicken sandwiches, plant-based dishes, salads or nachos.
Applebee's for example, launched Neighborhood Wings by Applebee's last spring, and this February replaced it with a new, more differentiated online-only brand, Cheetos-flavored Cosmic Wings. The company says the brand will operate out of about 1,300 traditional Applebee's locations across the country. This March, Red Robin Gourmet Burgers and Brews launched three delivery-only brands — Chicken Sammy's, The Wing Dept. and Fresh Set. Red Robin also partnered with Donato's Pizza to offer that chain's products in all company-owned restaurants by 2023, and the restaurants serve as ghost kitchens offering Donato's for delivery through third-party providers.
Chili's (It's Just Wings), Smokey Bones (The Wing Experience, The Burger Experience), Bloomin' Brands (Tender Shack), Wingstop (Thighstop), Rusty Bucket Restaurant and Tavern (Cluck Norris Ass-Kickin' Chicken), Denny's (The Burger Den, The Melt Down), Dickey's Barbecue Pit (Wing Boss, Big Deal Burger) and a host of other chain and independent restaurants are jumping on the virtual brand trend as well.
Starbird Chicken has developed four virtual brands — Starbird Wings, Starbird Salads, Starbird Bowls and Gardenbird. "We run these digital, online-only brands out of underutilized space in our existing street-side restaurants, as well as in our ghost kitchens, which also produce our core Starbird Chicken menu," says Noveshen. "A virtual brand can really be operated out of anywhere. They're merely the interface that occurs in the digital world."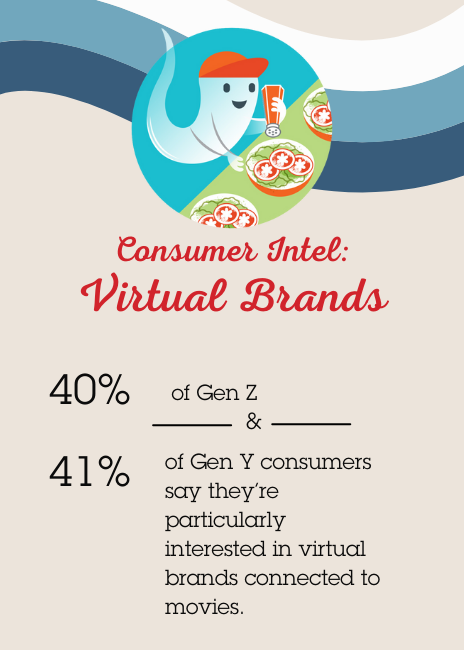 Source: Datassential Virtual Brands & Ghost Kitchens Report, January 2021While many operators choose to create virtual brands seemingly independent of and without reference to their originator or site of production, Starbird and others seek to leverage their core brand's equity in the marketplace. At the same time, they're microtargeted by category to ensure they're easily found in app searches.
Says Noveshen, "All of our brands live under the Starbird moniker or logo. If a customer is learning about Starbird Salads for the first time through a third-party delivery site, there's a certain aspect of the Starbird brand that's an overarching halo. We know it's compelling to the consumer, and we want to leverage that."
Dog Haus, another early adopter of both ghost kitchens and virtual brands, follows similar logic with a portfolio of concepts developed under its new corporate umbrella, The Absolute Brands. Since last spring, the fast-casual known for gourmet hot dogs, sausages and burgers, has introduced seven virtual brands: JAILBIRD, Big Belly Burgers, Bad Mutha Clucka, Bad-Ass Breakfast Burritos, Plant B and Huevos Dias. The menus for each concept can be produced for delivery or pickup only in brick-and-mortar Dog Haus locations, using "dark" or underutilized kitchen resources, as well as in nine separate ghost kitchens. While each microbrand has its own primary identity, all go to market with the tagline powered by Dog Haus.
"We didn't want to deceive the public, and we also felt like the Dog Haus name is something to be proud of," says Quasim Riaz, co-founder and partner (see Q&A page 26). "The packaging features the virtual brand but the 'powered by' line appears at the bottom. These new brands have no visible presence or marketing in our brick-and-mortar Dog Haus restaurants, but in the virtual world we were proud to say it came from a Dog Haus. We also knew we'd be developing more virtual brands, so if someone can see a new concept comes from The Absolute Brands powered by Dog Haus, there's some equity and trust already built up."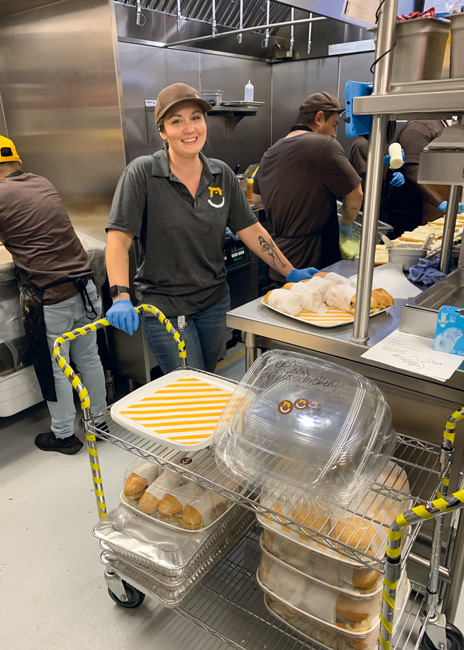 Starbird Chicken, which now has three ghost kitchens in northern California, likes the ghost kitchen model for its ability to facilitate fast expansion and testing of both markets and menu concepts. Photos courtesy of Starbird ChickenCalling his firm's new virtual brands a "slam dunk," Starbird Chicken's Noveshen says they often outsell the core brand even in street-side restaurants, in part because they are so targeted. Key to their success and to operating multiple brands from a single kitchen, he adds, has been keeping a sharp focus on simplicity and cross-utilization. All five Starbird brands run from a single line, and 80% to 90% of ingredients are used across all brands. Beyond adding a rice cooker for the bowls concept, he says no new equipment was needed.
As Starbird moves into franchising, planned for 2022, the company plans to include its proven, fully developed virtual brands in a carefully orchestrated kit of offerings. "Right now, there's a lot going on out there in what's likely a short-term quest for share of stomach," Noveshen notes. "But we think that the sales to operational simplicity to brand clarity in the virtual-restaurant world wins the long-term race."
That increasingly crowded and chaotic race will no doubt be won by a very small percentage of those entering it who are jockeying for position today. Just as in traditional restaurants, success will come down to getting the fundamentals of quality, service, value, operational efficiency and unit economics right. And just as in traditional restaurants, it's no small task to align those stars no matter how low barriers to entry may be. Those destined to win, says Walker of Nathan's Famous, will be those who "treat their virtual brands or ghost kitchens with the same tender care as they put behind their brands' brick-and-mortar locations. Those who look at this as a cheap and easy way to make some quick money won't be building anything that will last."