This past year has seen tremendous change in the foodservice industry. One thing that remains the same, however, is a continuing desire among both operators and consumers for open kitchens.
Next Step Design's Russell LeBow Stilwell designed the open kitchen at Andaz 5th Avenue with a non-territorial approach.Open kitchens (aka show or exhibition kitchens) "are not going to go away," says Leif Billings, vice president, Northeast Division, Next Step Design. Billings works out of New York. "These kitchens are — and will always be — an exciting way to make a concept come to life."
Open kitchens might even become more popular post-pandemic, as consumers crave transparency to a greater degree. Now, more than ever, people will want to see culinary staff prepare and handle their food in the safest manner possible. In an effort to maintain that level of transparency while enhancing perceived safety measures, some restaurants installed plexiglass dividers at counter seating areas to separate chefs and cooks from seated guests. It's a sign of how open kitchen design can accommodate diners during a pandemic.
Designers, however, say they don't see a full reversal on open kitchen design. Rather, what was already in the works pre-pandemic has been taken up at a faster rate. "Right now, we've focused on lasting infrastructure changes — preparing for when things do go back to normal, but making sure clients have the capabilities to provide safe, efficient operations during and post pandemic," says Joe Grijalva, associate and project manager, Cini•Little International Inc. Grijalva is based out of Los Angeles.
What also hasn't changed, both Grijalva and Billings say, is the need to collaborate with the architectural and interior design teams to ensure beautifully designed spaces also function with proper form and flow. It's about designing functional — yet artistic and experience-driven — open kitchens.
Parts of the kitchen blend in with the dining for more seamless transitions at Andaz 5th Avenue
What You See and What You Don't
Counter diners get to peek at the raw bar at The Fulton in Manhattan, designed by Next Step Design.Open kitchen designers seem to share one major practice: working backward to design out what they don't want the guests to see before deciding what will be on display.
For one, hiding the dish room, pot wash area, mop closets and dry storage remains a must, says Ryan Mikita, principal, Ricca Design Studios. Mikita works out of New York. Even walk-in refrigeration remains relegated to the back of the house, so guests don't have to hear doors opening and closing loudly.
"There is definitely some strategy to positioning elements of the kitchen in a way that mitigates unsightliness and improves the guest experience; we try to keep things functional without compromising the show," says Mikita, who relies on 3D design technology to identify and show clients all the different sightlines in a space. "Just because we're designing an open kitchen, doesn't mean you're seeing the entire kitchen."
Along those lines, Billings will often build in waist-high or higher countertops or other sightline inhibitors that block the view of floors, where food scraps and dirt can collect on a busy night, even in the cleanest of kitchens. "We call these semi-open kitchens, where there's a window into the space to see the chefs, the flames on a grill and otherwise get a feel for the energy in the kitchen, but that view is muted slightly so you don't see the messy part of cooks' aprons or the rag they used to wipe down their station," he says.
For example, at The Fulton, part of Jean-Georges Restaurants, at South Street Seaport in Manhattan, the view into the kitchen shows the open garde manger and raw bar, but a 44-inch wall comes up where the expo sits, allowing guests a view of the chefs at work and talking to each other, but only from the torso up.
Grijalva, who designs many open-air serveries and cafeterias, typically puts high-volume cooking operations and potentially messy prep spaces at the back of the house, out of view — leaving just the finishing cooking stations and featured equipment like brick-oven pizza ovens and pretty island suites out front in view of guests. In this case, the bulk of the culinary work occurs in the back — from making soups and sauces to parcooking veggies, pastas and even some roasted proteins — before culinary staff sear or carve, slice or toss menu items in front of guests just before service.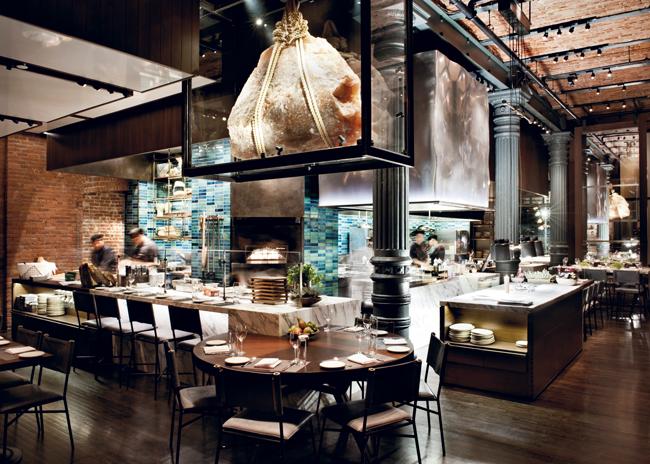 Chefs Club with Rockwell in New York NON (Next Step Design)
Ditching the Divisions
The Market at Comcast Technology Center in Philadelphia, designed by Cini•Little International Inc., features a wraparound action. cooking station.Billings credits Next Step Design's founder Russell LeBow Stilwell, FCSI, for developing the firm's signature open kitchen design method that he refers to as "non-territorial kitchens." Andaz 5th Avenue and the now-closed Chefs Club, both in NYC, represent good examples of this design. "There's a kitchen, but it blends in with the rest of the dining room because of the placement of furniture and custom millwork that would otherwise have just been shiny stainless steel," says Billings. "It's more integrated with the rest of the interior design, and there is not always a hard line between counters and seating, so it almost feels like you're eating at a kitchen island in someone's home." No harsh heat lamps here, the "soft line" at the chef's pass will feature decorative lamps that also function to hold food warm.
Billings says accomplishing this design remains a matter of working closely with architects and interior designers to play with lengths, depths and the height of the entire perimeter and use furniture arrangements to separate cooks from guests rather than building in harsh borders.
What remains a gray area in post-pandemic open kitchen design, Billings says, are hand sinks. "I think people might want to see them more in the future because they will feel reassured that employees are practicing good sanitation," he says. "Interior designers don't want guests seeing soap and towel dispensers, so we will have to find ways to integrate those so they're more subtle."
Dekkadance, the high-end buffet restaurant designed by Cini•Little International Inc. at Wilshire Grand InterContinental Los Angeles Downtown, features a semi-open kitchen layout.
Noting the Noise
Noise control remains an important consideration in open kitchen design. Depending on the concept, some noise can be good and add to an open kitchen's theatrical qualities. "A lot of this is working with the architect to add acoustical treatments to ceilings and watching out for harder finishes, which create more echo," says Billings. "Some noise can even be muted by good music."
Other touches, says Mikita, include insulation or light overhead shelving or other barriers at the pass to cut off noise from bouncing off the roof while still offering a view into the kitchen. Some kitchens are positioned fully behind glass barriers; but these are mostly in uber fine-dining restaurants where absolutely no noise is the best noise, and he doesn't see it being a major trend going forward.
Outside of some design work, training plays a critical role in noise control. "You can't have a team work the same way in these types of kitchens so you have to manage that process. Open kitchens are super exciting, but there is a commitment factor in terms of keeping them clean and curating what the guest sees," Billings says.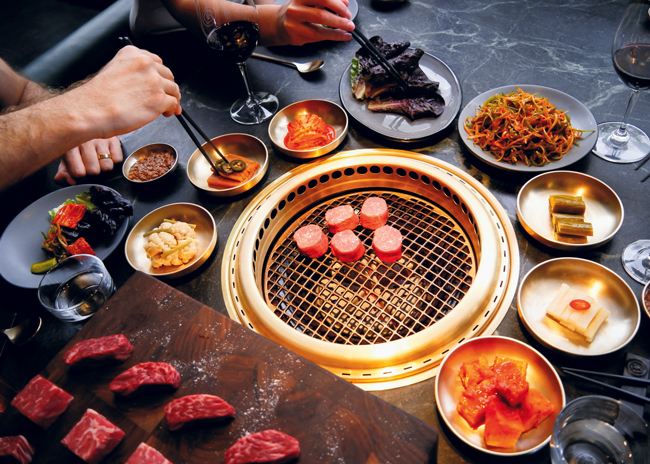 Tabletop cooking brings the kitchen straight to the customer.
Functional Aesthetics
When it comes to equipment selection for open kitchens, consider aesthetics but not to the point where doing so impacts form and function.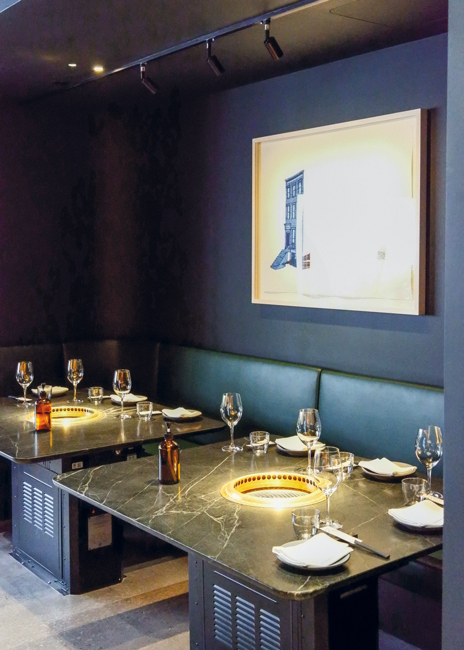 A cooking platform forms a key part of the dining experience at COTE, a Korean steakhouse in Miami, designed by Next Step Design."If there's a dome pizza oven, we will definitely showcase that," says Grijalva. "I was a chef for 10 years at a restaurant with a wood-fired kitchen — it's always fun to see that equipment and the fire from the grill at a steakhouse, for example, but of course you need the proper hood system to make sure the guest doesn't ingest any of that smoke."
Billings points out one project where his team designed a dimly lit vestibule that could both hold the wood and serve as a showcase piece for guests.
Depending on budget, "clients may want to upgrade to custom cooking suites, or at least create their own suite by using pieces from a singular brand so everything looks put together like one unit," Grijalva says.
Paying attention to transitions between front-of-the-house and back-of-the-house spaces represents another important design element. Swinging doors of years ago have since been replaced mostly by architectural barriers in the form of walls and passageways that might involve "a quick turn through a wing detail," says Billings. "You can also use finishes and lighting to darken the transitions from front to back."
Working with height can also create natural barriers. "You might get a little light bleed from the back, but we try to mitigate this through dropped ceilings," Billings says. "For instance, the back of the house might be 8 or 9 feet, but we can create a 6- or 7-foot vestibule that buffers both light and sound from the back-of-the-house kitchen."
In the immediate term, Billings says he's seen some restaurants install plexiglass barriers at the chef's counter of restaurants while indoor dining remained restricted, but he doesn't see these becoming permanent fixtures in the long run.
For Billings, therefore, it's back to basics when designing chef's counters and other up-close seating. "You have to be careful how you position the seating because this is the busiest part of the kitchen where food is landing," he says. "We like to take advantage of the corners of the kitchen pass so the guest can have a view into the action but doesn't feel like they are going to get knocked into or be in the way."
The Fulton, for example, features ample countertop seating but also designated pickup points for kitchen staff with ample separation from the guests. "Ideally, I would centralize the pickup window in the middle of a line and place seating on the wings," Billings says. Another alternative: Install a line of counter seating with the chef directly in the middle grabbing food from a kitchen pass just beyond that for serving guests directly at the counter or placing food off to the side for pickup into the dining room.
In the post-pandemic world of kitchen design, one thing will surely persevere: our addiction to hospitality and the show of foodservice. For designers, Mikita says, "it's still all about the flow."