Many feel the world has almost made it through the rocky pandemic period and can see the outlines of a once dimly glimpsed future becoming clearer. It's been a wild ride for the restaurant industry. The rise in off-premises dining, the growth of third-party delivery services, the proliferation of ghost kitchens and the explosion of mobile ordering represent long-standing trends that went into overdrive as restaurants strove to survive.
Post-pandemic, restaurants will compete to serve different consumer needs in different ways, with a glut of operations in some areas and a dearth in others — so rapid change will likely continue.
"QSRs and some parts of fast casual were the segments that did well during the pandemic because their service style and products were in much higher demand," points out Don Fox, CEO of Firehouse Subs, based in Jacksonville, Fla. "Right now, we're dealing with an environment in which there are by some estimates 100,000 fewer restaurants than before, a reduction of perhaps 15%. Now, supply and demand are out of whack; there's lots of consumer interest and fewer restaurants available, and that's going to play out in favor of the operators that are open today. It will take a long time for that 100,000-restaurant void to be filled."
The Nation's Migration
"There's a massive realignment of the restaurant industry going on, including geographically, from urban to suburban areas," says Dave Henkes, senior principal at foodservice research and consulting firm Technomic. "Companies like Starbucks closed city-center locations, and some of those closures will be permanent. Central business districts are not going to support the number and types of restaurants they had pre-pandemic. People will go back to the office at some point, but it will look different. So restaurants are focusing investment in being where people live, not where they work."
Mark Rossi, founder and CEO of Avanti Restaurant Solutions, a Southern California-based foodservice equipment and supplies dealer, thinks it will be at least a couple of years before the QSRs and fast casuals that exited central business districts return or are replaced by others. Some that survived have been radically repositioned. Downtown restaurants that did 20% or 30% of sales in catering business meetings "looked like heroes" when the workforce was dense "but were hurting more when catering came to a close," he notes. "That being said, they were also set up reasonably well for pickup and third-party delivery service for people living in the city, once they figured out ways to accommodate those takeout orders on a secondary line so as not to interfere with walk-in business. The business model was going this way anyway, but the pandemic put the accelerator to the floor."
New Unit Economics
"There will certainly be more presence of LSRs [limited-service restaurants] in suburban areas if the shift to working from home stays after COVID — albeit some of the presence will be virtual via ghost kitchens," says Juan Martinez, FCSI, founder and principal of PROFITALITY, a Miami-based consulting firm specializing in industrial engineering in foodservice.
But the unit economics of restaurants in dense urban cores differs from those of LSRs in more spread-out suburban areas, Martinez notes. "In cities like New York, concepts did tremendous volume in small spaces, with massive peaks in and out of the lunch hour," he says. "If people continue to work at home in suburban areas, demand will be more spread out; the people who would have gone to one place for lunch when they were all working in the same building may touch 10 places now that they're working at home."
And in the work-at-home world, restaurants won't have to worry so much about the big lunch rush, Martinez says. Daily peaks will be longer and less extreme since people working at home may be able to shift their work hours earlier or later in the day and don't have to take their lunch break exactly between 12 p.m. and 1 p.m. These changes in the ways consumers use restaurants will drive restaurant design, equipment choices and labor utilization, he adds.
Martinez thinks labor will be an even bigger issue for operators in coming years for two reasons: People who were laid off and left the restaurant industry during the pandemic-driven closures may not necessarily be around to rehire and rising hourly wages will change the economics of how foodservice deploys labor. A national $15 an hour minimum wage is coming within the next few years, he believes, despite the misgivings of business owners. "That train left the station a long time ago when wages became a social issue," Martinez adds.
Restaurants typically staff up enough to serve customers during meal rush periods and utilize those employees in tasks such as prepping or batch cooking at other times, essentially spending money on off-peak labor to save on food costs. But that's less of an option when the meal peaks are not as steep. Combined with a worker shortage and the pressure of higher wages, this will lead restaurants to use what Martinez describes as more value-engineered products. "Instead of having workers plucking, cutting, baking and slicing, operators will be more likely to purchase
premade items," he explains.
New ways of cooking, holding and storing food call for rethinking equipment. "The more prep you do at the store, the more pieces of equipment you're likely to need; the more storage, the more walk-in space," Martinez points out. Conversely, restaurants that use more premade and speed-scratch items will typically require less in the way of specialized equipment, which, he notes, will certainly mean a smaller footprint.
That operating approach, however, will require some form of holding equipment. Holding time depends on the velocity of the item — how quickly it will sell after being prepped. So flatter meal peaks, typically seen at suburban units with customers drawn from the at-home workforce, equal lower velocity, Martinez explains. "You may have to order more product since you can't hold it as long without it going bad," he says.
Food-friendly technology helps operations cook and hold food for optimum quality, Martinez notes. And multipurpose equipment means culinary staff can produce food in a smaller footprint. Combi ovens, which can roast, steam and hold, represent a great example — expensive in terms of upfront purchase cost but versatile enough to replace several traditional pieces of equipment. "If I can do frying, broiling and steaming in a 6-square-foot footprint instead of 20 square feet, that helps tremendously," he says. "Equipment will be key; it will have to be more versatile, more flexible and smaller to facilitate a more streamlined execution of the concept."
Optimizing Equipment and Technology
Many restaurant companies have significantly rethought their equipment battery to better serve customers and make a profit. "In the environment going forward, there's a need for continued advancements in equipment that allow faster cooking and better holding characteristics," says Fox. "Fast-food restaurants have evolved from Big Macs sitting on a heat shield, ready to go out — what I call heat cubes filled with food — to a more made-to-order system but derived from precooked ingredients with final assembly on demand. Having the best product quality with the longest hold times you can get creates great efficiencies, and any advances in equipment should lend themselves to that."
In 2019, Firehouse Subs debuted a new store prototype with about half the dine-in space of former models (28 seats versus the previous 50) and a 25% smaller kitchen repositioned to the back of the store. The production line was redesigned for greater efficiency and fewer steps. On the new line, a custom-made sandwich steamer with a drawer takes the place of a clamshell top, reducing heating times. The new steamer and new toasting equipment have together reduced sandwich prep times by a full minute. Additionally, orders for pickup or third-party delivery now funnel from the kitchen to a dedicated pickup area, with each delivery service having its own labeled section.
In contrast to Firehouse Subs' streamlined menu, Western-themed Roy Rogers Restaurants has an unusually broad menu, with a tripartite focus on hamburgers, fried chicken and roast beef sandwiches, and thus a more complex production system and equipment battery than is typical for a quick-service restaurant. It, too, is rolling out a new prototype, with an updated store design and optimized operational layouts with a focus on speed and efficiency, particularly in the drive-thru. "We've done a ton of work on that conversion," says executive vice president Jeremy Biser. "We changed the layouts of different stations so food would flow to the drive-thru with more speed and efficiency and introduced two new core pieces of equipment."
At Roy Rogers, new-format units almost always specify outdoor seating to maximize dining options.One is a cook and hold oven that combines controlled vapor and convection to help keep the roasts moist while cooking. "It's very expensive beef, and getting higher yield and a better-quality product is something that helps differentiate us as a brand," Biser explains. The other item is a new slicer placed in view of guests to enhance the customer experience and send a message of transparency as staff slice roast beef. "Roast beef is a signature item for us, so we'll look at anything we can do to improve quality, speed and profitability for that product," he adds.
The chain also switched to a new fry dump to boost speed and efficiency, moving to make fries the last step in the meal assembly process flowing to the drive-thru or front counter for faster, more accurate order fulfillment. The separate pickup counter for prepaid mobile orders and delivery orders was enhanced with new signage to make it clear that picking up meals doesn't require going through the queue.
The Roy Rogers system now offers curbside pickup at about half of its units. Outdoor seating, already a common feature, is now a part of almost all new units. "Every brand in the industry is looking at increasing the number of options and ways consumers choose how to get food from that brand," Biser says.
What's Driving Drive-Thru
Biser says drive-thru efficiency is "critical to our current and future success." The new-prototype store features the chain's first digital drive-thru menu boards as well as drive-thru enhancements. The drive-thru optimization plan included 50 action items — "everything from changing station layouts to upgrading POS equipment to improving training systems," he says. "We redesigned menu screens to be faster, with the cashier going through fewer steps; we picked up seven or eight seconds that way. We also implemented new drive-thru timer systems in all our stores. We monitor the time it takes for every customer to place the order, how long they're in the queue, how long at the window. We put the timer data up on the leaderboard to introduce friendly competition. We've gotten total time in the drive-thru down to an average of 230 seconds from 286, which has dramatically increased our productivity and ability to process more cars through per hour."
However, the number one innovation that sped order processing at Roy Rogers, Biser says, was a POS system upgrade, allowing all stores to now accept mobile payment. The chain plans to continue to update its technology. "This summer, we're completely redoing our mobile app, which lacked some functionality that guests said they wanted, as well as our loyalty program," he says. Customers will have the ability to order and pay through the app and get loyalty points and free items.
The upgrades being made at Roy Rogers are not unusual. The fastest evolution in LSRs now and in coming years will be in the drive-thru, says Marcin Zmiejko, FCSI, associate principal at YoungCaruso in Denver.
"Drive-thrus almost seem like they were created for the COVID-19 era," Zmiejko says. "When the pandemic opened up a new niche for drive-thrus, we saw concepts like Chick-fil-A add a staff member outside to take the order and another to take payment, in addition to the person that delivers food at the window. But how long can you do that? You need to eliminate those two human beings from the fulfillment process. At the corporate headquarters of every drive-thru chain, somebody is already thinking about that — creating design documents, operational guidance, training, looking ahead to the next five years, designing processes to be ready for the next crisis situation."
Henkes agrees that we're seeing a sped-up pace of innovation. "Prototypes are changing, especially in QSRs," he says. "Chains are building units designed for an off-premises focus, adding double drive-thrus even if they're not taking out their dining rooms. And those that don't have traditional drive-thru lanes are facilitating pickup orders in other ways so that customers don't have to get out of the car. Contactless systems for drive-thru, curbside takeout and delivery are being supported with a lot of investment."
Drive-thru business will remain important; however, off-premises more generally, including curbside and delivery, will become more important to the business model of QSRs, says Martinez. Curbside service will be necessary to augment the drive-thru as the order processing of the latter is capped, he adds. More chains continue to adopt technology to alert a unit when a customer or delivery driver arrives to pick up a preordered meal. Some are going further with geofencing technology that predicts a car's time of arrival, so that time-sensitive items such as french fries can start cooking as the vehicle approaches the unit. But a system as simple as inviting customers to text the unit upon their arrival can work just as well, he says, pointing out that since many nonfood retailers, such as Home Depot, began offering curbside delivery during the pandemic and consumers now take this option for granted.
Third-Party Delivery 2.0
What about delivery? Its future "will be driven by the cost to deliver and the willingness of patrons to pay for the at-times significant upcharge, especially for concepts with lower ticket averages, like QSRs," Martinez says. "You've got to charge a ton so the third-party delivery driver can make money on an $8 order for a burger, fries and a drink. I've been surprised by how insensitive to upcharging many consumers have been. During COVID, it was so important to protect yourself that people became desensitized to the cost. Demand is going to level off — but I'm not sure at what level."
Henkes adds the pandemic provided an ideal environment to push consumers to use delivery services, "but a lot of the companies are still not making a lot of money, and the model has a long way to go" before it becomes profitable for both providers and restaurants. "There will continue to be a divergence between the in-restaurant or direct-order price and the delivery price, and consumers will be asked to pick up more of the cost," he says. Some diners will balk, he says, but others won't: "For higher-income people, convenience trumps a lot of other issues."
Perhaps more problematic than high costs is the fact that consumers blame the restaurant, not necessarily the delivery service, when there's a problem with the order. That means concepts will need to devote more attention to packaging that maintains food quality and is tamper-proof, with seals, stickers and other visual cues to reassure the customer.
Rossi predicts off-site pickup points for LSR meals will proliferate, providing consumers an attractive alternative to high-fee deliveries. "Partnering with gas stations and grocery stores to install food lockers addresses the logistics of the 'last mile' that represents 53% of the cost of delivery," he says.
Martinez says similar arrangements are already happening. For example, he notes Sweetgreen's Outpost program that places pickup stations in locations such as residential high-rises and office buildings.
Zmiejko takes things a step further and looks forward to a time when self-driving vehicles will change the economics of delivery services. "Someone is going to take the human factor out of deliveries. It won't happen next week, but there are already smart inventors looking at that," he says.
Ghost Kitchens Won't Fade Away
Ghost kitchens, which are generally not open to the public, represent another solution to the "last mile" problem, and that's why they will continue to be a fixture in the restaurant scene post-pandemic, Rossi says. "QSRs are the restaurants best suited for ghost kitchens because they have the processes, brand awareness, staffing capabilities and sales volumes," he notes. Rossi expects to see more QSRs partnering with large-scale restaurants for kitchen space, using empty retail locations for "dark" kitchens, or linking up with grocery stores. In addition to being a good way to reach consumers in suburban bedroom communities, the ghost-kitchen model may also be a good way for QSRs to penetrate urban markets where sites for street-facing restaurants are expensive and cramped, he points out.
Rossi also notes advances in equipment have facilitated ghost kitchens, citing such examples as speed ovens, ovens with multiple chambers, the move toward electric and away from gas, equipment in some applications, ventless self-contained hoods that don't require exterior exhaust, and cook-chill and sous vide systems. "You can have supreme flexibility," he says.
Henkes is watching the development of many variations on the ghost kitchen, including the third-party model of Kitchen United and the delivery company-owned DoorDash Kitchens. "There are a lot of different models in play, all of them with the assumption that delivery is going to be a much bigger part of the restaurant industry. Things will shake out, and what looks to be most successful is still up in the air," he says.
Particularly intriguing to Henkes are casual-dining companies, like Bloomin' Brands and Brinker, that operate delivery-only virtual brands out of their kitchens. "When you look at successes like Brinker's $150 million in sales for It's Just Wings, the big question is what will happen when the dining room fills up again and these kitchens can't handle the overflow production," he says. "Chains won't want to just walk away."
But Martinez thinks chains will walk away from that kind of virtual-only brand when and if it makes financial sense. "Even if the brand goes away, the price of entry is so low that you can make money and leave happy," he says. "They're really not investing anything."
Another option for chains thinking of expanding their brand portfolio is licensing products from another brand. Nathan's Famous, which licenses the right to produce items under both the Nathan's Famous label and its new Wings of New York brand, is a prime example.
Most partners purchase brand rights for both, says Nathan's Famous senior vice president James Walker. "Two successful brands add to the bottom line, help operators through difficult times in the restaurant industry, and are a win for guests," he says. "More often than not, restaurants already have the requisite equipment package in place — refrigerator, freezer, fryer, flattop grill and preparation space — and can get up and running in less than four weeks. Our partners report their topline sales to us, and because of our partnerships with delivery service providers, we can view the delivery time records and consumer feedback. We're able to track the consumer experience in a quantitative, analytical and measurable way."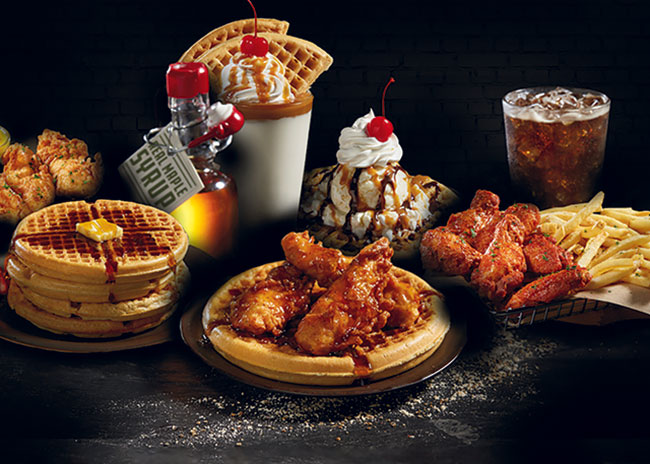 Nathan's Famous is aggressively licensing menu items from its traditional hot dog concept to other QSRs as secondary-brand fare that can be produced from its own kitchens. Today, most licensees also sign up to feature menu items from Wings of New York, which Nathan's Famous introduced last November as a virtual-only brand intended for third-party delivery.
Will Diners Return to Dining Rooms?
The future of dining in is murky, at least in limited-service restaurants. "People are going to want to return to dining out, but that will probably be manifested more in FSRs than in QSRs," says Henkes. He cautions that "overt signs of sanitization and cleanliness will be an overriding factor for consumers at least for the next year."
To reassure dine-in customers that the restaurant meets the highest safety standards, Avanti Restaurant Solutions recommends signage at the counter and in the seating area explaining exactly what the operation has done to promote safety and sanitation, or even third-party safety certification that, once earned, can be prominently displayed in the unit.
New ways of getting food to customers, from drive-thru-only restaurants to delivery-only kitchens, will decrease the total number of restaurants that have a dine-in experience available to customers, notes Biser. "But in the new normal," he says, "people will want to have a place to socialize, enjoy a meal with somebody. There is still going to be a place for that in QSRs." Concepts that abandon the dine-in experience risk lowering their total sales potential, he cautions.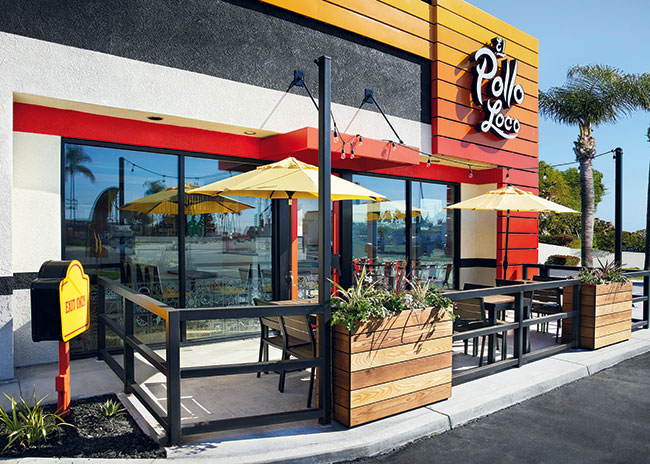 To serve new customer needs in the COVID-19 era and distinguish its brand identity, El Pollo Loco rolled out two versions of an updated prototype — one with patio seating but no indoor dining, the other with a small inside dining room linked to an outdoor patio (above)
Smaller dining rooms are indeed the way of the future, Martinez says. "They were already happening pre-COVID, but the pandemic accelerated their disappearance. They will come back, and the trend to smaller spaces will continue." The exception is outdoor dining spaces, which, he says, "have always been desired by guests. Due to COVID and some of the interesting inventions concepts have executed — like self-contained huts — outside dining rooms will become more popular, weather permitting."
Zmiejko underlines the fact that "people need places to gather, and consumers are anxious to go back to restaurants. I'm one of those people who believes we will eventually pass through the takeout-and-delivery-only phase," he says. "It's part of our culture to go to restaurants, whether they're QSRs or FSRs."