While it may take on different iterations moving forward, brunch remains a differentiator for many operators.
The reimagined brunch at Stable in Washington, D.C., may be indicative of how restaurants with closed dining rooms have had to pivot in today's environment. Rather than both weekend days, the restaurant serves brunch from 10:30 a.m. to 2:30 p.m. only on Saturday. In the past, this menu contained 4 types of fondue, 14 main courses and 7 appetizers. Today, Stable's pared-down menu includes a cheese of the week with bread and pickles, scrambled eggs with bacon, smoked salmon with bread and salad, chocolate French toast, and two takeout cocktails — Bloody Mary To Go or Make Your Own Mimosa.
"There are two groups that value brunch," says Ray Camillo, CEO and founder of Blue Orbit Restaurant Consulting, based in Atlanta. "Full-service restaurants that serve lunch and dinner can add this daypart to increase sales, and for customers, it's an emotional decision and a social event. The value of brunch depends on the value of the brand. If customers trust the restaurant for a fabulous lunch or dinner, they may give it a shot for brunch."
According to Chicago-based Technomic's Ignite consumer brand metrics data, which tracks usage and guest experience across 150-plus U.S. chains, in the period from the third quarter of 2019 to the second quarter of 2020, 36% of consumers cited the better-for-you need state was in play when choosing where to source brunch, up 3% from the previous year.
"There has been a trend toward healthier items for breakfast, with whole grains and more veggie-based products, and that will continue," says Chris Bigelow, president of The Bigelow Cos. Inc., based in Naples, Fla. "COVID-19 won't change that."
According to Technomic's report, adult beverages also maintained relevance, with 36% of those surveyed reporting they ordered a drink during brunch, up 4% from the previous year. The report also revealed increased competition for the brunch occasion.
Beatrix offers a number of pastry and sweets options during brunch hours. Image courtesy of Beatrix
A Different Look
In the past, brunch buffets at restaurants, hotels, country clubs and other venues were lavish, with many consisting of multiple self-serving areas, action food stations and extensive dessert options. "The buffet option is obviously gone for now," says Bigelow. "The bloody mary bar will still be a staple with bartenders adding the different ingredients and garnishes."
Currently, most traditional buffet brunches have been replaced by a la carte brunch, although with a substantially smaller menu. "Many operators are reducing their menus due to the logistics of serving and socially distancing in the kitchen. It's a combination of trying to organize the back of house and figuring out how much volume you can do," says Bigelow. "Restaurants are keeping their best sellers and dropping fringe items off the menu; some are including unlimited desserts as a brunch benefit."
With restaurants mandated to either limit capacity for on-site dining or solely provide for takeout, curbside or delivery service, the reduced volume serves as another reason for consolidated brunch menus. Along with reduced volume, maintaining food quality when delivering brunch items represents one of the biggest challenges this segment faces in the current operating environment. "There aren't too many breakfast items that travel well," says Camillo. "Cheese grits or oatmeal cannot be [delivered] and be very good. Eggs over easy get cold fast, and toast gets soggy."
While the convenience factor is big for the breakfast segment, the same can't be said for brunch. "Operators have built the breakfast model to be fast and converted a giant chunk of labor to takeout windows," says Camillo. "Brunch is a social event."
As a result, the proliferation of breakfast offerings from fast-casual and QSR operators has negatively impacted the brunch segment. It's difficult to compete with a quick breakfast sandwich from the drive-thru. "Eggs Benedict to go is not as feasible, although breakfast cocktails and value add-ons like cinnamon rolls are appreciated by brunch customers." says Bigelow.
Bigelow predicts brunch buffets will continue morphing into full-serve food stations, with chefs manning the line behind food guards. Instead of serving themselves, customers will point to items and ingredients as the chef fills their plates before handing it over. "We haven't had any requests yet in terms of back-of-house alterations as operators are taking a wait-and-see approach," says Bigelow. "Many have already reconfigured buffet equipment [to full-serve stations], and some are interested in items that enhance sanitation, like new UV hood systems and anything that's hands-free, like sinks and paper towel dispensers."
As the fourth daypart, Camillo says brunch offers an opportunity to increase sales. Also, because it is typically a social event, this segment may serve a utilitarian purpose. "If it's a great breakfast you can't get at a chain, then you're on to something," he says. "Especially if an operator can crack the code for getting good brunch items in people's cars."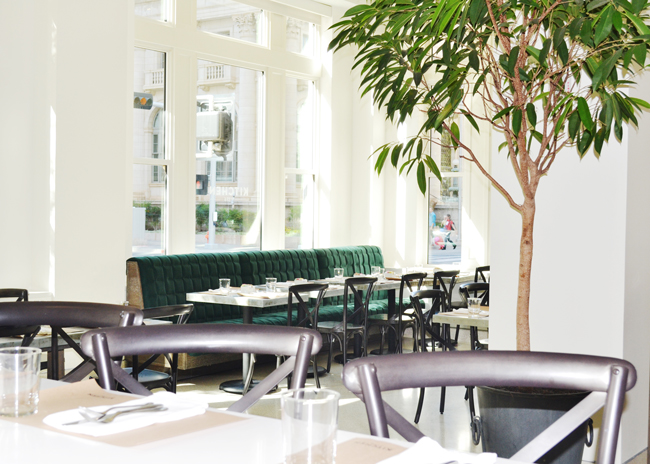 Kitchen No. 324's seating capacity reduced its seating capacity due to the pandemic; more customers now make reservations for brunch.
Changing Things Up
When Oklahoma City's Kitchen No. 324, part of A Good Egg Dining Group, opened seven years ago, brunch was an afterthought due to its location downtown.
"However, after two weeks of opening for breakfast and lunch, we decided to offer brunch on Saturdays and Sundays," says Keith Paul, A Good Egg Dining Group's CEO. "It immediately encompassed 30% of our business, even though our downtown is only about 40% occupied [with potential customers]."
The 120-seat restaurant shut down for two months during the pandemic as the curbside option was not a good fit for its business model. Now open, Kitchen No. 324 seats about 60, due to social distancing and capacity requirements, with no parties larger than 10 at a table. Its a la carte brunch remains a big draw.
"One thing we've noticed is our increase in brunch reservations, which were at 40% prior to the pandemic and are now at 85%," says Paul. "I'm not sure if it's due to the smaller seating capacity or today's climate. We encourage, but not require, reservations."
Kitchen No. 324's brunch menu has been pared down 10%. For example, the restaurant now offers 8 bakery items instead of 15. Slow sellers, like Greek yogurt and 9 other items, were discontinued. In one dish, the quail egg served on smoked salmon was replaced with a shaved cooked chicken egg yolk due to supply issues. "We've tried to simplify things as much as possible without jeopardizing the soul of the restaurant," says Paul.
The new dining format and updated menu meant adjustments were necessary to Kitchen No. 324's back-of-the-house staff. Instead of having a dedicated baker, this staff has added general food prep tasks to their responsibilities.
"We've found by trimming down the menu, 15% less staff is needed to run the kitchen," says Paul. "A smaller menu also helps with waste, since we're not ordering as many different items but instead keeping dishes that have similar ingredients. We've always tried to simplify our menu and focus on what we do well, so we'll most likely keep it the same."
The restaurant is known for offering unique twists on traditional dishes — fried green tomato eggs Benedict; green eggs and ham with a poached egg; and a Brussels bowl with Brussels sprouts, sweet potato, bacon and poached eggs are big sellers. Its giant pancake was always a favorite but has become even more popular lately as customers seek familiar comfort foods.
Although only available for those who dine in, breakfast cocktails are popular. For brunch, one of the most popular is the Prairie Mary, a bloody mary made with yellow tomatoes.
Kitchen No. 324 now offers delivery and curbside pickup options, although the latter only comprises 5% of its business. "Our full menu is offered for takeout and delivery, but we've had to adjust our packaging to better stabilize items," says Paul. "We found bio boxes (smaller cardboard boxes) do better than the black bottom clamshell type, and the smaller the container, the better [the food quality upon delivery]. We also separate some menu components as well as entrees and sides [to maintain integrity during transport]."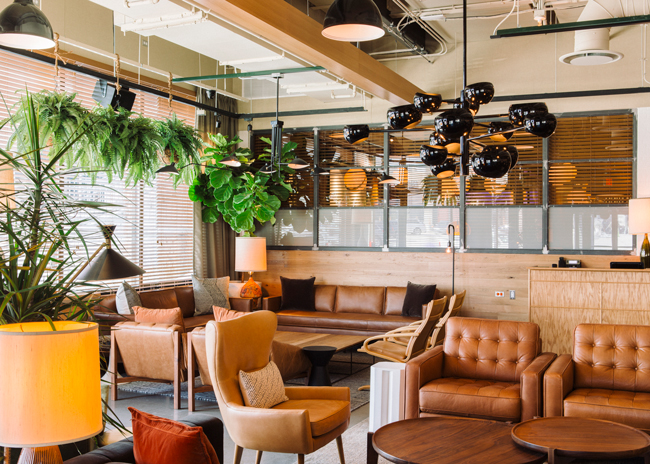 Beatrix's coffee lounge provides an alternate space for diners.
Building Back Brunch
Prior to COVID-19, Chicago's Beatrix was known for its brunch, which included an all-you-can-eat chilaquiles buffet, along with an assortment of mammoth pastries. Now operating with a limited menu, plans were being made to add brunch back to its menu at press time.
"[Pre-pandemic], we were running brunch Saturdays, Sundays and holidays, while also offering breakfast, lunch and dinner menus; it became exhausting," says John Chiakulas, chef/partner at Beatrix and corporate executive chef at Chicago-based Lettuce Entertain You Enterprises. "Coming back online from the pandemic shutdown, we realized it was too hard to work with our previous offerings, so we're going with a one-part menu."
In the past, Beatrix served 450 to 500 brunches each weekend day; now brunch hours bring in 200 to 300 guests, Chiakulas adds. In addition to the chilaquiles bar, breakfast and egg dishes, the restaurant offered a number of Mexican items on its brunch menu, such as enchiladas with kale. Egg white omelets were its No.1 brunch item. Its caramelized apple pancake was only available on weekends.
"We always talked about changing the breakfast and brunch menu, but sales were consistent on a lot of items," says Chiakulas. "We didn't have stars and dogs; it was well balanced."
Coming back online, Beatrix just brought back its managers and chefs since business was only at 10% to 20%. The restaurant only recently added its cooks back to the kitchen. "We trimmed the menu to include eggs and some dinner items, so we didn't have to flip our line or menus," says Chiakulas. "Then we realized our pancakes weren't selling at dinner, and mashed potatoes weren't moving in the morning; we didn't need to crowd the menu with items people don't order from 10 a.m. to 2 p.m. Now, we're planning to go with a two-part menu and will work on getting back to weekend and holiday brunch."
Beatrix will offer a breakfast/lunch and lunch/dinner menu. In addition to limiting its indoor dining, it offers curbside, carryout and delivery. "Brunch is a communal dining opportunity for people to get together, and we don't think they're ordering brunch to go as much," says Chiakulas.
He's not sure if the buffet will come back, so Beatrix will concentrate on including made-to-order brunch items for the time being, which are less labor intensive. "The goal with the buffet was to take pressure off of the cookline and give customers the ability to eat right away," says Chiakulas. "But [without self-serve bars] we're handling the extra pressure in the kitchen just fine."
Despite the current challenges, most agree brunch will be back. In what format remains to be seen. "I do see brunch coming back just fine, and it will be what it was," says Camillo. "There is no substitute for a really great brunch."