Recognition as an FE&S DSR of the Month is an earned achievement. This group represents individuals at the top of their game in terms of bringing in sales, expanding existing account business, managing clients and working well with supply chain partners.
When speaking to dealer sales reps about what makes them successful, many cite dedication to developing and maintaining their product knowledge, listening intently to how their customers will use those equipment and supply items, and looking for solutions before customers know they need them. Each DSR has their own unique style when working with clients. Here, each 2019 DSR of the Month shares a little insight into this all-important role
---
Sean Farrugia
January's DSR of the Month
Sean Farrugia
Account Executive
Southfield, Mich.
Customer mix: independent and multiunit restaurants
A Detroit native, Sean Farrugia has played a role in helping navigate a restaurant renaissance from the 2008 recession. The projects he has worked on helped raise the stakes in innovative design and operation, and each restaurant has its own distinct personality. He works with both mom and pops and multiunit chains, many of which play a role in Detroit's redevelopment effort.
Finding out the needs of the customer is huge part of Farrugia's approach to writing a good equipment spec. Notably, each project maintains a distinct personality. While quick to credit the operator for this, Farrugia also most certainly plays a role through his ability to realize the visions of others and effectively work toward them.
---
Vincent Chhim
February's DSR of the Month
Vincent Chhim
Sales Manager
Portland, Ore.
Customer mix: primarily independent restaurants; some schools, hospitals and other segments
Vincent Chhim relies on his notetaking skills to guide his priorities. "Every day, I take a lot of notes," he says. His daily list generally goes something like this: Which design needs my focus right now? Do I have all my orders in? What ongoing projects need attention? He contends his brain generally operates in overdrive in the mornings processing it all, in addition to working through emails, maintaining the showroom and handling other managerial tasks.
Chhim enjoys the satisfaction of putting a kitchen together from a concept to a drawing to the completed project. "I love when I create an efficient operation," he says.
When asked about equipment innovation, Chhim points to combi ovens as one piece of equipment finally coming into the mainstream. "They can be a smaller footprint and still maximize production with versatility," he notes.
---
Debbie Burke
March's DSR of the Month
Debbie Burke
(Retired) Account Manager, Southwest Region
Chandler, Ariz.
Customer mix: multiconcept operators
While she has retired since being named an FE&S DSR of the Month, Debbie Burke spent a lot of her career working with large, multiconcept operators. One thing she learned was how to develop a good smallwares package, and she ranked communication with the operator as a key component to success.
Listen to what they are looking for, Burke advised, learn about their vision for guests and go from there. Also, take the budget into consideration, she noted, adding that the best ideas in the world become less relevant if you cannot bring the customer's vision to reality. Operators today look to Pinterest, Instagram and other social media components to help develop ideas.
---
Kurt Maschari
April's DSR of the Month
Kurt Maschari
Business Unit Manager, Equipment Sales
Best Restaurant Equipment & Design Inc.
Columbus, Ohio
Customer mix: institutional projects, independent and chain restaurants; also a lot of bid work with architects
Kurt Maschari spends the majority of his time — 80%, he says — making sure the details are right. Include on that list reviewing pricing and shop drawings. He enjoys the start-to-finish involvement in projects.
Maschari likes being able to see a project start with a blank slate, work through all the design elements, guide it through the development and build stages and, finally, visit the open operation.
As he waits for things to fully reopen in a post-COVID-19 period, Maschari revisits advancements in technology, including 3D walkthroughs. He describes this as "building spaces before they are built," which helps streamline the construction process and leads to a better experience for the end user. One challenge today is that everyone wants to shrink the kitchen, he says. He's spending more time massaging the different kitchen components to ensure all the equipment will fit into the desired footprint.
---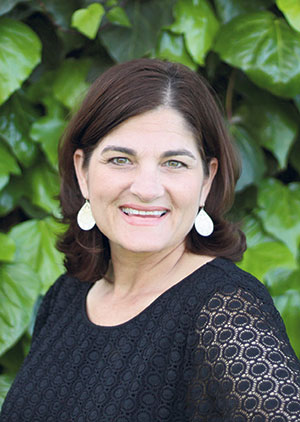 Bolt Bolton
May's DSR of the Month
Bolt Bolton
Senior Account Manager
Folsom, Calif.
Customer mix: ghost kitchens and restaurant chains
When Bolt Bolton arrives at a client's site, she immediately goes into problem-solving mode, finding out what issues exist and thinking through how she can solve them. She views herself as a "solutionary."
"I love finding solutions to problems," Bolton says. Naturally she also notes "there is nothing like walking into a job and finding that everything fits!"
Maintaining accountability for all parties involved in a project is hugely important, Bolton says. She tends
to double- and triple-check other partners' work, from manufacturers to freight carriers.
In terms of product innovation, Bolton points to induction as one form of technology making an impact today. Newer sanitation options mean an operator can forgo a floor sink, she says.
May's DSR of the Month was named the FE&S DSR of the Year.
---
Jacob Thomases
June's DSR of the Month
Jacob Thomases
Contract Design/Build Specialist
Santa Rosa, Calif.
Customer mix: independent and chain restaurants, general contractors and more
Some companies are great at innovation, but there are others that just aren't, Jacob Thomases says. There is a tendency to look at things and say, "It's always worked this way and so it should always work this way," he adds. "It's hard to answer questions from clients regarding why certain things are being done in Europe but not here."
When Thomases works on a kitchen design, he focuses first on understanding the client. Some chefs know exactly what they want, right down to a brand, he says. Others, who maybe have not been through the process before, need more direction. In both cases, he says it's important to ask the right questions and listen.
---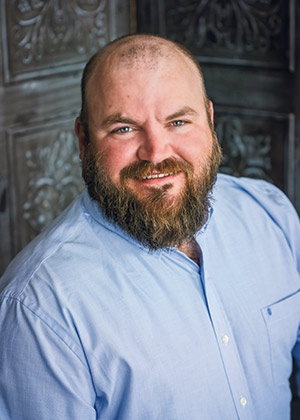 Tom Nash
July's DSR of the Month
Tom Nash
Senior Project Manager
Oklahoma City
Customer mix: stadium and arena projects, independent operators, schools and other noncommercial projects
Tom Nash notes that he used to have a year to prepare for a particular project, and now, many multimillion-dollar projects last six to eight months from bid to completion. "It seems timelines from beginning to the end of a project have gotten smaller and smaller," he says. Tight timelines are achieved with the support of personnel in the office, he notes, and a great group of installers in the field.
The tight timelines make coordination with other trades even more critical to a smooth project. Early on, Nash focuses on how an end user will use equipment, which guides him through the specification process. He also makes sure he's up front about any issues, such as an inaccurate drawing, which also builds trust with clients.
---
Lori Foerster
August's DSR of the Month
Lori Foerster
Account Manager
Kansas City, Kan.
Customer mix: chain restaurants and some independent restaurants
With a goal of wanting her customers to be successful, Lori Foerster enjoys being a critical part of both planning and implementation. She likes to make napkin drawings come to life for her customers.
Continuing education opportunities are must, Foerster says. "If you want to be the best, you must continue to study and stay up on trends, future opportunities and changes in menu design/applications." She'd like to find ways to encourage more women to become involved with large equipment sales and full contract projects and not feel limited to smallwares and tabletop as a career pathway. One of the obstacles to that, she points out, is overcoming the assumption that construction knowledge is essential.
Attending trade shows — big and small — help Foerster think outside the box for her customers, she says.
---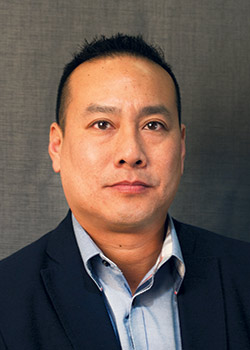 Adrian Tuck
September's DSR of the Month
Adrian Tuck
Contract Sales and Design
Vancouver, British Columbia, Canada
Customer mix: noncommercial operators, specifically the Canadian Coast Guard, Canada's Department of National Defence and
corrections facilities in Canada
Adrian Tuck spends a lot of time on the road — not uncommon for a dealer sales rep. While checking that galleys are in order on a Canadian Coast Guard boat is unusual for others, it's all in a day's work for Tuck. He's worked on a full retrofit on three coast guard vessels. Another full retrofit at a training facility happened without ever closing the kitchen. "Everything in the Canadian military is cooked from scratch, which creates new challenges," he says.
Also, military bases in Canada prepare all food fresh on base and must source local food, which creates different menus and equipment specs by region. Fortunately, Tuck enjoys the operational challenges of each project as he navigates how to serve as many people as possible as quickly as possible.
---
Craig Newton
October's DSR of the Month
Craig Newton
Equipment Specialist
Supplies on the Fly, a Sysco company
Boston
Customer mix: independent restaurants, healthcare, business and industry, and schools
Craig Newton enjoys seeing projects move from the initial phase of literally dirt through to a completed restaurant. He finds that from-the-ground-up work rewarding, especially seeing a first-time owner's vision come to life. His collaborative approach with clients works to his advantage as he offers both ideas and solutions that can push clients further on project and business goals.
New ventless equipment options have worked to Newton's advantage in client projects. Many spaces would be nearly impossible to vent, he says, or would be cost-prohibitive to redesign to fit what's necessary. He finds ventless options often allow for cleaner designs.
Looking down the road, Newton would love to consider how he can help inspire the next generation to enter the foodservice industry.
---
Tony Witts
November's DSR of the Month
Tony Witts
National Accounts Manager
Innovative Foodservice Group/Louis Wohl & Sons
Tampa, Fla.
Customer mix: primarily healthcare, with some independent and chain accounts
Tony Witts takes a very systematic approach to visiting customers, stopping by once a week on the same day so they expect him. He spends a lot of time on-site with operators and enjoys the problem-solving aspect of his job. Most of this work comes through referrals, so he does little cold calling.
When describing his approach to customer service, Witts refers to the folktale about the lion and his thorn. In the story, a man befriends a lion by removing a thorn from the lion's paw. The lion returns the favor by helping the man survive after they are both captured. The moral revolving around one good turn deserves another is something Witts carries through with clients. "Remove the thorn," he says. "Find out where the pain is, and take care of it."
---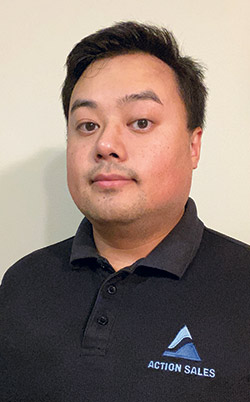 Alvin Wang
December's DSR of the Month
Alvin Wang
Sales Supervisor
Irvine, Calif.
Customer mix: independent and chain restaurants
Alvin Wang views attention to detail as an important component of customer service. The same applies to keeping an open line of communication between the customer, the vendor and the end user. Open communication circumvents problems later, he notes. Currently, as a sales supervisor, he spends most of his time guiding the sales team with their issues, distributing projects and solving problems.
In terms of product innovation, Wang points to combi ovens as one piece of equipment that has made a dramatic impact on the industry. "The multiple ways of cooking makes it very versatile," he says. Once fully programmed, staff can operate the equipment with minimal input, a big advantage. He sees trends in equipment generally centered around ease of use and smart equipment.