Safety, convenience and reduced financial risk make small foodservice operations appealing today.
When Brigham Young University opened its first micromarket in the fall of 2015, "to say it exceeded our wildest hopes would be an understatement," says Chris Moravec, general manager, Convenience Retail at BYU Dining Services.
The Provo, Utah-based campus now has five micromarkets — two for students and three in staff buildings — and all do exceptionally well. They all operate with the BYU Creamery logo "because that's a recognizable brand on campus," says Moravec.
Brigham Young University converted five former vending machine areas into micromarkets.
Micromarkets represent the foodservice operation of choice for many facilities today as customers from businesses to colleges and healthcare demand fast service, convenient locations and minimal human interaction. They may also prove a great option for foodservice operations looking to reopen with limited capacity in the wake of the COVID-19 pandemic.
Total revenue at micromarkets in the U.S. was estimated at $2 billion in 2018 — double the sales of just two years prior, according to foodservice consulting firm Technomic. While this rate is expected to decelerate, micromarkets will remain very popular, says David Henkes, senior principal at Technomic. "The range of products they can offer is greater," he says. "It really is on trend with giving the consumer more choice; they're not just limited to what's in the vending machines."
Micromarkets, says Brett Daniels, project manager with Camacho Associates, Atlanta, have "increased exponentially in the last several years. They have less labor and more profits."
Four of BYU's five micromarkets are in spaces that formerly held vending machines, so they're small. The first one opened in a new housing area at just 15 feet by 15 feet. When the university's vending areas switched to micromarkets, sales jumped anywhere from 75% to 400%, Moravec says.
The definition of a micromarket can vary. Some define it as automated with vending only; other variations offer freshly prepared food.
Daniel Roberts, associate principal, Webb Foodservice Design in Anaheim, Calif., sees three tiers of micromarkets, which can range from 300 square feet up to around 1,200 square feet. The largest typically has an elevated barista program, some hot items and freshly prepared food by an on-site employee; the middle level likely has specialty coffee and maybe other beverages like kombucha "that elevate the program," he says; and the lower tier is mostly vending machines and reach-in coolers with packaged food only.
Ford Motor Company, which is headquartered in Dearborn, Mich., has 89 micromarkets across the U.S. and Canada, which will soon be run by Aramark. The contract foodservice operator plans to eventually reveal a new brand, but for now, Ford's original Markets branding remains.
The standard setup for micromarkets at Ford Motor Company includes at least two reach-in coolers and a merchandising unit.
Health and wellness are a big push at the Ford micromarkets, says Mark Freeman, Ford's global strategic foodservice manager. "That's always a challenge at an industrial site where people are more used to chips and hot dogs," he notes of the shift toward healthier fare. Ford's micromarkets measure around 400 square feet and feature reach-in coolers with between two and four cooler doors, multiple shelving units to display product and, where possible, what Freeman calls "bump tables" in the center, which merchandise healthy products. Less healthy products are intentionally more difficult to find in Ford's micromarkets — a soda might be on the bottom shelf of a cooler in the back, for example.
Sodexo has its own version of micromarkets, which the contract feeder often brands as The Market or The Hub. This concept has evolved significantly since its inception eight years ago, says Shawn Murphy, product development director for Sodexo. "Staff in healthcare and B&I want something more than vending, and the experience is greatly enhanced when you switch from that to a micromarket, which includes 24/7 access to healthy and fresh offerings," she says.
Sodexo is considering converting some cafes to micromarkets to make facilities more post-pandemic friendly when buildings may be only operating at quarter capacity. "A micromarket allows businesses to offer something on a smaller scale and be available 24/7," Murphy points out.
Micromarkets provide a smaller-scale option versus a cafe, something Sodexo believes may prove a good option for office buildings that may no longer have pre-pandemic volumes.
Equipment Considerations
The right equipment in a micromarket is important to make visits as easy as possible for guests. "Less steps means more sales," says Daniels. "People are inherently used to instant gratification, so if you have a refrigerator someone has to open a door to beside an open-air merchandiser, the open-air merchandiser will sell out first."
Reach-in coolers represent the main equipment in BYU's micromarkets, all of which have glass doors except one, which has a cooler with air curtains. Three more micromarkets yet to open have temperature-controlled coolers that lock people out if the temperature gets too high so customers aren't buying compromised products. Moravec expects to see more of these temperature-monitored coolers going forward.
The largest of BYU's micromarkets has shelving in the center for peg bags, but the other markets have shelving against a wall, which includes baskets containing items like seasonal treats, bananas, newly released items, snacks and candy. "If we put out seasonal candy and treats — particularly in the housing area market — it sells like crazy," Moravec says.
Items intended as impulse buys are placed next to the cash register. "Any time you're paying in a noncash way, it's not as real as using physical bills, so it's easy to grab one more thing," says Moravec.
Freeman finds impulse sales vary at Ford. At the industrial sites, it's more of an in-and-out experience, while office workers have more flexibility to browse. But he's trying to reshape impulse buys. "In our new model, that's what we're trying to disrupt — putting these bump tables in to stop people and make them look down and see the healthy option."
The micromarkets at Ford include more foodservice equipment than BYU micromarkets. Most of the micromarkets at Ford include microwaves, and some have coffee machines, though the plant is moving toward free coffee for employees on each floor of the buildings. And Freeman is considering adding a technology element, like an automated salad machine, which could dispense customizable fresh salads, grain bowls, breakfast bowls and snacks. He's also looking at an automated restaurant version of a noodle concept — basically a ramen noodle vending machine. "Some of that high-end vending is starting to shift to make it more advantageous for the operator," he says.
Sodexo's micromarkets mostly have coffee stations, which are operator-branded with millwork and other aesthetics. They generally include microwaves, and larger stores might even have soup wells and a high-speed oven.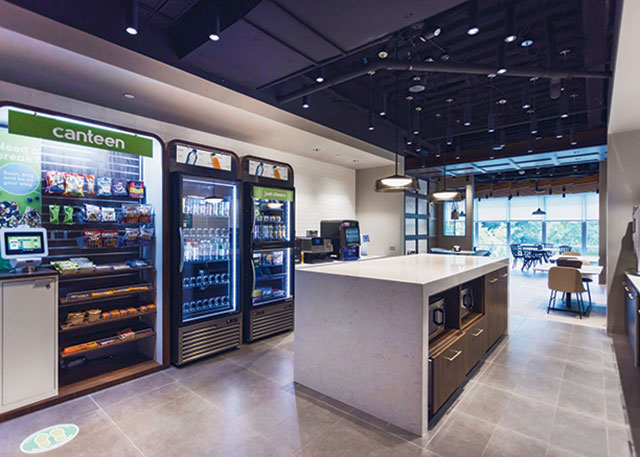 Operators may have more interest in contactless micromarket options post-pandemic, like this one from Compass Group.
Technology Front and Center
Technology is a vital component of micromarkets. "They couldn't exist without technology, and technology is going to continue to be a driver for this — primarily payment technology but also inventory and back office," says Henkes. "Without technology, they're just small convenience stores."
The biggest challenge with the micromarkets, says Moravec, becomes the limitations of technology. "Because we've done this at a grassroots level and are using the registers we use at all levels of foodservice, it doesn't let us see shrinkage or product movement as much," she explains. It would be ideal if the micromarkets were on their own system, she adds.
The technology must be easy for customers, says Daniels. If a customer has to download several different apps and sign up for accounts to interact with the vending machines in a micromarket versus just walking in and grabbing what they want, they're not likely to do so, he says. "You're excluding a portion of the population that refuses technology. It should be a mix of both."
Speed is of the essence of Ford's micromarkets; plant workers have 26 minutes to leave their workstation, buy lunch, return and eat it. Freeman is contemplating phone ordering for micromarkets, which could include delivering food to employees, maybe via robot or bicycle, or having them retrieve it from a locker with a QR code. "It would give them time for their lunch so they can actually enjoy it," he points out, which adds to their health and well-being.
The COVID-19 pandemic may have accelerated the adoption of some technologies, Freeman says, such as facial recognition, which allows customers to select their purchase and leave quickly. "I think that's coming, and it's coming quickly," he says. "The more physical touchpoints you can reduce, the more comfortable the customer becomes and the more they trust you to keep things safe for them." Also, the delivery lockers he's considering will help stop people congregating in the markets, which is a bonus, he adds.
Roberts expects to see micromarkets become completely contactless, and he believes "the ability to integrate a hands-free food locker-type solution will be very important in a post-COVID-19 world." Ideally, he adds, micromarkets would have Amazon Go's Just Walk Out technology, but he thinks that's a long time off for foodservice micromarkets.
Daniels adds that micromarkets will likely rely more on video displays, which are easy to change and adapt to products and menus inside the store in micromarkets, adds Daniels. There will be more apps, too, he believes, that allow customers to pick up products from parking lots and have goods delivered. "This will expand even more and become the normal routine," he says.
COVID-19 Prompts
Foodservice contractor Aramark has taken micromarkets to a new level during the COVID-19 pandemic. It's opened more than 100 pop-up micromarkets to provide grocery necessities for healthcare workers and is now looking at making many of them permanent — with expanded offerings.
These units all adhere to social distancing, and "directional signage is implemented across locations to designate six feet of separation and customer flow throughout the space," says Mark Walker, vice president, Brand and Category Management, Aramark. Signage also helps make "customers fully aware of our efforts to maintain a clean and safe space to shop," he adds.
Micromarkets are a big help with bringing people back to work, says Murphy, because they keep employees on-site, instead of them going to an outside cafe, where they're exposed more to the coronavirus.
Sodexo is adding touchless cutlery dispensers, in-counter cup and lid dispensers, and more technology allowing for touchless transactions so customers can pay by phone or insert their credit card and not touch anything.
Compass Group's micromarket offers a completely contactless experience. To inspire confidence in the post-pandemic era, the vending machine provider that Compass Group works with plans to outfit micromarkets with foot-pedal coolers and J hooks to allow guests to open doors with their forearm. They will also feature an anti-microbial film on kiosk screens that works to kill surface contaminants.
Payment is touchless, too. Customers can scan a product on their mobile device via an app and then use their unique QR code to complete their checkout at the kiosk. And, depending on the capability of the location, guests can scan a product and complete the purchase, all within the app.
Due to the coronavirus pandemic, there have already been changes made to micromarkets at Brigham Young University, says Moravec. "Things have to be extra sanitized," she says. "We'll get hand sanitizer pumps at the doorways of all of them, and we'll provide wipes for touching the monitor for paying." She'll also add some wipes by cooler doors, she says, since some customers will not want to touch the cooler doors, especially since there's no employee wiping things down.
Payment is not much of an issue, sanitation-wise, because four of the five BYU markets only use the campus debit card. "It's a tap-and-pay system," Moravec says. "There's no need to touch anything other than your own card. The fifth market accepts credit cards but has a chip reader."
More cleaning, more signage and more touchless technology make micromarkets not just a great option for the future, but a great choice for right now.