There's no doubt bar operations will eventually spring back to life when communities allow these businesses to reopen. That's because bars have played a prominent role in American socialization dating all the way back to the colonial period. By surviving Prohibition and even the notorious fern era, bars have proven resilient time and time again. That said, when bars do come back online, bartenders will likely find the post-pandemic world to be different from the last time they shouted last call.
"People will eventually go back to restaurants because people need to eat, but bars are not a necessity," says Ben Potts, bar director and co-owner (with Brian Nasajon) of Beaker & Gray, a restaurant and cocktail lounge in Miami's Wynwood neighborhood. The duo also owns Miami's The Sylvester, a cocktail bar which closed during the pandemic. Beaker & Gray maintains some off-premises business through batched cocktails to go. "We might have to figure things out a little differently for the future."
A variety of different seating options at The Sylvester, including bar stools and couches, may prove an advantage if seating-only service becomes necessary.
Along those lines, here, Peter Vestinos outlines some key factors that contribute to excellence in bar design. He's a longtime bartender, bar partner and founder of The BarMedic, a bar design and cocktail consultancy based in Chicago. He also discusses how the COVID-19 pandemic might influence these factors moving forward. Some of Vestinos' projects include work with Sepia, Proxi and Footman Hospitality in Chicago as well as Flight Club, an eatertainment concept with locations in Boston, Chicago and West Palm Beach, Fla.
Looking ahead, Potts describes ways bars may need to evolve in a post-pandemic world.
Bar Design Fundamentals
Just like kitchen design, the design of the bar follows the menu and concept. "Is it a beer-driven or cocktail-driven concept? What is the projected clientele? What is the scope of the program, and the budget? That all dictates the equipment needed," Vestinos says.
The level of sophistication of a cocktail program and the number of seats drives how many wells to include behind the bar. "Design is often restrained by size, but I want to make sure there are enough wells to service the guests at the bar and in the dining room," Vestinos says.
Ideally, Vestinos will fight for a service bar at the back of the house to be able to pump out more drinks for the dining room without too much interference at the front-of-the-house bar, which he deems the showcase of hospitality for a restaurant. Post-pandemic, if more people are imbibing in the dining room because it's easier to maintain social distance there than at front bars, the use of these back-end service bars may increase even more.
Vestinos remains impressed by the service bar at Three Dots and a Dash, a tiki bar operated by Lettuce Entertain You Enterprises in Chicago. That bar backs up against the main, front bar with a pass-through window for drinks that servers route to tables. There's even an expeditor who fulfills orders on a kitchen display screen, as well as space for servers to garnish their own drinks. Shelving underneath this counter offers extra, out-of-sight storage.
Flow, Flow, Flow
When no back-of-the-house service bar exists, position the service bar at the front, Vestinos recommends. Ideally, the service well will sit at the end of the bar closer to the dining room or server station. That way, servers have ample space to pick up their drinks without bulldozing guests at the bar. "The strongest pressure points in a restaurant are the pathways to the bathroom or where customers enter — they naturally gather there," he says. "If we can define the service well space as much as possible and maybe face it in a separate direction or put it behind a semi-wall, all the better."
Next comes speed. "I am always thinking about how to make those wells as efficient and independent as possible, so you don't have bartenders sharing equipment or taking unnecessary steps behind the bar and they can make drinks faster," Vestinos says. He's also a fan of double liquor speed wells to hold more bottles or enable quicker pickup versus along the back bar.
Ice is another important consideration for any bar setup, specifically the type and placement of dispensers. At the bar, include ice wells large enough to hold ice that will last through busy service times, Vestinos recommends. If bartenders will manually chip their own ice for cocktails, allow room for that in the design, as well as extra space to hold specialty molds.
What You See Is What You Get
Dirty glassware can prove a common problem in the bar areas. "You need a large enough drain board by the glass washer, ideally three racks, so you don't have bartenders scrambling to put the glasses somewhere before they are washed," Vestinos says. From a guest perspective, it's a sore sight to see dirty glassware sitting on the bar, he adds. Dump wells behind the rinsing station can also take care of this problem.
Along the same notion of sightlines, Vestinos also prefers using backbar refrigeration with stainless steel or laminate doors, not the clear glass of traditional undercounter units. "If you think about it, it's like looking at someone's closet that's a disaster," he says, noting that trash containers also need to be well out of sight.
Beer taps can also cause sightline problems. Vestinos is not a fan of taps on top of the main bar, as they break up the visibility and interaction between bartender and guest and no one wants to be accidentally splashed while sitting there. "Even if bartenders have to turn their back to pour beer, I think that's better than breaking up the bar with taps," he says.
A hugely overlooked aspect of good bar design is ensuring enough storage space for linens, straws, beer bottle buckets and more. Vestinos prefers extra cabinetry or undercounter shelving — whatever he can build in to hold those items but still keep them hidden from guests' view.
Storing Wine and Beer
Many restaurants and bars overlook proper wine bottle storage. Vestinos prefers using a mix of undercounter refrigeration or even refrigerated drawers with their own temperature settings for holding white and red wines.
When it comes to beer, Vestinos avoids putting kegs behind the bar, opting for a separate keg room with long lines, or simply offering cans and bottles only. "The cost of a smaller keg per ounce is the same as a bottle, so it's not worth it, and they don't look good behind the bar anyway. Plus, every couple of weeks beer lines have to be regularly cleaned and maintained. Unless the concept is heavily beer-focused, I don't recommend kegs at the bar."
Potential Bar Changes
Potts is considering possible tweaks to bar operations and design in anticipation of operating in a post-pandemic environment. Reducing or preventing customers from standing at the bar might prove one big change down the road, he says. "One idea that might be appealing to guests and also safer for them, at least initially, is to switch to a seating-only setup. This was something that was popularized in New York and other cities in the early 2000s, when some cocktail bars took reservations in order to limit standing-room capacity." Because The Sylvester has many different seating options, including bar stools and couches that fit groups of two, four and six, Potts feels the operation will have an easier time considering seating-only service as part of our future strategy.
Beaker & Gray started to offer batched cocktails and cocktail kits to go when shelter-at-home orders disrupted on-site service. Batched cocktail offerings include spicy passionfruit margaritas in servings for four or eight people. Consumers simply pour the drink over ice. "We also make a batched Manhattan with about 15% to 20% cold water dilution to mimic how the cocktail tastes after it's been served over ice," Potts says. "Right now, we are using traditional, plastic deli quart containers, but something we are considering and would like to be able to do in the future is to serve the cocktails in glass containers or even glass containers with cool artwork and then charge a $2 deposit to encourage them to be returned or reused, similar to old-school milk bottles." He believes batched cocktails will continue to stay on the menu, even as things open up post-pandemic. "It's a nice, alternative revenue stream for us, especially because we are located within walking distance of many residential buildings."
When on-premises service was no longer an option, Beaker & Gray started to sell batched cocktails and cocktail kits to go, and may continue to offer those items post-pandemic. Photo by Cortney Cates
Behind the bar, Potts says the focus has always been on fully equipped well stations. "This is even more important now for social distancing and reducing movement behind the bar," he says. The setup includes one station dedicated for drinks made for the dining room, which is designed identically to two other stations so that the service bartender can be part of the bar team if necessary, and vice versa. Designed for high volume, each station includes everything necessary to make the most popular drinks on the menu. "So, all of the beakers, the syrups, the muddlers, the shakers and the sinks are all in the same spot at each station to make everything interchangeable," he says. "We also make sure that the drink rail is at least three feet away from the backbar and coolers so there is plenty of space behind the bartenders should they need to move around for anything."
Even before the pandemic, Potts felt confident in how staff maintained cleanliness. "All of our bar tops are perforated so there is no standing water or alcohol on the bar, and everything is dry and clean," he says. "All of our sinks have foot petals, and there are glass rinsers at every station. We also added a trash can and cutting board to each station, and each well has built-in refrigeration next to the ice bin to keep ingredients and juices cold. It will be more important than ever to keep things organized, clean and properly chilled."
---
Tapping into Taprooms with John Reed, CEC, CCA, AAC, Customized Culinary Solutions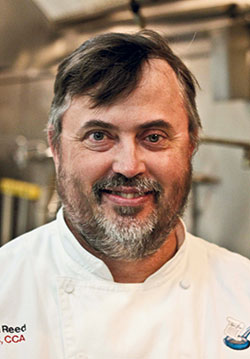 John Reed, CEC, CCA, AAC, Customized Culinary SolutionsMicrobreweries and bars that were set up for retail distribution before shelter-in-place orders went into effect had an advantage when the orders hit, which may cause some owners to rethink operations post-pandemic. "The only breweries that were considered essential and allowed to remain open were the ones with solid retail distribution," says John Reed, CEC, CCA, AAC, owner of Customized Culinary Solutions, a culinary consultancy based in Skokie, Ill. A certified Cicerone — essentially, a beer sommelier — Reed also consults with many breweries and designs taprooms. Commercial breweries require different licensing than a brewpub that only serves beer on-site and specific regulations differ by state. One of the advantages that taprooms might have in a post-pandemic world, he points out, is that they tend to be more open and spacious, setting up shop in big warehouses that allow for plenty of room to stagger.
Though most taprooms don't have full kitchens, "it's important to have good power, water, a three-compartment sink, maybe some refrigeration in the back, but there is less of a need for a hood or permanent equipment," Reed says, who prefers a pop-up kitchen approach for taprooms. "I much prefer rolling carts that fit with the decor and can be rolled into storage when not in use but that looks very much like a permanent space when in use." Case in point: One brewery with which Reed worked used a custom-fabricated, self-contained counter or buffet on heavy-duty wheels and outfitted with wells for chafing dishes as well as food shields, a built-in power strip and shelving for product.
Clean glasses are imperative for all foodservice operations, but they take on a different context when it comes to beer. "If you wash the glasses in traditional detergents, the petroleum in those products can coat the glasses, and that affects the head of the beer," Reed says. That means installing prerinse spray valves and a separate, non-oil-based dishwasher for craft beer glasses, similar to what wineries use to keep glasses clean.
Frosters and glass chillers are out, Reed adds. "What happens when you use those, the C02 in the beer attacks those ice crystals on the glass and that can degas the beer and flatten it." Frosted glasses can also cause extra foam on the head, which ends up being money down the drain when poured off. Newer brewery technology makes it possible to use longer-line systems to take kegs away from the bar and store them in a back-room walk-in. This frees up space at the bar for extra glassware and rinsers as well as bottle and can storage.