Sushi concepts and inclusion on menus keep growing across the country, as the on-trend, healthful cuisine continues to gain widespread appeal.
Bamboo Sushi's Green Machine rollSushi restaurants continue to grow in popularity in North America because of several factors, including a growing acceptance of global foods, the normalization of foodie culture and the healthful perception of this cuisine.
"In cities like Los Angeles, where sushi dining is well entrenched, the cognoscenti are seeking out kaiseki restaurants serving traditional multicourse dinners that include sushi and/or sashimi in one or more of the courses," says Daniel Levine of New York City-based Avant-Guide Institute. "These are akin to the multicourse set meals served in upscale Western restaurants, with prices to match."
Sushi appears on 8% of menus in the U.S., according to Chicago-based Datassential's 2020 MenuTrends report. Sushi appears on slightly more than 22% of fine-dining restaurant menus, with the majority being Japanese concepts, according to Datassential. The report reveals 88% of those surveyed know what sushi is, 50% have tried it, but just 37% say they like or love it.
Menu descriptors showing significant growth include create-your-own, in-house, hand-rolled and combination platter, Datassential reports. Also, sushi burritos have grown by more than six times in the past four years on menus, though they're still very underrepresented on menus overall at 0.1% of all restaurants. Most often, sushi burritos are found on fast-casual restaurants' menus.
A Vegetarian Spin
Vegan as a menu descriptor continues to rise at restaurants offering sushi, according to Datassential. "The biggest growth is in plant-based sushi offerings, exemplified by restaurants like New York-based Beyond Sushi (no relation to Beyond Meat), a growing seven-store chain specializing in vegan sushi rolls like Sweet Tree, made with black rice, avocado, sweet potato, alfalfa sprouts and toasted cayenne sauce," says Levine.
Other veggie-forward offerings at its Union Square location in New York City include Pickle Me, which incorporates black rice, pickled burdock root, daikon, carrots, avocado and carrot ginger sauce; Mighty Mushroom, which includes black rice, shiitake and enoki mushrooms, baked tofu, micro arugula and shiitake truffle sauce; and Smoky Jack, which consists of black rice, pickled cabbage, mango, hickory smoked jackfruit, watercress, mint, dehydrated olives and tomato guajillo sauce.
The growth trajectory of plant-based sushi alternatives has some operators looking at refreshing vegan and vegetarian sushi items. "Recently, London, England-based Island Poké debuted plant-based tuna, made from a base of diced watermelon that is said to mirror the texture and color of sashimi," says Levine. "Meanwhile, many companies are coming out with plant-based alternatives to fish products, including Ocean Hugger Foods vegan alternative to freshwater eel (unagi), made from eggplant, and Fuji Oil Holdings vegan sea urchin (uni), made from soy-based ingredients and flavored vegetable oil."
One fine-dining Japanese restaurant that has incorporated vegetable-forward offerings on its menu is o ya, which has locations in Boston, New York City and Mexico City. "We are a small, fine-dining Japanese restaurant born out of the creative mind of chef Tim Cushman," says Kate Gilarde, o ya's general manager and beverage buyer. "We opened 13 years ago and specialize in omakase, a style of tasting menu in which the chefs prepare multiple composed bites."
The front-of-the-house design at o ya showcases its sushi bar.
The vegetable portion of its New York City menu includes roasted beets with myoga, wasabi white soy sauce, shiso; grilled shiitake and maitake mushrooms made with rosemary garlic oil, sesame froth and soy; and tofu tempura with matsutake mushrooms. Its Boston menu offers two-piece vegetarian options such as smoked carrot, ito togarashi, togarashi mayo and dill; and a seasonal vegetable with black truffle and sake butter.
One of the unique items on the menu at o ya's New York location is its Fried Kumamoto Oyster with yuzu kosho aioli and squid ink bubbles.In terms of sushi's growing popularity, Gilarde attributes it to the global market and Americans' shrinking worldview.
"The marketplace has more plant-based eaters, so we have a strong vegetarian contingent," says Cory Schisler, creative director of the Sustainable Restaurant Group, which owns and operates Bamboo Sushi. The 11-store concept has 5 locations in Portland, Ore.; 3 in California's Bay Area; and 1 site each in Denver, Seattle and Phoenix. "Currently, 25% of our menu is plant based as the popularity of vegan and vegetarian extends outside of major cities now. People choose it due to health reasons, animal rights issues and climate change concerns."
Sushi Sustainability
With overfishing taxing oceans' fish populations, sustainability continues to be a growing issue in the sushi segment. "Fish sustainability is a conversation we have a lot," says Gilarde. "It's a challenge to understand ourselves and translate to our guests, but we try to source locally and sustainably as much as possible."
Some in the industry have taken it a step further. In 2009, Kristofor Lofgren founded the Sustainable Restaurant Group in Portland, Ore., which creates restaurant concepts committed to the environment and social change. In addition to Bamboo Sushi, it also owns and operates QuickFish, a poke concept. Touted as the world's first sustainable sushi restaurant, Bamboo Sushi's fish must pass the Monterey Aquarium's sustainability standards, which are designed to help consumers and businesses choose seafood that's fished or farmed in ways that support a healthy ocean. It provides recommendations for which seafood is best and items that should be avoided. In 2017, the restaurant group also achieved a net zero carbon footprint.
"Kristofer became aware of overfishing, bad practices on boats, the lack of traceability in the supply chain and forced labor in South Asia," says Schisler. "It has been an exciting ride to showcase what the restaurant is doing for good and as an inspiration for other hospitality businesses and foodservice as a whole."
What makes sushi unique, Schisler says, is that it is a cuisine with an international reach in terms of sourcing. "We may see fish from 12 to 20 different countries represented due to the variety of proteins," says Schisler. "But we don't source as much internationally due to the higher carbon footprint. It's important to note that sustainable seafood is not necessarily more expensive."
Along with sustainability, traceability has been another challenge in the sushi segment. "This has been an issue, not knowing exactly what you're getting or the quality, because with the international reach, you're sourcing from so many places," says Schisler. "It's not an easy supply chain to establish."
This requires some sushi concepts, like Bamboo Sushi, to research the fish, including the purveyors and their fishing practices. "It's a lot of information to take in to understanding exactly what the product is, which is a lot different than what farm-to-table restaurants have to deal with," says Schisler.
Preparation Requirements
Due to the more specialized production process for sushi, this type of cuisine requires skilled labor. "There are only so many people trained in sushi with the skills and training necessary, so in some markets, hiring sushi chefs is a challenge," says Schisler.
As a result, Bamboo Sushi trains staff who are interested in the art of sushi making. With hot items as well as cold sushi on Bamboo Sushi's menu, its restaurants are essentially operating two kitchens.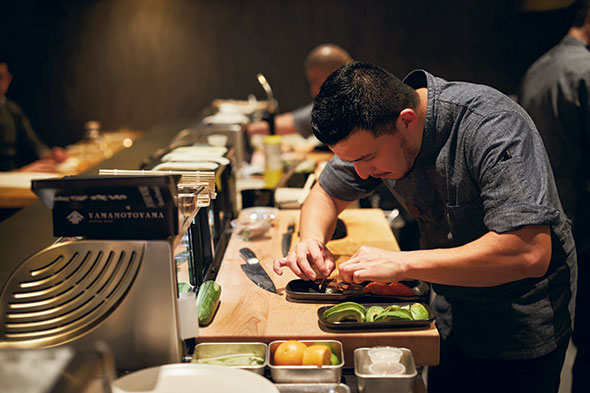 Bamboo Sushi offers to train staff who are interested in the art of sushi making.
"It's an interesting situation when you have two sets of people producing two different cuisine styles in the same space," says Schisler. "In some cases, dishes are passed from the kitchen to the sushi bar before hitting the table."
Coordinating a plate with dishes from two areas can present challenges, Schisler says, as can having two labor models in the same space. Setup varies depending on location. While some sites have an open kitchen with a sushi bar and its chef on the front end, most have a customer-facing sushi bar with an enclosed kitchen built around it in a back-to-back format. This setup utilizes a pass-thru window for passing plates that contain hot food and sushi. Kitchen teams prepare salads, burgers, steaks and cooked vegetarian dishes.
"The goal with our designs is to make sure servers can pick up items easily from both areas as there's lots of traffic back there," Schisler says. "It has taken us years to design these areas to be efficient; we don't want staff traveling far."
In addition to refrigeration, which represents the biggest equipment component, sushi chefs at Bamboo Sushi create signature rolls on sandwich boards with pans of ingredients. "We have storage drawers underneath the workspace," says Schisler. "This system of making sure product and backup product is readily available means we don't have to restock as often."
Sushi chefs up front make delicate and unique items like sashimi. They create signature rolls in the roll cave behind the sushi bar, including Bamboo Sushi's most popular Green Machine with tempura fried long bean and green onion, topped with avocado and cilantro sweet chili aioli.
As for cooking equipment, rice warmers are standard, but Bamboo's sushi rolls don't have much fried content. The back-of-the-house cookline includes a grill, a salamander and a fryer. "It's a tight and efficient setup," says Schisler. "Someone can stand in one place and have access to everything."
Excess product waste still exists with sushi, says Schisler, but it's about creating operational efficiency. "We use historical and market data, spending time with our culinary team and market leaders to avoid waste," says Schisler.
At o ya, the knives take center stage. "I think those are the most cared-for pieces of steel I've ever seen," says Gilarde. "The hangiri [a round, flat-bottomed wooden tub or barrel used in the final steps of preparing rice for sushi] and rice warmer are key to our sushi quality."
Because sushi is a specialty, Gilarde says the care that goes into sourcing, butchering and rice making must come from a place of devotion. Tenured sushi chefs butcher and prepare its sushi.
"We import a special soy sauce from Japan, offer fresh wasabi root and use A5 wagyu beef," Gilarde says. She has noticed that Boston diners, in particular, are much savvier about sushi and omakase-style restaurants now than they were a decade ago. "The expectation has changed, the education has evolved, and we are catering to a very informed public, which requires us to be all the more vigilant about all the details," she says.
---
Hissho Sushi's Grocery Expansion
Corey Wilde, vice president of business development for the sushi provider/operator, talks about Hissho Sushi's new 840-square-foot concept within a Meijer Supercenter. Charlotte-based Hissho Sushi operates turnkey sushi bars in a variety of segments, including supermarkets, universities and hospitals.
The Hissho Sushi & Craft Beer Bar inside the Meijer Supercenter in Brighton, Mich., offers both a sit-down experience and to-go options.
Q: How did the arrangement with Meijer stores come about?
A: Hissho has had a strong presence in Meijer delis with a sushi chef rolling customers' favorites daily. Customers have always been able to have their local sushi chef build the roll they're craving or grab their favorite roll made that same day so they can eat on the go.
As the Meijer deli continues to evolve into a destination for shoppers, Hissho wanted to develop a sit-down experience with an expanded menu and a local brew or glass of wine to complete the meal. This new Hissho Sushi & Craft Beer Bar is a unique, one-of-a-kind experience that customers are very excited about and have continued to return to ever since our grand opening in February in Brighton, Mich.
With this new concept, Hissho is very excited to begin offering a new line of hot appetizers, desserts and even a breakfast menu to our customers as well as pouring local craft beer from Michigan-based Bell's Brewery.
Q: What are the menu offerings?
A: Along with Hissho's innovative sushi rolls, customers will also find a full menu carrying hot appetizers, including Asian chicken wings and Boom Boom Shrimp, dim sum and an ever-changing list of craft beer on tap. We are also open at 8 a.m. every morning and offer a full breakfast menu, carrying wholesome favorites like avocado toast, acai bowls and real fruit smoothies.
Q: Any new developments in terms of ingredients and/or production methods?
A: Our Krispy Krab and California rolls continue to dominate at Hissho. They are not only a go-to for sushi lovers, they are often the gateway choice for sushi beginners.
Hissho Sushi is committed to not only making sushi more accessible but also more approachable to shoppers of all backgrounds, ages and diet preferences. For example, at our locations, our chefs are currently highlighting our Veggie TNT and Spicy Pepper rolls, which not only deliver on taste, they fulfill the health standard more shoppers are searching to find.