Once upon a time and not so long ago, hungry vegans had to avoid mainstream restaurants, cobble together meals of sides and salads, and/or feel like pariahs for requesting their orders not only be meat-free but also be prepared without butter, eggs, cream, cheese, meat stock and other animal-derived staples. Relegated to fringe status and misunderstood or simply ignored, they were rare enough to warrant scant attention from chefs and menu developers focused on the meat-eating masses.
Aramark's new Twisted Beet concept offers plant-forward takes on familiar comfort food. Its signature Eggplant Meatball Sub blends eggplant, quinoa and healthy fats to mimic the texture of beef meatballs.
That story, however, is rapidly being rewritten. Whether motivated by personal health, animal welfare and/or environmental issues, the ranks of vegans and vegetarians continue to grow. Research firm GlobalData reports the number of U.S. consumers identifying as vegan grew from 1 percent in 2014 to 6 percent in 2017. And Statista data show that younger consumers, in particular, embrace meat-free diets, with 7.5 percent of Millennials and Gen Z reporting they have given up meat. The data also shows those groups adopting veganism at nearly double the rate of older Americans.
The niche is still small, to be sure, and the strict vegan consumer remains the outlier, but the trajectory is notable. And even more notable is the rise in acceptance of plant-based foods in general — by vegans and vegetarians, yes, but also by flexitarians, those consumers simply trying to reduce their meat consumption. The National Restaurant Association's annual What's Hot survey of chefs pegged veggie-centric cuisine as among the top menu trends for both 2018 and 2019, noting that these foods are "no longer just for vegetarians." Nielsen data support that assertion: A survey found that 39 percent of Americans now say they're trying to incorporate more plant-based foods into their diets.
Lucky for them, and for the vegans and vegetarians among us, doing so keeps getting easier.
Take a look at what's happening in retail. Data released last June by the Plant Based Foods Association and The Good Food Institute show an 11 percent growth in sales of plant-based foods from June 2018 to June 2019. In contrast, the total U.S. retail food market grew just 2 percent in dollar sales during the same period. The report further notes that since April 2017, total plant-based food sales have increased 31 percent, with growth in sales of alternative meat, milk, cheese, yogurt and egg products far outpacing sales of conventional animal-based products in their respective categories.
To meet demand for plant-based menus, Sodexo has developed hundreds of recipes for meat-free dishes, such as "crabless" crab cakes made from hearts of palm, and partnered with leading manufacturers of plant-based proteins. Photo courtesy of Sodexo USA
In foodservice, vegan and vegetarian menu introductions keep gaining momentum. That's due in part to high-profile introductions of plant-based menu alternatives in what just a couple of years ago might have seemed the unlikeliest of segments: quick-service and fast-casual restaurants. Burger King, Carl's Jr., Dunkin', Taco Bell, White Castle, Dog Haus, Fatburger, Little Caesars, Qdoba, Blaze Pizza, Del Taco, KFC and Subway all have jumped on the Beyond Meat and/or Impossible Foods bandwagons, offering one or more vegetarian- and vegan-friendly menu items. Last fall even McDonald's launched a test of Beyond Meat burger called the P.L.T. (plant, lettuce and tomato) in Ontario, Canada, as it considers a North American vegan sandwich addition. This test followed the burger chain's late 2017 introduction of the McVegan burger in select international markets.
Many chains have reported significant sales bumps directly attributed to new meat-free additions. In Burger King's reporting for its third fiscal quarter of 2019, the chain credited the Impossible Whopper with driving 5 percent of same-store sales increases in the U.S., the strongest growth since 2015. Restaurant Brands International CEO Jose Cil said during a conference call regarding the chain's third-quarter results that the plant-based burger was one of BK's most successful rollouts ever, that sales were highly incremental, and that the company expects continued growth as adoption of plant-based items increases. It's now testing three new Impossible Burger line extensions.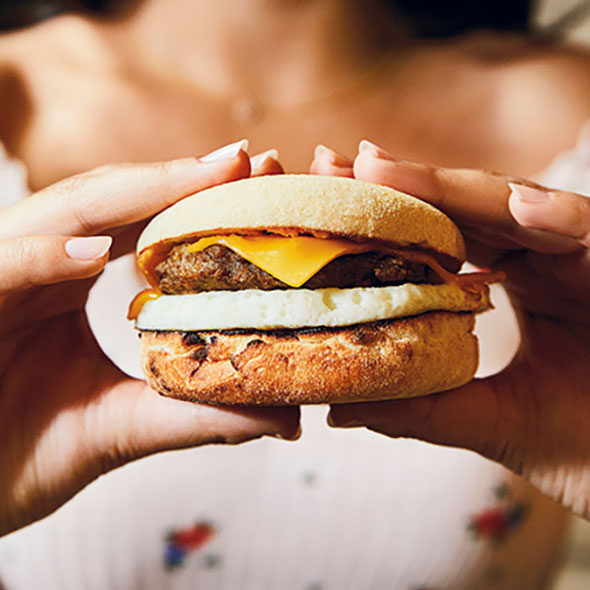 Dunkin' Donuts' Beyond Sausage breakfast sandwichLast July, Dunkin' tested a Beyond Sausage breakfast sandwich in 163 New York city locations. Sales doubled expectations, and by late fall the company had accelerated its rollout to some 9,000 units nationwide.
Bareburger, a better-burger chain with units in New York, New Jersey, Connecticut, Pennsylvania, Washington, D.C., Ohio and Georgia, has gone significantly further. In early 2019, the company debuted a new 50/50 menu, with half of all items being vegan. Now almost all of the chain's U.S. locations offer this menu.
"We'd been slowly adding vegan options to our core menu," notes Nick Bucciero, marketing director for New York-based Bareburger Group. "A couple of years ago, we added both Beyond and Impossible Burgers to our already popular house-made vegan burger choices. We quickly saw that plant-based options had grown to a third of our burger sales. We saw the way the world was going and decided to go 50/50. We also offer plant-based brats, vegan milkshakes, salads and sides, and we do number of vegan pop-up events."
Bareburger uses separate grills to cook meat and veggie burgers, Bucciero says, and has worked to bring in new vegan food suppliers who have helped with menu development and training.
Beyond Burger and Impossible Burger variations are now Bareburger vegan best sellers, he adds, along with signature options such as the sweet potato, kale and wild rice patty, and its original Rambler, a quinoa, chia and green pea patty with vegan American cheese, wild mushrooms and smoke sauce. Overall, vegan items now contribute roughly 35 percent of total sales.
Casual-dining chains continue to step up to the plant-based plate too. Concepts such as TGI Fridays, Yard House, Seasons 52, Jason's Deli, Noodles & Co., The Cheesecake Factory and Red Robin now offer big-buzz plant-based meat substitutes and multiple vegetarian and vegan items on their menus. At a minimum, most chains flag such items on their regular menus, and many offer to modify dishes on request to make them vegan.
Heading toward One for One
The action isn't limited to commercial restaurants. Noncommercial operators now make plant-based menus and concepts part of their everyday offerings in venues from hospitals and corporate dining to college campuses.
Rob Morasco, CEC, senior director of culinary development at Sodexo USA, says the college demographic has been the biggest driver in his company's aggressive moves to add more vegan and vegetarian options. "In talking about trends, for us it really all starts at the university level, and that's certainly true with plant-based. But it's rapidly pushing into other parts of the business too — hospitals, corporate dining, even senior living foodservice," he says. "Everything around plant-based, including sustainability, is the number-one trend right now. It's not going to stop. I believe we're going to get to 'one for one' — for every conventional, animal-based protein item on regular menus, you'll see an equivalent option that's plant-based. Already, most of our menus run between 25 percent and 35 percent of entrees being either vegan or vegetarian."
To bolster its plant-based, sustainable menu options, Sodexo has partnered for research, recipe development and training with the Humane Society and the World Wildlife Fund. Last August, the company also announced a new product line featuring the Impossible Burger. It includes a variety of burger choices, a sausage breakfast sandwich and sausage biscuits and gravy. And in May 2019, Sodexo announced a new licensing partnership with Veggie Grill, which bills itself at America's largest all-vegan fast-casual restaurant chain. The company expects to offer Veggie Grill as a retail option at college and university locations in the 2020-21 school year.
Other leading foodservice management companies emphasize plant-based foods as well. Aramark, for instance, cites its own research that shows that 60 percent of consumers want to reduce their meat intake and 62 percent want to eat more vegetables. Several years ago the company launched a major plant-forward initiative, and 30 percent of entrees served across its college and university dining, hospital cafe and workplace locations are now vegan or vegetarian, according to Erin Noss, director of corporate communications.
Last April, Aramark launched a new concept, Twisted Beet, which offers plant-forward takes on familiar, mainstream comfort foods. It serves up to four signature plates at branded entree, exhibition cooking or pop-up stations. Guests can choose to customize the items and pair them with complementary sides, desserts and beverages. Popular menu items include an eggplant meatball sub, which blends eggplant, quinoa and healthy fats to mimic the texture of beef meatballs; "chick'n tenders" with baked sweet potato fries, beet ketchup and beet slaw; and a Beyond Sausage plate with cauliflower mac and cheese and avocado kale salad. While not all Twisted Beet menu items are vegan or vegetarian, they can be customized to accommodate those dietary preferences, Noss adds.
Continuing its commitment to introduce more plant-based options, Chartwells Higher Education also offers items that feature Beyond Meat and Impossible Burger. And the company has challenged its chefs to create not only more plant-based recipes, but full-scale pop-ups offering meat-free dining options.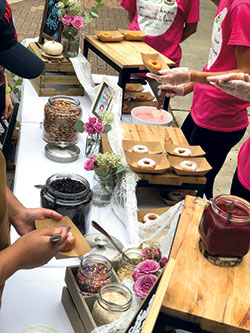 Over the past year, Chartwells' plant-based options have increased in popularity by more than 30 percent, according to Laura Lapp, vice president of sustainability and culinary services. She credits the surge to Gen Z students, who "are more mindful of what they're eating, where their food is coming from and the impact it is making on the environment."
Last November, coinciding with National Vegan Month, Chartwells challenged chefs to come up with vegan recipes and pop-up concepts. The month-long initiative generated 76 submissions and vegan experiences on campuses across the country. The winning concept: a build-your-own vegan donut and apple cider bar at the University of North Florida.
As a result of the contest, more than 100 new vegan recipes were added to Chartwells' menu portfolio, Lapp notes.
Full Disclosure?
While the groundswell of demand for more plant-based menu options is undeniable in both commercial and noncommercial market segments, there can be a learning curve for many traditionally meat-centric brands. Burger King, for instance, went from hero to goat in the eyes of many plant-based consumers when a vegan customer brought attention, via a lawsuit filed in November, to the fact that the supposedly "100% Whopper, 0% beef" Impossible Whopper patties are cooked on the same grills as beef patties and, as such, do contain some beef. It's a whopper of a lesson in PR, trust and operations that has important implications for all traditional brands marketing vegan and vegetarian items, whether specifically targeting those groups or not.
Taco Bell touts its own meat-free options and last fall rolled out a dedicated vegetarian menu board of more than a dozen American Vegetarian Association-certified items in some 7,000 U.S. locations. Like Burger King, however, Taco Bell takes a "yes, but …" stance on plant-based menu items, riding the wave of mainstream appeal but making no promises to consumers who actually care about avoiding animal products. A disclaimer on the vegetarian menu page of Taco Bell's website now states: "We may use the same frying oil to prepare menu items that could contain meat. Vegetarian and meat ingredients are handled in common, and cross contact may occur, which may not be acceptable to certain types of vegetarian diets. Neither Taco Bell, our employees, nor our franchisees nor the AVA assume any responsibility for such cross contact."
True vegans and vegetarians may not realistically expect much more from some large brands for whom investing in equipment and systems to ensure plant-based foods' integrity would be costly and slow. But as consumer awareness grows and food preferences evolve, many others keep figuring it out and investing in change. The pressure to do so will likely grow, and the same applies to opportunities for new, fully plant-based players like those spotlighted here to disrupt, delight and gain traction — not just as niche players, but as mainstream attractions.
---
Concept Spotlight: Humbl
Units: 1
Headquarters: Orlando
Concept: Vegan fast-casual
Average check: $18 – $20
A new concept by celebrity vegan chef Matthew Kenney and co-founder Paul Mascia, Humbl offers burgers, pizzas, sandwiches and salads in a fast-casual model built for rapid expansion.
Paul Mascia and Matthew KenneyCelebrity chef Matthew Kenney transitioned to a vegan diet 18 years ago. He has since developed a portfolio of more than 25 plant-based restaurant concepts operating worldwide. Several of them now share the spotlight at Plant City, a 14,000-square-foot, all-vegan food hall that Kenny and his partners opened in Providence, R.I., last June. Two weeks after that opening, he and local managing partners Paul Mascia and Eric Koeser debuted Humbl, a fast-casual vegan concept in Orlando's Windermere suburb. Humbl plans to open a second location in May in Orlando's Hall on Franklin food hall, with several more in various stages of site selection and lease negotiation.
"Now is a good time for plant-based," Kenney says. "That wasn't always the case. We were a few years ahead of the market with some of our concepts, but we really feel we're leading in the right direction with Humbl."
From a culinary standpoint, Kenney was drawn to the opportunity to reach a broader, more mainstream audience with plant-based takes on familiar dishes.
Pizzas and burgers quickly emerged as best sellers, Mascia notes. "We're seeing strongest sales of items that are similar in look, feel and concept to items mainstream consumers already know and love. Our signature Humbl Burger looks like a cheeseburger; our margarita pizza looks like a margarita pizza; our milkshakes are thick and creamy, like traditional milkshakes. We're finding that people are super-excited to be able to have this convenient, delicious, familiar experience, which just happens to be plant-based."
The Windermere unit, an endcap in a new upscale shopping center next to a high school, seats 65 inside and 25 on the outdoor patio.
Mascia notes that recent hype in the quick-service restaurant world over plant-based burgers
has helped to boost general consumer acceptance of plant-based foods, but says Humbl is clearly
differentiated. "We're not trying to compete with the Impossible Whopper," he says. "Ours is a very different experience. What we offer is a proprietary, Matthew Kenney- developed food experience and fresh, whole, natural products that are 100 percent plant-based."
Designed for rapid expansion, the Humbl model is suited to growth through franchising, licensing and/or joint ventures. The ultimate vision, says Mascia, is to scale quickly to "capture the opportunity right now in the plant-based space to deliver a fast-casual brand throughout the U.S. and internationally."
---
Concept Spotlight: Small Batch
Units: 1
Location: St. Louis
Concept: Vegetarian whiskey lounge
Average check: $21 – $25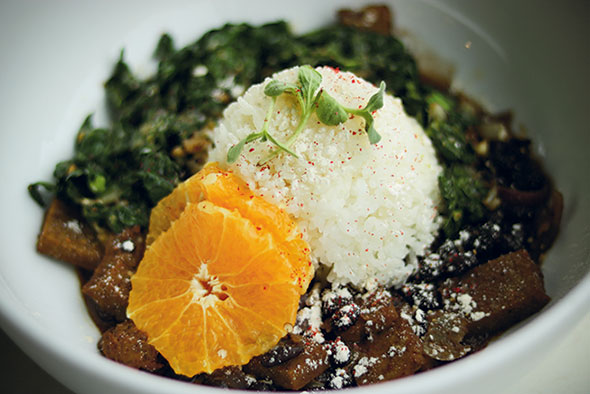 A recent Small Batch special: feijoada, a Brazilian-influenced black bean and seitan stew served with greens rice, orange slices and farofa, a toasted grain similar to couscous. Photo courtesy of Baileys' Restaurants Group
Since 2004, Dave Bailey and his team at the Baileys' Restaurants Group, based in St. Louis, have built a diverse portfolio of 10 popular local restaurant brands. In many of them, barbecue, beef and burgers figure prominently, but a full-service vegetarian restaurant was always on Bailey's radar.
It wasn't until nearly a decade later, however, that he felt the market was ready for one. "We'd had some vegetarian and plant-based restaurants here over the years, but the majority were coffee shops/cafes or solidly in the health-food niche,"Bailey says. "By 2013, I felt like the city would embrace something different, and we finally added a destination vegetarian restaurant."
That destination, still sizzling more than six years in, is Small Batch, a vegetarian whiskey lounge. The comfortably elegant space, originally a Ford Model T showroom, has vaulted ceilings, a mezzanine and seating for 100. The large bar showcases a curated whiskey list and creative craft cocktails, and the menu spans familiar and globally inspired plant-based dishes.
"People always ask why we would pair whiskey with vegetarian food, thinking heavier, meaty foods would be a better fit. But that's just not the case," Bailey says. "Our food always points in the direction of extremely flavorful, hearty dishes that can stand up to whiskey on the table. We don't even advertise Small Batch as a vegetarian restaurant. We have plenty of guests who aren't vegan or vegetarian, but everyone has a great time and a great food experience. Whiskey might get them in the door, but they leave realizing they can enjoy satisfying and flavorful food here, and that not every meal has to have animal protein."
Top sellers on the menu, priced from $16 to $18, include a number of pasta dishes: al forno (smoked mushroom, red onion, vegan cream sauce); pad thai (tofu, carrot, shitake, snap pea, broccoli, peanut sauce, cashew); and carbonara (mushroom bacon, crispy garlic, cured egg, pea, parmesan). Bailey notes that, while every item is vegetarian, they can also be made vegan.
Of the concept's success over six years, he notes, "We have people tell us that Small Batch is their favorite of all of our restaurants. I ask them if they're vegetarian, and they say no, they just like the food and the experience. That tells me we're right on target."
---
Concept Spotlight: Copper Branch
Units: 66
Headquarters: Montreal, Canada
Concept: Casual
Average check: $14 – $15
Power bowls like the Aztec are hits at Copper Branch. With brown rice, quinoa, noodles or mixed greens as a base, the dish includes sweet potato, corn and mango salsa, spiced black beans, guacamole, vegan sour cream, lettuce, beets, carrot, broccoli, sprouted mung beans, pumpkin seeds and organic blue corn chips.
Founded in 2014 and franchising since 2016, Copper Branch offers an all plant-based menu in a premium fast-casual format. In its first 5 years, the company grew to 66 units. Most are in Canada, with a few in France; the U.S. is now targeted for expansion. By late 2019, the brand had opened one unit in New York City and one in Fort Lauderdale, Fla. Several more are slated to open in Florida in 2020, according to Andrew Infantino, director of marketing and brand management for Copper Branch.
The concept is vegan, yes, but that's not how it goes to market. Rather, its tagline is simply "Plant-based power foods." That focus was very deliberate, says Infantino, whose father, Rio Infantino, founded the chain.
"Even before opening our first unit, we chose to not use the term vegan," he says. "We wanted to keep the focus on food, not on what is sometimes perceived as ideology around veganism. We feel plant-based is more encompassing and inclusive, and we try to serve consumers with different dietary needs and wants. Vegans and vegetarian are obvious targets, and a growing market, but also gluten-free consumers and people with food allergies. Perhaps the most important for us in terms of our branding and messaging, however, are flexitarians – people who might not be vegetarian, but just want to incorporate more plant-based foods into their diets. We don't preach; we just showcase delicious, chef-inspired foods that are also 100 percent plant based."
Canada's largest vegan restaurant chain, Copper Branch opened its first U.S. unit on Bleeker St. in New York City in 2016.
Copper Branch menus features burgers, bowls, sandwiches, chili and soup, smoothies and all-day breakfast. Best sellers, Infantino says, are traditional and creative riffs on plant-based burgers and "Power Bowls" that feature whole grains, beans, greens, vegetables and guest's choice of plant-based protein. Roughly 55 percent of sales at traditional units are for off-premise consumption.
"There's a misconception that vegan and vegetarian is always around salads and wraps," Infantino notes. "What we've seen is that people really want plant-based versions of familiar, hearty comfort foods."
Units average 1,200 to 1,300 square feet; and 400- to 800-square-foot kiosks operate in upscale malls and office towers. Kitchens have no fryers, charbroilers or grills. Rather, mission-critical equipment includes large combi ovens, vegetable prep equipment, blenders and high-speed ovens for heating burger patties and other hot items to order on the front line.
As the brand continues to develop existing markets and reach farther into the U.S., Infantino says a challenge is to build strong brand awareness. "With so much new competition emerging in the plant-based space, there's lots of work to do to stay top of mind," he says. "We're positioned as a leader and as very authentic. A lot of brands are just launching a vegan item or two — but our entire menu is vegan, and we were one of the first. That's our message."