Stadium food as destination dining? That is not a far-fetched notion. Selection, food quality, menu flexibility and customer service have become focal points for stadium foodservice operators. Many stadium facilities already have become food destinations, according to Los Angeles-based IBISWorld. Demand for food and beverages in this segment grew between 2014 and 2019, along with the steady increase in attendance at sports and other entertainment events.
Those consuming food at stadiums crave new menu items, according to Datassential, and also prefer shareable foods. Add to that list local connections to food. Fifty-three percent of stadium visitors seek local ingredients, according to Datassential's July 2019 report "Game On: Stadium Foods That Score Big." The big picture: Stadium foodservice trends mirror restaurant trends.
"Local is important, but so is transparency, as people want to know where their food comes from and how it's sourced," says Scott Swiger, vice president of culinary excellence at Spectra, a Philadelphia-based hospitality firm owned by Comcast Spectacor. "We continue to see plant-based items growing in popularity, as the trend in flexitarian and vegetarian diets continues."
In the last couple of years, Swiger says Spectra has incorporated local flavors and brands into venues it manages with the goal of elevating menu items. Spectra handles foodservice for the Cotton Bowl at Dallas Fair Park, Citizens Bank Park in Philadelphia and Spectrum Stadium in Orlando, among other venues.
Designing for Production Capacity
Atlanta's Mercedes-Benz Stadium, home of the NFL's Atlanta Falcons, sought to set its food and beverage program apart from the outset when it opened in 2017. The fan-friendly pricing strategy meant a higher volume of food purchases.
"We came in strong with great pricing and a value commitment, even when we hosted the 2019 Super Bowl," says Brian Lapinskas, director of operations for Levy Restaurants at Mercedes-Benz Stadium. "Our beverages are basically the same price as those at the convenience store across the street." Because of this, the stadium continues to capture additional revenue from value-minded guests.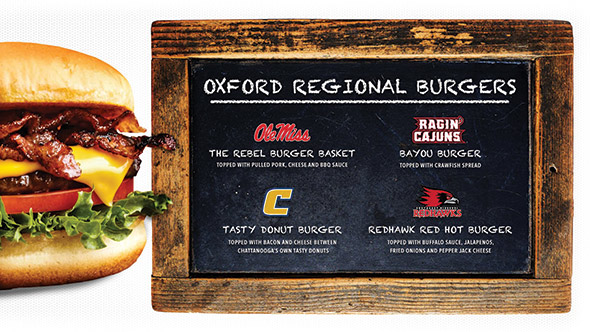 The University of Mississippi's Ole Miss Softball Complex offers a selection of signature burgers prepared by Centerplate."Building this stadium, we had to take the food and beverage program pricing into account, so production areas were designed with a greater capacity," says Lapinskas. "We discovered extra space is needed for prep, storage and execution on game day than is typical [for an operation of this type], because when hot dog prices are $1.50 versus $6, capacity has to double. Over time, we've gained a better understanding of how much we will sell and have retrofitted spaces to accommodate our equipment."
Staff prepare about 80 percent of the food sold at the stadium's 72 concession stands in its main kitchen, with three smaller finishing kitchens handling the remainder of food prep. Freezer and cooler space had to be reevaluated for concession stands, explains Lapinskas, and the team had to get creative with combi ovens in the main kitchen.
"Combis can do multiple things, and ours are firing 6 days a week for 12 to 14 hours at a time," says Lapinskas. "This has been a key piece for our success."
Menu pricing represents another key factor because these venues compete directly with pregame and postgame tailgating. "So, we are always working on our 'come early, stay late' offers for fans," says Carmen Callo, vice president – corporate executive chef for Stamford, Conn.-based Centerplate, part of Sodexo. "For the Seattle Mariners [Major League Baseball team], for example, we have one of the most successful versions with The 'Pen, a pregame hangout in T-Mobile Park's centerfield, next to the home team's bullpen."
This area opens two and a half hours before the first pitch and includes special pricing up to an hour before game time. Depending on the day of the week, The 'Pen attracts up to 3,000 people. "They come for the fire pit, various cuisine and a cocktail lounge, where this past season our local mixologist partner, Anu Apte-Elford, introduced the Magenta Mojo, a concoction that, in its coloring, pays tribute to new ballpark sponsor T-Mobile," says Callo.
Along with pricing, stadiums contend with unpredictable rush periods. "The sheer volume of how many people we are serving [sets this segment apart]," says Callo. "We are feeding tens of thousands of people in one sitting in one night, and many are coming up multiple times for more."
Visitors to the Hollywood Bowl's box seats can take advantage of eating areas and upscale fare prepared by Centerplate.
All-Inclusive Options
Stadium VIPs and season ticket holders also seek all-inclusive experiences that incorporate food and beverages.
At Levi's Stadium, San Francisco 49ers fans can now purchase a season ticket package that includes food and beverages. The menu contains more than 15 of the stadium's most popular food and nonalcoholic beverage items. The team partnered with Levy and a technology and analytics company to select menu items, which include chicken tenders, hot dogs, nachos, french fries, pretzels and other standard stadium fare.
"I see this trend continuing, as it differentiates the experience of coming to a game versus watching it at home on the big screen," says Swiger. "There is a lot of competition for entertainment, and most sporting events on a national level are not an inexpensive experience."
Many stadium foodservice operators continue to implement upgraded dining options. For example, The Bigelow Companies Inc., a sports venue consulting firm in Kansas City, Mo., worked with both the University of Missouri and Kansas State University to add club dining for stadiums on both campuses.
"Most stadium clients are looking for areas to upgrade existing foodservice, and there is an especially big push on the collegiate level," says Chris Bigelow, president of The Bigelow Companies Inc. In fact, the firm is working on a complete renovation of the food and beverage areas at the University of Alabama's Legacy Arena, adding more venting, cooking capabilities with fryers and grills, and cashless payment options.
Also like many restaurants, stadium kitchens contend with space limitations and, in older buildings, modification restrictions. This is where evolving equipment technology, specifically ventless cooking units, can be useful.
"Ventless cooking is a significant trend that we're incorporating into a number of stadium projects," says Harry Schildkraut, principal/owner of foodservice design consultant S2O Consultants, Chicago.
At an existing arena that was listed in the National Register of Historic Places, S2O was prohibited from modifying the roof, which meant there was no way to install typical hood ventilation. "We ended up designing that entire arena with ventless cooking for the concessions areas," says Schildkraut. "We're seeing a lot more of this with sports venues because it's cheaper than putting in an exhaust hood with ducted systems. It also allows us to put cooking anywhere in the building." Standard hoods were used in the arena's main production kitchen.
Labor shortages can also dictate the design of concession areas. "To deal with that, we're designing concession stands that use minimal labor," says Schildkraut. "We do this by shifting food ordering and paying to guests, giving them access to ordering terminals; in some cases, they can order from their seat with the stadium's app and receive a text when food is ready for pickup. We also are designing markets that are 100 percent self-service."
Menu Expansions
Plant-based, vegetarian and other dietary-related items continue to show up at stadiums much like at restaurants. Last September, Mercedes-Benz Stadium rolled out Garden Grill, a meatless grill stand with plant-based burgers and brats. Due to its popularity, a second stand was added. Additional foods at Mercedes-Benz includes a fried chicken program with wings and a chicken sandwich that includes lemon pepper seasoning.
More plant-based fare is showing up on stadium menus, such as the cauliflower tacos Spectra added.
Plant-based and sustainable foods remain in focus at stadium food programs that Spectra operates, including an item launched at Colorado State Stadium. "We worked with Drexel University to develop a blended burger that's mainly mushroom and 35 percent beef," says Swiger. "This is not only healthier but reduces the impact on the environment [due to less water usage compared with 100 percent plant-based meat alternatives]."
Centerplate and Sodexo teams work closely together to exchange ideas and inspire each other around dietary-related items. "Whether vegan, vegetarian, gluten-free or anything else, we are working hard behind the scenes to create new menu items that address all diets," says Callo.
In addition to menu innovation, Centerplate continues to explore mobile ordering and partnered with two technology firms to execute it at at BC Place in Vancouver, Canada. "Creating stadium-sized, in-seat mobile ordering on a frictionless scale has long served as a goal for entertainment venues across North America," says Callo.
Spectra offers a variety of unique menu items, which are becoming more prevalent in stadium venues. The Tumbleweed burger at Albuquerque, N.M.'s Isotopes Park, for example, is topped with cotton candy.
This program, which has experienced high usage rates, allows customers with smartphones to scan a QR code from the back of the seat in front of them with their device's camera app, which then launches a menu. Because these QR codes come embedded with data, when a fan orders and pays via Apple Pay or Google Pay, Centerplate runners know which seat the order came from and can deliver the order quickly. The feature is currently limited to BC Place's 1,500 club seats, but Centerplate plans to expand it. The fact that stadium visitors don't have to download a specific app is one reason Callo believes the mobile program has a higher adoption rate than some other stadium programs.
Waitstaff at Chicago's Guaranteed Rate Field, home of Major League Baseball's White Sox, use tablets to place orders. "We have a waitstaff team that works on our 300 Level seats," Marc Zuckert, Guaranteed Rate Field's operations lead. "They circulate and solicit orders, use a tablet to place orders, and food is delivered to fans in their seats." All orders include the section, row and seat number on the order ticket that food runners use to deliver orders.
"We are always analyzing what's happening in the market and whether to stay with face-to-face service or incorporate [self-service] technology," says Zuckert. "More than half of our food and beverage sales on the club level are through in-seat service, and I think it's about people being able to stay in their seat and not miss the action."
Stadiums continue to enhance speed of service with the expansion of grab-and-go areas.
"One thing all operators are asking for is how to convert traditional concessions or take other spaces and add grab-and-go options," Bigelow notes. "Concessionaires are strapped to get enough employees and are looking for anything that reduces the need for additional cashiers. When we put grab-and-go in, we're hearing sales are increasing upward of 25 percent and above versus traditional counter concession service."
Grab-and-go can even extend to stadium beer offerings. A renovation of Washington, D.C.'s Capital One Arena last year involved nearly doubling its points of sale and implementing kiosk ordering and self-service options, such as a pour-your-own-beer wall to improve efficiency and better gauge guest brew preferences.
Schildkraut sees many sports venues getting away from draft beer, which also saves on the expense of installing draft beer systems and issues with keg handling. "In a traditional concession stand, there may be three or four popular brands versus a self-service cooler, where 30 or more craft brews can be offered," says Bigelow. "Grab-and-go beer programs go after high-volume items, and cashierless checkout stations can be implemented."
Speeding up Production
Speed of service remains the focus in the majority of stadium foodservice programs.
Centerplate added robotic pizza-making technology at Seattle's T-Mobile Park for the last 10-plus home games of the season.
"[The] platform assembles up to 300 12-inch pizzas per hour," says Callo. "That speed comes in handy in places where large numbers of orders come in during a rush, such as at a stadium. We use it only in the back-of-house right now and will explore possibly expanding it more next season."
Spectra is testing two types of high-speed ovens and a multicook unit for added efficiencies and consistency. "Equipment has become smaller, faster and more precise," says Swiger. "On a concessions level, we're challenged in stadiums with minimal space and labor."
Along with smartphone app ordering, touch-screen kiosks can save space and minimize staffing requirements. "We can put six kiosks in an area where there was previously three cash registers, increasing throughput considerably," says Swiger. "We're also doing better forecasting production on the data and analytics side, so we can estimate the volume."
S2O Consultants continues to redesign cashier stations, using the same 30 feet to replace 6 cashiers with self-pay stations on some projects. "Today, 95 percent of these transactions are cashless," says Schildkraut. "With this speed of service concept, customers place their order, pay by sliding or tapping a credit card and get a receipt at one end of the counter, then go to the other end, where there are order numbers displayed electronically on the wall signifying the pickup time."
S2O Consultants has also created concession area hydration stations at a couple of football stadiums that take ice and soda off the front line. "These self-serve stations are around the stadium's perimeter wall," says Schildkraut. "Customers go for the initial fill and can get free refills."
To enhance speed of service, some stadiums are paring down menus and not cooking to order. The idea is to limit offerings so customers order more quickly and have food ready for immediate pickup.
"As customers walk down the concourse, they see burgers, hot dogs and chicken breasts being prepared behind the glass, but they're not cooking to order, only to replenish," says Schildkraut. "Food is held in a self-serve warmer and beverages are displayed in 6-foot-high air screen refrigerators."
Bottom line, more stadiums now use food and beverage as a marketing tool to sell tickets, which underscores the importance of these programs. "Reduced or free food is an inexpensive way for teams to add an amenity to help sell tickets, which at the end of the day is the name of the game," says Bigelow.