Much like a discussion of the Greatest Of All Time in any given sport, discussing the best barbecue style can evolve into a heated debate. "It is one of those few foods that holds nostalgia," says Rémy Thurston, marketing director, FS Food Group, a Charlotte, N.C.-based operator that has four different restaurant brands under its umbrella. "People recognize barbecue more in the South, but it can be difficult because the best barbecue is the one you grew up with."
What makes it even more challenging in Charlotte is the fact that only about 15 percent of its residents were born and raised in the area. That means there are many differing views on the best barbecue.
Hard Eight BBQ offers an extensive range of meats from pork to turkey.
As a result, FS Food Group established its own barbecue flair for its Midwood Smokehouse concept, which operates five locations in North and South Carolina. The menu includes Texas brisket, Carolina and Memphis ribs, and Kansas City-style burnt ends. The lineup also includes a fried chicken sandwich, which involves smoking the chicken before frying it and serving it on a brioche bun. "We don't paint ourselves into a corner, but we do barbecue the way we think it should be done, not the way a region thinks it should be done," Thurston says.
While barbecue concepts tend to be more authentic and traditional in the southern states, greater experimentation can be found on the coasts. "What I'm seeing is more of a turn toward ethnic-style barbecue, like Thai, Korean and Hawaiian, but with smaller meats," says Frank Fronda of Pilot Light Hospitality in Manhattan Beach, Calif. "Also, Brazilian barbecue steakhouses are becoming more prevalent."
As for the East Coast, Hometown BBQ in Red Hook, N.Y., offers Texas-style barbecue, smoking meats on oak wood. "Even though people are not eating as much meat as they used to, the segment is growing and interest continues in the barbecue segment," Fronda says.
Evolution of Barbecue
Barbecue tends to draw in home chefs — something 17th St. BBQ encourages. The two-store independent concept in southern Illinois holds a barbecue class three times a year that draws attendance from all states and other countries. "We are a third-generation business that has been operating since 1985," says co-owner Amy Mills, whose grandfather started the restaurant. "People come from all over the world to learn from us."
17th St. BBQ focuses on tradition with its meats, relying on predictable pits to maintain consistent menu offerings like this brisket.
In addition to focusing on whole muscle meats, prime rib and whole loins, 17th St. BBQ thinks outside the box to barbecue eggrolls, nachos, stuffed potatoes and stuffed pickles. "The core of these foods is always pulled pork, ribs, brisket, chicken and sausage — and barbecue is about wood and spices," Mills says. "People today are making their own sausage with unique flavor profiles and spices."
Experts agree that, in addition to greater creativity, meat quality has become increasingly important in this segment. "Operators tend to use higher-quality meat than they did 20 or 30 years ago, such as prime brisket rather than choice," Mills says, adding, "Where you see innovation is from fine-dining chefs who've become owners of barbecue restaurants."
At 17th St. BBQ, the menu covers more bases than traditional barbecue concepts — but not too many. For example, it offers just two sauces: original and spicy. "Within the category, there are more fruit-based sauces, such as raspberry chipotle or peach habanero, and white sauces are very popular," Mills says. "Another trend is pork belly burnt ends instead of those made from brisket. These are cubed, sauced, cooked and caramelized with dry rubs."
Hard Eight BBQ also concentrates on traditional fare at its six locations. Its first 175-seat site opened in 2003 in Stephenville, Texas, and its latest 375-seat location in Burleson, Texas, opened July 1. "Most barbecue places start in someone's backyard or a small building and grow," says Matt Perry, Hard Eight's director of operations. "There is good mom-and-pop barbecue and bigger operations like us that have taken family barbecue and elevated it to appeal to bigger cities."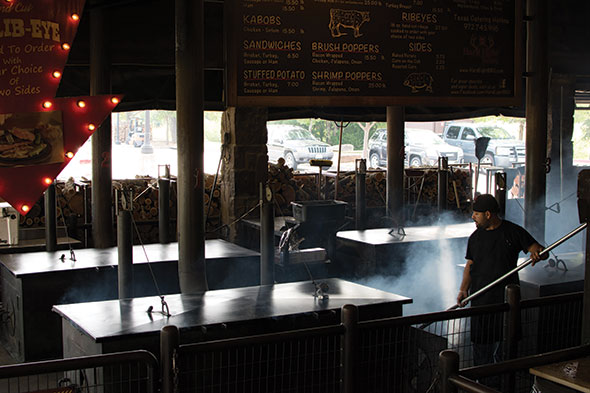 In a twist on the open kitchen format, Hard Eight BBQ customers sit in full view of the custom steel pit, where staff use mesquite wood and coal for fuel.
This applies to Hard Eight BBQ's catering department, which emphasizes visual appeal. "We see people try to turn barbecue into fine dining with immaculate plating, which we do a bit with our catering department," Perry says. "Although the menu items haven't changed, the aesthetics of this food are different, with a more upscale presentation."
And rather than relying on the latest equipment technology, it's more about streamlining in the back of the house in this segment. "What I love about barbecue is that it's low and slow," Perry says. In terms of production, "it is the least evolved due to the types of food we cook."
In a city known more for its chef-driven, higher-end concepts, New York City's Dinosaur Bar-B-Que not only differentiates its sauces by region but also has upgraded its meats to prime brisket and antibiotic-free chicken. The eight-location operation opened its doors 30 years ago in Syracuse, New York. "We've gotten better at what we do," says John Stage, Dinosaur Bar-B-Que founder and owner. "Smoked meats don't change, but side dishes and specials have evolved. This gives us a license to explore other things."
Stoking the pit at Dinosaur Bar-B-Que.
Unlike other segments, barbecue operations focus more on the meat than greens. For example, Dinosaur doesn't offer plant-based options other than its salads and a smoked portobello mushroom sandwich.
Authentic Production
Rather than take advantage of newer technology or equipment, for many barbecue concepts, it's still all about the pit.
"Yet, combi ovens have opened up the opportunity to inject smoke in different foods," says Charlie Candelas at Pilot Light Hospitality. "Many chefs are seeking smokers to be more creative. For those in confined spaces, a cook-and-hold oven opens the door to putting some barbecue items on the menu without having to completely focus on the cooking process. Still, it would be difficult to operate a barbecue concept with only these ovens. But they're great menu enhancers that can broaden the spectrum and chef creativity as well as being very consistent and taking the guesswork out."
At Hard Eight, a 4-foot-by-8-foot custom steel pit, which uses mesquite wood and coal as fuel, serves as the centerpiece. "Our customers are kept in the pit area, where employees work in front of them, separated by just a fence," Perry says.
Busy Hard Eight locations sell between 500 to 600 pounds of Texas brisket daily, including catering and delivery orders. The menu includes an extensive range of meats: sausage, ribs, pulled pork, ham, turkey and sirloin, with prime rib available on weekends. Along with brisket, another popular offering at Hard Eight is its chicken or shrimp poppers, served on a toothpick with onion and jalapeño wrapped in bacon.
"For the most part, we don't change our menu often. It's been pretty much the same for the last five to six years," Perry says.
Speed and efficiency, however, have changed over the years. To assist in these efforts, Hard Eight utilizes a scale station where staff cut up and weigh meat, with computer systems and scanners for labeling streamlining the process.
Its sauce is pure Texas style. "While Carolina sauce is more watery and vinegary, ours is sweet and thick," Perry says. "Pork is big in the Carolinas, while it's beef brisket that rules in Texas."
Midwood Smokehouse focuses on its USDA prime beef brisket, which staff rub and smoke 12 to 14 hours, depending on its thickness. "We chop, rather than pull, our pork," Thurston says. "In eastern North Carolina, the vinegar sauce with chili flakes is big, while in the western part of the state, ketchup is added to this concoction."
Midwood Smokehouse's wood pit accommodates 1,000 pounds of meat at each of its locations.
A crowd favorite, Midwood Smokehouse's Kansas City burnt ends are smoked six to eight hours with a dry rub. Staff add sauce upon request. "When we first opened, we smoked brisket and didn't know what to do with the ends, but now we have to smoke extra brisket to keep up with our burnt end orders," Thurston says.
Like Hard Eight, Midwood City features a pretty consistent menu. "We've been playing around with plant-based meats but haven't found anything that works yet," Thurston says. "We have had a lot of success with our smoked veggies in the pit as a side and we've always had a build-your-own salad option on menu."
In addition to smoked salmon prepared on the pit, Midwood Smokehouse will occasionally throw atypical items on, such as whole eggplants. "We have adventurous chefs in our kitchens that let their creativity go," Thurston says.
For added consistency, Midwood Smokehouse utilizes a wood pit that accommodates 1,000 pounds of meat at each of its locations. Staff tend to the fire 22 to 23 hours a day.
At 17th St. BBQ, tradition takes precedence over ingenuity in its old hickory pits. "With barbecue, the number one thing is consistency," Mills says. "The food needs to taste the same, so the pits need to be predictable to operate. It's more about the operator than the equipment."
Dinosaur Bar-B-Que experiments with format when it comes to specials. For example, it offers a build-your-own barbecue at lunch, which provides the opportunity to serve its meats in different formats. "Guests can put their choice of meat on a roll open-face or in a taco shell," Stage says. "We've had a good response with that."
The restaurant relies on point-of-sale data to pinpoint how and when cooking takes place. "We have multiple barbecue pits that allow things to come out fresh throughout the day," Stage says. "Barbecuing takes a long time, so we rely heavily on the POS system, where we can see how much brisket and pork we're selling [and adjust as needed]."
Barbecue Holds Up in Delivery
Like most other restaurant segments, barbecue operators see the need to jump on the delivery bandwagon. "Fortunately, some components of barbecue travel well," says Candelas.
Hard Eight has seen an industry-wide upturn in deliveries. "For us, barbecue items are resilient due to animal fats and the type of meat cooked," Perry says. "The way these dishes are packaged and held, we have very few issues with delivery. It's an important aspect to our business because it provides another revenue generator." A 16-foot catering truck outfitted with refrigeration, warming and heating boxes handles restaurant deliveries.
Midwood Smokehouse relies on a third-party delivery service with a limit of a 15-mile delivery range. Even with the boundary limit, some items are not conducive to travel, Thurston says. "We will send fries out for delivery but not hush puppies as the quality suffers severely," he says. "As for the meat, most barbecue travels well since it's an outdoor picnic food."
Despite being rooted in tradition, barbecue has kept pace with today's trends to maintain a steady and dependable presence in the industry.