Inspired by a number of regions, the Mediterranean restaurant segment's popularity and reach is poised to mirror that of Mexican and Asian cuisines.
The lamb shawarma at Aviva by Kameel offers an authentic approach to a popular Turkish dish.
The stage couldn't be set better for the Mediterranean restaurant segment. Healthy ingredients, check. Unique flavors, check. Dishes with widespread appeal, check.
"Along with specific regions, this segment generally refers to the Mediterranean diet, which includes ingredients like fish, leaner proteins, fresh vegetables and olives," says Darren Tristano, CEO of Foodservice Results, an industry insight firm based in Chicago. "It's synonymous with healthy."
Centered on plant-based foods, whole grains, legumes and nuts, this diet includes olive and canola oils as opposed to butter, as well as herbs and spices rather than salt. According to London-based Mintel, 66 percent of U.S. consumers are interested in Middle Eastern foods at restaurants and the growth of Middle Eastern cuisine on U.S. restaurant menus increased 32 percent between 2015 and 2017. The Washington, D.C.-based National Restaurant Association reports veggie-centric/vegetable-forward cuisine, of which many Mediterranean dishes are centered on, is one of the top culinary concepts for 2019.
Positioned for Growth
Much of Mediterranean cuisine's growth has occurred in the fast-casual segment.
Sales at Chicago-based Roti Modern Mediterranean's 41 locations have increased almost 30 percent over the last year and Birmingham, Ala.-based fast-casual Taziki's Mediterranean Café reported sales growth of close to 10 percent at its 82 restaurants last year, according to Chicago-based data from market research firm Technomic.
Just as it has in other industry segments, consolidation continues to impact Mediterranean operations. At the end of 2018, CAVA Group Inc., a Washington, D.C.-based Mediterranean fast-casual operation, completed its acquisition of Zoës Kitchen in an effort to broaden its geographic footprint. In the past 10 years, Zoës Kitchen grew from 21 locations in 7 states to 268 sites in 20 states. CAVA also has 70-plus locations, which it describes as chef-casual, across 10 states.
With this acquisition, CAVA became one of the first omni-channel platforms in the fast-casual space. The company leverages two separate service models: the traditional brick and mortar approach, which now includes digital elements such as app ordering and third-party delivery, and retail distribution of its dips and spreads through Whole Foods.
The financing of the venture was accomplished with the help Ron Shaich, Panera Bread founder and now chairman of the combined company. He is managing partner for investment firm Act III Holdings, which has a $300 million fund that invests in public and private restaurant and consumer companies. "It's Ron Shaich's vision to focus on the healthy food market," says Tristano. "[Other fast-casual chains in different segments] try to be healthy but can't accomplish what these [Mediterranean] brands can."
Fast-casual Mediterranean concepts like CAVA have a specific focus with fewer items. "They know who they are, with menus centered around healthier ingredients and recipes," adds Tristano. "In analyzing chains with growth, both CAVA and Zoës are in the mix. Many iconic brands are facing mature segments and declining, but that's not the case with Mediterranean foods."
Fast-Growing Franchise
Along with Middle Eastern food, Greek cuisine continues to influence the Mediterranean segment.
Nick Vojnovic, CEO and president of Little Greek Fresh Grill, a Mediterranean-focused fast-casual franchise that grew from 4 locations in Florida to 40 restaurants in 6 states today, has had a front-row seat in the evolution. He purchased the concept, formerly called Happy Greek, from founder Sigrid Bratic.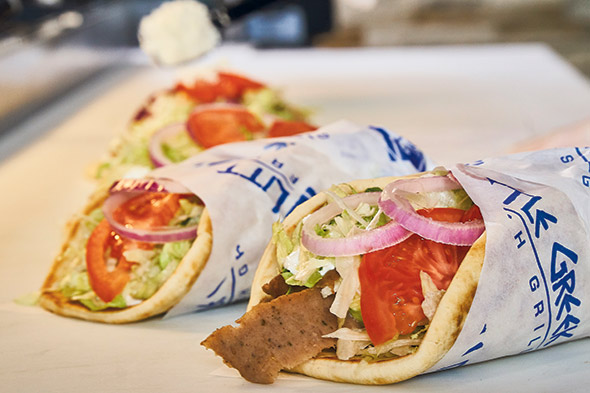 Little Greek's gyros are among its biggest sellers.
"Eight years ago, I looked at 80 concepts while finishing my master's degree at the University of South Florida," says Vojnovic. "I looked at everything, including burgers and burritos. When friends recommended this concept, I saw it was outstanding — with healthy, flavorful food. And there were no dominant players in the space."
Vojnovic's university research also showed that only a small percentage of the U.S. population was familiar with Greek food. That led to his purchase of the chain and plans to franchise the concept. Little Greek franchisees benefit from the affordable build-out cost since the majority of its sites operate from former restaurant locations.
The average Little Greek location measures 1,600 square feet with about 30 seats. Most are endcaps in shopping centers with grocery stores serving as the anchor tenants. "We try to go into higher-end markets and our demographic skews slightly female," Vojnovic says.
He likens the concept to a Mediterranean Panera Bread, as Little Greek cooks each dish to order. Gyros, Greek salad and grilled chicken make up about 80 percent of sales. Other popular items include falafel, salmon, lamb, steak, hummus, veggie pitas and soup. It takes a maximum of six minutes to prepare each dish.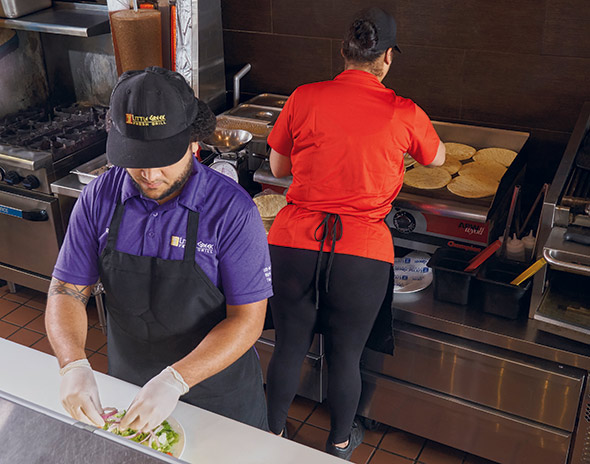 Little Greek's back of the house includes a compact kitchen and prep area that enables customers to view the action.
The exhibition kitchens include 14-foot hoods, a 4-burner gas stove, a 3-foot flattop, a 3-foot chargrill, a gas fryer and a broiler. A rice cooker is the only equipment located out of guests' sight. Because Mediterranean menus require a great deal of prep, staff chop vegetables and prepare other ingredients throughout the day.
Also in the Mediterranean fast-casual space is Goldie, a two-year-old Philadelphia-based concept. While inspired by an Israeli falafel shop, this street food eschews meat and dairy, which translates into an entirely vegan concept.
Goldie's growth has taken a varied approach to site selection. For example, the first location is a stand-alone unit that seats 20, not including standing counters. Another site operates from a local Whole Foods Market. The budding chain's most recent eatery resides in the University of Pennsylvania's Franklin's Table, a diverse food court that opened in March of last year.
Goldie, a two-year-old Mediterranean concept, started with a 20-seat restaurant, seen here, then expanded into locations in a Whole Foods Market and a University of Pennsylvania food hall.
Mediterranean flavors continue to influence other ethnic concepts. The appeal of Mediterranean food in general is that it draws from a lot of traditions. "Culinary borders are extremely diverse in this segment," says Emma Richards, Goldie's general manager. "This food is a way to connect and share cultures. Years ago, no one really knew what Middle Eastern food was, now the influences are everywhere."
Goldie's simple menu is comparable to a Middle Eastern version of a burger joint: falafel sandwiches or salads, fries available with shawarma spice, and tehina shakes made with either almond or soy milk.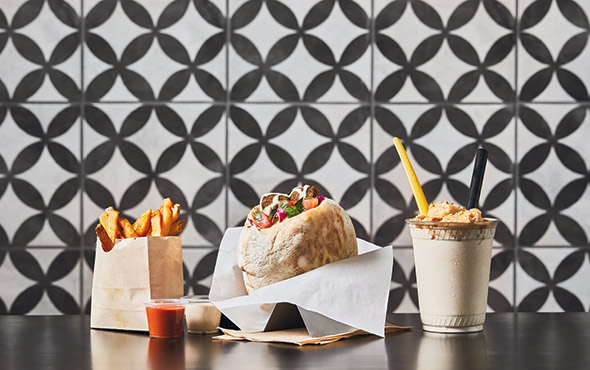 Goldie's simple menu offers a take on a burger and fries concept: falafel and shawarma-spiced fries. Photo courtesy of Michael Persico
Goldie takes a high-tech approach to producing the deep-fried balls made from ground chickpeas and fava beans. At the push of a button, a falafel robot spins the ingredients into balls. Automated and manual choppers and food processors expedite vegetable prep for salads and sandwich fillings. Staff use a soft-serve machine to produce the shakes, available in original, Turkish coffee, mint chocolate and banana flavors.
"Open kitchens and equipment that showcase these types of operations are very meaningful to consumers," says Tristano. It's also about authentic production, he adds. "For example, shawarma is still trending and this is something that can't really be mass produced profitably, so it's made at the operator level."
Mediterranean with a Modern Twist
A growing number of concepts continue to capitalize on Mediterranean food's healthy profile as a convenient option. Aviva by Kameel in Atlanta is a fast-casual lunch counter that opened in October 2012. "This is our first Aviva concept. It is classical Mediterranean with a healthier modern twist," says Nas Srouji, general manager. His father, Kameel, has owned restaurants in the city for 40 years.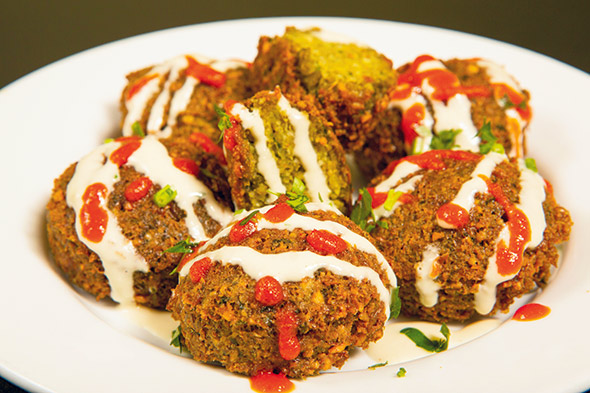 Aviva by Kameel's falafels are produced the old-fashioned way by frying them in a pot of olive oil.
At Aviva by Kameel, a 60-seat restaurant, best sellers include chicken shawarma made with hormone-free, house-sliced chicken breast grilled in extra virgin olive oil. "Ingredients include halal meats and olive oil. We use no butter and take no shortcuts," says Srouji. "Our falafel is extremely popular and fried in olive oil. We also have 20 vegan/vegetarian options for veggie platters, where customers can choose from four sides."
Although Aviva by Kameel has lamb dishes on its menu, the chicken and veggie items sell best, Srouji notes. Other hot sellers include the Mediterranean salad and baba ghanoush. "Now, people are way more focused and knowledgeable about eating healthy, which is great," he says. "And, as people become more aware of what they're eating, the Mediterranean diet is starting to take off."
This space focuses on creating an experience, Srouji says. "We're not here to nickel and dime customers but instead create repeat business and establish relationships."
In Aviva by Kameel's 900-square-foot back of the house, separating the proteins from the vegetables is key as many of the restaurant's devotees are vegans or vegetarians. "We have separate zones for meat and vegetables and use separate grills — one for chicken, salmon and lamb, while the other is dedicated for grilling vegetables," says Srouji. "My father is pescatarian and very particular."
The restaurant also uses separate sinks and cutting areas to prep meat and vegetables as well as separate utensils. A dedicated staff member preps vegetables throughout the day. Rather than using a deep fryer, Aviva by Kameel fries its falafels in a pot with olive oil. "We're not just putting frozen patties on a flattop; there are many steps involved with our menu items," says Srouji.
In another testament to Mediterranean food's appeal to college students, Aviva by Kameel's will open a midtown location later this year across from Georgia Tech.
What's on the Horizon
Many in the segment say the potential for Mediterranean food in the U.S. has not yet been fully realized.
Little Greek is on a steady growth plan of creating 6 to 8 locations annually. Part of the challenge is the lack of smaller spaces, along with high rents and cost of construction.
However, Little Greek reports same-store sales growth of 5 percent year over year, with delivery services encompassing 15 percent of its sales. "With third-party delivery service fees between 25 percent and 30 percent, it's a wait and see to determine how this will impact our business models," says Vojnovic. "We have to be in the delivery game, but these high percentages are impacting the financial performance of our stores."
Staffing across the board remains tight, as is the case across the entire foodservice industry. And Vojnovic admits the Greek/Mediterranean food niche remains in its infancy. "I don't know if this segment will ever reach the size of sandwiches and burgers, but there is definitely opportunity," he says. "There are currently no dominant players yet, but there are concepts with major national footprints on the horizon."
At least in the fast-casual space, solid growth and expansion remain hallmarks of the Mediterranean segment. "When you look at Mediterranean, Little Greek is adding units and expanding to the Southeast," says Tristano. "There is consistent growth, with units opening every year and none being shuttered. But I've always said, as strong as the demand for healthy food may be, it has been outpaced by the number of restaurants trying to serve it."
The craft concepts are the ones making the most headway, Tristano adds. This revolves around specialization, fewer menu items and a specific culinary influence that is most often associated with the fast-casual space. "When you get into the head of the Millennial, they want quality and a go-to place that does something really well," he says. "That demand is driving restaurateurs to push food truck concepts into brick and mortars, driving into the Mediterranean space."