Operators find new ways to tweak menu items as plant-based trends take hold.
Photo courtesy of J. Selby'sThe focus on plant-based foods may seem like a recent development, but this phenomenon has been in the making for many years.
It was 10 years ago that Ken Botts, who at that time worked for the University of North Texas dining services, took an underperforming dining hall and converted it to an all-vegan facility. "We were concerned it would flop, but it was a huge success," he says. "A day before the conversion, they were seeing 150 transactions a day; 8 years later, it was up to 1,700."
What was considered a fringe diet in the industry for the last 15-plus years has evolved into mainstream cuisine that's now part of all facets of the foodservice industry.
"What we saw then and are seeing today in college dining halls and restaurants around the world is 9 out of 10 consumers are seeking out vegetarian and plant-based offerings because the food is good or they're trying to eat better," says Botts, who now works as head of partnerships and programs for St. Louis-based Hungry Planet, a plant-based protein company.
Although a Gallup Organization poll revealed that only 5 percent of Americans consider themselves vegetarian and 3 percent vegan, there's increasing evidence that more consumers seek these dishes when dining out.
NPD Group, a Port Washington, N.Y.-based market research company, reports 19 percent growth in the shipment of plant-based protein cases from broadline foodservice distributors to independent restaurants and chains with 3 to 19 units in the year ending March 2018 compared with the previous year. It found that 43 million consumers regularly use plant-based alternatives, such as almond milk, tofu and veggie burgers, yet 86 percent of these consumers do not consider themselves vegetarian or vegan.
People choose to convert to vegetarian and vegan diets for very specific reasons, according to Mark Reinfeld, executive chef at Vegan Fusion, a Boulder, Colo.-based company that promotes the vegan lifestyle through cooking classes, consulting services and more. "There are essentially three doors that lead to why people embrace the lifestyle — health, environmental and animal welfare — and all go into the same room," he says. "One door gets you in and then you learn about the other reasons."
Menu Developments
There have been a number of changes in the industry since Reinfeld began assisting chefs in incorporating more plant-based foods on menus back in 1998. QSR chains with meat alternatives now include McDonald's, Burger King, Carl's Jr. and Red Robin. Even pizza giants Domino's and Pizza Hut offer vegan cheeses on pizzas.
Meat-replacement ingredients have evolved from a baseline of portobello mushrooms to cauliflower, which mimics a chicken base for deep-fried mock chicken wings. Jackfruit has also drawn attention for its pulled pork-like texture.
"A big innovation is using chickpea liquid, called aquafaba, to make vegan meringue, butter or mayonnaise," says Reinfeld.
Botts continues to experiment, for example, dehydrating, breading and deep-frying banana plant blossoms, which he uses to produce a plant-based version of fish and chips. "It's about root-to-stem cooking or finding applications for other ingredients traditionally thrown away that are now being repurposed in the kitchen with culinary tricks," he says.
More institutions are requesting vegetarian and vegan dishes, says Reinfeld, notably universities and hospitals. His clientele includes foodservice providers such as Sodexo, Compass and Aramark. "These major contract food providers want to be on top of trends, so they're creating plant-based dining halls or increasing the number of plant-based options at the institutional level," he says. "They're upping their game, and chefs are getting more creative."
Veggie Visions
In the commercial restaurant segment, operators now replicate traditional dishes with plant-based alternatives and chefs often offer fresh twists on traditional vegetarian cuisine.
One of the bestsellers at The Red Lentil in Watertown, Mass., is its Thai peanut noodle salad, made with chilled Soba noodles, carrots, red peppers, cilantro, bean sprouts and scallions tossed in a house-made peanut sauce and served over mesclun with sesame seeds on top. Another favorite is the Gobi Machurian appetizer, which consists of cauliflower tossed with Indian seasonings, breaded with chickpea flour, fried and finished with sweet and spicy tomato sauce and fresh cilantro.
"In the past two to three years, we've seen a drastic change in our clientele," says The Red Lentil owner Pankaj Pradhan. Raised as a vegetarian, he was confident when opening the 99 percent vegetarian restaurant in 2009 that he could focus on a contemporary fusion of ethnic and vegan/vegetarian dishes. Today, he notes, "There are more former meat eaters eating vegan and vegetarian. People are more accepting of these dishes."
Still, diners will not sacrifice flavor or compromise their expectations, even if the dish is healthier and better for the environment. Pradhan's vegetarian stew was one dish that did not resonate with patrons due to the challenge of balancing the flavors of tempeh and vegetables. Yet, despite being one of 32 restaurants within a 20-mile radius, The Red Lentil's business has steadily increased throughout the last decade.
Another plant-based restaurant finding success is J. Selby's in St. Paul, Minn. Its entirely plant-based menu eschews meat, dairy and eggs. It opened two years ago as a vegetarian/vegan alternative to the traditional American burger joint. The offerings mimic familiar menu items, including the Dirty Secret, a play on McDonald's Big Mac, and the Soyclone, an alternative to Dairy Queen's Blizzard.
"We didn't want it to be a vegan restaurant due to the connotations of how that looks and what it tastes like," says owner Matt Clayton. "To omnivores, the food will look and taste familiar to them."
A recent hit was a take on Minnesota favorite the Juicy Lucy. The popularity of this LTO meatless burger injected with vegan cheese earned it a permanent place on the menu.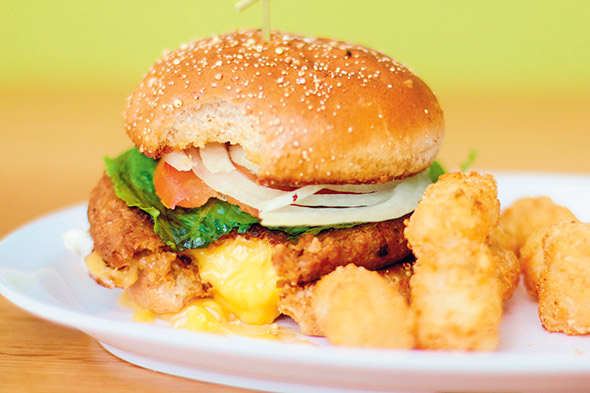 J. Selby's gave Minnesota's famous cheese-stuffed burger a vegan makeover with a meatless patty and vegan cheese. It started as a limited-time-only menu item but has since earned a permanent place on J. Selby's menu.
"There is more acceptance of plant-based meat substitutes, with manufacturers of these products pushing the envelope very hard and many restaurants incorporating these products," says Clayton. He adds that chicken can be challenging to duplicate. "We've been looking at options for faux chicken and recently stumbled upon a couple that are shockingly realistic, so I think that segment will continue to expand."
Although it's no longer as difficult to find plant-based items that taste like the real thing, operators are finding it incredibly difficult to source ingredients for vegetarian and vegan menus. "We were the first full-on vegan place in the Twin Cities, so sourcing product was challenging and continues to be," says Clayton.
One example was vegan mozzarella sticks. Clayton found the one vegan restaurant in the country having success with this product, Brooklyn's Champs Diner, and asked who they used as their supplier.
"The vegan community is open and helpful, so we called them to get a recommendation, then contacted the manufacturer and found out no one is selling these in Minnesota," says Clayton. "So I'm driving to Chicago to source the mozzarella sticks."
This problem is not unique to cheese sticks; it took Clayton 18 months to source nondairy sour cream and cream cheese. Add the fact that plant-based products also tend to be more expensive compared with traditional versions, and the industry obviously has hurdles to overcome. That includes the challenge of creating successful menu items with widespread appeal.
Like The Red Lentil, not all of J. Selby's menu items are a hit. "We ran with vegan hot dogs for a long time, particularly corn dogs, but these don't perform like normal corn dogs [with the taste and texture] and were very challenging, so we dropped them off the menu," says Clayton.
Back-of-the-House Realities
Vegetarian and vegan menus have the same equipment needs as traditional foodservice, with this oven a primary component at J. Selby's.One aspect of vegetarian/vegan restaurants identical to omnivore restaurants is the makeup of the back of house. "Much of the perception around plant-based cooking is that it requires special equipment, but it doesn't," says Botts. "Rather, we're repurposing equipment to whip up exciting things, like using a mixer with a whip to transform chickpea juice and lemon juice into meringue." He adds, "Plant-based proteins perform well in commercial kitchens. When it comes to equipment, combi ovens are my favorite as they are flexible."
For operations offering both meat and plant-based dishes, it may be necessary to have separate equipment or areas that prevent cross-contamination issues. "The more committed people don't want their cauliflower prepared in a fryer that's also used for chicken or fish, and there may need to be a designated area on the grill for plant-based items," says Reinfeld. "But really, that's as far as it goes in terms of the impact on equipment."
Additional refrigerated, as opposed to frozen, storage space also may be necessary, along with the need for more prep space. "In a vegetarian/vegan restaurant, you may be working more with fresh ingredients, which can increase labor costs and prep time," says Reinfeld. "That's why meat alternatives are so popular in institutional settings, where they can just throw [pre-prepared] plant-based chicken fillets, burgers, hot dogs and sausages on the grill."
The Red Lentil designates 40 percent of the kitchen for food prep. "I have two juicers constantly working as well as food processors for sauces and mixers for dough," says Pradhan. "Our kitchen also uses two ovens, a slicer, a steamer for vegetables, a gigantic griddle and an eight-burner range."
The building has two basement areas for storage, which includes three freezers, two walk-in refrigerators and two sliding-door refrigerators.
Clayton at J. Selby's agrees that plant-based menus are more prep oriented. Its prep team arrives at 5 a.m. with the goal to complete tasks by 3 p.m. "The prep is intensive, but we try to complete it before we get busy on the line," says Clayton, adding that the prep area comprises half of the kitchen.
Indispensable tools include knives for hand chopping and two food processors.
The Green Parallel
A big part of the appeal in switching to a plant-based diet for many is the positive impact on the environment as well as being more humane to animals.
"When you look at animal agriculture as a whole and its contribution to climate change, something has to give here," says Clayton. "While we can all preach about what we should do, it's better to change our culture by making plant-based eating more acceptable, and that's what we're trying to do."
At J. Selby's, social issues definitely play a large part in its operations. The restaurant recycles and composts; it also did away with its plastic straws more than a year ago, as did The Red Lentil.
Some operations take the environmental focus to the next level. In 2016, The Red Lentil was recognized by the Green Restaurant Association as a Certified Green Restaurant. "We recycle, compost and use LED lighting," says Pradhan.
Three Leaf Concepts, a 100 percent vegetarian and 70 percent vegan restaurant, opened its doors in Boulder, Colo., back in 2007 with the goal to bring plant-based food to omnivores. "That's why we're 30 percent non-vegan; it offers us the opportunity to bring meat eaters something they can grasp with dairy and eggs," says owner Lenny Martinelli. "Our food is more upscale and handcrafted."
Three Leaf sources a large portion of its produce, including leafy greens, broccoli, tomatoes, peppers, squash, beets, carrots and lettuce, from its own produce farm as well as other area dairy and free-range farms.
Three Leaf Concepts takes sustainability to the next level with its produce farms and ingredient sourcing.
Martinelli, a chef long before the farm-to-table movement became popular, has always tried to grow his own food. "I always felt that, as a chef, it's important to plant your food to understand what it means to grow it, which is not an easy task," he says. "All chefs should grow their own food or work on a farm for a season to understand what it is to discard food, which is tragic in my mind."
Not only is a large amount of food thrown away, but there also are issues with land and water, according to Martinelli. "We now need to produce more product off less land. There's also the energy usage of bringing a head of lettuce from Arizona, California or Texas to Colorado. If we can grow more things here, we're using less energy to bring that product to our tables."
Although Three Leaf's farm measures just 3½ acres, Martinelli still feels it makes a difference, along with his seven restaurants' many sustainable initiatives. His operations recycle much of their garbage and compost all scraps. Each location utilizes cans in the back of the house for composting. As a result, Martinelli estimates the change has reduced garbage waste by about 80 percent company-wide.
"At every kitchen station, we have compost buckets for scraps," says Martinelli. "These are brought to the farm to fertilize what we grow, so it's a full-circle program."
Martinelli says the vegetarian segment has come a long way in the last three decades. "I tried starting a vegetarian concept 30 years ago and couldn't get the food anywhere," he says. "Now, this is my fifth vegetarian restaurant, and 65 percent of the people who eat here are omnivores." Bestsellers at Three Leaf Concepts include the buffalo cauliflower tacos, Jamaican jerk tempeh and seaweed salad.
The dishes at Three Leaf Concepts are upscale and handcrafted.
"If you're not doing plant-based cuisine in 2019, you'll be behind in 2020," says Botts. "This is no longer a trend but something that's here to stay. Chefs are embracing it as a culinary cuisine and taking it out of the fringe."