Greenville County Schools in Greenville, S.C., reflects much of what school foodservice has become. The 44th-largest K-12 district in the country maintains fully equipped kitchens that produce 80,000 chef-driven meals a day for its 76,500 students at 106 schools and centers. "Our program has evolved from a typical K-12 school foodservice program that served highly processed products to one that scratch cooks the vast majority of our meals," says Joe Urban, the district's director of food and nutrition services. "The major shift started with the 2010-2011 school year, and it took us about four years to transition the entire district."
Greenville County Schools' program has eliminated all processed proteins and replaced them with minimally processed items like whole-muscle chicken and wild-caught Alaskan seafood. Likewise, the district replaced canned fruit in favor of fresh produce. The K-12 school district also serves a higher-end beef than typical school foodservice operations.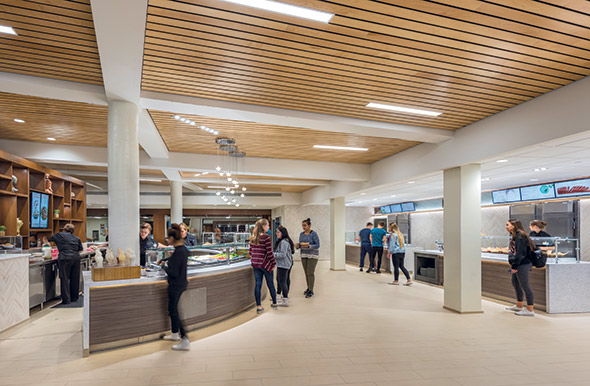 Stevenson High overhauled its two foodservice areas, modernizing the design and menu.
As a result of these efforts, Greenville County Schools continue to earn recognition from various entities, and its approach continues to be more of the rule today than the exception for school districts across the country. "[The industry has moved to] more chef-driven menus with international flavors, lots of handheld items and customizable stations where students can build their own lunches," says Urban.
A Cook-to-Order Focus
Before Michelle Obama championed the 2011 Healthy and Hunger-Free Kids Act, which mandates healthier school lunch programs, school foodservice menus and service styles rarely changed. Fast-forward to today, and change now represents the one constant on the menu. Many of the changes were first noticeable in colleges and universities, then made their way to high schools and middle schools. Elementary schools, though, present a bigger challenge.
"In elementary schools, we're seeing more self-serve fruit and veggie bars, so kids can have more say in that part of their meal," says Nick Saccaro, president of Quest Food Management, a food management company in Lombard, Ill. "These schools' physical space may not allow for a high school-type offering."
Yet, the influx of healthier options is not necessarily a game changer on its own. "The problem is you can serve healthy food, but if no one eats it, that's not a win," says Scott Reitano, principal of the Reitano Design Group in Indianapolis. It's also about the approach to the offering. "Research shows when you put produce first and make the presentation pop at an elementary school level, kids will eat these items and fill up their trays; in other words, if you give them better choices up front, they'll make better decisions."
And in this era of fast-casual foodservice, older students seek higher-quality, more customized meals. "Today's high school students have grown up with Subway, Chipotle and Starbucks, so they want access to food that is made and delivered in a way that has a brand experience they trust," says Saccaro. "It is about ingredient quality, merchandising and the story behind the food, including where it comes from and how it's made."
Today's school foodservice programs are addressing students' dining preferences and also accommodating more dietary restrictions and allergens. "With assemble-to-order production, students can make choices to deal with dietary or allergy restrictions as well as ingredient preferences," says Saccaro.
Lindsey Hill, RD, director of nutrition services at South Madison Community School Corp. in Pendleton, Ind., says foodservice at the district's six schools is a work in progress, with the exception of its high school, Pendleton Heights High.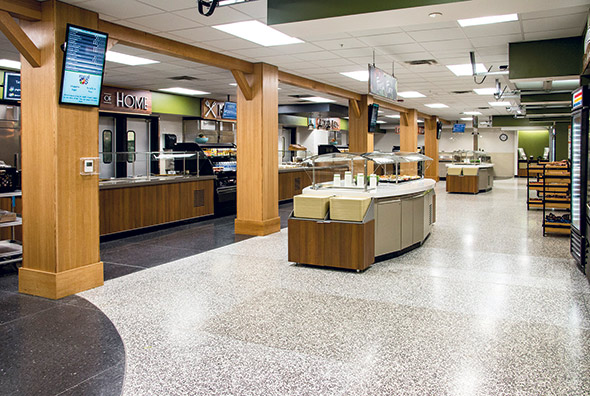 The servery at Pendleton Heights High School efficiently accommodates high volumes.
Two years ago, the district massively overhauled the high school's 1960s servery, going from a traditional layout that struggled to accommodate students efficiently to a more modernized design with greatly expanded menu options. These include a fresh produce station, grilled items, comfort foods like barbecue pulled pork sandwiches, a rotating made-to-order station, global foods and Italian favorites.
"Prior to the renovation, we didn't have enough serving stations, and the flow created bottlenecks," says Hill. "We couldn't do meal customization on the lines, and we also had limited merchandising space for fruits and vegetables."
The school, which has 1,451 students, doubled the size of its serving area, going from 3 serving lines to 5 serving stations and adding six separate cashiers. It also added a secondary location for fresh grab-and-go foods as well as an area for full-service coffee and bakery items that's open for breakfast, lunch and after school.
Stevenson High School in Lincolnshire, Ill., also was contending with a 1960s traditional cafeteria setup when it began a two-phase renovation almost three years ago. Foodservice transactions reach 5,000 a day from the 4,300 students enrolled.
"We converted both our east and west foodservice areas into food courts," says Hadibib Osman, general manager of foodservice and nutrition services, Sodexo at Stevenson High. "Now, each has three stand-alone concepts — including healthy and comfort meals, a soup/panini station, and an international line, as well as two coffee barista bars."
Concepts rotate weekly on the international line with items such as Mediterranean plates, burrito bowls, a pasta bar and chicken wings tossed to order. The school also has a made-to-order salad bar, where a staff member tosses the ingredients that the student selects. The station becomes vegan on Mondays — a la meatless Mondays — with selections like quinoa and meatless burgers and plant-based meatballs over rice. On Fridays, the area converts to a sushi bar, complete with a chef.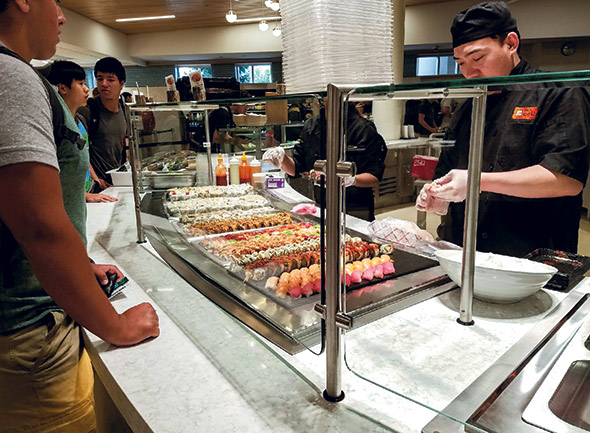 Stevenson High offers students a sushi station once a week, complete with a chef.
Overcoming Challenges
Committing to a made-to-order program at the school level comes with a number of challenges. Hiring and retaining high-caliber employees emerges as a general concern among most districts, says Urban, who notes Greenville County Schools District currently has 750 foodservice employees.
Greenville County Schools' foodservice program focuses on whole muscle meats.
Investing in culinary talent at the school level can bridge the gap in labor. For example, Quest now staffs its client locations with certified culinarians, a very different scenario compared with 7 to 10 years ago, says Saccaro. "This is because we need it to deliver the programs students are expecting as well as to work with the equipment we have on hand."
Along with more skilled labor, Saccaro also believes school districts continue to engage more with foodservice design consultants when building new spaces. "It's an opportunity to have someone who has independent expertise help guide architects and kitchen equipment folks in school districts to get the outcome that allows for fresh, healthy eating," he says. "It's hard to come back from a heat-and-serve design, so having the knowledge and expertise on the front end is an absolute game changer."
Program logistics are often an issue, says Osman, who tapped Reitano Design's services for the Stevenson High School project. "Fresh lines go slower, so we needed an innovative way to serve 4,000-plus students in a timely manner," he says. "In some cases, students only get 25 minutes to eat." Reformatting and expanding the food court was the solution.
Stevenson High's foodservice transformation lead to the addition of several pieces of equipment. "We needed to incorporate hot boxes, more refrigeration, hot and cold wells, soup wells and prep tables for making paninis," says Osman. "Combi ovens, a flattop and steamers were brought in for made-to-order items, which has allowed us to work at a modified and faster pace than we did with heat-and-serve."
Even better, the larger food court enhances efficiency and enables more efficient prep, which in turn speeds up production. "Refrigerators and hot boxes can feed from both the kitchen and front of the serving line [with access on both sides]," says Osman. "We don't have much space, but we have utilized it to maximize efficiency and adapted to what we could fit."
The Equipment Equation
A change in production frequently brings about an equipment change in the back of the house, often to accommodate more prep work and to add the necessary refrigeration for fresh, rather than frozen, product storage.
"[School foodservice] used to have bigger freezers than coolers, and now that's reversed, with less frozen food in the mix," says Reitano. "We're even seeing air-curtain merchandisers in elementary school serveries as well as speed ovens for cooking pizza in front of students."
Today's school foodservice students are far more likely to receive the same kind of dining experience they would at a fast-casual establishment, which may include serving lines designed for greater efficiency and open kitchens.
Mixed into all of that, school foodservice operators also must consider how to function under government mandates. "We can accommodate the National School Lunch program with a grab-and-go program," says Reitano. "With serving lines, it's more about pushing for as much flexibility as we can so these are suitable for hot and cold products in the same location."
In terms of the equipment, traditional school cafeterias were built around the heat-and-serve capabilities of convection ovens, but that approach no longer makes the grade in today's operations. "Now, we're looking for combi ovens, tilt skillets, kettles and steamers," says Saccaro. "And the amount of refrigerated and prep space is completely different [and more extensive]."
Historically, funding new equipment was difficult in the school budget environment, where money was generally tight. "Fortunately, we've seen a substantial change in the last 5 to 10 years with K-12 schools investing in foodservice spaces," says Saccaro.
For those with more limited budgets, the focus remains on updating food merchandising and gradually changing equipment to accommodate a made-to-order menu. "The demand for more grab-and-go options is skyrocketing and has in the last five to seven years," says Saccaro. "This necessitates adequate cold storage and air-stream merchandising."
At Greenville Schools, the back of the house consists of convection and/or combi ovens, steamers, steam jacketed kettles, tilting kettles, fryers, mixers, proofing cabinets, hot and cold holding cabinets, and hot and cold serving lines. "Temperature-monitoring equipment on walk-in coolers and freezers are tremendously important to us," says Urban. "It is nice having reassurance that our food temperatures are within proper ranges when our staff is not around and even nicer having that technology send me alerts to my phone when I need to dispatch a technician to fix the equipment."
Pendleton Heights High's foodservice area definitely takes a more commercial foodservice approach to its equipment package. For example, staff use a conveyor oven to bake pizza to order for its Little Italy station and induction woks for the Asian made-to-order line. Additional equipment added during the servery overhaul included a second walk-in cooler to accommodate more fresh produce and a rack dishwasher. The new dishwasher replaces a flight-type dishwasher, which became a necessity when dish room space was reduced in favor of expanding the dining area. In addition, 50 percent of the serving items in the school district are now reusable, namely melamine bowls and plates.
"Our Fresh to Go location was formerly a teacher's lounge that was located between the kitchen and main hallway," says Hill. "We reduced the lounge area and created a grab-and-go location with air-curtain merchandisers and coffee equipment."
Incorporating Educational Components
Some unexpected benefits come with a revamped cook-to-order foodservice program in addition to the expected greater student lunch participation and more nutritious meals. For example, Greenville schools now conduct occasional in-class demos and cooking lessons.
Students now also benefit from other creative food-related program extensions, including a kids' cooking contest that Urban holds each September during the Euphoria Greenville food/wine/music festival. Here, young contestants pair up with celebrity chefs, such as Curtis Duffy from Grace in Chicago and Michael Mina of his namesake San Francisco eatery. The celebrity chefs take on the role of sous chef for the aspiring student cooks, and the winning dish becomes part of the school lunch menu.
The celebrity chefs also at times connect with the district's curriculum, such as when a third-grade class learned about traditional Carolina cuisine through a cooking event. Chef Anthony DiBernardo of Swig & Swine BBQ slow smoked a hog, and Johnny Carino of Carino's Italian created a seafood Low Country boil. Both items were special additions to the school's lunch menu that day.
Greenville students also participated in a trout luncheon that supported a conservation program. The children raised and released trout into the wild. They also dined on trout for lunch.
In partnership with its foodservice department, Stevenson High launched the Healthy Lifestyle program, which focuses on food and exercise. It's presented in classrooms as part of the school's physical education curriculum to educate students about healthy eating.
"I've also helped out with food lab classes," says Osman. "Our chef will show students easy and healthy foods they can make and eat at home. They'll make better choices if they're educated."
At a North Carolina charter school, Reitano designed a kitchen that included additional space geared for student cooking classes. "If we can teach a kid to like broccoli, we can teach them how to cook it," Reitano said. "Little by little, we're changing what school foodservice looks like."