When Amy's Ice Creams set up shop in Austin, Texas, 35 years ago, its premium scoops were an anomaly among the frozen yogurt shops that were in their heyday at that time.
Its model was similar to that of ice cream behemoth Ben & Jerry's, which started with a shop and then distributed its ice cream to area restaurants. Although founder Amy Simmons had a different vision — focusing on purposeful slow growth as opposed to fast, national expansion — this didn't impact the longevity of Amy's Ice Creams in the industry. The chain now has 15 locations across Austin, San Antonio and Houston and distributes custom flavors to approximately 100 restaurants in those cities.
Amy's Ice Cream produces its product at central commissaries in Austin and Houston using 40-quart machines. Customer requests drive flavors.
"Our flavor requests from restaurants are different than in our retail locations," says Simmons. "For example, we do a flavor for a Mexican restaurant called Bee Cave Crunch, with vanilla, honey cinnamon swirls and praline pecans, along with a Purple Yam ice cream for an Asian restaurant."
Customer requests drive ice cream flavors in Amy's retail locations. "If we get a customer request, we can get the flavor out to the store in two days," Simmons says. Each site offers 15 flavors at one time, with 6 staples and a handful of seasonal selections.
More consumers opt for fresh-scooped cones or bowls at ice cream shops instead of picking up a gallon at the supermarket, according to Los Angeles-based IBISWorld's February 2018 report, "Ice Cream Stores Industry in the U.S." Overall, revenue for the ice cream shops industry is about $5 billion, with 15,140 shops and a sales increase of 3.3 percent in 2018. Ice cream shop operators will continue to experience revenue growth over the next five years to 2023, IBISWorld predicts.
The Handmade Tale
The ice cream segment is experiencing a number of new and notable developments, including an uptick in microcreameries. "Generally speaking, the ice cream industry had spread between premium, soft serve and custard," says Steve Christensen, executive director of the National Ice Cream Retailers Association, based in Chesterfield, Mo. "Recently, we've seen more microcreameries, which are similar to microbreweries in that these produce small-batch, premium ice cream that is 12 percent to 16 percent milk fat."
These ice cream shops can produce unique flavors to complement the traditional standards. The foodservice industry has jumped on board with the microcreamery trend, with some upscale restaurants allocating back-of-the-house space for ice cream creations.
San Francisco's Nico, for example, offers a from-scratch ice cream program. The French-inspired restaurant serves three seasonal flavors at a time, such as honey and burnt caramel or chocolate mousse. "We typically include the ice cream in our desserts; we see it as a refreshing add," says chef and owner Nicolas Delaroque, who describes the restaurant as a cross between a bistro and fine dining.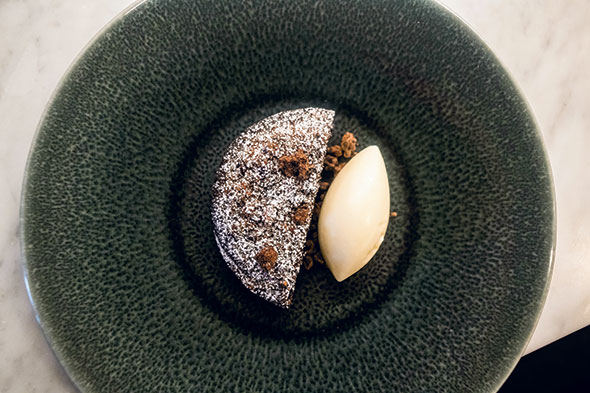 Nico pairs the majority of its desserts with one of the restaurant's handcrafted ice creams.
Nico is in the process of expanding its ice cream program, adding more flavors and a unique twist on an ice cream sandwich that substitutes mandarin for vanilla. "We'll be increasing the size of our ice cream machine to accommodate the new program," says Delaroque. "We'll now be producing between 5 and 10 quarts, rather than 2 quarts."
Two Kansas City, Mo., restaurants, Bluestem and Rye, both create custom ice cream and sorbet flavors, in addition to a variety of sundaes. The handmade desserts constantly change and include seasonal flavors, such as peppermint and cranberry crisp for the winter months. "Butterscotch is always on the menu," says Megan Garrelts, co-owner and executive pastry chef for both Bluestem and Rye. "Some of our more unusual creations are butternut squash ice cream with marshmallow fluff and a peach or cherry cobbler sundae in the summer."
Rye offers three types of sundaes as well as three ice cream and three sorbet flavors.
Rye offers seasonal sundaes like the popular carrot cake in the spring.
Desserts comprise 30 to 35 percent of Rye restaurant's lunch and dinner sales.
Dessert comprises between 30 percent and 35 percent of the restaurants' sales and as much as 40 percent around the holidays. "Desserts typically take more effort to sell, but we don't have a hard time here," says Garrelts. "Even at $8 to $12 a plate, 70 percent of dessert sales are ice cream."
Bruster's ice cream shops make homemade artisan batches of ice cream daily from the home-style mix that stores receive daily from Bruster's Pennsylvania dairy operation. Bruster's utilizes 150 different recipes to market 24 flavors each day. The retail store arm includes 182 independently owned and operated stores.
"What's unique about our business model is that we are a walk-up, rather than an indoor, concept that produces our product on-site," says Jennie Brinker, director of marketing. In other words, customers at each store order from a window and then find seating on an outdoor patio.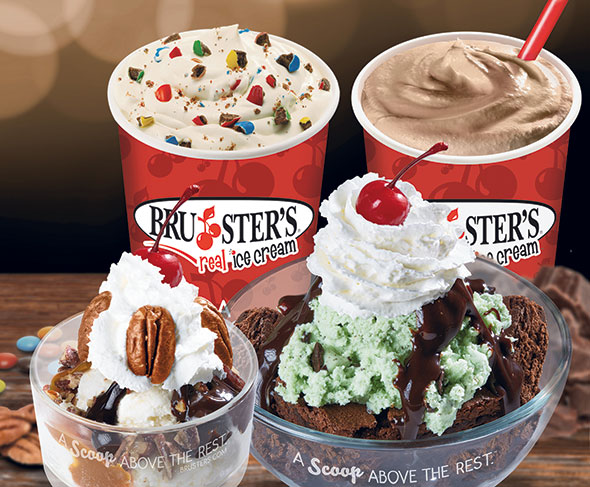 Bruster's walk-up format distinguishes the 182-store chain from dine-in concepts.
Also creating custom creations, but with artisanal soft serve on the retail side, is New York City's Big Gay Ice Cream. Expanding from an ice cream truck in 2009 to a brick-and-mortar site two years later, the brand now has two locations in the city. "We create our cones and sundaes with two to three ingredients for signature cones and sundae specialties," says Jon Chapski, part owner. For example, its Dorothy cone is comprised of a core of vanilla soft serve injected with dulce de leche and covered with Nilla wafers. Rocky Roadhouse combines chocolate ice cream topped with toasted almonds, chocolate morsels and mini marshmallows.
Big Gay Ice Cream also offers 10 SKUs in 6,000 supermarkets on the East Coast. The company plans to expand availability to the West Coast.
Big Gay Ice Cream's signature cones and sundaes contain two to three add-ins. Photo by Donny Tsang
Innovative Flavor Profiles
Traditional ice cream flavors still dominate, according to Chicago-based Technomic. Vanilla remains the most popular, followed by chocolate, strawberry, banana and fudge. Exotic flavors are on the rise too, reports Technomic, with guava increasing 73 percent and limoncello up 67 percent from 2016 to 2017, the most recent data available.
Alcohol-infused ice cream and frozen drinks continue to make waves too. "Whether using a concentrate, creating a concentrate or using a flavor profile, boozy ice cream is on the rise," says Christensen. "It can be a slippery slope with this family centric demographic. Certain regions may do better than others with these concoctions."
Amy's Ice Creams offered a stout beer variety back in 1985. "Now we do pub crawls where we make ice cream from local brewers and do tastings," says Simmons. "We're seeing more farm-to-table flavors and natural ingredients. We try to source fresh and buy locally whenever possible."
Although some of its more unique creations, including popcorn and chocolate habanero, have been hits, Amy's Mexican vanilla encompasses 30 percent of sales for Amy's Ice Creams, making that flavor the big winner.
Garrelts says high-end restaurants like Bluestem and Rye can get away with exotic and innovative fusions. "As far as flavor trends, we're seeing more chunk add-ins like cookies and pretzels, but here it's more Americana flavors," she says. "In Kansas City, there are a lot of local beers and spirits, and people are embracing the city's heritage and community flavors more. As a result, we're seeing more infusions and unusual flavors."
Similar to the overall foodservice industry, gluten-free eating has become a factor in the ice cream segment. More operators now factor dairy-free, gluten-free and nut-free options into their offerings, Christensen adds. "It used to be less than 5 percent of the business, but now 20 to 30 percent of customers are seeking gluten-free ice cream options," he says.
Sorbets, Italian ices and sherbets are available at Bruster's for those with dairy and gluten issues. Dave Guido, Bruster's senior vice president of operations, agrees that there has been a noticeable rise in customers looking for these options in the last few years.
Today's Techniques
Although equipment for producing ice cream has remained relatively unchanged, newer technologies that measure time and temperature are making the process easier and more efficient.
"We're seeing more European equipment on the market that allows ice cream makers to heat, cool and freeze in one weekend, but as far as the core functionality of this equipment, nothing has changed," says Christensen.
Due to the introduction of allergen-free desserts, operators now lean more toward fruit bases or a core of soy or coconut milk, which can present challenges during the freezing process. "When fruit is mixed in that has a high water content, a good technique is needed to combine the sugar to make simple syrup that doesn't freeze into a cube," says Christensen.
On the operator side, rolled ice cream has popped up as a new ice cream technique. The process starts with a liquid ice cream base which is then poured on a cold plate. "It's then chopped up and manipulated so it freezes on the plate," says Christensen. "Ingredients are then added, and it's rolled up like a piece of carpet. The end product is three or four rolls of ice cream in a cup."
Another method, liquid nitrogen ice cream, has operators adding liquid nitrogen into the ice cream while it's in a mixer. "These are two very unique methods of delivery that are quite entertaining to customers," says Christensen.
At Nico, to add texture, staff fold ingredients like lemon peel into the ice cream by hand. "If we're stirring, we use an immersion blender, but if we're blending ingredients into a mix more thoroughly, we'll use a blender," says Delaroque. "We make our ice cream daily, typically in the morning, and store it for one day in a batch freezer that holds 20 quarts."
Bluestem and Rye both utilize a three-quart commercial ice cream machine to make weekly batches, which then get spun every other day. "We go through quite a bit of ice cream," says Garrelts. "We will melt it down and re-spin, depending on the flavor. Varieties that are denser, need more air or have a higher fat content need to be re-spun after freezing. However, we can't re-spin ice cream with components in it, like our cranberry crisp, so we make these in smaller batches." Both restaurants store ice cream in a drop freezer with a glass top since it can tend to get lost in a walk-in.
Amy's Ice Creams produces its product at central commissaries in Austin and Houston using 40-quart machines. The majority of its runs are short, with ice cream brought down to -40 degrees F to harden and then kept cold during transport to its stores and restaurants. Amy's restaurants receive the ice cream in 2½-gallon containers; holding freezers and back-of-the-house dipping cabinets hold the product on-site. "We don't display our ice cream since it has no food coloring, so the appearance of the flavors is similar," says Simmons.
Basic equipment is the flavor of the day at Bruster's. The company relies on basic equipment at its stores, with staff at each location using batch freezers to chill 1½ to 4 gallons of ice cream at a time. "We utilize a traditional freezing cylinder with scraper blades," says Guido. Other store-level equipment includes dipping cabinets, spindle mixers and mix-and-chill machines. "We never deep-freeze our product. It comes out at 18 degrees F to 20 degrees F and is held at 10 degrees for no more than six days."
Big Gay Ice Cream credits its equipment with enabling the chain to grow beyond its backyard, explains Chapski. The company has a separate production facility for pints and utilizes air circulators for freezers and a hardening cabinet to get its product temperature down to -20 degrees F or -30 degrees F, which protects the flavor and integrity of the end product.
"There have been great temperature innovations with equipment; we're able to get reports on usage and turnaround to better test out our products," says Chapski. "The more real-time information we can utilize to help control production and costs, the better."
Continued innovations in ice cream equipment and creations will keep the excitement churning for manufacturers, chefs and operators alike.