Operations overcome diners' preconceived flavor expectations and find solutions to succeed in the competitive barbecue segment.
Case Study: Lucille's Smokehouse Bar-B-Que Signal Hill, Calif.
At each of the 20-plus Lucille's Smokehouse Bar-B-Que locations, smokers sit front and center in the dining rooms, helping to drive home the restaurant chain's dedication to the craft. Customers can view the loading and unloading of various barbecue menu items, including meat and peppers, with pit masters ringing a bell to mark the occasions.
With footprints between 8,000 and 10,000 square feet, Lucille's locations emulate authentic Texas roadhouses. Photo courtesy of Brittany KeeneLucille's restaurants even provide smoker tours, educating diners about what food is cooking and the type of wood that's flavoring it. "We want our guests to understand the authenticity, so we provide an opportunity to interact with the equipment," says Chris Ferrell, Lucille's executive chef. Considering the volume of this operation, there have been many opportunities to educate diners. Lucille's original smoker produced more than 10 million pounds of barbecue after 15 years of use.
The concept was created in 1999 by Craig Hofman, owner and president of Hofman Hospitality Group, a Signal Hill, Calif.-based multiconcept operator that also runs Hof's Hut Restaurant & Bakery, Spin! Neapolitan Pizza and Saint & Second. Coming from a family that had been in the restaurant business since 1951, Hofman decided to explore different foodservice concepts. After Hofman spent two years traveling the South learning about authentic barbecue, Lucille's came into fruition.
Hofman then reached out to Ferrell, formerly a chef with The Cheesecake Factory but also a barbecue devotee. "Barbecue was my hobby and passion, but something I did mainly in my backyard," says Ferrell. "I always felt that American regional cuisine had been underrepresented and that Southern food and barbecue, in particular, was never given the respect it deserved."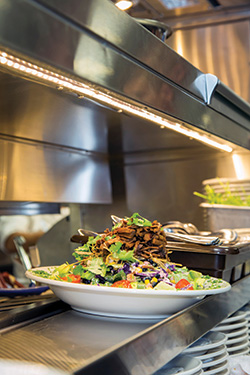 Although Lucille's features a casual and family-friendly ambiance, its dishes tend to be more-high end than traditional barbecue joints. Photo courtesy of Brittany KeeneIt was a match made in heaven, and Southern California was a prime location for the concept. When the first Lucille's location opened in Long Beach, wait times averaged three hours. And its popularity continues to sizzle with the company preparing to open three more sites. While Southern California, specifically Orange County, remains a primary expansion target, Lucille's also operates two locations each in Las Vegas and northern California as well as a Tempe, Ariz., site.
In terms of size, this business model requires a footprint that ranges between 8,000 and 10,000 square feet. Consequently, a majority of its locations, which are all company owned, are free-standing units. "Although we prefer ground-up construction, over the last couple of years, we've opened sites in mall locations," says Ferrell. "This wasn't something we initially considered, since it can be more challenging to secure space, but it has worked out well."
Lucille's executes much of the construction and design in-house. Craig's son Ryan oversees the restaurant design, building and construction and also is involved in the layout and design.
Lucille's evokes an authentic Southern charm, not just with its traditional Southern food and service, but also in its ambiance. The eclectic design, which incorporates local folk art, hand-painted signage, mismatched furniture and screened-in porches, emulates a Texas roadhouse.
The burgeoning barbecue chain features a more high-end menu that boasts a casual, family-friendly quality. Lucille's culinary staff make all the dishes from scratch, including the sauces, dressings and signature Southern biscuits. Baby back ribs and tri tip are the top-selling dishes.
The number of barbecue offerings has increased about 40 percent since the restaurant's inception. "It took us about two years to efficiently handle the volume of business we're doing," says Ferrell. "Once we planted our roots and things were under better control, we made an effort to stay contemporary with our food."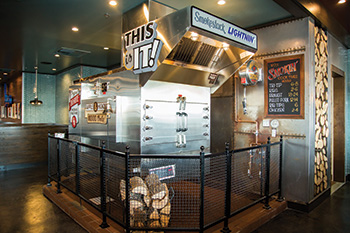 At Lucille's Smokehouse, smokers sit front and center in the dining room. Photo courtesy of Brittany KeeneLucille's continues to roll out new items, and twice a year it adds seasonal limited-time offerings that include Southern and American dishes. A recent fall LTO menu included a hot turkey sandwich, grilled citrus turkey breast and Salisbury steak. Two Lucille's locations serve as test sites, where guests can sample the new dishes and provide feedback. The company carefully manages changes to its menu to keep from alienating Lucille's loyal customer base. One of the more recent changes is a new burger program that has doubled existing burger sales. The restaurants also have a strong takeout business, with a number of locations calculating the highest sales figures of the year on Thanksgiving.
Like much of the construction and design, Lucille's handles equipment purchasing in-house. The back of house comprises more than a quarter of the restaurants. "We've worked on design elements to make the prep kitchens more efficient," says Ferrell. "This includes locating prep stations adjacent to the equipment."
The Lucille's cookline typically measures between 18 and 24 feet long and consists of 2 gas charbroiler grills, a holding cabinet and steam tables. The sauté station incorporates a flattop and open burners. This line also includes a salamander for cheese melting, a triple bank of deep fryers and pantry or cold station with refrigerated drawers, upright reach-ins, reach-in refrigerators and freezers. Heat lamps and warming drawers for biscuits, baked potatoes and hot towels are situated in the back and front of house.
The sauté station in Lucille's kitchens incorporates a flattop and open burners, a salamander, fryers and a cold station. Photo courtesy of Brittany KeeneThe beefy prep kitchen includes four structured stations. The sauce station, designated for hot sauces and dressings, uses oven burners and tilt steam kettles that can produce 20-gallon batches. A salad/slicing prep station contains a salad spinner, slicer, food processor, dicers and push cutters for vegetable prep and processing. Meats are prepped and processed at the smoker station. Here, ribs are peeled, meats are seasoned and rubbed, and smoker carts transport food out to the dining room smoker for cooking. The full production baking station, which produces between 3,000 and 5,000 biscuits daily, has two convection ovens and both 40- and 80-quart mixers.
"We recently incorporated a new convection oven into our operations that can add moisture to products like beef ribs, shoulder and brisket, during retherming," says Ferrell. "This has resulted in quality improvements and helped us with our yields, since the proteins aren't dehydrating as much during the reheating process."
The new convection oven also has revitalized Lucille's baking program, and staff use it to produce cornbread, cakes and pies. The operation replaced a quarter of its standard convection ovens with these units and will be adding 80 more to its kitchens over the next several months.
Staff produce Lucille's dishes and ingredients, including sauces, dressings and signature Southern biscuits, from scratch. Photo courtesy of Brittany KeeneLucille's also converted to glycol refrigeration, which has helped reduce costs and maintenance. "Over the last couple of years, we've added glycol beer systems, running 80 feet of refrigerated beer lines from our coolers," says Ferrell. "It was an investment to start up but has resulted in better product and less maintenance."
The company constantly evaluates equipment for energy efficiency. As a result, the operation now uses low-pressure rinsing, automated faucets in most locations, environmentally friendly internal degreasing tanks to clean smoker ranks and sauté pans and LED lighting to reduce energy use. The current focus is on finding more efficient holding drawers and cabinets.
In terms of future growth, Ferrell anticipates opening two to three locations a year moving forward. "I'm happy to see barbecue and American cuisine rising in this country," says Ferrell. "Like religion and politics, everyone has their own viewpoint on barbecue, so this makes it one of the most difficult cuisines for foodservice operators. We're up for the challenge."
Q&A: Leland Avellino, executive chef Dinosaur Bar-B-Que, Syracuse, N.Y.
Beginning as a simple concession stand, Dinosaur Bar-B-Que has evolved into a full-service, 200-seat operation that now has 10 sites.Not many restaurants have undergone as many transformations as Dinosaur Bar-B-Que has over the last 32 years. In its first incarnation back in 1983, Dinosaur Bar-B-Que was a rudimentary mobile concession stand concept that smoked meats in a 55-gallon drum that had been cut in half.
For the next five years, founder John Stage and his two partners from an Albany, N.Y., motorcycle club traveled the Northeast with the concession stand, visiting motorcycle shows, fairs and festivals.
In 1988, Dinosaur Bar-B-Que found a permanent home in downtown Syracuse, N.Y., and evolved into a quick-service barbecue joint. Just two years later, after tripling in size and adding a full bar, full-service dining and live music, the restaurant's prototype became what it is today, a 200-plus-seat operation with 10 locations.
Dinosaur Bar-B-Que's menu makes it unique. "We take all the best barbecue from different regions, including the Carolinas, Texas and Memphis, and perfect it in our kitchens," says executive chef Leland Avellino. "Wherever the meat comes from, we do our best to emulate and show respect to the region."
FE&S spoke to Avellino about Dinosaur Bar-B-Que's menu, the equipment integral to its production and the challenges in running a barbecue operation.
FE&S: What defines your concept?
Dinosaur Bar-B-Que's pit-to-plate process increases speed of service, as meat is continuously coming out of the smoker.LA: While many barbecue restaurants have a cook-and-cool process, we are strictly pit to plate. We hold meat at the desired temperature for short periods after cooking, and then serve it, rather than chilling and reheating items. The pit-to-plate process is perfect for speed of service because we time our loads of meat so there is always fresh product coming out of our smokers. Some of our dishes come out quickly, such as pork and sliced brisket, which are pulled to order. We cook all day and night so our pits are constantly in motion. In doing so, we are serving barbecue at its absolute best throughout lunch and dinner. We load meat in the evening for the next day's lunch service and at 5 a.m. or 6 a.m. for that night's dinner service.
FE&S: Describe your signature and best-selling menu items.
LA: All of our items are made from scratch. Pulled pork, St. Louis–style pork ribs and beef brisket are popular, but we are famous for our chicken wings, which are oversized, smoked and rendered on the grill with a light sauce. These items are paired with a variety of sides, such as fresh-cut fries, mac and cheese, turkey-neck collard greens, whipped sweet potatoes with spicy nuts and Syracuse salt potatoes that are cooked in heavily salted water and covered with Cajun butter. Menus evolve with each new location, and we add one to two new items with each site opening. This has included a Korean-inspired lamb dish at our Chicago site and smoked crispy pork belly sliders in Baltimore.
FE&S: How have your kitchens and production process evolved?
One of the top sellers, Dinosaur Bar-B-Que's oversized chicken wings are smoked and rendered on the grill with a light sauce.LA: We do have some large kitchens, but as we've grown and become more efficient, we've been able to reduce these footprints. The back of house is divided into a smokehouse, prep room and main line. The engine of our production is our smokehouse. This includes two pits, one from Texas that's used for smoking pork and beef for 12 or more hours, and the other, a traditional unit for ribs and wings. The prep station includes tilt skillets and kettles, six-burner stoves and steamers. The main line has wood burning grills and a station dedicated to pork pulling and beef slicing with a warm table. We are constantly working the meat.
FE&S: Have there been equipment innovations that have impacted your operations?
LA: Over the last couple of years, we've seen innovations in holding equipment in terms of variable humidity controls. Airflow also is important, and new air-handling equipment has helped us dial in the way we do business with better balance.
FE&S: What is the biggest challenge in operating a barbecue restaurant?
Rather than chilling and reheating smoked items, Dinosaur Bar-B-Que's meat is held hot for a short period before being served.LA: From an operations standpoint, the hardest part is training people to become pit bosses. This is a skill, not something you can teach someone in a few days. To do this job, one not only has to have the knowledge but also the aggressiveness and true love for this craft. I've been cooking professionally since I was 15, and this is the most humbling type of food preparation. It's an unreliable science, so it's necessary to rely on the feel and even atmospheric pressure, to get it right. Just when you think you have it and know all there is to know, that's when you fail. We need to give our guests an experience that is 12 to 18 hours in. Managing this type of food is a long process that takes a team of people and constant supervision.
FE&S: What does the future hold for Dinosaur Bar-B-Que?
LA: We're loosely slated to open between one and two restaurants a year. How we grow depends on the strength of the organization. We will not let our growth plan get in the way of how seriously we take our quality and will never be kept to a deadline to open restaurants. Rather, we will let our success and readiness dictate our growth.