Creative cafeteria and kitchen design on a limited budget improve staff efficiency and customer satisfaction at Miller Elementary and Langston Road Elementary.
The backdrop of Rocketeria at Miller Elementary features colorful space-age graphics that convey the importance of healthy eating and physical activity. Cathy Brazeal's design sets up this space to serve as a learning laboratory for students. Photo courtesy of Brazeal Consulting LLCAs part of an ongoing mission to improve the dining experience for the district's 28,000 students, Georgia's Houston County School Nutrition completed approximately 30 cafeteria refreshes, renovations or new builds. Within four years, the remaining eight schools will have an improved foodservice operation.
"Cafeteria designs have been an ongoing project in our county with the goal of improving the customer experience," says Meredith Potter, MBA, RD, LD, director of school nutrition for Houston County Schools. "We strive to ensure that our dining rooms are pleasant, age-appropriate environments that are conducive to the social atmosphere at lunch while also incorporating nutrition themes and school mascots. In our experience, such an environment yields happier customers and, more importantly for the business side, repeat customers. In a highly regimented day, the engaging and vibrant designs provide an atmosphere of fun and enjoyment."
"Happier customers" are the result of less time spent waiting in line, more time to enjoy eating meals and increased interest in the dining area as well as menu choices that are enhanced with better presentation on the new serving lines.
In the back of the house, staff keep inventory in appropriately designed storage areas. Paper products and chemicals are placed in designated areas. Staff keep food in separate areas and store products on labeled racks in the dry goods room, walk-in cooler and freezer. "These processes increase accuracy of tracking inventory," Potter says. "Employees are enjoying the ability to work in a dedicated space, which decreases safety issues and concerns."
Rocketeria at Miller Elementary
Constructed in 1956, Miller Elementary no longer met state guidelines for the square footage of the kitchen and cafeteria per the student base. In addition, the population growth in Houston County, coupled with the Community Eligibility Provision (CEP), resulted in the school serving far more students than it was intended to accommodate. CEP allows schools that have predominately low-income children to offer free, nutritious meals to all students through the National School Lunch and School Breakfast Programs. "The overall project goal was a safe, fully functional, efficient kitchen to help the staff do their jobs to the best of their abilities and provide an enjoyable environment for cafeteria customers," Potter says.
In the back of the house, the overall size of the kitchen space was expanded to include a new walk-in cooler, walk-in freezer and dry storage area. Several pieces of equipment, such as a soak sink, a gas range and a combi oven, remain. Other equipment, including warmers, a reach-in refrigerator, two cashier stands, a refrigerated milk container, two serving lines, a two-compartment vegetable sink, shelving units and hose reels, were transferred from other facilities.
Placement of Miller Elementary's Rocketeria near the serving line and production kitchen results in staff efficiency. Photos courtesy of Houston County School Nutrition; photography by Meredith Potter and Lauren Koff Wide aisles contribute to the facility's new circular traffic flow layout. "Employees can move freely in their spaces and push carts and racks to where they need to be," Potter says. The circular plan positions prep tables in the most logical and efficient places. For example, produce prep tables sit by a two-compartment sink while other prep tables sit near ovens.
"Though relocating the exhaust hood and the equipment — a combi oven, two-burner range, tilt skillet, double-stack convection oven, kettle and two warmers — under the hood would have been ideal, the changes would have cost $250,000, which wasn't in the budget," McElheny says. "Therefore, the hood and equipment remained in place near the first serving line."
Another improvement is the addition of a second serving line, which allows staff to significantly speed up service and to present menu items more enticingly. "Also, the bright, clean, youthful decor catches children's attention and promotes a positive dining environment," says Lauren Koff, system dietitian.
"With the new design, the two serving lines can appropriately display all the menu items, which increases the attractiveness of the food items to customers," says Deborah Bennett, area manager. "Also, the additional warmers and coolers behind the line hold significantly more food than was possible in the past. This improves efficiency and food quality." With the new setup one staff member can replenish the side-by-side serving lines. Menu items now come directly from the ovens into the additional warmers sitting behind the two serving lines, which eliminates an additional holding step that was part of the previous setup.
The Corral at Langston Road features modern metals, wood and a bit of turquoise. Photo courtesy of Studio 84 Designs, Anne Mitchell, ownerAnother major change involved moving the dishroom from where the new serving line now sits to the far side of the kitchen. Efforts to repurpose existing equipment remained a priority for the design team. Nearly 40 pieces were salvaged and reused to complete the renovation and reduce expenses. The new kitchen ceiling contains new, energy-efficient insulation to support heating and cooling the space. LED interior and exterior lights brighten the space, while occupancy sensors detect long periods of time without movement and automatically turn off the lights in that area. The refurbished operation also contains a new Energy Star–rated dishwasher.
The renovation and expansion brought the kitchen into compliance with state guidelines for space requirements and improved employee efficiency and customer satisfaction.
The Corral at Langston Road Elementary

Perry Primary School, which was built in the 1950s, needed a complete overhaul. "A renovation of the school building was not an efficient use of resources due to the age, purpose and location of the building," McElheny says. Langston Road Elementary was built to replace Perry and to accommodate population growth and relieve overcrowding in nearby schools.
This new school's spacious layout contains a concrete (rather than tile) floor. The cooler and freezer sit along the back exterior wall for ease of delivery and for staff's accessibility. A four-compartment sink sits on the far wall nearest the cold prep and cooking areas. An exhaust hood, which features central placement in the kitchen, covers combi ovens, a tilt skillet, kettle, warmer, double-stack convection oven and steamer.
The serving area consists of two side-by-side serving lines with hot and cold wells and a chilled condiment bar accessible from both sides. The pass-through warmers and cold holding units behind these lines allow staff to easily batch-cook menu items in the kitchen and place them in the units so servers do not need to move from their line positions.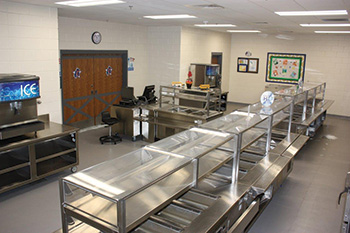 The serving area at Langston Road Elementary consists of two side-by-side serving lines with hot and cold wells and a chilled condiment bar accessible from both sides. Photos courtesy of Houston County School Nutrition; photography by Meredith Potter and Lauren Koff. The goal for the dining area design was an open, inviting environment with a lot of natural light that comes through an entire wall of windows. The corral-themed design incorporates stallions, the new school's mascot. "We used modern metals, wood and a bit of turquoise to brighten the environment," says Anne Mitchell, principal, Studio 84 Designs.
Key Players
Ownership: Houston County Schools, Perry, Ga.
Director, School Nutrition: Meredith Potter, MBA, RD, LD
Coordinator: Shana Wood, MS, RD, LD
School Nutrition Area Manager: Deborah Bennett
Director of Facilities: Scott Hill
Facilities Specialist and CAD Technician: Derek McElheny
System Dietitian: Lauren Koff, MS, RD, LD
Manager, Miller Elementary: Stephen Askew
Manager, Langston Elementary: Robin Webb
Architect, Miller Elementary: McLees, Boggs & Selby (MBS) Architects, Macon, Ga.; David Selby project architect
Architect, Langston Road Elementary: Robertson Loia Roof Architects & Engineers, Alpharetta, Ga.; Ana Correa, LEED AP, architectural designer
Interior Design, Miller Elementary: Brazeal Consulting LLC, Marietta, Ga.; Cathy Brazeal, owner; Marc Wilson Designs, Buford, Ga.; Marc Wilson, owner
Interior Design, Langston Road Elementary: Studio 84 Designs, Macon, Ga.; Anne Mitchell, principal
Equipment Dealer and Consultant, Miller Elementary:
Restaurant & Kitchen Supply, a Direct South Company, Macon, Ga.
Equipment Dealer, Langston Road: Thompson & Little, Fayetteville, N.C.
Construction, Miller Elementary: Parrish Construction Group, Perry, Ga.; Charlie Griffis, vice president
Construction, Langston Road Elementary: Parrish Construction Group, Perry, Ga.; Charlie Griffis, vice president
The Corral at Langston Road features modern metals, wood and a bit of turquoise. Photo courtesy of Studio 84 Designs, Anne Mitchell, owner
Facts of Note:
Number of Students Enrolled in Houston County Schools: 28,000
Numbers of Students in Meal Programs System Wide: Lunch participation, 75 percent; breakfast participation, 31 percent
Free and Reduced-Price Meals Overview: System-wide free and reduced percentage as of Oct. 31, 2014, is 57.64 percent, which includes 10 Community Eligibility Provision (CEP) sites (schools that provide breakfast, lunch and snacks at no charge to students). In the fall of 2015, 16 schools will be CEP sites.
Opened, Miller Elementary: July 2014
Opened, Langston Road Elementary: July 2014
Size, Miller Elementary: Total school, 71,013 sq. ft.; kitchen, 3,385 sq. ft.; cafeteria, 3,007 sq. ft.
Size, Langston Road Elementary: Total school, 92,668 sq. ft.; kitchen, 4,212 sq. ft.; cafeteria, 4,390 sq. ft.
Average Daily Participation, Miller Elementary: Enrollment is 571 students. The school averages 312 breakfasts/day, 506 lunches/day and 50 snacks/day. As a CEP school, grab-and-go breakfasts will be implemented in the fall, which is anticipated to result in a participation increase to a goal of 95 percent from the current 59 percent.
Average Daily Participation, Langston Road Elementary: Enrollment is 610 students. The school averages 201 breakfasts/day, 405 lunches/day and 42 snacks/day.
Hours, Miller Elementary and Langston Road Elementary: Breakfast, 7:45 a.m. to 8:30 a.m.; lunch, 11 a.m. to 12:45 p.m.
Menu Specialties: Plans are underway to offer system-wide promotional items and limited-time offers, such as flavored chicken wings and burrito bowls. Items made from scratch include taco soup and pulled pork barbeque. New items include kale chips and parmesan-roasted cauliflower.
Staff: Total district School Nutrition Program (SNP) staff, 374 employees; Miller Elementary, 8 SNP employees, including the manager; Langston Road Elementary, 7 SNP employees, including the manager
Total Project Cost, Miller Elementary: $899,200
Total Project Cost, Langston Road Elementary: $12.849 million for the entire school
Equipment Investment, Miller Elementary: $142,466 for cooler and freezer expansions and dishwasher; other equipment transferred from other locations
Equipment Investment, Langston Road Elementary: $531,146
Website: www.hcbe.net