The kitchen of the future has long been a topic of discussion for David Zabrowski of PG&E's Food Service Technology Center (FSTC) and Don Fisher of Fisher Consulting. This modern day cookline, they say, would feature all energy- and water-saving appliances as well as optimal design, enhanced operator education and maintenance that could get us closer to the unthinkable in our industry: net zero energy.
The Comprehensive Commercial Kitchen Equipment Retrofit Project starts by placing submeters on pieces of foodservice equipment to establish baselines for energy consumption.Now their vision of a cleaner, safer, smarter and more sustainable kitchen is getting closer to becoming a reality.
Earlier this year, Fisher-Nickel Inc., was awarded a Building Natural Gas Technology (BNGT) grant from the California Energy Commission (CEC) to conduct a study at various foodservice operations in a demonstration of high efficiency commercial cooking equipment and kitchen system optimization in commercial foodservice. This California Statewide Utility partnership with SoCalGas, San Diego Gas & Electric (SDG&E) and Pacific Gas & Electric (PG&E) is one of the first of its kind for both the state and the foodservice industry at large. The project also differs from previous efficiency guidance set forth from the FSTC in that it's the first study of equipment efficiency set in the field rather than in a lab or major commercial facility.
The Comprehensive Commercial Kitchen Equipment Retrofit Project will take place over the course of two to three years at three different operations where experts will determine energy savings potential, cost effectiveness and cooking performance of high efficiency equipment as compared to baseline equipment in those settings. In some cases, it will replace existing equipment with more efficient models. Representatives from Fisher-Nickel Inc. and PG&E's Food Service Technology Center will lead the project, assisted by expert opinions and feedback from a Technical Advisory Committee (TAC) consisting of representatives from NAFEM (North American Association of Food Equipment Manufacturers), the National Restaurant Association's Conserve program, SoCalGas, PG&E and other consultants. The CEC and TAC will meet throughout the year to collaborate on ideas and review outcomes.
"This is something David and Don have been trying to do for years," says Denis Livchak, energy research engineer with the PG&E FSTC. "It's incredible to see this project come together and back up what we have said is our hope for the kitchens of the future."
The sites that have been selected for the "cookline project" include Moffitt Café at the University of California-San Francisco (UCSF) Medical Center in the PG&E service territory; Gate Gourmet in Southern California Gas Company service territory; and Werewolf Bar & Grill in San Diego Gas & Electric service territory. Candidates for a fourth site in PG&E service territory are currently being considered.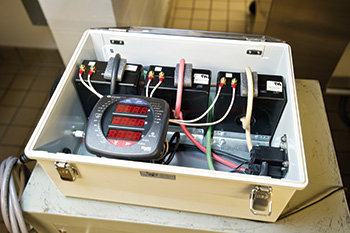 The Comprehensive Commercial Kitchen Equipment Retrofit Project starts by placing submeters on pieces of foodservice equipment to establish baselines for energy consumption.After a kick-off meeting in March, the first portion of the project is just beginning at Werewolf Bar & Grill, an independent gastropub in San Diego's Gaslamp district. Submeters were installed on each appliance in the kitchen as well as on the newly replaced HVAC unit to gauge the total kitchen energy use and establish baseline numbers for determining efficiency potential. This will be the only site out of the group where all of the equipment will be replaced because of the smaller size of the kitchen compared to the other sites, according to Livchak.
Livchak estimates replacing older, outdated models with more efficient ones can save up to 30 percent for a variety of appliances, or about $1 per therm. Higher efficiency broilers, fryers and griddles can easily save 30 percent, while new convection ovens can save up to about 20 percent. Simply shutting down the HVAC system during nonpeak hours or using demand-controlled ventilation can save at least 40 percent, but these figures will be more accurately defined — at least for the scale of a small independent operator — once the Werewolf study is complete at the end of the three-month period ending this fall. Cookline project members hope to determine similar efficiency guidance for the other larger-scale sites over the next two years as well.
Aside from replacing equipment and HVAC systems, a third portion of the study will center on energy visualization systems where managers will be able to see how much energy they are using.
At the two-year-old, roughly 50-seat Werewolf Bar & Grill, owner Chad Cline says he saw his gas and electric bill skyrocket not long after opening the restaurant that operates in a space previously occupied by a different restaurant. Even though the remodeled kitchen is smaller than the previous one, the addition of a larger bar helped increase the monthly electric bill to a whopping $8,000 from the typical $2,000 to $4,000 per month that Cline's other restaurants pay.
"We had a heat wave during the summer, and our bill more than doubled — it was scary," he says.
While Cline and many other independent restaurant owners like him want to do what they can to be proactive about using less gas and energy and save on their bills, it's difficult for smaller operators to make those investments in higher cost, energy-efficient equipment if they don't provide a definite savings potential.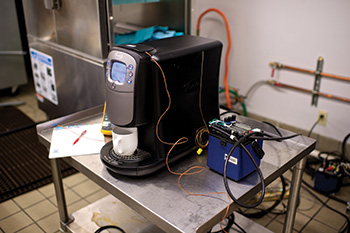 The Comprehensive Commercial Kitchen Equipment Retrofit Project starts by placing submeters on pieces of foodservice equipment to establish baselines for energy consumption."We're different than national chains that have their budgets set up a certain way so they can make those investments," says Cline. "If you offer me a $300 oven versus a $10,000 one, I'm going to take the $300 one." But that could change if he were to know exactly when he could recoup savings for a $10,000 high efficiency model — that will be set up in a smaller kitchen like his.
At Werewolf, six meters were installed on the gas equipment, including a three-foot griddle, a charbroiler, two fryers, a six-burner range, and a salamander, according to Livchak. The cookline project team will also study the new HVAC unit installed for optimal energy savings, including installing side panels and reorganizing the equipment underneath the hood, if necessary. Demand-controlled ventilation might also emerge as an additional efficiency optimization tool.
After establishing baseline figures for each appliance, it will be time to replace the standard efficiency cookline with best-in-class, advanced technology gas cooking equipment. For now, the cookline project doesn't include electric equipment but that could change. FSTC hopes to work with manufacturers to get donated product for the replacement equipment.
For the behavioral part of the equation, FSTC will evaluate the efficacy of the interactive platform on user behavior to determine if additional energy savings can be achieved from this "intelligent" cookline. User interviews at three different intervals of the demonstration — during the initial baseline equipment monitoring, after the replacement equipment is installed, and after the EIS system is activated — will provide additional frontline perspective.
Qualitative attributes such as cooking performance, safety, ease-of-use and thermal comfort will be assessed through these interviews, which will also be used to evaluate the feasibility of adopting energy-efficient equipment.
The project team also aims to bridge the knowledge gap by educating the market sector on total cookline energy consumption and potential energy savings.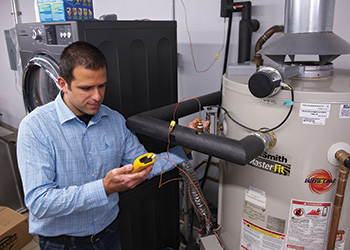 Monitoring hot water consumption will play a key role in the The Comprehensive Commercial Kitchen Equipment Retrofit Project.Data collected from the demonstration sites will be used to support existing utilities' energy efficiency programs and widen emerging technology programs. These programs ultimately drive energy savings and emission reduction in California.
With an estimated 93,300 CFS facilities operating in California, the total gas load of these establishments approaches 40 percent of the overall commercial gas consumption in the state, according to the FSTC.
If the 93,300 CFS sites across California were to adopt high efficiency equipment, an estimated 98 million therms could be saved, the cookline project points out. This equates to annual reductions of $66 million in operating costs, 573,000 tons of CO2 emissions and 451 tons of NOx emission.
The cookline project takes the FSTC's "efficient kitchen equipment checklist" it developed for LEED building design one step further in that appliances can be compared to other appliances and more efficient models based on one particular type of kitchen, large or small. After the cookline project is complete, operators of all shapes and sizes will have more definitive guidance on how much they can save on their bills through certain types of energy-efficient equipment and systems.