Not many operations can put a truly unique spin on comfort food, but one Colorado brew pub continues to find success with an unlikely pairing.
The in-house beer-brewing operations at The Post Brewing Co. include a mash tun, fermenters, tanks and kettles.When Dave Query decided to open The Post Brewing Co. last January, the goal was to create a concept with food that fell outside of the normal range of what other operations of this type offered. The result was a restaurant built around a fried chicken menu and microbrews that complement it. Chef Brett Smith and brewmaster Bryan Selders work in tandem, pairing the food and the beer to bring out the best in both.
Selders' decade as a beer maker for Delaware's Dogfish Head Craft Brewery has served him well at The Post Brewing Co. "Our brews are well balanced, yet not heady or hoppy," Query says. "The beer doesn't have a high alcohol content, so it's made for those who like to drink a lot of beer."
The Post Brewing Co. is operated by Boulder's Big Red F Restaurant Group, which has six other restaurant concepts in the region. These include four Jax Fish House locations; Zolo Grill; Centro Latin Kitchen; West End Tavern; The Bitter Bar; and Lola Mexican Fish House.
FE&S spoke with Query to learn more about the restaurant and brewery and how microbrews have been creatively combined with an American classic.
FE&S: The Post Brewing Co. is a unique concept. Describe the space and ambiance.
DQ: The brew pub totals 8,000 square feet, with the brewery encompassing 25 percent of the space, the kitchen another 25 percent and the 120-seat dining room the other 50 percent. We also have outdoor seating for 120. The decor is very simple American, with a fireplace by the front door and a lot of old barn wood from Wisconsin throughout the space and hanging from the ceiling. I would describe it as having a Colorado plains theme.
FE&S: The menu centers on fried chicken, with an emphasis on one-of-a-kind sides. Can you offer details about this unique focus?
DQ: Our signature dish is fried chicken. Prior to opening, we spent a lot of time visiting restaurants around the country to help perfect our gluten-free breading recipe. Post Brewing Co. also offers between 12 and 15 different side dishes every day. We source many of our ingredients from the bevvy of farmers in our area. Signature sides include crispy pork cheeks, collard greens, green chile mac and cheese, mashed potatoes and gravy and black-eyed pea salad. Our cheddar biscuits also are very popular. There are daily blue plate specials, such as chicken enchiladas, burgers and a fish fry on Fridays. Brunch offerings are similar to the dinner menu, with the addition of egg dishes, such as wood-fired skillet eggs with bacon, creamed greens and cotija cheese; The Post Toast with egg-battered Texas toast, bourbon apples and powdered sugar; and roast beef hash, which includes truck-stop eggs, root vegetable hash and hollandaise.
FE&S: What types of microbrews do you offer, and how are these worked into the menu?
DQ: We feature seven brews at one time that are constantly changing. Although we tend to offer a seasonal flush, our core brands include a pilsner, lager, IPA, porter, stout and Belgium-style brew. Our brewmaster is a mad scientist who knows how to make well-balanced, drinkable beers. We also use the spent grain from the brewing process to create ice cream. The menu includes a fondue and soups created with our microbrews. Our oyster stout is served in all of our Jax Fish House locations, and The Post Brewery's microbrews are available in all Big Red F restaurants.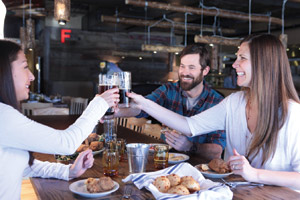 The Post Brewing Co.'s decor is simple American and includes old barn wood from Wisconsin featured throughout the space and hanging from the ceiling.FE&S: What are the main pieces of equipment included in the kitchen and brewery?
DQ: Our wood-burning oven is the centerpiece of the kitchen. It's a fantastic piece of equipment that we use for roasting vegetables, finishing off our rotisserie chickens and preparing some of our appetizers, like our pimento and goat cheese dip. We use two big convection fryers for our fried chicken and a rotisserie for our other birds. Food is stored in walk-in and reach-in refrigeration units. The brewery contains a mash tun, an insulated brewing vessel with a false bottom where the milled grain is mixed with water and heated. Other equipment in this area includes fermenters, tanks and kettles.
FE&S: Breweries require a lot of expensive, high-crafted stainless equipment. What are the main purchasing considerations for brew pubs?
DQ: Durability is the main aspect we look for when purchasing our equipment. It must endure heavy use in our operation, so units should be well made and not require a lot of maintenance or repair. Because brewery equipment is very specific, it can be hard to come by and is pricey. Also, the time frame in obtaining these units can be lengthy, so it's necessary to plan ahead when purchasing brewing equipment.
FE&S: How is your brewery different from others?
DQ: Although breweries today are more automated than in the past, much of the production still falls into the hands of the brewmaster. Because the process is based on the intelligence of the one in charge, every lab is different. Bryan, our brewmaster, wanted to create a brewery that required a minimal amount of labor. Our one-man operation is so well put together that the company supplying the equipment is using it as a benchmark for its other projects.