Foodservice Equipment & Supplies named Pavilion Dining Center, University of California, Merced the recipient of its 2021 Facility Design Project of the Year Award.
"This project served to bridge old and new campus buildings," says Joseph Carbonara, FE&S' editorial director. "The team brought new flexibility into how the campus can use the space while not neglecting traditional elements or how students function in the space. The design melds it all together fluidly."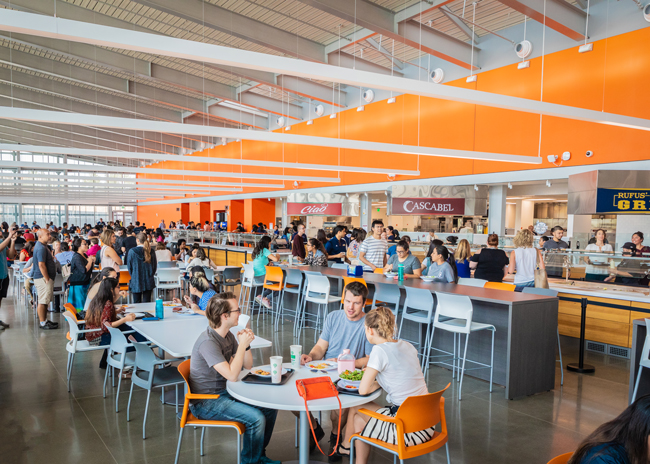 In addition, FE&S' judges recognized the efforts of the team from The Farehouse Market with an honorable mention in this year's competition. "This project is a great example of what it takes to coordinate and build something when it involves many different pieces," Carbonara notes. "The cohesiveness of the project team and collective experience of all parties made a huge contribution to the end result."
Chicago-based real estate investment and development firm Sterling Bay partnered with teams from Lombard, Ill.-based Quest Food Management Services and Indianapolis-based Reitano Design Group to develop The Farehouse Market.
Key members of the Pavilion Dining Center at the University of California, Merced, include:
Owner: University of California Merced, Merced, Calif.
Auxiliaries services director (interim): Mark Cunningham, associate vice chancellor
Associate director: Sean Murray
Executive chef: Mitch Vanagten
UC Merced culinary staff: Buntha John Oung, executive sous chef; Matthew Perez, evening sous chef; Nicole Fleming, catering chef; Jorge Wario, quality assurance; Esther Adams, baker; Katrina Trexler, dining center manager; Mario Trujillo Espinoza, dining center assistant manager; Randy Rogge, dining center lead
Architects: Skidmore, Owings & Merrill LLP, San Francisco: Michael Duncan, FAIA, design partner; Sean Ragasa, design director; Aaron William Baumbach, senior architectural professional; Grant Cogan, associate; Karen Drozda, AIA, LEED Green Associate, associate; Mark Sarkisian, PE, LEED AP, structural and seismic engineering partner, Skidmore, Owings & Merrill
Interior design: Skidmore, Owings & Merrill LLP, San Francisco
Foodservice design consultants: Cini-Little International Inc., Germantown, Md.: Keith W. Short, director of design West Coast and project manager, San Francisco; Michael Perigard, director of BIM/CAD
Construction and design build firm: Webcor Builders, San Francisco: Matt Rossie, senior vice president; Brad Shambaugh, project manager; Thomas Silva, design manager
Project developer and equity provider: Plenary Group, Los Angeles: Joshua Coulter, vice president; Rehan Khan, project manager
Operations and maintenance: Johnson Controls Inc., Milwaukee
Equipment dealer: Boelter, Sacramento, Calif.: Max Barrera, project manager
The 2021 Facility Design Project of the Year Award was selected by a panel of judges including: Bill Davis of Edward Don & Company, Beth Kuczera of Equipment Dynamics Inc., Stuart Davis of Next Step Design, and Kristin Sedej, FCSI of S2O Consultants Inc.
FE&S' Dealer of the Year and All Industry Awards Gala recognizes the foodservice community's brightest stars by presenting them with some of the industry's most time-honored awards.
FE&S is able to present its 2021 Dealer of the Year and All Industry Awards Gala thanks to the support of its platinum sponsors: Ali Group, Alto-Shaam and Welbilt.