The Farehouse Market, Chicago

The historic Montgomery Ward Company Complex in Chicago's River North neighborhood, now known as 600 West Chicago, has hosted many tenants in its 113-year history. Two years ago, Sterling Bay, a Chicago-based real estate investment and development firm, spent more than $12 million to bring the beauty of this 1.6-million-square-foot landmark property's original features back to life while also modernizing some of the shared spaces.
"The primary focus of the redesign of the entire building's first floor and exterior was to create an open and inviting main lobby and pay homage to the origins of the building development from the early 1900s," says Andrew Essary, SE, LEED AP, senior project manager, Sterling Bay. "The lobby hadn't been renovated since 2002 and was very compartmentalized between retail and tenant uses. Given that construction took place while the building was occupied, phasing of construction and specialized barriers were used to ensure site safety and control access."
Project highlights include a $7 million restoration of the building's original facade with tuck pointing brick and original concrete restoration; construction of a new drop-off ramp to reduce street congestion and create a designated entry point; and a new canopy over the entrance designed to replicate the previous loading dock canopies. In the lobby, raw concrete railway columns remain untouched, a nod to the building's history as a former railway roundhouse. A towering light wall brings daylight into the lobby atrium and modernizes the entryway.
A group of nails set into the floor near the elevator bank reference the years in which the building was originally constructed and renovated. In addition, one of the building's longest hallways features vintage roller skate wheels that hang from the ceiling, seemingly floating above tenant's heads. This design element serves as a reminder of the roller skates Montgomery Ward employees wore to quickly move throughout the building while delivering packages.
The property contains The Farehouse Market, as well as updated common areas, a pedestrian walkway along the Chicago River, a reconfigured outdoor plaza level, new retail spaces such as Amazon's brick-and-mortar Amazon Go store, a tenant lounge and meeting rooms, a rooftop deck with views of the city and river, on-site parking, an on-site full-service gym and a bike room.
"The Farehouse Market was designed to blend with the main lobby, ensuring it was a natural extension of the first-floor design, especially with its visibility and location right at the front of the entrance," Essary says. "The market replaced an underperforming restaurant, which was completely gutted."
The Sterling Bay team partnered with teams from Lombard, Ill.-based Quest Food Management Services and Indianapolis-based Reitano Design Group to develop The Farehouse Market. Together, they created distinct service areas in each of three restaurants — Grano, Braze and Field — in addition to Cafe, Bar and Market. Each concept offers different dining experiences to appeal to the building's employees and neighborhood residents.
The Farehouse Market's name, logo and environmental graphics, such as vinyl graphics and wallpaper, invoke the original use of the building as Montgomery Ward's catalog warehouse. Wall graphics reflect the art deco history and fresh ingredients culinary staff use when preparing the food.
In addition to the building's original concrete pillars that had to remain in place, ventilation became one of the most daunting project challenges. "We had to wrestle with exhaust capacity in the main-floor kitchen because the prior operation caused odor and vapor challenges for the entire lobby," Essary says. "The height of the ventilation shaft, which runs eight stories up in a historic building, certainly presented challenges for all parties involved. All equipment was specifically selected to work with the existing exhaust capacity in addition to supporting the menu ambitions."
"The complexity of the menu and overall program and the number of potential customers — 7,500 — coming to the restaurants, cafe, bar and market and the need for seating required designers to develop a new production kitchen in the basement level," says Nicholas Saccaro, president, Quest Food Management Services.
The production kitchen sits in a space formerly dedicated to general storage for the previous tennant. "This level is also where the main building receiving dock is located, so this placement actually helped with the efficiency of product flow," says Chris Wair, design principal, Reitano Design Group, Indianapolis. "Because we were creating new kitchen space in a very old building, there was no reasonable way to get exhaust hood ductwork from the basement through the eight-story space in a historic building to the outside. This led us to utilize ventless combi ovens for the main production method in this kitchen."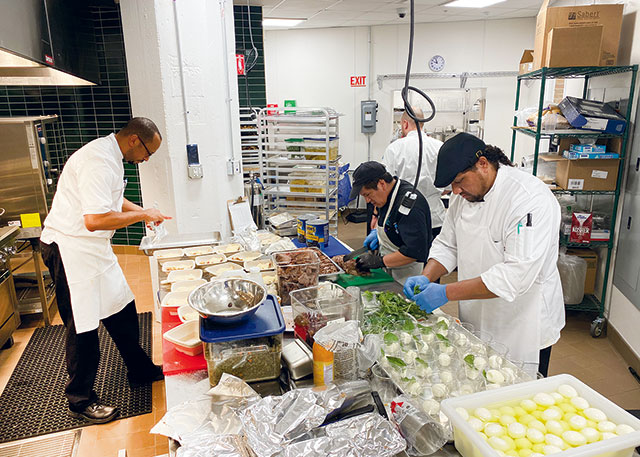 Culinary staff prepare ingredients for to-go menu items in the main kitchen. Photo by Nicholas Saccaro
Chef Doran Payne prepares seared ahi tuna. Photo by Kirsten Kuhlmann
"We couldn't run new black iron in the kitchen," Saccaro adds. "We had to get special approval from the city of Chicago to use the ventless combi ovens within the lower level."
"Ventless equipment such as this is not currently allowed in the city without going through a review board and obtaining special dispensation based on how the equipment will be used and maintained," Wair says. "The City of Chicago wanted assurances from the manufacturer and the operators that all safety and maintenance functions would be properly trained and carried out before they would approve the use of these items."
Ramiro Lopez puts finishing touches on seared ahi tuna appetizers. Photo by Kirsten Kuhlmann
Lower-Level Kitchen and Production
Staff walk pallets with food deliveries from the loading dock down a long hallway — one-third of a mile — to the kitchen. "The building is just massive," Saccaro says. "We're almost on the other side of the building from the loading dock."
Once staff complete their trek, they place menu ingredients in a large walk-in, bulk storage cooler, a small walk-in freezer, a beer cooler, main dry storage and secured liquor storage. The prep area in the kitchen is set up with four large prep tables, all placed so staff can work from either side of each one. The prep area contains ample space for pans and prep equipment. Separate designated raw protein and vegetable prep areas prohibit cross contamination. Staff use a fresh dough prep area with a 60-quart floor mixer to produce pizza dough and other bakery items.
In addition, combi ovens, coupled with a blast chiller, enable staff to cook, quickly and safely chill, and then later retherm food. "This gives maximum operational flexibility with minimal equipment," Wair says. "These units also help to retain products' freshness and therefore enhance the quality of prepackaged products sold as grab-and-go options."
Instead of installing a dish machine, the kitchen designers felt a pot-washing sink was more appropriate for the lower level. "This allows for general kitchen staff to operate as dishwashers and saves the labor needed to have a dedicated person at this station for much of the day," Wair says.
"Many members of the culinary team prepare food for the next day in the basement kitchen during the afternoon hours and work upstairs during hours when the foodservice operations are open to customers," Saccaro says.
Staff transport ingredients and menu items from the basement kitchen upstairs via freight elevators to the fresh food production kitchen and servery directly above. These ingredients and menu items arrive at the receiving portion of the upstairs kitchen where staff place prepped products into a prepared food cooler and freezer to await final production.
Main-Level Operations
"The overall food purchasing opportunities within The Farehouse Market help to create a unique venue, even for a sophisticated market like Chicago, arguably the best restaurant and food city in the country," Wair says. "The team of Sterling Bay, Quest and Reitano Design Group provided a venue in a relatively small footprint that affords customers a wide range of options for purchasing food and beverages. You would struggle to find another venue in Chicago, run by a single, quality-driven operator, with all of the choices offered at The Farehouse Market."
The main-level kitchen features an open plan so customers can see staff making freshly prepared menu items at a traditional array of work and serving stations. The kitchen supplies food to each of three adjacent restaurant areas. Farehouse uses mostly disposable packaging, so a small dishroom adequately handles the volume of dirty dishes.
Each food venue features grab-and-go-style beverage air curtain merchandisers at the beginning of the queuing area, and each allows customers to customize their selections. "The use of individual-well, quick-switch hot/cold units give Quest the maximum flexibility they need for menu changes," Wair says. Each venue's point of sale station includes an undercounter refrigerated display case for impulse purchases of side or dessert items.
This concept was also designed for maximum flexibility. The kitchen equipment was chosen so staff can use each piece for a variety of food styles. "There are no one-trick ponies in either kitchen," Wair says. "As trends and tastes change, which they seem to do almost monthly, the kitchens and serving spaces will be able to adapt and create new customer experiences without the need to do extensive facility remodeling."
Customers relax and work in comfortable seating options. Photo by Kevin Hartmann
Dining Concepts
Each dining concept offers a unique menu and distinct culinary experience. "The three restaurant concepts use prefabricated equipment counters that are linked together on-site with final finishes installed in the field," Essary says. "The result is standardized use of foodservice equipment with project specific finish materials that give a customized feel."
Because of the interdependence of the operations, Saccaro and his team can scale labor up or down as necessary to fit the volume of the daypart and day of week.
Turning to the individual stations, Grano features authentic Italian pizza al padellino, typically served in Torino, Italy. Staff use a high-end pizza deck oven to bake and slightly brown the thick soft crust on the outside. They top it with a variety of ingredients including prosciutto and mozzarella. Grilled veggie flatbread and barbecue chicken flatbreads also attract customers. Another menu item found here is rustic Italian piadina sandwiches, which feature thin flatbread, typically prepared in the Romagna region and made with white flour, lard or olive oil, salt and water and filled with protein and vegetables. Grano also offers al forno fresh-baked artisan entrees and entrees such as Cuban meatballs with white rice, green peas and soffritto sauce.
This restaurant's equipment package features a make table containing toppings, two undercounter proofers for dough and a heated shelf for displaying menu items. Staff use a three-deck oven to bake the pizzas, flatbreads and entrees. "It can get up to 930 degrees F and therefore can bake the pizzas, flatbread and sandwiches in three minutes so they're ready to go for customers. We can run the entire restaurant with this oven, which is next to the main cooking area," Saccaro says.
Above the drop ceilings, frosted acrylic glass over screened areas contain the HVAC and duct work. Photo by Hall + Merrick Photographers
Braze, the most popular restaurant in the first weeks of operation before the mandated shutdown, showcases ingredients for bowls and burritos, allowing customers to customize their orders. A charbroiler, a 40-gallon tilt skillet, a combi oven, a four-burner range, a fryer and a rice cooker support this concept and Fields. "All this equipment sits under the main building hood system that was reengineered with new fans and make-up air equipment," Wair says.
The Braze menu features comfort food including burgers on a brioche or pretzel bun. Customers select a protein, veggies, rice, sauce and cheese for their burritos. For make-your-own bowls, customers choose a base of rice, waffle fries or greens and add a protein, daily rotating vegetables, sauce and toppings. Additions and sides include cheese, avocado, fried egg, salad and waffle fries.
Saccaro's team wanted the Braze concept to be a more upscale take on casual comfort foods. Proteins rotate daily for the burritos and bowls and might include guava braised beef, wild-caught salmon and tamarind glazed pork. "Menu items are more upscale than traditional comfort food, but aren't sold at a crazy price point," Saccaro says. "So, the culinary team can show off and take advantage of the different locally sourced foods and sustainably sourced foods."
Field restaurant allows customers to make their own plates with fresh proteins and vegetables, all rotating daily. The more globally inspired, plant-forward and lighter fare features bowls with daily rotating ancient grains, greens and noodles. One day's menu featured Casablanca chicken kebab with peppers, red onion and yogurt, braised Moroccan lamb stew, a vegetable assortment and ancient grains such as Moroccan couscous with vegetables, tomatoes, mint and cucumbers and basmati rice pilaf with raisins, papaya, cumin and turmeric. The menu also offers a salad and sauces such as chermoula and harissa. Toppings such as toasted almonds, medjool dates and carrot tahini as well as warm pita bread complete the menu offerings.
Cafe equally shares a rectangular area with Bar. "The cafe features a traditional coffee setup and offers coffee brands offered under Quest's sister coffee company, El Parche, which features fair trade, Rainforest Alliance-certified coffee that is single sourced in Colombia and provides a significantly higher financial return for the country of origin than most coffee brands," Saccaro says.
Cafe features coffee drinks and other beverages, as well as sandwiches and pastries. Photo by Kevin Hartmann
This area also features teas, grab-and-go salads, breakfast sandwiches, fresh-baked pastries, yogurt parfaits and bottled beverages. In addition to coffee equipment, the cafe also contains two high-speed ovens that heat breakfast sandwiches.
The full-service bar accommodates customers during the morning, afternoon and early evening hours. "We were pleasantly surprised at how much activity we have at the bar, especially at happy hour," Saccaro says. "It's so beautiful with its natural light and glass in front. And the seating is varied, comfortable and interesting, which complements the great wine and cocktail program we've built." The bar also offers six local beers on tap, whiskey and bourbon.
Market features desserts prepared by executive chef Doran Payne in the basement kitchen, grab-and-go sandwiches and salads, beverages, packaged liquor, six packs of beer, bottled wines, and a whiskey collection. Two double-sided self-serve salad bars span 10 feet each. Two 54-inch-tall air screens and three undercounter airscreens at the points of sale contain refrigerated menu items and beverages.
Market's transparency allows customers to get a glimpse of the fare sold here.
In its short operating history, The Farehouse Market dazzled customers. This venue offers a memorable culinary experience rich in flavors and is set in an open, inviting environment capturing the essence of the iconic Montgomery Ward building. Saccaro reports that customers responded with much appreciation.
Post COVID-19
During the week of March 16, when Chicago shut down due to COVID-19, Quest launched mobile order service and offered pickup service. When the building's population evaporated from 7,500 people to just a few, the number of daily transactions dropped from 800 to 25 in one week. "We decided to close the operation until June 10 when the city reopened," Saccaro says. "A soft opening was launched with the Cafe and Market and mobile ordering services for guests who wanted to just pick up their orders and go. " The Farehouse Market works with several third-party delivery companies, including Grubhub, DoorDash and Uber Eats. Instacart was only offered during the shutdown period. Delivery to employees within the building will be internally run.
At press time, the building was about 20% occupied. Employees and guests — largely those living nearby — pay for menu items through a mobile device and pick them up at Market. All self-service has been eliminated and replaced by grab-and-go menu items. Customers can also order cocktails to go. Only outdoor seating was available at press time.
As The Farehouse Market moves forward, it will serve a simplified menu that focuses on popular items that hold well for delivery. The owners expect to see an increase to neighboring residents, including offering outdoor service, to sustain the operation until the building population grows. "We're hearing that we will see a slow growth in building population from July through the end of the year and the rest is to-be-determined based on where the virus is, if a vaccine has been developed and so forth," Saccaro says.
---
About the Project
Opened: Jan. 29, 2020; closed due to COVID-19 on March 20; reopened in June
Scope of project: A basement-level kitchen designed for bulk preparation of soups, sauces, salad dressings; packaging of grab-and-go menu items. Project included construction of a main-floor kitchen and servery.
Total annual sales: Projected, $2.5 million
Size: 12,400 sq. ft., which includes a 1,875-sq.-ft. basement production kitchen
Seats: Approximately 175
Average check: $9.75
Transactions: 700 per day on average
Hours before COVID-19 closure: Monday through Friday: Cafe, 6:30 a.m. to 4 p.m.; Grano, Field and Braze, 11 a.m. to 2:30 p.m.; Market, 8 a.m. to 9 p.m.; Bar, 11 a.m. to 9 p.m.; Saturday: Cafe and Market, 7 a.m. to 1 p.m.
Current hours: 7 a.m. to 5:30 p.m.
Staff: A general manager, executive chef, retail/front-of-the-house manager, assistant general manager, 2 sous chefs and 15 hourly employees
Menu concepts:
Grano: Pizza al padellino (Italian-style deep-dish) and rustic Italian piadina sandwiches
Field: Made-to-order bowls with fresh proteins and vegetables rotating daily
Braze: Made-to-order bowls, burritos and burgers with fresh proteins and vegetables rotating daily
Cafe: Single-origin Colombian coffee, teas, hot chocolate, bagels, croissants, cookies, pastries, quiche
Bar: Cocktails, wine and beer
Market: Salads, sandwiches, wraps, snacks, grab-and-go lunches and dinners-to-go; wine, liquor, cold craft beers, and an assortment of appetizers, dips and sides
Website: thefarehousemarket.com
Key Players
Owner: Jointly owned by Sterling Bay, Chicago, and Quest Food Management Services, Lombard, Ill. Sterling Bay associates: Andrew Essary, SE, LEED AP, senior project manager; Adam Chodos, project analyst; Rick Kintigh, resident architect; and Stephanie Smothers, senior interior designer. Quest Food Management Services: Nicholas
Saccaro, president
Foodservice director/manager: Tito Conza
Executive chef: Doran Payne
Architect/interior design: Box Studios, Chicago
Foodservice consultants: Reitano Design Group, Indianapolis: Scott Reitano, president and project design; Chris Wair, design principal; Jonathan Nikiel, project manager; and Bronson Lipinski, project manager and production supervisor
Environmental consultants: Environmental Systems Design, Chicago: Tim Rathsam
Other consultants: Statement Communications, Chicago: Jennifer Depakakibo, and Ideation Studios, Chicago, which handled branding/concept development
Equipment dealer: Edward Don & Company, Woodridge, Ill.
Construction: Bulley & Andrews, Chicago
Andrew Essary, SE, LEED AP, senior project manager, Sterling Bay, Chicago. Essary joined the development team at Sterling Bay in April 2017. He brings more than 15 years of experience in design construction and project management. Other Sterling Bay projects include the complex renovation of a Chicago high-rise building and the renovation of the Chicago Public Library's West Loop Branch.
Nicholas Saccaro, president, Quest Food Management Services. Saccaro joined Quest in June 2014. Prior to joining Quest, he served as vice president of operations for Creative Dining Services. Saccaro mentors new food/beverage startup businesses through Quest's partnership with the Hatchery, a nonprofit food/beverage incubator
in Chicago.
Chris Wair, design principal, Reitano Design Group. Wair joined the RDG team in 2016. His background includes 30 years of management and operational experience in the restaurant and hospitality sectors. Other projects include Tropicana Hotel and Casino in Evansville, Ind., and Dave Ramsey Solutions Corporate Headquarters, Franklin, Tenn.
Floorplan
Floorplan Equipment Key
1. Dry storage shelving unit
1a. Cooler shelving unit
1b. Freezer shelving unit
1c. Kitchen storage shelving unit
1d. Wall shelf
1e. Drop-in heated shelf
1f. Dishtable sorting shelf
1g. Glass storage shelving
2. Walk-in cooler/freezer
2a. Single-door reach-in refrigerator
2b. Undercounter refrigerator
2c. Refrigerated stand
2d. Three-door glass-door refrigerator
2e. 30-inch ice chest
2f. Undercounter beer cooler
2g. Two-door glass-door refrigerator
3. Food order locker
4. Worktable w/prep sink
4a. Chefs' prep worktable
4b. Pizza prep table
4c. Clean dishtable
4d. Soiled dishtable
5. S/s floor trough
5a. Drip trough
6. Ice machine w/bin
7. Deck-mounted faucet
7a. Hand sink faucet
7b. Splash-mounted prerinse faucet
8. Wall-mounted hand sink
8a. Three-compartment sink
8b. Dump sink
8c. Underbar hand sink
8d. Four-compartment sink
9. Refrigerated merchandiser
9a. Wine display
9b. Dry goods display
9c. Hot food merchandiser
9d. Produce display
9e. Dry goods merchandiser
9f. Wine preserving and dispensing system
9g. Condiment display
10. Self-serve food shield
10a. Vertical food shield
10b. Double solid food shield
11. POS
12. Pizza serving counter
12a. serving counter
12b. Farm to Table serving counter
12c. Hot Food Bar serving counter
12d. Fresh Food serving counter
12e. Cashier counter
12f. Cafe serving counter
13. Dough sheeter
14. 10-pan combi oven w/stand
14a. Four-deck pizza oven
14b. Speed oven
15. Four-burner range w/oven
16. 40-gal tilt skillet
17. Exhaust hood
18. Countertop charbroiler
19. Countertop griddle
20. Fryer w/dump station
21. Rice cooker
22. Mobile stand
23. Single-door pass-through heated cabinet
23a. Undercounter hot holding cabinet
24. Drop-in soup well
24a. Drop-in three-pan hot well
24b. Drop-in two-pan cold well
24c. Drop-in four-pan hot/cold well
24d. Drop-in four-pan hot well
24e. Drop-in three-pan hot/cold well
24f. Drop-in six-pan cold well
25. Heat lamp
26. Refrigerated prep station
27. Pizza utensil kit
28. Pot and pan drying rack
29. Bar top and die
30. 24-inch drainboard
31. Trash receptacle
32. Glass washer
32a. Dishwasher
32b. Undercounter dishwasher
33. Draft beer dispensing tower
33a. Bakery display tower
34. Coffee dispenser
34a. Syrup holder
34b. Espresso/cappuccino machine
35. Coffee brewer
36. Coffee grinder