Pavilion Dining Center, University of California, Merced
The first phase of the Merced 2020 project concluded in August 2018 when the University of California, Merced (UC Merced), celebrated the opening of two structures: a 600-seat multipurpose central dining commons and new classrooms.
The Merced 2020 project is a $1.2 billion public-private partnership (P3) that will nearly double the capacity of the campus and support enrollment growth to 10,000 students. The P3 team is led by the Los Angeles office of Plenary Properties Merced in partnership with San Francisco-based Webcor Builders, the project's design-build lead, and campus planner Skidmore, Owings & Merrill LLP. Other team members include Johnson Controls Inc. in Canada, which heads operations and maintenance, and Cini-Little International Inc., Germantown, Md., with its San Francisco office providing foodservice design consulting.
The new all-you-care-to-eat central dining facility, named Pavilion, serves as a critical link between old and new buildings on campus. The largest dining commons on campus, Pavilion can serve 5,000 customers per day. It seats 600 in the main dining room, 100 on the outside terrace and 95 in private dining rooms.
The project includes a central production kitchen with a catering production component, four hybrid theater cooking platform stations, a grab-and-go convenience station, a coffee/espresso bar, two self-service soup and salad bars, warewash, a storage area (refrigerated, frozen, paper), a waste room and a staff break room. The building is on pace to receive LEED Platinum certification.
"We had outgrown our former dining space and needed to expand," says Mitch Vanagten, executive chef, UC Merced.
"One of the project team's challenges was to formulate the geometry of the building and interior," says Keith Short, Cini-Little's director of design, West Coast. "The foodservice design needed to be a hybridized influence of flexibility and tradition. It is almost like a kitchen turned inside out to allow connectivity to the students' dining. It is staff-functional, productive and alive."
Natural lighting brightens the dining area and contributes to energy efficiency. Photo by Bruce Damonte Photography; images courtesy of University of California, Merced
Designers met another project goal, to show transparency in cooking, by designing the facility so customers can stand at the front of the theater-like concept-themed stations and peer into the back of the house. In addition, the back-of-the-house's primary cooking area is situated adjacent to a wall of windows, offering views of the kitchen to passersby walking outside along a pedestrian walkway.
Back-of-the-House Production
Food arrives on the lower level at a loading dock, an area that dining shares with another building. This level also holds waste until it is hauled away. Staff use a dedicated elevator to transport food from the lower level to the main floor, which contains the back-of-the-house central production kitchen. Storage areas sit close to the elevator, which enables staff to efficiently receive and easily access food for production.
Staff store food in separate refrigerated, frozen and dry storage areas, which feature adjustable shelving specified 24 inches in depth for storing crates, pallets and consumable or nonconsumable menu items. "The configuration of the shelves allows for preparation trolleys to be stored and be readily accessible," Short says.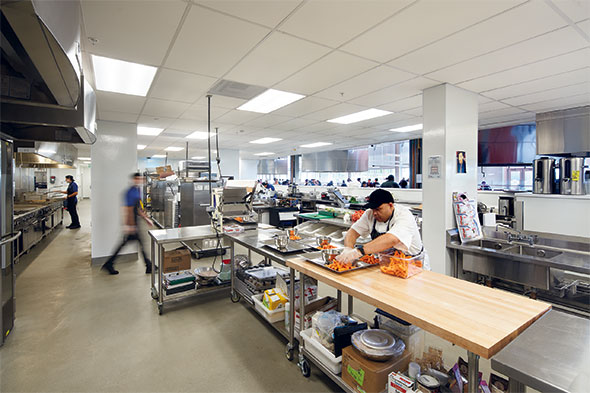 A staff member prepares menu items for a catered event. Photo by Bruce Damonte Photography
Before starting bulk food production, staff remove food from storage areas and take it to their production stations on carts. The kitchen contains areas for cold prep, hot prep, catering and baking. Staff buy locally sourced food as much as possible. The university's location — near the San Joaquin Valley — permits the dining staff to source between 65 percent to 90 percent of its produce from growers within 100 miles of campus depending on the season. Most of its beef comes from producers 80 miles from campus.
Heat lamps keep menu items warm. Wide aisles enable staff to move easily through the kitchen. Photo by Bruce Damonte Photography"One of the best features of the kitchen is the wall of windows that provides environmentally friendly lighting for the kitchen staff," says Vanagten. "I like the openness of the kitchen and servery, and the top-of-the-line equipment in the back and front of the house I've rarely seen in other kitchens."
The cold prep area, with its slicers and blenders, divides into a front half for preparation of salads and vegetables for the dining hall and the other half for catering preparation of salads and trays with fruit, deli foods and cheese.
The hot prep area contains a pressurized tilt skillet for preparing rice dishes, beans and pork carnitas. "It takes only 30 minutes to braise menu items such as carnitas, so this equipment is very efficient," Vanagten says.
Back-of-the-house bulk production includes tilt skillets and tilt kettles. Photo courtesy of ElectroluxStaff use two tilt kettles for making soup stocks, stews, pasta and pasta sauces. To assist in preparation, a double-sink preparation bench sits to the left of the kettles. A designated three-compartment sink and adjustable shelving sit in close proximity for the cleaning and housing of food pans, utensils and other items.
"The bulk cooking lineup was specified on the basis of speed, efficiency and delivering a complete system," Short says.
Ice machines and a hot water dispenser provide support for all related foodservice requirements within the facility and beyond. A designated two-compartment sink also sits in close proximity for preparation adjacent to the bulk cooking area.
Staff use three double-stacked combi ovens in this area to roast meats, vegetables and potatoes, and steam vegetables. Staff also use the combis to smoke meats for barbecue-themed meals. Each 40-tray combi oven can produce up to about 400 portions, Short says.
Another staff favorite among the equipment is the blast chiller, which quickly brings food such as pasta sauce, soups and deli meats to a safe temperature range. "We used to cool food in an ice water bath," Vanagten says. "Now, we have thermometers that plug in and a record of the temperatures is produced electronically so we don't have to do this manually anymore."
Hot carts sit near the blast chiller in the production area, nearby support catering and delivery of food to stations.
The bake station contains a proofer, dough divider, mixer and rolling rack, rotating oven. "This is a very active bakery," Vanagten says. "It's so nice to have a designated area just for baking. We didn't have a rolling rack oven before, and we appreciate having it now."
Staff prepare large quantities of sauces in the tilting skillets and kettles. Photo courtesy of ElectroluxPavilion's bakery team produces 15 types of breakfast pastries in the morning, as well as a total of approximately 3,500 desserts and pastries daily.
Next to the bakery sits the catering kitchen with a traditional restaurant-style hot line that contains a charbroiler for cooking steaks, chicken and fish, a six-burner range for making sauces and sauteed vegetables, a French-top range for sauteing and finishing sauces, and conventional ovens that finish menu items and roast potatoes and vegetables. Staff use four double-basket fryers for cooking calamari, arancini, chicken wings and Filipino-style lumpia.
Staff transport catering items for buffets in hotel pans held in insulated containers. For sit-down, plated meals, bulk food is held in pans inside warmers so staff can plate on-site at the events.
Stainless-steel benches with adjustable heat lamps support myriad counter foodservice equipment and provide a threshold between back-of-the-house stations and front-of the-house platforms. This helps staff to view the front-of-the-house activity and provide support, if required.
Four island benches with sinks also support each front-of-the-house servery platform. "This allows the catering staff to manage, support and label prepared consumable items, and have the ability to separate certain consumables from cross-contamination," Short says.
Flanked on either side of the benches and in close proximity to the servery sit hot carts and mobile upright refrigeration units to support all servery platforms and stations.
Servery and Platforms
The project team answered the university's goal to offer unique and seasonal food offerings. Hybrid-style cooking platforms with modular equipment at each station offer the culinary staff flexibility in selecting menu items that incorporate seasonal foods. Customers waiting in line can watch the preparation, cooking and assembly of food both at the platform and in the kitchen beyond.
"Modular equipment allows staff the flexibility to cook a variety of menu items and change the equipment out if needed as the equipment ages gracefully over its life expectancy," Short explains. Modular equipment also allows staff to close one or two stations when the servery is not busy. Closing stations also contributes to a project goal of energy efficiency.
A dry storage area houses all mobile and small equipment to eliminate any impact from moisture, heat from different methods of cooking and to avoid catering staff from bumping into the equipment.
The four primary concept-themed platforms support full service, cooking and production. The layout follows the natural user flow of service from consumption to drop-off to alleviate congestion and cross-circulation.
Lake Wok contains two woks that staff use to prepare alternate themed menus featuring Thai, Filipino and other Asian dishes. Staff use a double-basket fryer to cook appetizers such as pot stickers, egg rolls and tempura veggies, and use a six-burner range to heat broth for Pho and ramen.
Rufus Grill's equipment package includes two flattop griddles staff use to make traditional grilled cheese sandwiches, chicken strips, and turkey, vegan and beef burgers. Two double-basket fryers produce a different type of french fries each day. Hot wells hold blue plate specials such as fried chicken and Salisbury steak with mashed potatoes that staff cook in the back-of-the-house kitchen.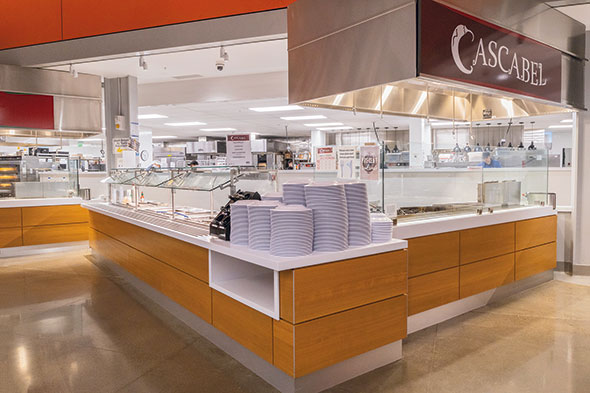 Customers can see food preparation at all the platforms and in the central production kitchen behind. Photo courtesy UC Merced
Cascabel contains a six-burner range, flattop griddle and two double-basket fryers for the staff to produce cuisines from Latin America, Mexico, Peru and Costa Rica. Handmade tamales, pork pies and cheese and poblano peppers are among the popular menu items.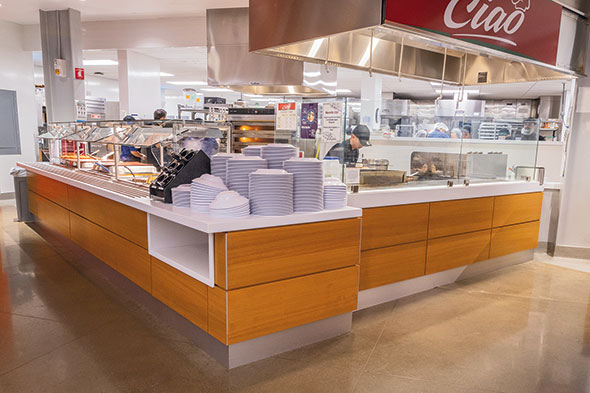 Ciao features pizza and authentic Italian cuisine. Ciao features pizza, flatbreads and Italian regional cuisine such as cacciatore, Sicilian-style salmon and cioppino. A deck oven supports production at this platform, along with a charbroiler, six-burner range and two double-basket fryers.
Nearby, Field of Greens offers a build-your-own salad bar with nearly 35 salad ingredients, yogurts and fruit. A soup bar offers two or three varieties daily. A deli station across from the salad bar offers customers an opportunity to place orders or build their own sandwiches.
The beverage station offers traditional water, soda, and a self-service coffee and tea station.
"I appreciate the operation because it is efficient and staff can be very productive," Vanagten says. "Also, we all get to see our customers and engage with them. We get good feedback, and if there's something wrong we can fix it right away. We all feel more like a part of the university because we're interacting rather than being hidden behind the scenes."
The warewash room is equipped with a drop-dish zone designed to mitigate congestion and provide ease of service for students; staff separate utensils, plates and cups. A water trough for scrapping purposes leads to a perforated sink basket capturing all leftover food items. Staff take trashed/bagged food items to the refrigerated waste room located in the basement level. A rack conveyor dishwasher prewashes, washes, sanitizes and dries each warewash rack. Adjustable shelving adjacent to the unit houses all clean items and the cart space in order to transport these items back to their original zones. If the dishwasher breaks down or more dishwashing support is needed, staff have access to a three-compartment sink.
Based on the extremely positive customer response to Pavilion, UC Merced and the project design team feel that their decisions were right on track to achieve the goal to bring excitement and interaction to the dining commons. Having flexibility to change out menu items in the future will give this operation a very long lifespan. The university unveiled the second phase of the Merced 2020 Project in August 2019, which includes the new Academic Quad, where the Sustainability Research and Engineering Building serves as an anchor along with the Arts and Computational Sciences Building.
About the Project:
Opened: August 2018
Seats: 600
Average check for paying guests: $8.95, breakfast; $11.95, lunch; $12.95, dinner
Daily transactions/covers: 4,500 to 6,500
Yearly catering events: 2,800
UC Merced: A public university, UC Merced enrollment includes nearly 9,000 undergraduate and graduate students. It opened in 2005 as the youngest campus in the University of California system.
Scope of project: The all-you-care-to-eat Pavilion project includes a central production kitchen, four hybrid theater cooking platform stations, a grab-and-go convenience station, a staffed coffee/espresso bar, two self-service soup and salad bars, warewash, storage areas (refrigerated, frozen, paper), a waste room and a staff break room.
Total size: 37,000 sq. ft.
Foodservice area: 7,840 sq. ft.
Foodservice breakdown:
central production kitchen, 4,160 sq. ft.
four hybrid theater cooking platform stations, 515 sq. ft.
grab-and-go convenience station, 52 sq. ft.
coffee/espresso bar, 211 sq. ft.
two self-service soup and salad bars, 282 sq. ft.
warewash, 604 sq. ft.
frozen storage, 315 sq. ft.
dry storage, 897 sq. ft.
refrigerated storage, 804 sq. ft
Hours: 7 a.m. to 11 p.m., Mon. through Thurs.; 7 a.m. to 9 p.m., Fri.; 9 a.m. to 9 p.m., weekends
Platforms: Lake Wok (Asian-influenced dishes); Rufus Grill (veggie and meat burgers); Cascabel (select proteins to build Mexican dishes); Ciao (pizza and Italian dishes); Field of Greens (build-your-own salad and sandwiches); Common Grounds (beverages)
Total project cost: $28.04 million
Equipment investment: $2.34 million for kitchen equipment; $600,000 for furnishings
Staff: 30 career staff (cooks and chefs); 240 students
Website: www.dining.ucmerced.edu
Key Players
Owner: University of California Merced, Merced, Calif.
Auxiliaries services director (interim): Mark Cunningham, associate vice chancellor
Associate director: Sean Murray
Executive chef: Mitch Vanagten
UC Merced culinary staff: Buntha John Oung, executive sous chef; Matthew Perez, evening sous chef; Nicole Fleming, catering chef; Jorge Wario, quality assurance; Esther Adams, baker; Katrina Trexler, dining center manager; Mario Trujillo Espinoza, dining center assistant manager; Randy Rogge, dining center lead
Architects: Skidmore, Owings & Merrill LLP, San Francisco: Michael Duncan, FAIA, design partner; Sean Ragasa, design director; Aaron William Baumbach, senior architectural professional; Grant Cogan, associate; Karen Drozda, AIA, LEED Green Associate, associate; Mark Sarkisian, PE, LEED AP, structural and seismic engineering partner, Skidmore, Owings & Merrill
Interior design: Skidmore, Owings & Merrill LLP, San Francisco
Foodservice design consultants: Cini-Little International Inc., Germantown, Md.: Keith W. Short, director of design West Coast and project manager, San Francisco; Michael Perigard, director of BIM/CAD
Preconstruction: Webcor Builders, San Francisco: Craig Blinston, preconstruction director
Construction and design build firm: Webcor Builders, San Francisco: Matt Rossie, senior vice president; Brad Shambaugh, project manager; Thomas Silva, design manager
Project developer and equity provider: Plenary Group, Los Angeles: Joshua Coulter, vice president; Rehan Khan, project manager
Operations and maintenance: Johnson Controls Inc., Milwaukee
Equipment dealer: Boelter, Sacramento, Calif.: Max Barrera, project manager
About the players
Michael Duncan, FAIA, design partner, Skidmore, Owings & Merrill. Duncan joined the firm 25 years ago. Other projects include the International Terminal at San Francisco International Airport and The Strand for American Conservatory Theater in San Francisco.
Mark Sarkisian, PE, LEED AP, structural and seismic engineering partner, Skidmore, Owings & Merrill. Sarkisian joined the firm 35 years ago. Other projects include the U.S. Embassy in Beijing and the NBC Tower in Chicago.
Keith Short, Cini Little International, project manager. Before joining the Cini-Little office in San Francisco in 2013, Short worked for Cini-Little in Sydney, Australia. Other projects include additional UC Merced 2020 Master Plan foodservice facilities and the Hotel Intercontinental Mark Hopkins San Francisco.
Mitch Vanagten, executive chef, UC Merced. Vanagten joined the university 14 years ago. Prior to this, he worked at California State University Stanislaus for four years after completing an ACF-approved apprenticeship program.
Floorplan
Floorplan Equipment Key
1. Insect zapper
2. Corner guard
3. Five-tier, adjustable shelving unit
4. Walk-in freezer
4a. Evaporator coil
4b. Walk-in cooler
4c. Two-door reach-in refrigerator
4d. 40 tray, roll-in blast chiller/freezer
4e. Three-door undercounter refrigerator
4f. Pizza prep refrigerator
4g. Refrigerator/freezer base, two-section equipment stand
4h. Refrigerator/freezer base, three-section equipment stand
4i. Refrigerated cabinet base
4j. Deli sandwich prep refrigerator
5. Tray/pan mobile rack
5a. Roll-in oven rack
6. Mobile fryer filter
6a. Fryer basket rack
6b. Single well fryer
6c. Single well fryer w/base
7. Bus carts
7a. Three-tier utility cart
8. Mop sink
8a. Hand sink w/electronic faucet
8b. Drop-in hand sink w/electronic faucet
8c. Prerinse unit w/add-on faucet
8d. Three-compartment sink w/tubular shelves
8e. Two-compartment prep sink
8f. Drop-in hand sink
9. Mop/broom holder
10. Hose reel
11. Floor scrubber
12. Combi oven trolly
12a. Roll-in combi oven
12b. Single-rack type rotating oven
12c. Roll-in proofer, retarder
12d. Pizza deck oven
12e. Mobile undercounter holding hot box
13. Two-door mobile heated cabinet
13a. Two-door banquet-style mobile heated cabinet
13b. Knife sterilizer cabinet
13c. Spreader cabinet w/cabinet base
13d. Spreader cabinet
14. Mobile ice caddy
14a. Cube-style ice machine w/bin
14b. Flaked-style ice machine w/bin
15. Water filtration system
16. Floor trough
17. Back counter w/drain trough and shelf under
17a. Back counter w/sinks and shelf under
17b. Millwork counter w/shelves under
17c. Millwork counter w/cupboards and shelf under
18. Hot water broiler
19. Coffee brewer
20. Mobile worktable w/ shelf under
20a. Island worktable w/sink
20b. Mobile pizza worktable
20c. Mobile bread table
20d. Worktable w/sinks and shelf under
20e. Worktable with shelf under
21. Exhaust hood
22. Tilt skillet
23. Tilt kettle
24. Splash guard
25. Range/griddle w/oven base
25a. 6-open-burner range, w/oven base
25b. 36-inch French hot top range
25c. 6-burner range
25d. Wok range
25e. Griddle
26. Pot fill faucet
27. Chargrill w/cabinet base
27a. Countertop chargrill
28. Planetary mixer
29. Trash container
29a. Garbage can
30. Adjustable heat lamps
31. Bread slicer
31a. Meat slicer
32. Dough sheeter
33. Dough divider/rounder
34. Juicer
34a. Juice extractor, bench unit
35. Rice cooker
36. Vacuum packaging machine
37. Food blender
38. Food shield
38a. Food shield w/light and heat
38b. Food shield w/light
39. Cutting board
40. Drop-in hot/cold food well
40a. Fully insulated, drop-in soup well
40b. 4-pan, drop-in cold food well
41. POS
42. Plate, bowl and utensil/condiment zone
43. Sushi machine