Bojangles' hired chef Marshall Scarborough to serve as the chain's vice president of menu and culinary innovation. Scarborough comes to Bojangles' from Wendy's, where he led a team of chefs and food scientists in designing new menu items.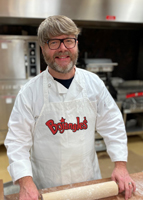 His 23-plus years of culinary research and development experience also includes working for companies such as Archer Daniels Midland, Popeyes and Jack in the Box.
Bojangles' has approximately 750 system-wide restaurants in 11 states.