What do you do if you're a prestigious state university specializing in engineering, technology, agriculture and food science — but your culinary instructors struggle with a training kitchen that the facilities director likens to "a home economics classroom from the 1950s"?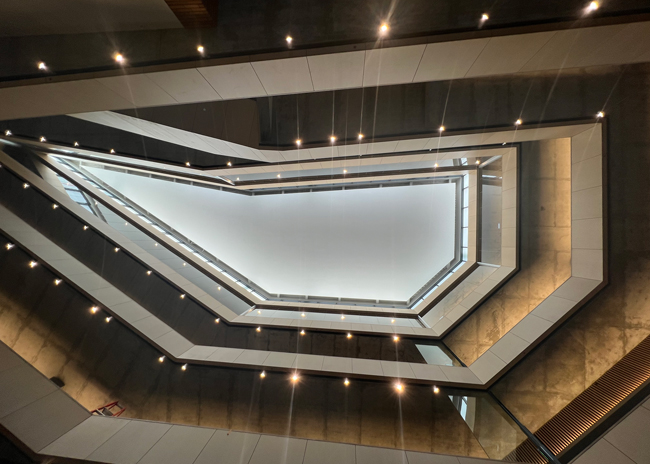 The spacious skylit atrium of the new Boswell Center at California Polytechnic State University.At California Polytechnic State University in San Luis Obispo (better known as Cal Poly), a $110 million donation from alumnus William Frost and his wife Linda to fulfill a new vision of an interdisciplinary research center led to a literally once-in-a-lifetime opportunity to build a new, cutting-edge culinary training facility expected to stand the test of time through most of the 21st century.
"We don't get this kind of money from the state anymore; we have to go out and raise it ourselves, and we won't get the same opportunity again for another 50 years," says Michelle Haka, director of facilities for the College of Agriculture, Food and Environmental Sciences at Cal Poly. "This building was crazy expensive, so we tried to future-proof everything."
The new culinary training facility, which will open in time for the fall 2023 semester, will operate from the first floor of the Boswell Agricultural Technology Center, part of a three-building complex known overall as the William and Linda Frost Center for Research and Innovation. The center creates for the first time at Cal Poly a program breaking down the silos among disciplines; it's a collaboration among the College of Liberal Arts, the College of Science and Mathematics, and the College of Agriculture, Food and Environmental Sciences.
Designed for Training
The complex, shaped a bit like an Italian hill town to fit into a cramped and oddly shaped corner of the campus, was designed by Los Angeles-based architectural firm ZDF. The architect designed the entire space with glass-fronted labs, offices and study/writing spaces to allow students to feel more closely connected to their peers, professors and research.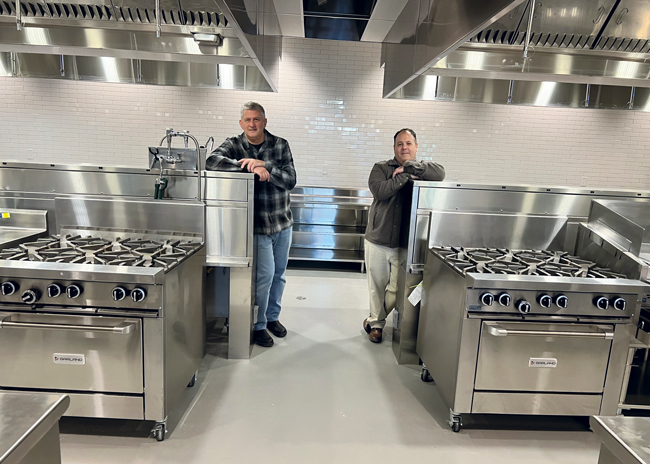 Brad Barnes, president of True Food Consulting (left), and Brad LaBel, president of LaBel Foodservice Equipment & Design, show off the commercial ranges and hood system in the new culinary teaching kitchen at California Polytechnic State University. To develop the perfect culinary training facility within the complex, the university turned to two consultants: Brad Barnes, president of Pure Food Consulting, and Brad LaBel, president of LaBel Foodservice Equipment & Design. Both were trained as chefs at the Culinary Institute of America, and Barnes was the director of consulting at the CIA when he was brought into the Boswell Center project. Despite their similar chef's training, the two men have different specialties. LaBel "understands the technical aspect, and I understand the teaching aspects," Barnes explains.
"Working at the CIA kitchens gave me an understanding of how a culinary training kitchen should be set up," LaBel says. "Brad and I really focused on how the kitchen and sensory lab will be used and what their true functionality is."
"It was a great challenge, working with a multifaceted team to make this beautiful space functional as well as visually appealing, and meet budgetary constraints," Barnes adds. To move from a visionary concept to a rendering of a functional design, he evaluated the space and surveyed faculty members on their curriculum and how they envisioned using the new facility, and also drew on insights from his own background in culinary teaching and assessment.
The care everyone took to create the Boswell Center is evident at the glassed-in entrance, which opens to a dramatic skylit atrium. Opposite the entrance, behind a glass wall, sits the large culinary training kitchen; to the left as one faces in, resides a small demonstration kitchen, also behind glass, where the instructor will spend some 20 minutes showing the day's lesson to the students before they all move to the large culinary kitchen to put it into practice. The demonstration can be viewed from the atrium or on video monitors.
The new culinary training kitchen is completely visible behind glass from the atrium.
Equipment Setup
Utility lines are accessed from above for easy equipment switchouts, and all hoods are ducted to a single exhaust fan.Within the culinary kitchen, flexibility serves as the guiding principle. Furniture is entirely mobile. Utility access is from above, so any equipment piece can be swapped out easily. Refrigeration is all reach-in rather than walk-in, ensuring that an alternative refrigerator can be used if one breaks down and large quantities of food never spoil.
The entire cookline sits beneath a single hood system, so "it's all plug-and-play," Haka explains. "If an instructor wants to demonstrate a different cooking technique that requires another piece of equipment, it can be brought in and plugged in."
The hood system, created by a kitchen energy solutions company along with LaBel Foodservice, may be the most innovative part of the high-tech professional kitchen. Two large main hoods and two teaching hoods are ducted to a single exhaust fan. The main kitchen also features two separate makeup air units. Temperature sensors, optic sensors and modulating dampers maximize the energy-saving potential. The temperature sensors look for changes underneath the hoods: as temperature increases, the fan speeds up. Optic sensors look for smoke, steam, grease and particulates: when effluents are sensed, the exhaust fan slows down and the damper opens to boost airflow and ensure that no smoke or steam escapes. The modulating dampers are another important energy-saving feature, since they keep the fans working at optimal levels to maximize airflow without forcing a fan to work at 100% capacity. The culinary kitchen hood system is integrated into Cal Poly's building management system for greater visibility and control.
A new sensory laboratory that shares the ground floor of the Boswell Center at Cal Poly allows for subjects to test food samples in privacy, with options for different lighting that would affect the eye appeal of the food. Once they've tasted the sample, they record their impressions on a computer in the stall. In addition to its primary use for Cal Poly culinary testing and research, the lab will be available for companies to rent for their own product testing.Also on the first floor of the Boswell Center are a new sensory research laboratory and an associated conference room. In the laboratory, research subjects are seated in private booths, each equipped with a small window through which a food sample is passed for the subject to evaluate its taste and texture. "We've also put in a variety of lighting so the subjects can't see the colors of the food," Haka explains. Options include natural outdoor light as well as red and blue lighting. Subjects can even do their evaluations in the dark. Once they've sampled the food, the subjects record their impressions on a computer monitor installed in their booth.
The lab is designed for rentals by food companies as well as Cal Poly instruction and research. Because food R&D often involves secrecy, there are several separate, secure refrigeration areas where items can be stored before the testing.
What about Cal Poly's original culinary training kitchen with its bank of homestyle ranges? It's still there, but once the new kitchen facility opens, it is likely to become a research kitchen.
"Really, we have everything to do with food, from the chemistry of the molecular level all the way through final products," Haka says. "It's a nice holistic spot."