Augustana University's community kitchen space mixes residential and commercial equipment for student use.
Last fall, Sioux Falls, South Dakota's largest private university, Augustana University, opened Ralph H. Wagoner Hall, named after the university's 21st president. The building offers housing and a community space that includes a kitchen. The $19.5-million, 54,000-square-foot building features dorm rooms above the first floor and a multifunctional ground floor for the campus community. It includes a flexible classroom, a multipurpose room and a kitchen.
The goal of the kitchen is to encourage groups of students to get together to prepare meals, says Javier Esteban, principal at KWK Architects, St. Louis, who designed the hall. Esteban created it especially with international students in mind since they seek meals not often found in the dining halls. "It's a way of socializing and a way of building community in the groups," Esteban says. "It's a very food-oriented space."
Anyone who lives and works on campus can cook in the kitchen, but Esteban's vision is for Wagoner Hall residents to primarily use the space. The building also sits next to two other residence halls, "so we were thinking there would be some relationship between the three buildings, and the other students would use it," he adds.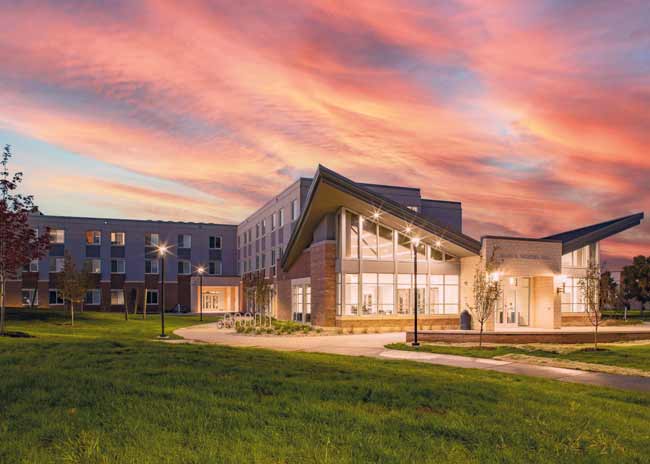 Wagoner Hall at Augustana University
Mixing Residential and Commercial
The kitchen is 418 square feet and contains approximately 12 feet of countertop around the edges. There's a 4-burner range, an oven and a microwave (at the correct height for Americans with Disabilities Act [ADA] requirements). There are also two refrigerator/freezers and a double sink to accommodate the large number of people using this space.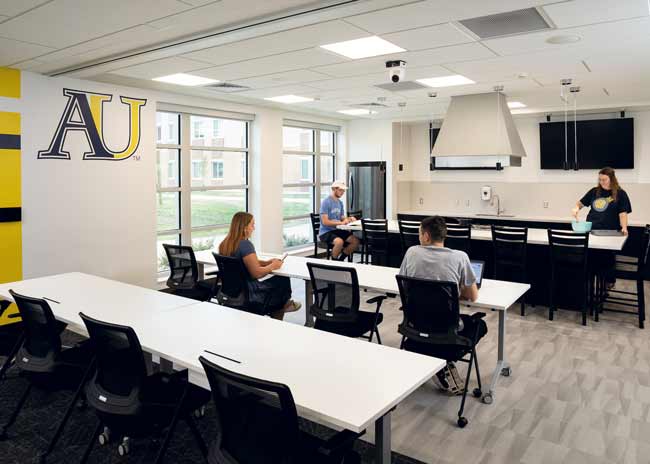 The kitchen was designed as a space to unify students in the residential hall and enable another way to build community.The kitchen's equipment is residential grade, primarily because of cost, says Esteban. Also, he couldn't use a commercial-grade hood because it would have required a much higher ceiling — so the range had to match a residential hood. This keeps air circulation needs down.
Commercial-grade materials were used for the rest of the kitchen. The countertop is a solid Corian surface, and the flooring is luxury vinyl tile (LVT). This type of tile is not typical in commercial kitchens, admits Esteban, "but we did it to give it a residential, homey appearance, and it's hard wearing." The walls are covered with a commercial-grade tile backsplash. "We wanted to make it youthful for the students, with a bunch of color," Esteban explains.
A stainless-steel hood hangs over the stove in the center of the room as part of a demonstration area. The area features a U-shaped counter that measures 144 inches long by 48 inches wide with enough space for 8 people to sit. Nestled within the U, at a slightly lower level, is a rectangular demo counter that includes the range. The counter is lower to increase visibility but also to make it ADA accessible.
A central lounge area creates a shared space for students. Augustana moved away from the traditional residential hall setup with Wagoner Hall to create a building with community living in mind."Students can interact directly with the person cooking and see what he or she is doing without watching a monitor, and they're able to directly interact with the cook," Esteban says. Above the range, KWK Architects placed cameras that beam onto monitors in the kitchen and a wall in the adjacent multipurpose room.
All equipment is electric, mostly because it was easiest to bring that one utility to the building, "and bringing gas to the building was not cost-effective for one range," Esteban points out. "It's also for safety so we don't have open flame. The fire marshals are a bit concerned when [a kitchen] is not supervised." KWK Architects originally intended to feature an induction range to save energy but switched to an electric stove due to cost.
Between the kitchen and the multipurpose room is an almost 12-foot communal table, with a Corian top, "where students can eat and see different monitors," Esteban points out. This custom-made table seats up to 10 people.
The kitchen has already been put to good use, with events such as one held by Augie Green, a student organization, which demonstrated canning vegetables from the school garden.
The most important part of this ambitious project, says Esteban, is "the connection between the kitchen and the other public spaces. The goal was building community, so it was about immersing the kitchen area, which is usually small in a residence hall [and] at the end of a corridor that no one uses. So, we built it up front so the first thing so you see is the lounge connected to the kitchen so it looks good and gives a good feel. There is nothing like food that builds community."