A reimagined restaurant and cafe add menu diversity and a new dining experience at The John and Mable Ringling Museum of Art in Sarasota, Fla.
Guests visiting The John and Mable Ringling Museum of Art, which is the state art museum in Florida, find a renovated and reimagined upscale restaurant and cafe inside the museum's John M. McKay Visitor's Pavilion. "When Metz Culinary Management won the contract to manage The Ringling Grillroom, and Mable's Coffee and Tea, the team wanted to honor the rich history of the Ringling brand and the legacy of John and Mable Ringling with a dining concept as unique as its namesakes," says Rick Sell, vice president of restaurant operations, Metz Culinary Management, Dallas, Pa.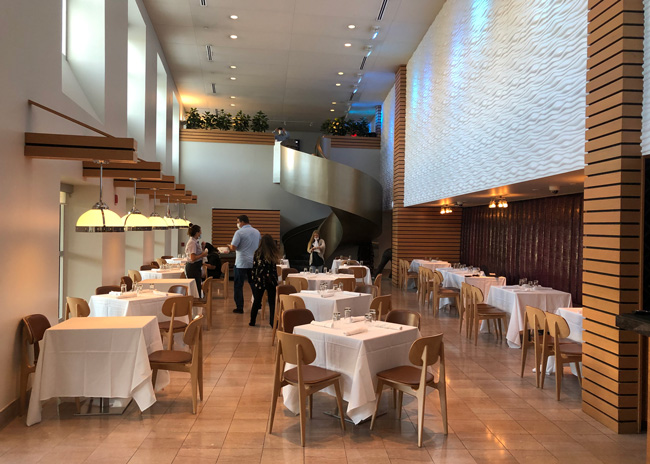 Photos courtesy of Metz Culinary Management
Honoring the history and legacy of The Ringling, located in Sarasota, Fla., necessitated a deep understanding of the property. Before Metz Culinary became involved with The Ringling, locally based Tableside Restaurant Group operated an upscale restaurant on the property named Muse. Metz Culinary created a new vision for the restaurant, which sits adjacent to the museum, and rebranded it The Ringling Grillroom. The overall vision and menu were developed by the Metz Culinary team in collaboration with John Metz Jr., CEO and co-owner of Atlanta-based Sterling Culinary Management.
"The theme for The Ringling Grillroom derives from John and Mable Ringling's travels through Europe in search of acts for the circus," Sell says.
Inside the dining room, marble floors contribute to the rich, warm interior. A 30-foot ceiling exposes private dining on the mezzanine. Incandescent and natural lighting provide a bright environment during the day, while tints on the higher parts of the windows shield afternoon light streaming into the dining room. Gray-on-gray patterned carpets cover the stairs on the circular staircase painted in gold stardust, all of which stands out against the light gray hue on the walls. In addition, an outdoor patio overlooks the water and expansive grounds.
"The restaurant menu includes many of the Mediterranean influences the Ringlings enjoyed, as well as inspirations from their love for Sarasota and the West Coast Florida, where they spent many winters," Sell says. The menu features ahi tuna poke; jumbo lump crabcake with arugula, grapefruit and pickled red onion; golden beets and burrata cheese with quinoa, and a house-made lemon-based dressing with aged balsamic; seared Florida snapper with jumbo pearl couscous, baby kale, dried cherry, toasted almond and a red wine reduction; hand-cut steaks and chops; and a roast lamb wrap with baby spinach, feta cheese and red wine dressing.
"In addition to the Ringlings' travels and love for the Mediterranean, the inspiration for the menu was based around freshness and seasonality," says Curtis Hawk, executive chef of The Ringling Grillroom. "In addition to purchasing produce from many local farms, we also work closely with local fishermen to deliver the freshest fish and seafood right to our door."
In keeping with the vision of the Ringling brand, the Metz Culinary team incorporated whimsical influences from the circus, as well as a nod to the arts. For example, the menu features Big Top Sandwiches, Three Ring Sides and Freakshow branded wines. A full hand-crafted cocktail list includes Pineapple Rum Express and Grapefruit Ricky, as well as a list of international wines, draft beer and local Florida bottled beers.
The new coffee shop, Mable's Coffee and Tea, opened in September 2020 and offers full barista service in addition to pastries, snacks and treats.
Food Storage and Production
Executive Chef Curtis Hawk turns on the salamander that sits above the six-burner range with a convection oven beneath.Food deliveries arrive at the dock of the visitor's pavilion. Staff place menu ingredients into a combination walk-in cooler/freezer and dry storage.
Staff work in a pantry space to prepare salads such as crusted ahi tuna nicoise and the G-Room salad with baby artisan and Boston bibb lettuce, radish, shaved carrot, Granny Smith apple, crisp celery, spiced toasted seeds, crumbled feta and a sweet herb dressing. They also prepare sauces and mise en place for the restaurant, as well as menu items such as quiche and breakfast sandwiches for the coffee shop. Catering menu prep also happens in this space. The equipment lineup here includes an immersion blender, a food processor, a salad spinner, mandolins, a chinois, a blender and a ricer.
"We prepare everything from scratch and turn over ingredients each day," Hawk says. "We'll connect directly with local farmers within 50 miles as long as they are able to supply us with products regularly. The products we get from them will be combined with the products our vendors source for us within 200 miles."
Though Metz Culinary didn't make changes to the basic kitchen layout, the company replaced existing equipment with upgraded models on the cookline. Staff use two fryers to prepare crispy Sicilian calamari and fries for steak frites. "We blanch Russet potato pieces in a 250-degree F fryer for 6 minutes, let them rest for 6 minutes and do that again 2 more times," Hawk says. "Just before we deliver them to guests, we drop the potatoes into a 350-degree F fryer for 4 minutes so they are crispy on the outside and tender on the inside. Then we toss them with seasonings."
Staff use a flattop grill to prepare the fresh crabcakes, as well as sear Florida snapper. An insert in the front of the flattop keeps pans filled with ingredients close by during production.
The new chargrill extends nearly 10 inches longer than the one it replaced; the culinary team uses it to prepare mahi-mahi, New York strip, Colorado lamb and grilled chicken for paninis. Double-stacked convection ovens bake vegetable lasagna, meatballs, fresh fish and vegetables; a six-burner range supports preparation of soup, sauces and more vegetables. A convection oven sits beneath the range.
The equipment lineup also includes a countertop steamer that staff use to prepare menu items such as steamed Hong Kong-style triggerfish and rice; and a salamander, used for making flatbread — offered daily; and a panini press to heat the roast lamb wrap and other sandwiches.
"We rely on several refrigerators to keep food close to the cooks to enhance efficiency," Hawk says. A five-foot-long, four-drawer lowboy cooler sits near the chargrill and holds meats, seafood and vegetables. Refrigerated rail sandwich units also keep ingredients within easy reach. One cooler stands in the pantry station; another in the expo prep area holds bottled water and creamers.
Metz Culinary also added a new upright dish machine to the equipment package.
Working in a relatively small space presents a challenge for staff. "Each kitchen is unique, and we must adapt, but that's what we in culinary do," Hawk says. "Every menu item must live in its own space, so we went through the menu and tried to find a specific space for it to be prepared. We split up the menu, so we don't prepare too many menu items at any one part of the line. This is tricky and always an evolution because we're in the process of figuring out which dishes are the most popular. Having good, solid equipment is a must."
All production comes together at the expo station, where Hawk and the sous chefs inspect all the plates before servers take them to guests. "This is where it all comes together or it doesn't," Hawk says. "This is a crucial position, where we make sure the food is hot and looks good and is consistent."
The facility expects on-premises catering production will gear up when people feel more comfortable scheduling weddings and events. The catering plan calls for menu item preparation during slower restaurant production hours, with staff using mobile carts to transport food on-site. Metz Culinary & Catering Center in Sarasota, Fla., will support catering efforts.
Measures are also in place to maintain a sustainable operation focused on green practices and Hawk may reach out to New College of Florida to coordinate with the university's robust composting program.
Hospitality and service training orientation informs new hires on the restaurant's mission, vision and chef-driven style of food, beverage and hospitality. "This extensive training on the hospitality aspect of the dining program, as well as the menu, helped to build excitement and confidence among staff members," Sell says. "By the time training was complete, our staff could speak confidently and passionately about our menu and vision. It also helped us to ensure our goal of making every guest feel comfortable and welcome."
In the spring of 2021, Metz Culinary will also operate The Banyan Garden Bistro, a casual dining spot on the property. "We're hoping all the dining options will serve guests who are already on the property and also guests who come here for destination-dining choices," Sell says. "Sarasota offers many options, but none of them are situated in such an extraordinary, historical setting."
The John and Mable Ringling Museum of Art sits on 600 acres in Sarasota, Fla.
The Ringling History and Campus
One of five brothers who owned and operated the circus referred to as "The Greatest Show on Earth," John Ringling spent numerous winters in Sarasota, Fla. In 1911, he and his wife Mable purchased 20 acres of waterfront property and began spending winters there. As they became more active in the community, they purchased more real estate.
In 1924, John and Mable supervised construction of a $1.5 million Venetian Gothic-style, 36,000-square-foot, 41-room mansion they called Ca' d'Zan, which means House of John. Soon after the mansion's completion, they built The John and Mable Ringling Museum of Art, a 21-gallery museum which opened to the public in 1931, 2 years after Mable's death. Five years later, upon John's death, the property, art collection and a $1.2 million endowment went to the people of the state of Florida.
Florida State University assumed governance of the museum in 2000. The state promised to fund immediate repairs and in 2002 provided another $43 million to fund all 4 buildings on the 66-acre campus — the Museum of Art, Ca' d'Zan, The Circus Museum and Historic Asolo Theater — provided the museum board could raise another $50 million within 5 years. More than $56 million was raised by 2007.
In 2001, the director, John Wetenhall, supervised the reconstruction and renovation of several buildings. A new John M. McKay Visitor's Pavilion was added, along with The Circus Museum Tibbals Learning Center, which features the world's largest model circus. Also added was the Johnson-Bialock Education Building housing The Ringling Art Library and Cuneo Conservation Lab. This was followed by the David F. Bolger Playspace and the Ting Tsung and Wei Fong Chao Center for Asian Art opening in 2013 and 2016. The campus also contains Mable Ringling's rose garden; the Monda Gallery for Contemporary Art; the Secret Garden that contains the graves of John and Mable Ringling and John's sister Ida Ringling North; the Kotler-Coville Glass Pavilion; and the Florida State University Center for the Performing Arts.
Facts of Note
Opened: The Ringling Grillroom, October 2020; Mable's Coffee and Tea, September 2020
Size: The Ringling Grillroom, 4,000 sq. ft., including 1,500 sq. ft. kitchen and 2,500 sq. ft. dining room; Mable's Coffee and Tea, 1,000 sq. ft.
Seats: 120 inside and outside
Average check: The Ringling Grillroom, $24; Mable's Coffee and Tea, $12
Annual transactions: 52,000 annually for The Ringling Grillroom
Weekly transactions: The Ringling Grillroom, 1,000; Mable's Coffee and Tea, 400
Hours: 11 a.m. to 7 p.m.
Menu specialties: Florida coastal-style cuisine with Mediterranean influences
Staff: 30
Total project cost: $100,000
Equipment investment: $50,000
Website: theringlinggrillroom.com
Key Players
Curtis Hawk, executive chef of The Ringling Grillroom, bases the menu on freshness and seasonality. He sources food from local farms and fisherman. Ownership/partnership: The Ringling, Sarasota, Fla.
Metz Culinary Management, Dallas, Pa.: Jeff Metz, president and CEO; Rick Sell, vice president of restaurant operations
Sterling Spoon Culinary Management, Atlanta: John Metz Jr., CEO, executive chef and co-founder
Executive director, The Ringling: Steven High
Metz Culinary Management at The Ringling: Jeff Brown, district manager
General manager: Vinny Venezia
Executive chef: Curtis Hawk
Architect, interior designer and consultant: O'Kelly Kasprak, Chicago: Belinda O'Kelly, principal; David Kasprak, principal
Equipment dealer: DEI Equipment, Louis Wohl & Sons Inc., Orlando, Fla.
Construction: Willis Smith Construction, Sarasota, Fla.