Equipped to show off the culinary staff's talents and the selection of fresh, local and sustainable ingredients, this renovated café attracts both Starbucks employees and the public.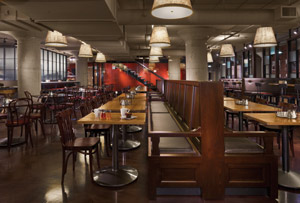 SODO Main-SeatingWhen Starbucks' executives decided to renovate the cafeteria in the company's headquarters building in Seattle, they wanted to create a completely different restaurant environment than had previously existed there. "The mission was to create an environment that supports healthy lifestyles and a strong community," says Brian Wilbur, district manager for Bon Appétit Management Co., which was contracted to manage the new café. "The café supports Starbucks' emphasis on maintaining high productivity and morale among employees, as well as Starbucks' desire to support the local community. Because Bon Appétit is all about food and emphasizing locally sourced, sustainable food and operations, we found a perfect fit." In addition to serving Starbucks' approximately 3,000 headquarters employees (called partners), the café is also open to the public.
During the seven-month renovation process, Starbucks supported the dining needs of its employee base by working with the building's landlord, Nitze-Stagen, to invite local area food trucks to the premises. Starbucks executives recall that "this proved to be a tremendous success and a welcome change for the employees."
Collaboration among Starbucks' executives, Starbucks' global design team, architects and interior designers from Mesher Shing McNutt, and Bon Appétit resulted in SODO Kitchen (SoDo is the area in Seattle that is south of downtown), a 2,500-square-foot space with a 1,066-square-foot servery, two dining areas occupying 8,701 square feet, and a 2,460-square-foot support kitchen, all located on the third floor of a 100-year-old, nine-story building. Opened in October, the SODO Kitchen features a palette of natural and existing materials that complement the concrete shell of the building, formerly a warehouse. The café contains dark, textured wood slats and hot-rolled steel in the main servery, custom screens in the corridor made of wood, steel, wire mesh and vintage "chicken wire" glass, honed white carrera countertops and servery wall tiles, custom bench seating, including the red train-station banquette around the main column, and natural marble juxtaposed against stained concrete floors and exposed ceilings. Together, these materials and fixtures create a vintage, manor-style environment that embraces the industrial history of SoDo and takes an old-fashioned approach to food by featuring local, farm-fresh and prepared-by-hand menu items.
The dining area is broken into smaller-scaled spaces with seating that ranges from regular dining and bench seating to bar-height and community tables.
"With no natural light, quality artificial lighting was key to creating the right ambiance," Wilbur says. Custom globe light fixtures in metal cages accent a food island and dining tables; track lighting highlights food displays, and surface-mounted down lights fill in dark areas. Barn door pulley pendants hang over the servery, and large lampshades made from burlap coffee bags produce a warm glow and facilitate continuity of design throughout the dining spaces.
"In the servery, the entire space was gutted and the ceilings and floors were completely redone," Wilbur says. "The former space was dark and uninviting and hard to entice people through."
"Because of the infrastructure challenges — space limitations and locations of existing plumbing and electricity — the design team worked together closely to create a space that demonstrates our passion about food and fits all guests' budgets and huge variety of tastes," says Danielle Custer, a chef and Bon Appétit's project manager for SODO Kitchen. Custer was previously the director of Taste Restaurant in the Seattle Art Museum run by Bon Appétit.
As guests walk into SODO Kitchen they see a comfort- food-bar on the central island, featuring a floor-mounted, European-style rotisserie, where the culinary staff prepare whole chickens, sirloin steak, pork loins, leg of lamb, and turkeys for the deli. "We wanted guests to be blown away by the sight of fresh, abundant food and aromatic smells," Custer says. In addition, soup wells at the end of the bar offer two selections daily.
"Authenticity of the food and flavors is also a primary focus for SODO Kitchen's menu selection," says Rick Stromire, SODO Kitchen's general manager and a Bon Appétit employee. "We want guests to have an excellent experience that is at least as good as a great downtown restaurant. By offering a variety of local, sustainable and seasonal foods, we also have an opportunity to introduce guests to familiar foods and foods they don't frequently, if ever, get to taste."
To the right is the grill with a charbroiler, six-burner range, fryers and a prep counter. Cold wells packed with ice display fresh ingredients used at this station. "We offer a plain hamburger with cheeses only every three weeks," says Stromire. "We don't offer a standard grill because, again, we want to educate our customers about different foods." The grill menu also features fresh chicken burgers, and buffalo chicken, crispy pork and seared lamb for minis (similar to sliders) and handmade lentil walnut burgers and vegan patties made with quinoa and edamame (soybeans). Grilled salmon with peppercorn sauce also finds its way onto the menu.
The grill station also supports a full hot standard breakfast menu with high-end specials such as egg-and-cheese scrambles with herbed fire-roasted country potatoes, bacon, sausage patties and links, and vegetarian sausage patties. The weekly breakfast special might feature a dish like smoked salmon with wilted arugula and a poached egg on a white grit cake with dill hollandaise.
Refrigerators here and at all the stations keep ingredients at proper temperatures throughout the preparation process and allow culinary staff to move easily through the spaces.
Adjacent to the grill, a global station contains a tandoor oven as a showpiece for staff to prepare authentic Indian cuisine such as chili-marinated chicken, lime and onion salad served with sides of sambar dal (lentils, vegetables, spices) and baigan bharta (peas and eggplant). Staff also use the oven to heat taqueria-style tacos.
To the left is the deli bar with a cold rail holding ingredients such as fresh and roasted vegetables, local and natural house-roasted meats, spreads and aioli for culinary staff to make custom-prepared sandwiches served on sliced local bakery breads, rolls and gluten-free sourdough. Sides such as cabbage and horseradish potatoes are also served with sandwiches.
Farther to the left, at the pizza station, a hearth oven supports staff as they make pizzettes such as pepperoni, with fire-roasted marinara, pepperoni and mozzarella; and quattro formaggio, with fire-roasted marinara, four cheeses and oregano leaf. The hearth oven also heats flatbreads, casseroles and campfire-style cookies in cast-iron skillets.
Continuing through the servery, customers follow a curved pathway and encounter the 25-foot-long salad bar displaying fresh ingredients including everything from greens and local farm vegetables to scratch-made dressings, rotisserie salmon, tuna, chicken and marinated rotisserie squashes and vegetables such as whole fennel and heads of radicchio, as well as grain and pasta salads. Edamame is the only frozen item, and olives and artichoke hearts are the only canned items used.
The salad bar also displays breakfast items such as fresh fruit, flavored yogurt, pastries and bread that customers can toast themselves.
On the way out of the café, guests pass by grab-and-go coolers with salads, sandwiches, yogurt and other packaged items. An array of beverages is also nearby. "Throughout the operation, we put in as much refrigeration as we could so staff can be efficient while working at the stations," Custer says.
The building's existing infrastructure proved to be challenging, according to Chad Allers, foodservice designer for Bargreen Ellison, which provided kitchen design and equipment. "We wanted to use all the existing plumbing locations, though most of the plumbing was replaced," he says. "For instance, we left the dish area in the middle of the room but repositioned equipment to improve the flow. Allers and the design team relocated a three-compartment sink and installed an island dish area so staff can work on both sides.
Also in the back of the house, the team relocated a walk-in cooler to open up a prep space. In the front of the house, they consolidated cooking functions under one hood and baking equipment under another.
In addition to the need for plumbing replacement, most of the electrical wiring was also replaced because of the building's age. The ventilation system was upgraded. Two existing hoods remain in the back of the house, while new hoods were installed in the front over the rotisserie and tandoor area and the pizza station.
Food deliveries for the servery stations and catered functions come into a large loading dock on the ground level. Staff transport food up an elevator to the third floor and place produce and proteins in designated walk-in coolers and frozen products in a walk-in freezer. A dry-storage room holds all other items. Food deliveries come in daily because of the limited storage space.
Staff begin prepping at 6:30 a.m. for breakfast service, which starts at 7 a.m. and continues until 10 a.m., and lunch service, which begins at 11 a.m. and finishes at 2 p.m. The café stays open with limited service until 3 p.m. After cutting and assembling ingredients, staff use a 40-quart kettle for cooking soups and sauces, and convection ovens for cooking bacon, sausage, potatoes, and roasting tomatoes and baking cookies. They also use the combi oven to heat bacon, sausage and potatoes, as well as to steam vegetables and cook poultry and meat such as roast beef. A stockpot range also heats soups and sauces.
Also in the back kitchen, staff braise meat for tacos, prepare pancakes, sauté vegetables and grill cheese sandwiches on a 36-inch flattop griddle; mark meats and vegetables on a 36-inch broiler, and heat sauces, soups and pastas on an eight-burner range. Staff use 20-quart and 60-quart mixers and a handheld mixer for making salad dressings, pizza dough, mashed potatoes and other root vegetable sides, and cookie dough, in addition to whipping flavored cream cheese and butters.
In order to accommodate busy and slow traffic periods, designers positioned the back- and front-of-house stations for labor efficiencies. For instance, in the back, one employee can work the grill and flattop and easily walk to the combi and convection ovens. In the front, two employees can cover the deli and global stations as needed. "By running one shift we are able to attract excellent full-time employees and significantly reduce turnover," Stromire says.
In the near future, to supplement SODO Kitchen, Starbucks will open two smaller private cafes — one offering sushi and the other tacorillas — for employees only on an upper floor. The concepts will each feature display food preparation and cooking and will share a seating space. This addition will further support the community culture that has become so important to this corporation.
---
Design Capsule
Opened October 6, 2011, a remodel of the Starbucks headquarters dining area became SODO Kitchen, open to employees (called partners) and the public. Located in Seattle's industrial district, south of downtown, the vintage manor-style café, managed by Bon Appétit Management Co., sits on the third floor of a 100-year-old building. The windowless, renovated 12,050-square-foot space includes a 1,066-square-foot servery with a main serving counter with six stations: grill, global, pizza, comfort, salad bar, and grab-and-go and beverages. Two dining areas, together occupying 8,701 square feet, seat 200 customers each at benches, tables and chairs, and bar-height and community tables. Equipment near the platforms supports each menu. A 2,460-square-foot back-of-the-house kitchen provides soups, sauces and other items for the front-of-house platforms and on-site catered events. Starbucks employs
approximately 3,000 persons at this location. Hours of
operation are Monday through Friday, 7 a.m. until 3 p.m. Foodservice staff includes three managers and 27 hourly employees. No financial figures were made available.
Owner: Starbucks; Jay Phillips, director, corporate facilities; Steve Duncan, manager, facility operations and services; Arthur Rubinfeld, president, global development
Foodservice Contract Management: Bon Appétit Management Co., Palo Alto, Calif.; Fedele Bauccio, CEO, Palo Alto; Mark Swenson, regional vice president, Portland, Ore.; Brian Wilbur, district manager, Seattle
Project Manager: Danielle Custer, project manager of SODO Kitchen, Bon Appétit Management Co.
General Manager, SODO Kitchen: Rick Stromire, Bon Appétit
Executive Chef, SODO Kitchen: Jim Cooley, Bon Appétit Management Co.
Café Manager, SODO Kitchen: Carey Drewes-Moore, Bon Appétit Management Co.
Catering Director, SODO Kitchen: Laurie Wilkens, Bon Appétit Management Co.
Architect: Mesher Shing McNutt, Seattle; Bob Mesher and Joe Shing, partners
Interior Design: Mesher Shing McNutt, Shannon McNutt; Starbucks Global Design, Elizabeth Ghaly, senior interior designer
Foodservice Design: Chad Allers, Bargreen Ellingson, Seattle
Equipment Dealer: Bargreen Ellingson, Seattle
Engineering: Hunt Engineering, Seattle
Construction: Milo Braseth, Seattle
Website: www.sodokitchen.com