Visitors exploring the James B. Beam Distilling Co. in Clermont, Ky., begin and end their campus journey at The American Outpost, one of three newly renovated buildings on the property. At the end of their tour, visitors can enjoy cocktails and food at The Kitchen Table, a full-service restaurant and bar that is a focal point of a five-year upgrade project to the 400-acre campus.
In addition to The Kitchen Table, the project also included upgrades to the Fred B. Noe building, site of the Fred B. Noe Distillery. Fred B. Noe is the great-grandson of bourbon pioneer Jim Beam and is now the seventh-generation master distiller at this Clermont campus. These upgrades include adding a four-sided cocktail bar, two staging kitchens and a welcome bar, and The American Outpost building, which contains a gift shop as well as tasting rooms, a tasting bar and a small back-of-the-house support area.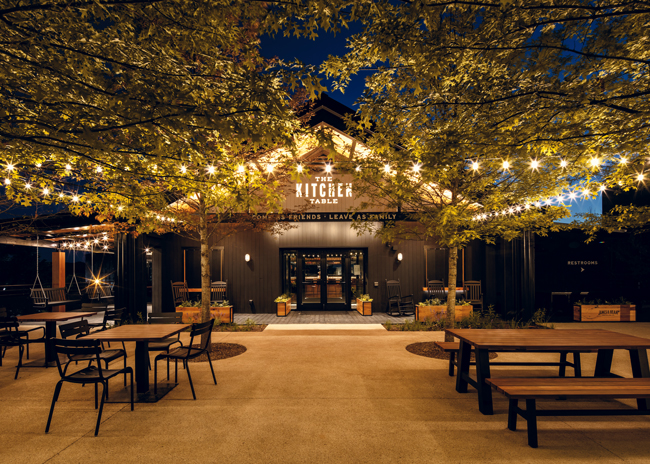 Photos by Luke Hayes and LOVE Creative"A lot of thought was put into the layout and aesthetic of the bar and tasting rooms, which were an important aspect of the design," says Kevin Sullivan, partner/principal at Colburn Guyette, Rockland, Mass. "The goal was to set them apart from others on the Bourbon Trail by giving them a very open, transparent and welcoming feeling where guests can see through to the bar area as their flights are being prepared through the glass walls of the tasting room."
The James B. Beam Distilling Co. buildings and distillery are part of the Kentucky Bourbon Trail, a program sponsored by the Kentucky Distillers' Association to promote the state's
bourbon whiskey industry.
"The mission of The James B. Beam Distilling Co.'s multiphase campus renovation was to create a brand-new foodservice and bourbon cocktail program that would celebrate the Beam family's legacy and offer a high-end dining experience on the Bourbon Trail," says Angela Dewar, associate, senior interior designer at Boston-based Bergmeyer. "No significant updates had been made to the James B. Beam Distilling Co.'s campus since 2011. Under the direction of our creative partner and the project's creative director, LOVE, along with the owners, we recognized an opportunity to create a contemporary customer journey, preserve this historical brand and connect it to a new generation of bourbon enthusiasts."
The owners wanted to increase the number of visitors, introduce a new source of revenue through a new food and cocktails experience, and improve the consumer metrics by drawing in new visitors. The design of the space combines a warm and welcoming mid-century American home with a raw industrial distillery vernacular.
"This is possible with entertainment cooking platforms for customer interaction as well as a finishing kitchen on the level below that supports the many events held throughout the year," Dewar says. "Previously the events were taking place under a temporary tent that was subject to seasonal weather."
The Kitchen Table restaurant is open to all campus visitors regardless of whether they take part in the campus tour. "In addition, there was a lot of discussion surrounding the events that take place on campus and how a tent with either outside vendor vehicles or in-house transport trucks really did not convey the image the owners were trying to portray," Sullivan says. "With the event side of the business continuing to see growth, the answer was to invest capital on a well-thought-out venue with quality foodservice equipment along with an infrastructure that allowed for Jim Beam to control the aspects of foodservice that were visible to their guests."
Woodfired Pizza and Entrees features an open-flame, woodfired pizza oven.
Production Kitchen
"Once we realized the kitchen and serving areas would not be located on the same level due to space restrictions, we really wanted to establish a convenient route of travel for product between the two areas that is out of customer view," Sullivan says. "The project team accomplished this by creating a route from the elevator that starts in the lower-level main kitchen, travels up one level where products exit right out of the elevator behind the main serving area and out of view of the customers and then into the servery's back of house."
Team members receive deliveries at the lower-level receiving dock. They move menu ingredients and supplies to two walk-in coolers, two walk-in freezers and a dry storage area.
On the lower level, team members prepare menu items for The Kitchen Table platforms and catered events using a two-bay prep sink, a worktable with an overshelf and pot rack, upright refrigeration, another small work surface, heated cabinets and transport carts.
Culinary team members assemble appetizers for an event at The Kitchen Table.Cold food production includes vegetable cutting, preparing salads, forming beef into patties and storing dough for pizzas using a sourdough starter that uses the same yeast strain the Beam family has been using since the end of Prohibition. The pizza dough is prepped in an existing kitchen on campus that was not part of the renovation and transported to this location.
A sous chef runs the prep kitchen with one or two other cooks. "Cooks rotate through stations, so over a couple of months they learn to master the stations," says Brian Landry, chef/owner, QED Hospitality, New Orleans, which runs the foodservice operation. "We want everyone to learn classic cooking techniques, including long cooking techniques, so all dishes can be finished within five minutes so we can be very efficient and maintain the highest quality standards. The food must stand shoulder-to-shoulder with the Beam brands."
To prepare hot foods that are primarily used for events in the various buildings, team members use a double-stacked combi oven to cook proteins, vegetables and potatoes. They prepare sauces and blanch vegetables on a six-burner range, all covered by a demand-control ventilation exhaust hood. Energy Star-rated equipment was installed both here and on the level above.
The culinary team also prepares menu items such as fried chicken using a sous vide process. They portion chickens grown at a local farm into eight pieces, place the pieces in a brine and then marinate them in hot sauce and garlic before placing the protein in vacuumed-sealed pouches. They place the pouches in a combi oven and steam them for about three and a half hours. After chilling the pouches, a team member takes them upstairs to the fry platform, rolls the chicken pieces in cornstarch and cooks them in a fryer. The team also uses sous vide for hard-boiled eggs, vegetables and smoked short ribs.
Nearby, the dishwashing area contains energy-efficient glass washing, warewashing and pot-washing machines. Low-flow faucets reside in all renovated areas on campus. Team members transport wares to this area directly from the lower-level kitchen or through the service elevator from the upper-level food platforms for sanitizing. "The dishwashing area
is considerably compact yet efficient due to the limited square footage available," Sullivan says.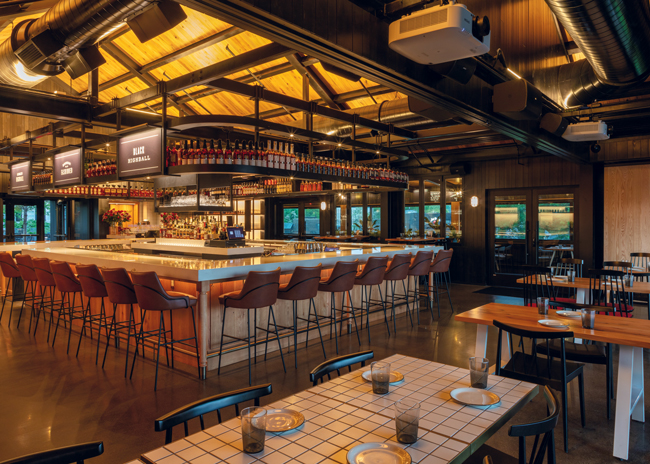 Set under a double-height vaulted ceiling, 30 seats surround The Kitchen Table's full-service bar.
The Main Bar and The Kitchen Table
Visitors conclude their campus visit at The Kitchen Table's hero bourbon and cocktail bar featuring a double-height vaulted ceiling and The Kitchen Table's exhibition platforms. Visitors can lounge in rocking chairs on the elevated front porch, enjoying beverages and a campus view. Guests can also sit in a swing under the open veranda overlooking the Bernheim Forest — a similar experience enjoyed by generations of master distillers within the Beam family.
Guests gather in The Kitchen Table bar and enjoy the views of the Bernheim Forest and beyond. "With Jim Beam being a bourbon manufacturer, the four-sided cocktail bar is the centerpiece of the restaurant with lots of branding, custom-stamped ice cubes and a custom Jim Beam highball dispenser," Sullivan says. "One of the main goals was to limit the footsteps required by the bartenders due to the volume. We accomplished this with cocktail stations that put all components in tight ergonomic locations and allow staff members to be extremely productive without a lot of movement."
This area's equipment includes cocktail stations and drawers for custom ice cubes. "Beam has figured out over the years that if the cube is too frozen, or too wet, the signature does not form correctly," Sullivan says. "The equipment specified provides the option for the bartender to hold the cube at precisely the right temperature, so it is always ready to be stamped."
The bar menu includes beer, wine, fountain drinks, iced tea, coffee, many bourbon and rye selections and seasonal cocktails such as the Basic Witch, made with Basil Hayden dark rye, pumpkin spice simple syrup and molasses bitters.
The Kitchen Table encourages family style dining and storytelling by team members. "Our biggest challenge was making sure the square footage available to foodservice that was previously established works with the program," Sullivan says. "We were fortunate to work with an amazing design team that allowed a lot of pushing, pulling and stealing of space in order to optimize the goals and visions that were set in place."
Visible to guests, the cooking platforms provide a sense of openness and communication. The southern hospitality menu concepts, which use many locally sourced ingredients, feature menu items that pair well with Jim Beam cocktails. The Kitchen Table focuses on the founders' family motto, which is inscribed on the building's exterior: "Come as friends, leave as family."
The platforms all contain upright and undercounter refrigeration and hot holding cabinets. The open
Fry/Grill area contains a two-compartment fryer with breading station to make fried catfish, pulled-pork empanadas, fried chicken and garlic parmesan cheese fries. Team members also use a plancha to prepare duck poppers, venison poppers, smash burgers and rotating fish dishes. Two high-speed ovens support production of menu items as necessary.
Fred's Smokehouse contains an outdoor smoker for menu items including smoked brisket, trout, pork and chicken.Woodfired Pizza and Entrees features an open-flame, woodfired pizza oven for pies, including one made with the same yeast found in the bourbon, and others such as smoked margherita, pepperoni and Any Damn Way You Please. Entrees include pork and chicken menu items.
Fred's Smokehouse features an outdoor smoker for menu items including smoked brisket, trout, pork and chicken. Hot holding cabinets also support this platform. "People who sit outside see the team smoking products outside," Landry says. "It's time-consuming but a labor of love. We smoke menu items outside and bring them inside to finish them and turn them into composed dishes on the line."
Guests can also select soups and salads, as well as desserts including spiced apple pudding, chocolate blackout cake, Kentucky bourbon cake and bourbon balls. Team members deliver plates to the tables on a variety of ceramic, wood and metal containers depending on the menu items.
"Every Friday, master distiller Freddie Noe and I feature a menu with a bourbon pairing," Landry says. "Every month we host the Clermont Supper Club with high-end dinners that often coincide with the release of a new bourbon. There's a lot of conversation as we tell comprehensive stories about the distillery's history."
The Kitchen Table's simple and efficient equipment package helps align with the owner's intention to give guests a taste of the James B. Beam history, alongside attention to detail and quality refined over decades. A visit to this campus is an experience guests will not soon forget.
Floor Plan
About the Project
Opened: November 2021
Guests interact with culinary team members as they prepare the menu.Scope of project: A full-service restaurant and bar concept featuring Kentucky-inspired classics that pair with whiskeys from James B. Beam Distilling Co.
Equipment investment: $800,000
Size:
Total: 7,025 sq. ft.
Foodservice equipped spaces: 3,250 sq. ft. over three buildings:
American Stillhouse: The Kitchen Table with lower-level support kitchen, 1,025 sq. ft.; servery, 791 sq. ft.; and main cocktail bar, 400 sq. ft.
Fred B. Noe Distillery: a four-sided cocktail bar, 211 sq. ft.; first- and second-level staging kitchens for plating and serving at events, 431 sq. ft.; and a welcome bar, 100 sq. ft.
The American Outpost: a building with archival assets, photographs, a gift shop; tasting rooms; a tasting bar, 110 sq. ft.; and a back-of-house support area for light food prep, ice production and warewashing, 182 sq. ft.
Daily transactions/covers: 250 at The Kitchen Table
Hours: 11 a.m. until 5 p.m., Wednesday through Saturday; 11 a.m. until 4 p.m., Sunday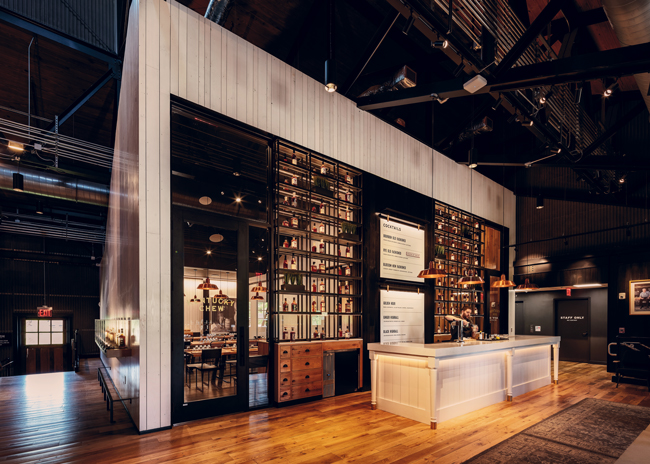 James B. Beam Distillery brands and cocktails entice guests at the American Outpost.Menu concepts and menu specialties:
Fry/Grill
Woodfired Pizza and Entrees
Fred's Smokehouse
Menu items include lamb ribs, spiced pork rinds, venison poppers, pulled-pork empanadas, pizzas (including one made with the same yeast as used in the bourbon), double-decker burger, smoked trout and smothered catfish. Desserts include spiced apple pudding, chocolate blackout cake and bourbon balls.
Staff: 35
Total project cost of all three buildings: $14 million-plus
Websites: visitthekitchentable.com; beamdistilling.com
Key Players
Owner: Beam Suntory Inc., Chicago
Master distillers: Fred B. Noe and Freddie Noe
Food and beverage provider: QED Hospitality, New Orleans
Fred B. Noe Distillery, named after the brand's contemporary steward, contains its own tasting room and sensory lab where many small-batch whiskies and future innovations roll out. Guests can view the distillery through the windows.CEO/owner: Emery Whalen
Chef/owner: Brian Landry
Architect: Bergmeyer, Boston: Stan Kubinski, principal; TJ DiFeo, associate principal, design practice leader
Interior design: Bergmeyer, Boston: Angela Dewar, IIDA, associate, senior interior designer
Creative direction: LOVE Creative, Manchester, England: Steve Pearce, managing director
Foodservice consultants: Colburn Guyette, Rockland, Mass.: Kevin Sullivan, partner/principal
Equipment dealer: TriMark SS Kemp, Cleveland