The design team's objective was an ambitious one: to create a dynamic and multifaceted dining experience very different from an old building's outdated foodservice.
Photos by Brick Kyle"Our directive was to achieve a food hall atmosphere that catered to different groups throughout the day and could be both flexible and efficient," says Aqdas Qualls, LEED AP, lead architectural designer at O'Kelly Kasprak LLC, an architectural firm in Chicago.
The team achieved its mission, and The Market opened inside the new TruStage (formerly CUNA Mutual Group) headquarters building in Madison, Wis., on Sept. 6, 2022, for employees of the life insurance and investment-based company.
The building is called The Lighthouse, and The Market serves as the primary foodservice offering. The Market sits on the second floor and resembles a food hall with six stand-alone stations, each with its unique restaurant-style identity. The seating mix includes traditional tables and chairs, long dining tables, booths and high-tops.
On the second floor, the Market Cafe is a coffee lounge that also offers guests a variety of seating options, allowing employees to dine or work in the space comfortably. Another cafe, Atrium Cafe, resides in the first floor's lobby. The third floor contains a catering warming kitchen, and the fifth floor has a lounge with a built-in bar with coolers and a catering warming kitchen.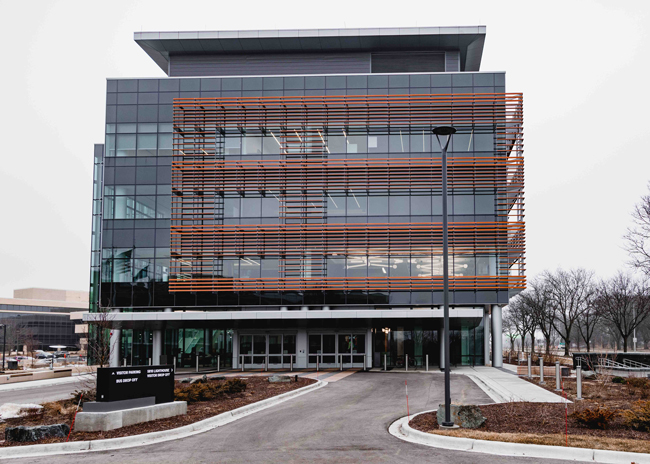 The Lighthouse building allows in natural light throughout, which accentuates the glass, chrome and artwork.This project was in its planning stages when the pandemic hit. As a result, planning to completion took more than four years. "We had to make adjustments for foodservice to deal with new concerns," says Eric Chaplick, director, operations and design, Boelter.
Specifically, the project team had to get a handle on what office campus life might look like moving forward. "With a remote and then hybrid workforce, the team took a step back to reevaluate and add additional functionality to the stations and the food hall," Qualls says.
Some of the changes added flexibility to support shifts in labor deployment and menu development. "For example, we designed the individual stations with adjustable glass so each station can transform from a full-service option to a self-service station," Chaplick says. Food shields also allow a station to feature service or self-serve menu items.
Adds Qualls, "The salad bar was originally designed as a staffed station. Additional self-order kiosks were placed, making this a foodservice kitchen with flexibility to handle
various consumer demands." The salad bar is now self-serve.
A walk-in cooler, a hot holding cabinet and other equipment allow efficiencies in the back of the house.
Deliveries and Kitchen Prep
Food deliveries arrive at a loading dock on the first floor. Staff take deliveries up a freight elevator and place them into two walk-in coolers and dry storage. Staff take some retail products, such as candy bars, energy bars, snacks and beverages, directly to their points of sale.
A range with an overhead salamander, a tilt skillet and combi ovens support production in the back of the house."About 90% of the cooking of menu items takes place in the back of the house," says Erin Topp, Eurest's account general manager at TruStage. "This kitchen is used for preparing food for the restaurants and catering."
In the production kitchen, staff cut vegetables and proteins for back-of-the-house production as well as front-of-the-house restaurant-style station production. They use a 53-quart mixer to make doughs for cookies and other desserts as well as for pizza.
Staff use a combi oven to cook vegetables, pasta and proteins. Using two stacked convection ovens, staff bake pastries and cookies. They also use the range to heat sauces and soups and to saute vegetables and proteins. Staff make bulk soups and pasta in the tilt skillet, and eggs, vegetables and proteins, including tofu, on the flattop and grill. "We also have a smoker, which supports the chefs' selection of a wide variety of menu items," Topp says.
Staff transport menu items from the back of the house to the front of the house restaurant-style stations or catering floor on carts.
The back of the house contains a smoker, a 4-burner range, a salamander, a flattop griddle, a charbroiler and convection ovens.
Front-of-the-House Market
"Each individual station has its own branding and palette, designed to enhance the food and the preparation methods," Qualls says.
Graze features a salad bar, a hot bar and a tossed-to-order salad station. The Fork & Flour pizza and homemade pasta station greets customers with a vibrant red oven and white marbled quartz. The deli station features handmade tiles and a butcher-block counter. Urban Kitchen has a distinctive appearance featuring a playful mix of colors and materials. Hometown has a neutral palette and warm wood tones to focus attention on its rotating cuisines. The coffee lounge combines rich bronze and brass metals and warm woods in a light-filled space with a mix of bar and table seating.
"These are all set within an overall interior that complements the base building architecture," says Belinda O'Kelly, AIA, NCARB, founding principal, O'Kelly Kasprak.
Digital menu boards and kiosks guide customers through The Market. There's no more space in this cafeteria than in the previous building, but by spreading out the stations to help move people through and adding ordering kiosks, designers increased efficiency, avoiding long lines for service.
Fork & Flour features house-made pizza and pasta. Staff bring dough mixed and proofed in the back of the house to the front-of-the-house station. They roll out dough into a round shape and sauce and top it before baking in a large hearth oven. The oven can heat pizza at 900 degrees F and finish a pie in 90 seconds. Several chef-selected pizza varieties are offered during the week, and customers can also customize their orders by selecting ingredients via the kiosk ordering system.
When making pasta dough, staff use a mixer. They use a pasta sheeter to roll it out thin, then cut it into smaller pieces while in the back of the house. At the station, staff use a cooker to heat pasta and combine it with sauces and other ingredients customers select from a sauteed-to-order list from ordering kiosk.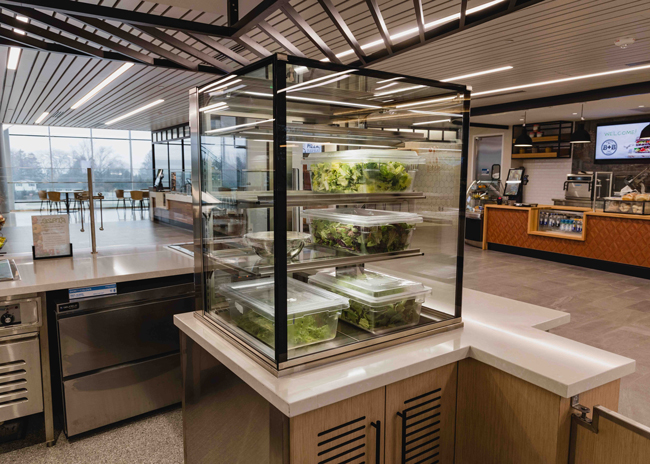 Fresh lettuce entices customers to frequent the salad bar.Butcher + Baker, the deli concept, features a custom-made curved glass display case. Customers see a slicer for meats and cheeses and a bread display. They choose their own sandwich ingredients, which are displayed in a refrigerated rail. Vegan burritos also attract customers to this station. Staff heat sandwiches in a rapid-cook oven or a panini press.
At the salad self-serve bar, Graze customers can choose from nearly 40 ingredients. They can also order spring roll salad and other composed salads with everything from roasted vegetables to cheese, greens, crusty croutons and house-made salad dressings. Two soups rotate daily. "We also offer a hot bar with crispy chicken, Buffalo chicken, grilled vegetables and grains," Topp says.
"We change this concept weekly to keep it interesting."
Flame, the grill station, features a chargrill and flattop for staff to make hashbrowns and scrambles and other egg varieties for breakfast. For lunch, they make burgers, including a Mediterranean turkey burger, as well as grilled chicken and chicken strips. A fryer cooks french fries, onion rings, cheese curds, and specials like a funnel cake burger with strawberry chutney, and caramel apple empanada.
Urban Kitchen and Hometown sit on opposite sides of the servery space and allow chefs to offer myriad daily menus that rotate during the year. These stations contain a range, warming plates, hot holding ovens, undercounter refrigeration and a reach-in refrigerator, a steamer, and hot/cold wells.
Urban Kitchen and Hometown menu items range from Nice Thai with rice noodles, sauteed vegetables and a protein, Piri Piri (a Portuguese station), Mac and Cheeseology, Korean bibimbap, and barbecued menu items with smoked proteins, beans, cornbread, cold potato salad and several barbecue sauces.
"At the stations, portable equipment under the hood means the menu can be changed week to week or day to day," Chaplick says. "Staff can switch up menu items by plugging in a griddle one day to serve Mexican and plugging in a wok the next day for Asian cuisine."
Atrium Cafe on the lobby level features coffee and tea.
Coffee Cafes
The Market Cafe on the second floor features coffee and tea drinks and fresh-pressed juices ranging from pineapple orange to beet, cucumber, carrot with kale, and celery. Lounge seating and a fireplace encourage customers to relax alone or with colleagues.
The Atrium Cafe on the first floor contains two automatic espresso machines, a nitro cold brew machine, undercounter cold storage and an ice maker. Customers can purchase pastries and snacks from display cases.
In addition, full-service catering keeps staff busy for events and meetings. The third floor contains an auditorium that features retractable seating for 300 people. Catering is available for breakfast, lunch and dinner and afterhours on the third floor and fifth floor. The fifth-floor catering and bar area contains roll-in, undercounter and reach-in refrigerators; a combi oven; an induction warmer; warming and holding cabinets; an undercounter warewasher; coffee and tea brewers; and an ice maker, as well as underbar sinks, an ice chest and a backbar cooler.
Market Cafe on the second level offers coffee, tea and juice.
Efficiencies
"This market was built to handle a capacity we aren't handling now," Topp says. "We were expecting 1,200 employees on-site daily and have 300 now. Many employees are productively working from home one or more days a week. But TruStage wants all amenities to be available for those employees who choose to come on-site."
Different finishes and design materials distinguish restaurant concepts.One challenge that arose with varying participation rates is figuring out eating patterns and eating behaviors in order to maintain quality standards and minimize waste. "This is why stations and their menus are offered mostly to order," Topp says. "For example, we were going to offer premade sandwiches at the deli station, but we do not do that to keep food waste at a minimum."
The Market and cafe customers place most orders in person at The Market via any of the multiple kiosks. Customers can also place orders through a mobile app. Orders are then directed to the appropriate station. Customers pay by cash, credit card or prepaid meal card.
The Market does not provide ready-to-eat meals for takeout, but customers may take their meals anywhere on-site, including their offices or any of the open seating areas on-site. Staff provide special monthly giveaways. "We have a baker on-site, which is unique to most Eurest accounts," Topp says. "We prepare almost everything in-house, so we offer customers an opportunity to preorder for special occasions. For instance, we offered a gourmet cookie box for the Fourth of July and, for Father's Day, offered a Father's Day Flight with four flavors of whiskey-themed cupcakes: blackberry brandy smash, candied bacon, caramel bourbon and maple bourbon whiskey."
Staff use panini presses to warm sandwiches at B+B deli.Managing waste remains a top priority for Topp and the Eurest team. They use a system that tracks food waste and provides feedback on how much and what kind of waste is generated. "For example, our chef can use ingredients creatively," Topp says. "The baker may take day-old bakery items such as cinnamon rolls and grind them up to make cinnamon cookies."
Another effort to raise customer awareness of waste and help minimize waste in their own homes is giving customers a QR code for Eurest's food waste cookbook, which offers ideas for using items like coffee grounds and vegetable stalks. One promotion gives coffee grounds used at The Market to customers so they can use them for garden fertilizer during planting season. In addition, Topp and her team contract with a curbside compost company to pick up compost once a week.
Despite the lower-than-anticipated traffic, the operational components are in place to offer employees a positive dining experience. This location illustrates the need for flexibility and creativity to adjust to whatever employment conditions may be. Time will tell if these dining options encourage more employees to return to work on-site more regularly.
About the Project
Opened: Sept. 6, 2022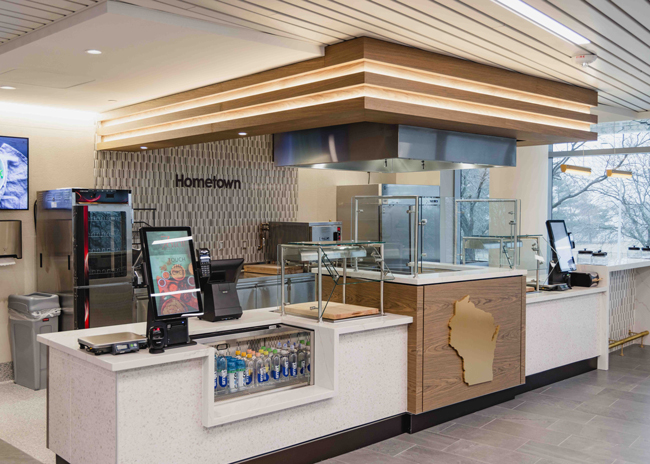 Hometown and Urban Kitchen enable culinary staff flexibility to change and rotate menu items.Scope of project: Employee dining facility with kitchen and restaurant-style stations, two cafes, a catering kitchen, a lounge, and a warming kitchen
Equipment investment: $2.2 million
Website: trustage.catertrax.com
Size:
The Market: Kitchen, 4,179 sq. ft.; servery/restaurants: 5,557 sq. ft.; seating, 8,763 sq. ft.
Market Cafe: 418 sq. ft.
Atrium Cafe: 202 sq. ft.
Warming kitchen: 751 sq. ft.
Catering kitchen and bar: kitchen, 279 sq. ft.; bar, 397 sq. ft.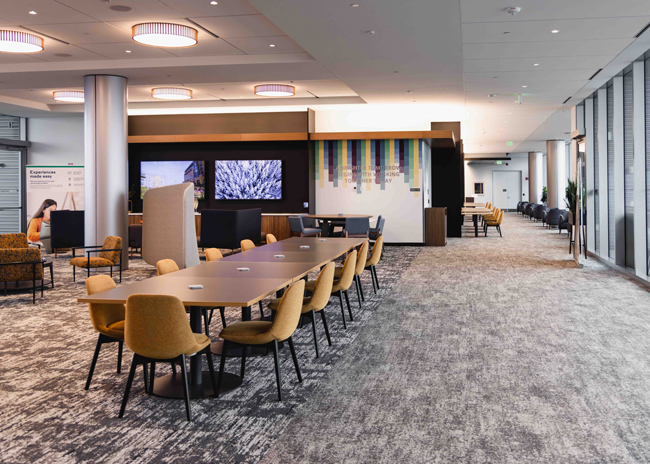 Open spaces allow employees to meet and dine on the fifth floor.Average check at The Market: $8
Total annual sales: $400,000
Daily transactions: 150 in The Market; 75 in coffee shop
Hours of operation:
The Market: breakfast, 8 a.m. to 10 a.m.; lunch, 11 a.m. to 1:30 p.m.
Market Cafe: 7:30 a.m. to 11 a.m.
Atrium Cafe: 7:30 a.m. to 1:30 p.m.
Menu concepts:
Fork & Flour: homemade pasta and pizza
Butcher + Baker: deli
Graze: salad bar
Flame: grill station
Urban Kitchen and Hometown: rotating micro concepts
Market Cafe: second-floor coffee and juice bar
Atrium Cafe: first-floor coffee and bakery concept
Staff: 11 full-time equivalents; 2 part-time
Key Players
Multiple seating styles enable privacy or a more collaborative use of the space.Owner: TruStage
Contract foodservice management: Eurest Dining: Erin Topp, account general manager; Jordan Matzke, executive chef; Robin Hernaez, vice president, culinary; Molly Pichotta, district manager during project, now regional marketing manager
Building architect: EUA, Milwaukee
Architect and interior designer: O'Kelly Kasprak LLC, Chicago: Belinda O'Kelly, AIA, NCARB, founding principal; David Kasprak, AIA, NCARB, founding principal; Aqdas Qualls, LEED AP, lead architectural designer
Foodservice designer: Boelter, Eric Chaplick, director, operations and design
Equipment dealer: Boelter, Chicago office; Jon Pointon, project manager
Construction: Findorff, Madison, Wis.