Recently, the citizens of Austin, Texas — the Live Music Capital of the World — saw the need for a world-class arena with the capacity to host musical artists, sporting events and more.
The University of Texas (UT) also needed a new men's and women's basketball and events arena. The solution was to create The Moody Center housed on the University of Texas at Austin campus. Moody Center carries its name in honor of a $130-million grant from the Moody Foundation to UT. This foundation supports Texas museums, libraries, universities and hospitals, among many other initiatives.
Oak View Group (OVG), a global sports and entertainment company headquartered in Los Angeles, handles operations and events bookings, while OVG Hospitality manages hospitality, including all food and beverage programming.
Moody Center provides an immersive experience from the moment fans arrive at the interactive plaza. The facility adapts and scales to different event sizes, from a live show for 5,000 fans to a basketball game or concert for more than 15,000 fans. The center hosts nearly 150 events each year, featuring performers such as Bruce Springsteen, Madonna and England-based rock band Muse.
Photo courtesy of Gensler, photo by Ryan Gobuty
Before and after events, fans can choose to hang out in multiple indoor and outdoor spaces dispersed throughout the facility.
Fully encircled with windows to showcase the excitement of a game or show, the center reinforces the connection to the campus, The Texas Capitol and the city. "The center dares to be different, without stealing the focus from other UT athletic buildings, by respecting campus materiality and introducing a modern approach to systems and details," says David Lynch, AIA, studio director and principal, Gensler Austin. "Designed as a uniquely Austin venue and to create stimulating urban spaces, the center integrates sports facilities with current and future UT development."
Laura Brodersen, the project's lead architect from Gensler Austin notes, "The main challenge of the project was designing around the site restrictions — the first being the Capitol View Corridor law, enacted so no building in Austin can be designed to block the view of the Capitol building, which applies to Interstate 35 that runs adjacent to the site, imposing a cap on the Moody Center's height." Brodersen explains, "Secondly, the site is located on the side of a hill with a 45-foot drop from east to west. The building height limitation meant the east side of the structure had to be 75 feet underground."
The site's incline allowed the arena to be built with walk-in access at every level rather than having a single entrance. "The main differentiator in the architectural design of this facility is a circular building with easy-to-navigate concourses allowing for large marketplace-style, self-service, grab-and-go concessions with open kitchen designs," says Harry Schildkraut, FCSI, owner, principal in charge and lead designer, S2O Consultants Inc., Hawthorn Woods, Ill. "These designs and large linear bar designs allow for revenue growth through larger basket size and speed of service.
"Traditionally, designers of newer buildings have flirted with a stand or two marketplace-style-designed concessions, but never went all in," Schildkraut adds. "On a previous project, Climate Pledge Arena in Seattle, OVG gambled by going all-in on the open marketplace style, open-air grab-and-go beverage coolers and self-checkout POS stations. Moody Center became version two of that less-is-more concept, using speed of service and a focused, high-quality relatively small menu to drive customer satisfaction, profit and return-on-investment, while offering high-quality food and beverages."
The interior also contains 44 suites with varying amenities levels, as well as a club level for UT basketball. Suites are available for all events. "Being able to maximize back-of-the-house space for front-of-the-house service created an ability to combine action stations and up-front cooking with buffet-style, grab-and-go service with easy access to pantries and prep areas," says Peg Galie, FCSI, senior associate and project manager, S2O Consultants Inc.
Budget responsibility — while achieving foodservice production goals — created a need for ventless equipment in the designs to include both flat griddles and deep fryers. "This allowed for savings due to not needing traditional foodservice hoods and duct work while maintaining production," says Galie.
Floor Plan
Flow, Storage and Main Kitchen Production
The loading docks contain dedicated bays for food and beverages. They also sit across from the trash collection area, which allows the center to maintain a quick receiving process. This placement also facilitates more-efficient health and safety protocols, as well as quick disposal of trash and other waste.
Staff transport food and beverages from the loading docks to a commissary that includes large walk-in coolers for food and bulk beverages, a dedicated storage freezer and dry storage.
The commissary storage and coolers sit next to the main kitchen, which features dedicated access doors to the marshaling and serving corridor with quick access to the freight and service areas. This positioning, separating prep areas from cold, hot and storage — while maintaining proximity to the commissary and service elevators — allows for ease of product movement and production. "The proximity of the main kitchen also was key to ensure the best culinary experience and quality, while allowing staff to maintain creativity with the menu," Schildkraut says.
The main kitchen includes the bulk prep area with dedicated produce and protein walk-in coolers. It also features a cookline section with a service production area containing a slicer, walk-in freezer, blast chillers and a cart/warming box staging location next to the service corridor exit. There is also a main stewarding area that sits separately from the production areas and contains a dedicated storage closet and smallware racks.
The main cookline features two full-sized combi ovens, as well as four double-stack combi ovens for protein and vegetables. The cookline also includes specialty equipment, such as two cook-and-hold ovens. Traditional flat and chargrills sit next to a bank of fryers. Staff use double-tilt skillets mainly for bulk braising menu ingredients, and a 1,000-pound smoker sits to the side of the cold prep area with its own ventilation system.
Dell Technologies Club features interactive technology and a Hill Country-inspired aesthetic and natural materials. Fans find beverages and buffet food here. Photo courtesy of Gensler, photo by Ryan Gobuty
Front-of-the-House, Concessions, Suites and Clubs
Concessions designed as marketplaces on both the upper and main levels focus on offering quick service and throughput by serving popular, easy-to-prepare menu items. Using a mix of traditional and ventless grills and fryers, staff prepare fresh hot food, such as grass-fed, all-natural beef burgers, hot dogs, sausages, crispy fried chicken sandwiches and Bavarian soft pretzels. They place these menu items into bar-coded, disposable packaging that keeps the products warm and at safe temperatures for 20 minutes. Staff also place packaged menu items into hot food wells that can be converted to cold wells as necessary. "Heat sustainability is maintained not only by menu-built and recipe engineering, but also by customer-friendly, heated countertop equipment within counter-heated shelves and overhead heated display food shields," Galie says.
After helping themselves to hot food, customers have the option to choose bar-coded-labeled cold and ambient menu items displayed in cold wells and on shelving, as well as beverages. They check items out themselves at POS stations.
"The self-checkout kiosks give staff the ability to be flexible with offering menu specials and making quick menu changes without redesigning and expensive changes," Schildkraut explains.
VIP Clubs and Suites
VIP clubs on the premium level concourses offer elevated fan experiences but remain open to the entire building to maintain a sense of community and different shared experiences. Germania Insurance Club, the most upscale sideline club within Moody Center, features an intimate space filled with rich oak and mahogany reminiscent of Texas. Dell Technologies Club features interactive technologies, with a Hill Country-inspired aesthetic and uses natural materials for the interiors. Indeed Club is inspired by the local music scene, and Moët & Chandon Impérial Lounge is the center's speakeasy-inspired space with a secret entrance and the best views of the stage. Each club contains a pantry kitchen for finishing menu items and self-serve buffet counters holding hot and cold menu items.
The 44 suites include Sideline Suites, which feature a bar closer to the stage to allow guests to further immerse in the live performance, and Porch Suites, located on the baselines and corners of the venue for basketball. These particular suites look directly onto the stage for concerts with seating pushed out 10 feet into the arena to allow fans to feel more connected to live events. All suites also contain a finishing pantry, as well as an event-day order kitchen.
In addition, 50-plus Loge Boxes (on the suite level), range in size from 3-person to 8-person boxes and have access to private restrooms and buffets, VIP parking and access into the suite-level entrance.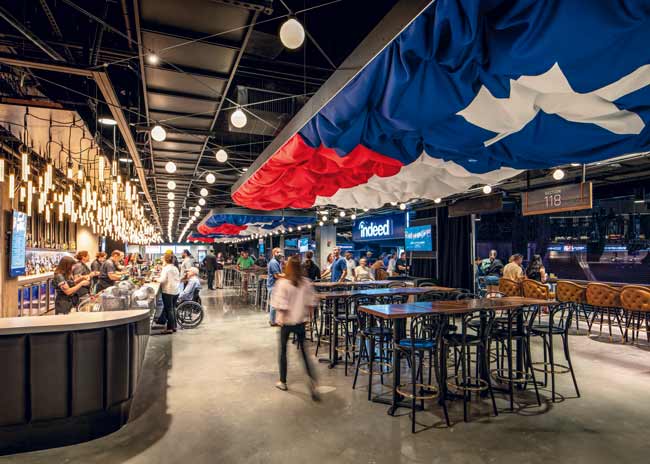 Indeed Club, inspired by the local music scene, features a bar and buffet. Photo courtesy of by Gensler, photo by Ryan Gobuty
Dishwashing and Sustainable Features
"The main kitchen dish area is designed larger than traditional buildings in order to handle the amount of volume of fresh prepared foods the Moody Center prepares," Schildkraut says. A larger-than-normal disposal setup for waste and conveyor-style, energy-efficient equipment allow for the large volume. The dish area sits close to the entry area off the service corridor where staff collect and inspect most waste for food safety in order to donate to food banks and help in the fight against food insecurity and assisting those in need.
In February 2023, the U.S. Green Building Council awarded Moody Center LEED Gold certification for the project's sustainable design strategies, which include the following:
95% diversion of construction waste from landfills by recovering, reusing and recycling materials
71% reduction in outdoor water use through thoughtful selection of plant species and efficient irrigation system technology
36% reduction in indoor water use via low water use plumbing fixtures
13.7% modeled energy cost savings for overall energy savings
In addition, technology enables Moody Center to cool from the bottom up versus top down, which is a more energy-efficient approach and allows for cleaner air to circulate throughout the arena. The blending of indoor and outdoor spaces, shade for exterior spaces, windows that maximize daylight, and interior thermal controls create a comfortable environment for fans. Also, the landscape design focuses on preserving the on-site heritage trees, turning them into an amenity. The canopy on top of Moody Center is made of real wood — an homage to the traditional design vernacular of Texas buildings and homes. It also provides shade for outdoor terraces and minimizes interior heat gain.
In foodservice, open-air, grab-and-go coolers contain recyclable aluminum bottles, thereby eliminating single-use plastics. The use of ventless electric equipment falls in line with OVG's overall practice of using more electric equipment and less gas-based equipment. Open kitchens also allow staff to provide a high-quality guest experience by cooking fresh menu items. The kitchens feature a reduction in storage, length of time for holding menu items and energy consumption.
In the future, Moody Center team members will continue to adjust the balance of menu items offered in response to fans' requests. The owners, developers and managers expect that the foodservice equipment and design providing this flexibility will serve generations of fans for many years to come.
Big Chicken concession contains fryers, grills and hot holding equipment. Photos courtesy of OVG
About the Project
Opened: April 20, 2022
Scope of project: New construction of a multipurpose arena that includes a main kitchen, a commissary, concessions, clubs, suites, bars and pantries
Equipment investment: $5.185 million
Website: moodycenteratx.com
Size: 530,000 sq. ft. arena
Main kitchen: Approximately 3,700 sq. ft.
Concessions: 1,100 to 1,300 sq. ft.
Porch suites, average: 550 sq. ft.
Seats: 15,000-plus
Total projected annual food and beverage sales: $25 million
Hours: Based on events
Concessions concepts:
Upper concourse:
ATX Street Eats with signature Paniolo Burger (1/4-pound beef patty with chipotle cherry barbecue sauce); cheeseburger, jumbo dog, chicken tender basket, signature ATX Fries; gluten-free buns and corn tortillas.
The Hits with lemongrass chicken bowl, Char Siu pork belly slab bowl and bulgogi beef
Right on 'Cue Tacos featuring three tacos daily and churro bites
Koko's Bavarian with bratwurst, jalapeno cheddar sausage, frankfurters, fries and giant pretzels
Tony C's for pizza by the slice, pepperoni rolls and chicken Caesar salad
Big Chicken concession contains fryers, grills and hot holding equipment. Photos courtesy of OVG
Main concourse:
Austin Hot Links features brisket angus burger, jumbo hot dog, Austin dog and gluten-free buns
Big Chicken offers MDE (Most Dominant Ever!) with Shaquille O'Neal's hand-breaded chicken sandwich and sauce, Uncle Jerome (MDE with sweet Uncle Jerome sauce), Longhorn Bites, big cookie and fries
Koko's Bavarian
Moontower Market with grab-and-go snacks and beverages
Stubb's Bar-B-Q with smoked chopped brisket sandwich, smoked pulled pork sandwich, house-smoked sausage, house-made potato salad, house-made coleslaw and sweet potato fries
The Hits with Al Pastor pulled pork taco, Bulgogi sliced chicken taco and loaded pork and chicken nachos
Tony C's for pizza by the slice, pepperoni rolls and chicken Caesar salad
Lower concourse:
Congress Ave Canteen with grab-and-go snacks and beverages
Mister Softee ice cream, popcorn and candy
VIP clubs: Germania Insurance Club, an upscale sideline club with rich oak and mahogany; Dell Technologies Club with interactive technology and a Hill Country-inspired aesthetic and natural materials; Indeed Club, inspired by the local music scene
Lounge: Moët & Chandon Impérial Lounge, an exclusive, speakeasy-inspired space with the best views of the stage
Suites: 44 skybox suites, including Sideline Suites with a private, enclosed area located closest to the stage for concerts and closest to midcourt for The University of Texas basketball games; and Porch Suites, located on the baselines and corners of the venue for basketball and looking directly onto the stage for concerts with seating pushed out 10 feet into the arena
50-plus Loge Boxes: private couches on suite level; range in size from 3-person to 8-person boxes with
access to private restrooms and buffet, VIP parking and access to the suite-level entrance
Food and beverage staff: 15 managers and 250 hourly staff on event days
Total project cost: $375 million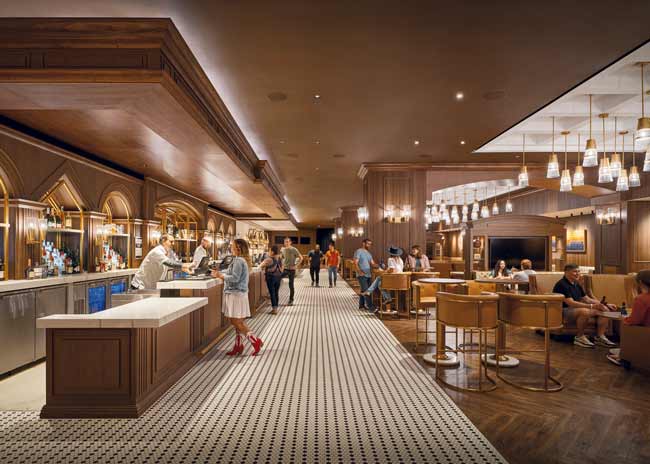 Germania Insurance Club's design features rich oak and mahogany materials. Photo courtesy of OVG
Key Players
Owner: The University of Texas
Developers: Oak View Group (OVG): Tim Leiweke & Irving Azoff (Azoff Music); Live Nation Entertainment/C3 Presents: Charles Attal; The University of Texas at Austin, Matthew McConaughey, Minister of Culture
Developer and operator: OVG
Project manager: CAA/ICON
Architect: Gensler Austin: David Lynch, AIA, studio director, principal; John Houser, design director; and Laura Brodersen, the project's lead architect
Interior design: Gensler: Christine Briseno, RID
Foodservice consultants: S2O Consultants Inc., Hawthorn Woods, Ill.: Harry Schildkraut, FCSI, principal in charge and lead designer; Peg Galie, FCSI, senior associate and project manager
Equipment dealer: Stafford Smith, Dallas
Construction manager: AECOM Hunt
OVG Key Players
President, OVG Hospitality: Kenneth Gaber
Senior vice president, hospitality, OVG Global Venue Development Special Projects, Oak View Group: Joshua Pell
Regional vice president, OVG Hospitality: Josh Pyle
General manager, food and beverage, OVG Hospitality: Bob Kimsey
Senior vice president, OVG, and general manager, Austin: Jeff Nickler
Vice president and associate general manger, OVG Austin: Casey Sparks
Executive chef, OVG Hospitality: David Williams