The CEO of Bridgewater Bank, Jerry Baack, wanted to call attention to the bank's new headquarters building in St. Louis Park, Minn., a Minneapolis suburb. A long-time customer of Hazelwood Food + Drink in nearby Bloomington, he invited the restaurant's owner-partners to operate their restaurant on the building's main floor. Hazelwood Food + Drink is one of several brands owned and operated by Nova Restaurant Group.
Photos by Jack Ziegler"The bank owner pitched us on the project multiple times, but we weren't looking to open another Hazelwood Food + Drink just then," says Patrick Woodring, Nova Restaurant Group's CEO.
"We are very careful with our finances, and we don't want to be undercapitalized," says Scott Foster, Nova Restaurant Group's chief operating officer and executive chef. "When the economics of the deal made sense, we agreed to move ahead."
Woodring and Foster brought in architects and interior designers from Shea Inc. in Minneapolis, which designed the other three Hazelwood restaurants, as partners for this project. "The St. Louis Park restaurant has all the warmth and texture that are at the heart of the design with an added urban flair to complement its first suburb location," says Breana Detzler, AIA, senior architect, senior associate at Shea.
The St. Louis Park location's interior contains many local and recycled materials, including stained-glass panels on the room-dividing walls. The central island bar holds a quartz top and wood bar face. A large, arched ceiling feature defines the space while also helping with the acoustics of the restaurant, which can be loud due to the sound system for the televisions at the cove-ceilinged bar and the music being piped throughout the restaurant. The space also contains signature artwork to the Hazelwood brand, found at all locations, an open kitchen with a rotisserie oven and a pizza oven. A variety of custom booths and fabrics provide spaces for young professionals, long-time neighborhood residents and families to feel comfortable whether visiting for happy hour, a casual dinner or a special occasion. A patio with a pergola offers yet more dining options. In addition, the restaurant also has a private dining area.
"Shea also provided great treatment of the private dining areas and big windows allowing in natural lighting to create a bright, refreshing environment," Foster says. "They also brought in circular pendant lights over the bar and appropriate lighting throughout the space, which is a very important element of the design."
The restaurant's menu features what Foster describes as "a collection of what people want — American cuisine with some comfort food, so people can come in three times a week and change their choices from steaks to pasta and bar food. We don't have an overly large menu but emphasize high-quality ingredients and good-sized portions. The menu is a function of what people want, rather than what an ego-driven chef wants to create."
One of the more challenging aspects of the project relates to how the building itself sits on the larger property. "There is great presence on the street with signage that lets people know the restaurant is here, but the path to the front door of the restaurant can be tricky on a first visit from the different parking locations and site access points," Detzler says. "We tackled this with a comprehensive signage package that is both functional and subtle where needed and works well with the building architecture to serve as a guide."
An additional challenge in the kitchen design was locating storage space to support the restaurant's guest volume. "Because we were working with a small footprint for the type of seating required, we placed the beer cooler and dry storage in the underground parking lot area beneath the building and brought in another contractor than the bank used to install HVAC," says Brian Cepek, director of sales in Boelter's Minneapolis office.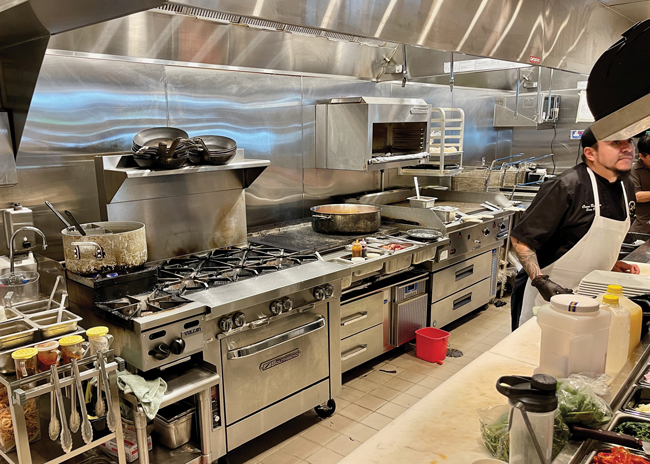 A range and grill support production in the back of the house.
Floor Plan
Download the floor plan equipment key here.
Back of the House
Staff bring food deliveries inside from a loading dock outside the building. "The bank gave us a fob to open the entry doors, and drivers have access to this safe delivery zone," Foster says. Deliveries come in very early in the morning.
Staff take beer and dry goods to a storage area two levels below. "It's not convenient for the staff because they have to take an elevator to transport the beer and dry goods up and down," Foster says. "But we needed the space for the kitchen, front-of-the-house prep and seating."
Staff take other food deliveries into a main-floor walk-in cooler, a protein cooler, a walk-in freezer and small dry storage areas. "We maintain a 90% from-scratch operation and spend the money to separate the protein to maintain food safety," Foster says. "I've been a chef for my entire career and design that separation whenever I can. This ensures we maintain safety with regards to foodborne illness."
A food safety precaution within the design was to designate a completely separate raw protein prep sink for mise en place on the cookline and base-prep areas.
The cold prep area contains a food processor, a meat slicer and a 20-quart planetary mixer. Here, staff prepare salads and desserts such as banana cream pie.
A hot prep area contains a tilt skillet for making stocks, soups and sauces. A stock pot range serves as a support for hot sauce prep. The area also contains a convection oven to cook roasts and bake everything from chicken meatballs, chocolate cake and monkey bread for weekend brunch. A cook-and-hold oven maintains cooked menu items — such as rotisserie chicken and prime rib (offered weekly) — at a proper safe temperature.
A beverage area contains a coffee grinder, a coffee brewer, an iced tea brewer and a water station.
The dining room, centrally located bar, windows and patio dictated the placement of the kitchen. "The design location of the soiled-plate drop area, beverage area and pizza nook made possible staff members taking fewer steps during service," Foster says. "The two ways in and out of the kitchen contribute to a continuous flow for staff's service efficiencies."
For dishwashing, one kitchen entrance allows staff to head directly to the generously large drop-off dish area to deposit soiled items. A second path adjacent to the soiled-dish table allows staff to exit the kitchen carrying clean dishes and supplies to keep the service line stocked. The area contains a two-rack, pull-down door-type dishwasher and a silverware soak sink.
"Having a double-rack system with a fresh water drain and rinse for each cycle makes a huge difference in maintaining the quality of the china, glass and cutlery," Foster says. "It also saves a lot of money in water expenses."
Overhead glass racks are convenient for servers to reach and provide a safe way to avoid breakage. Other elements of the dish area include the required three-compartment sink and ample clean storage racks that allow staff to safely access the service ware.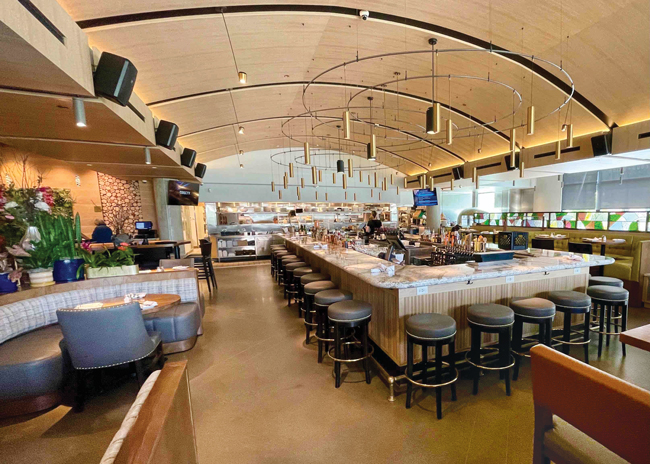 The central bar with its pendant lights helps generate the energy in the restaurant.
Front of the House
The exhibition-style front-of-the-house stations create culinary theater, according to Foster.
The saute station holds an 8-burner, 36-inch range and a griddle for making minute chicken, Parmesan walleye and toasted sandwiches. Staff use a countertop charbroiler with a refrigerated base for grilling burgers, fresh fish and steaks and a deep-fat fryer for crispy shrimp, deviled eggs, fish and chips, and brie cheese curds. A countertop steamer sits nearby for rethermalizing blanched vegetables.
Glass panels separate booths, offering a degree of privacy along with views of the other booths.The pizza area contains a refrigerated rail for ingredients, a dough dolly and prep tables. The area also holds a wood-burning and gas-supported pizza oven, a microwave oven for reheating cooked desserts, a prep refrigerator and a hot holding cabinet. Staff bring pizzas to a stainless-steel cutting table with heat lamps overhead to portion the pies as needed. The oven also bakes chicken pot pies and shrimp scampi in terra cotta pots.
Nearby stands a wood-fired rotisserie oven, which cooks the restaurant's signature chicken, marinated and roasted tied turkey breast for sandwiches, and a carved turkey dip for lunch. A mobile carving station offers staff flexibility when serving prime rib on weekends.
During the past two and a half years, Nova Restaurant Group has emphasized maintaining consistency through technology. The company rolled out a recipe database stored in the cloud of its restaurant offerings, which staff at all Nova Restaurant Group locations can access on electronic tablets. The recipes are accompanied by pictures, plating specs, chef notes, shelf life and measurements. Staff can update recipes and plating specs at any time.
"The Nova Restaurant Group is known for the mantra 'One Guest, One Table, One Plate,' which has helped build our legacy," says Jared Krekelberg, the group's cost control manager. "This requires consistency between our multiple locations, hundreds of employees and hundreds of thousands of guests. This cloud-based recipe system has helped us achieve this vital ingredient in our recipe for success." The group will continue to implement other technologies and systems, Krekelberg adds, to allow chefs and managers to use the most up-to-date information that will continue to drive efficiency and help with productivity and communication.
Despite the initial hesitation to open a restaurant in this bank location, Woodring and Foster know they made the right decision to open the third Hazelwood Food + Drink here. The inviting atmosphere and classic American-style cuisine attract new customers and repeat customers. "We're creating memories for our guests," Foster says.
Refrigerated rails keep ingredients at the proper temperature.
About the Project
Size:
Bar area: 1,250 sq. ft.
Dining areas: 2,300 sq. ft.
Patio: 890 sq. ft.
Kitchen: 1,850 sq. ft
Dish area: 200 sq. ft.
Walk-in freezer: 60 sq ft.
Walk-in cooler: 190 sq. ft.
Beer cooler: 200 sq. ft.
Dry storage on lower level: 300 sq. ft.
Prep area: 230 sq. ft.
Pizza area: 200 sq ft.
Main level, including patio: 6,870 sq. ft.
Seats: 250, including indoors and outdoors and private dining rooms
Average daily check: $32
Total annual sales: $5.8 million, estimated
Weekly transactions/covers at St. Louis Park location: 3,500 to 4,500
Hours:
Monday through Thursday: 11 a.m. until 9 p.m., bar open until 10 p.m.
Friday: 11 a.m. until 10 p.m., bar open until 11 p.m.
Saturday: 9 a.m. until 10 p.m., bar open until 11 p.m.
Sunday: 9 a.m. until 9 p.m., bar open until 10 p.m.
Menu concept and menu specialties: American cuisine with some comfort food. Specialties include Parmesan-crusted walleye, healthy bowls, minute chicken, woodfired rotisserie chicken with a homemade rub, pizza, chicken meatballs, rotisserie chicken sandwich, turkey avocado sandwich, woodfired clay pots, gouda hash browns, monkey bread brunch and banana cream pie.
Staff: 80 to 90
Total project cost: $3.1 million
Equipment investment: $747,000 pre-tax (dishwasher and ice machines are leased; not included in this investment: fans, makeup air, coffee, tea and soda systems)
Opened: April 2021
Scope of Project: Back of the house, including a support kitchen, and front of the house, including an exhibition display area and seating
Website: hazelwoodfoodanddrink.com
Key Players
Owner: Nova Restaurant Group, Edina, Minn., which owns Hazelwood Food + Drink restaurants in Tonka Bay, Bloomington, St. Louis Park and Woodbury. Additional concepts in Minnesota include Terza Ristorante, Chester's Kitchen & Bar, Pescara (all in Rochester), Tavern 4&5 in Eden Prairie and a new pizza concept soon to open in Bloomington.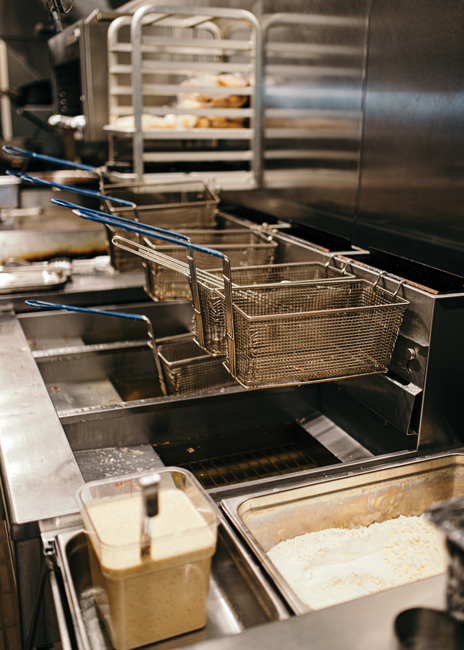 Fryers cook a variety of menu items.
Nova Restaurant Group founding partners: Patrick Woodring, CEO, and Scott Foster, chief operating officer and executive chef
Executive chef, Hazelwood Food + Drink, St. Louis Park: Justin Fermanich
Cost control manager: Nova
Restaurant Group: Jared Krekelberg
Architect: Shea Design, Minneapolis: Breana Detzler, AIA, senior architect, senior associate
Interior design: Shea Design: Cori Kuechenmeister, IIDA, director of design, senior associate; and Scott Foster, Nova Restaurant Design
Foodservice designer: Nova
Restaurant Group: Scott Foster, chief operating officer; Boelter, Minneapolis office: Brian Cepek, director of sales; Cheri Smith, project coordinator
Equipment Dealer: Boelter
Construction general contractor: Ironmark Building Co., Minneapolis: Ryan Moore, project manager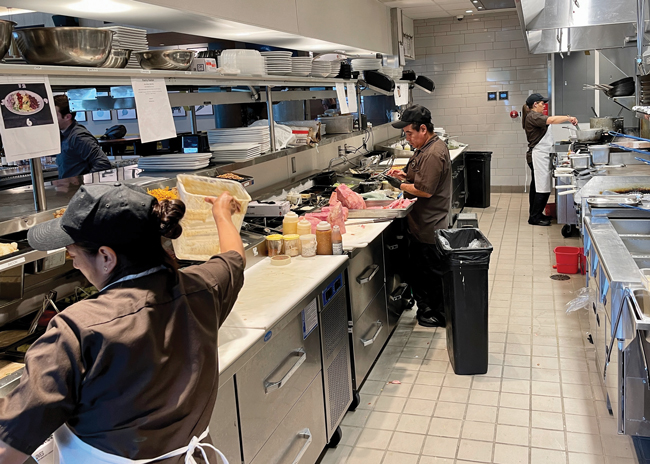 A staff member cuts meat at the front prep counter.