The Los Angeles headquarters for the National Football League resides in a $5 billion, 298-acre parkland known as The District at Hollywood Park in Inglewood, Calif. The District includes world-class sports and performance venues, office, retail and residential spaces. The centerpiece of The District is SoFi Stadium, home of the NFL's Los Angeles Rams and Chargers.
Photos by Benny Chan, FotoworksNFL Los Angeles occupies 4 of 7 floors in a 450,000-square-foot Class A building and houses employees working for the NFL's owned and operated media assets, along with the NFL's live broadcast studios. In addition to office and studio spaces, the facility also features NFL Media's first live-audience studio, along with an outdoor studio, a screening room and an outdoor amenity deck.
The building's foodservice includes Huddle Café with a kitchen, servery and seating area that serves approximately 850 NFL employees and their guests daily.
"A key component to NFL's people-first strategy was the inclusion of a full-service, restaurant-grade commissary," says Chris Mitchell, AIA, NCARB, design director and lead designer for the NFL project at Gensler's Los Angeles office. "We and Webb Foodservice Design collaborated to create a timeless, modern design that will facilitate all the NFL Media Los Angeles' current and foreseeable needs."
The initial project goal was to provide an open exhibition kitchen concept. COVID-19 hit mid-project, and the design team had to update the design to enhance safety for guests and staff alike. For example, the island market bar and serving counters were originally designed to be open to guests. In response to the pandemic, Gensler and Webb Foodservice Design provided counter-to-ceiling vertical glass panels at all serving counters, with small pickup zones, to ensure a safer environment for staff and guests. In addition, food lockers span the wall between the cafe servery and the corridor to allow guests to preorder and pick up without ever entering the servery area.
To alleviate crowding in the cafe, food lockers were placed between the cafe and dining space. Self-checkout and back-filled food lockers instead of cashiering helped reduce labor requirements, says Carri Sullens, associate principal at Webb Foodservice Design in Anaheim, Calif.
When employees and guests enter Huddle Café, they see a fully serviced and staffed coffee bar. The glassed-in island resides in the center of the cafe, providing a focal point of the design. Just beyond the coffee bar, guests easily see the fresh food presentation at the salad and sushi bars. "Locating this at the main employee entry seemed appropriate and brand-forward, emphasizing putting the health and wellness of employees front and center," Mitchell says.
Also visible from the front are other food stations offering fresh pizza, two hot lines and a self-service grab-and-go area. "The whole space emphasizes the motion of the game," Mitchell says. "The commissary itself allows for large or small crowds to flow seamlessly among the stations."
The back of the house contains a 40-gallon mixer and food processor.Designers connected the cafe to the outdoors via windows that surround the back of the house and front of the house and usher in heaps of natural light. "The challenge with the windows is twofold, with limitations on wall space for foodservice equipment and significant heat from the natural light in the kitchen," Sullens says. "The solution was to push all equipment taller than a worktable away from the exterior wall. Gensler added adjustable shades to cool the room."
The extensive use of windows presented other design challenges. "The kitchen and cafe were originally meant to be completely open and surrounded by windows so guests could see all the way through the kitchen to the outdoors," Sullens says. "Ultimately, the client decided there should be some visual separation between front and back of house, so we added a wall behind the cookline. A clean, open look with great natural light remains."
Despite these challenges, the net result is an operation that enthralls both customers and staff alike. "It is a thrill to walk into a brand-new kitchen and see great detail and top-of-the-line equipment," says Dana Massimiani, general manager, NFL Los Angeles Huddle Café at Eurest USA. "This operation is like Candyland for a chef, and I'm so pleased my chefs and I can experience this. This operation combines two of my greatest passions, the NFL — my family loved Chicago sports and I was 10 years old when the Bears won the Super Bowl — and cooking. I have a servant style of management, dedicated to providing for both my team and customers. Creating unique and exceptional experiences is why I get up in the morning."
"The space focuses on resilience first of all, including positive air flow at all food stations and exceeds the stringent California-specific Title 24 energy requirements," Mitchell says.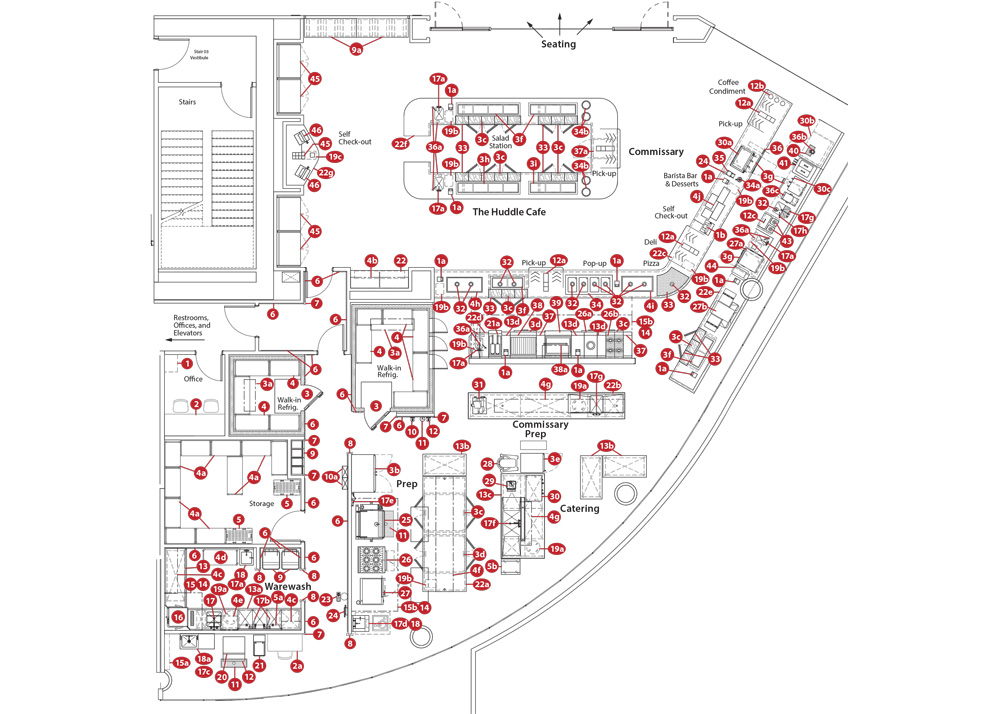 Food Deliveries, Storage and Preparation
Food arrives at the loading dock on the lower level, so foodservice associates must receive all deliveries and transport them via elevator into the back of the house on the main level above the loading dock level. "We follow HAACP guidelines throughout the operation, starting at the loading dock where associates take the temperature of many products before they are moved through the system," Massimiani says.
This dining area looks out to SoFi Stadium, home of the NFL's Los Angeles Rams and Chargers.On the main level, associates place food into a walk-in cooler, dry storage area or small walk-in, upright, double-door freezer. Foodservice associates prepare mise en place at worktables and use a 40-quart floor mixer, food slicer and food processor.
Sitting in the heart of the kitchen, a hot prep area includes a tilt skillet for cooking eggs, meats, pasta, sauces and vegetables. Associates use a six-burner range with a convection oven beneath for making soups and sauces. They use the double-stacked combi oven to roast miso-glazed salmon, prime rib, chicken, brisket and other meats, as well as to bake rice.
Associates place hot food in two warming cabinets and bring them to the front-of-the-house stations as necessary. Associates batch cook most menu items in view of customers. "We're very creative in menu engineering," Massimiani says. "In addition, the kitchen and the front-of-the-house stations have the right amount of space, but they aren't big enough to isolate one department from another. The executive chef and sous chef must efficiently delegate team members to certain spaces. Adding more people doesn't always improve efficiency. We have to make sure the team has enough space for sanitation and various functions. In order to do that, you have to be very strategic and judicious with the space."
A dish room sits across from the prep area and is separated by a full partition from this area. Warewashing includes mostly pots, pans and cooking utensils. Associates serve all meals on recyclables and compostables and hand them to guests. Menu items in food lockers are also served on recyclables and compostables. The dish room also contains a trash holding area. Associates collect trash from the servery, hold it in the dish room until after service and take it to the loading dock below for pickup.
Food Concept Stations
When they approach each station, customers see both a paper copy and a digital version of the menu before verbally placing their orders. Foodservice associates heat menu items upon request, place the food into containers with lids and hand customers their orders. With the tall, vertical food shields, self-service is limited to the Market Bar where customers find hot cereals, and soups served in bains-marie.
Stations display nonpermanent brand names. "We wanted to remain limber so we can change food concepts whenever we see a need," Massimiani says. "There aren't many other foodservice options nearby the building, so we want to offer as much variety as possible."
Employees and guests meet in the central gathering hub and main entry to Huddle Café.At the flame station a cookline includes a fryer, countertop broiler, salamander, plancha, countertop French top and countertop four-open burner range. Associates prepare breakfast menu items including breakfast skillets with ham, egg, peppers and spinach served with multigrain avocado toast with marinated tomato, as well as cornflake-crusted French toast, banana pancakes and a pesto wrap with egg whites.
This station also offers hot dogs and the Huddle burger. Foodservice associates submitted recipes for the burger, and the NFL community selected the recipe that became the official burger. Menu items also include sticky Asian pork ribs, Santa Maria grilled tri-tip, grilled chicken teriyaki, buttermilk fried catfish and pesto-grilled chicken.
Create station features internationally themed and pop-up menus. Entrees and sides include southern-fried chicken, chicken in a cream sauce, oven-baked rigatoni pasta, pesto grilled chicken and grilled petit filet. Associates also serve sliced brisket, beef Wellington carved to order, Wagyu steaks and vegetarian options.
Piccola Italia features flatbreads and pizza varieties such as chicken carbonara, ricotta and squash blossom, and prosciutto figs and brie prepared in an impinger oven.
The sandwich station, Butcher & Baker, features selections including Waldorf chicken salad, all-vegetable sandwiches, and a chicken bacon ranch sandwich with sliced grilled chicken, smoked bacon, cheddar cheese, tomato, arugula and red onion. This area holds a panini press and high-speed ovens to heat sandwiches in 60 seconds.
Market Bar contains refrigerated pan rails, a drop-in, round heated well and heated holding cabinets. This area features two daily soups and Roots & Seeds salad bar. Associates prepare all salads to order to speed throughput. "We average 17 seconds from the time a customer comes in until they leave," Massimiani says.
Barista Bar features coffee drinks prepared with a coffee brewer, coffee maker and espresso grinder. Residing in various locations throughout the cafe, desserts include packaged tiramisu, cookies and brownies. Muffins are offered for breakfast.
Customers can choose other beverages displayed in three open-air coolers.
As employees at NFL Los Angeles become accustomed to their new surroundings, the open, airy foodservice becomes a place for socializing and exploring the extraordinary world of food and culture. The design team's choice of foodservice equipment, layout and decor gives the culinary team flexibility to adapt to changes in food preferences.
Food lockers and the electronic POS system between the cafe and dining space expedite customer service.
About the Project
NFL Los Angeles: The NFL's new West Coast headquarters and operational home for NFL Media
Opened: Sept. 8, 2021
Glass walls provide food shields without obstructing views of the station and foodservice associates.
Scope of Project: New construction inside the NFL's new West Coast headquarters and operational home for NFL Media. Foodservice components included a kitchen, serving area and seating. The building also contains 14 pantry locations with touch-screen coffee and snack machines. The NFL occupies 4 of 7 stories in the office tower that sits about 50 yards west of SoFi Stadium. A farm-to-table garden contains a citrus orchard growing limes and lemons.
Website: nfl.com
Size:
Total building: 450,000 sq. ft.
Office space: 214,063 sq. ft.
Studio/studio support space: 74,972 sq. ft.
Foodservice: 7,600 sq. ft.
Back-of-the-house kitchen: 2,150 sq. ft.
Servery: 2,015 sq. ft.
Seating: 3,435 sq. ft.
Seats: 120 indoors, including private dining rooms; 120 outdoors
Total annual sales: N/A; foodservice is an amenity to the NFL Los Angeles staff
Daily transactions/covers: 1,200 to 1,600 meals/day
Hours: 5:30 a.m. until 6 p.m. Monday through Friday; cafe closes from 10:30 a.m. to 11:30 a.m. to change from breakfast to lunch
Menu concepts and menu specialties:
Bistro (comfort food/grill)
Pop-up (international)
Pizza (flatbreads, pizza)
Market Bar (made-to-order salads, deli)
Barista Bar (coffee, pastries)
Staff: 27 and up to 33 during the football season
Equipment investment: $1.8 million
Glass allows transparency at all the stations.
Key Players
Owner: The Kroenke Group; NFL Los Angeles leases space as part of a long-term contract
Vice president, head of media operations, NFL Los Angeles: Dave Shaw
Senior director of administration at the NFL: Paula Peluso, New York office
Senior vice president of NFL Media and general manager, NFL Los Angeles: David Jurenka
General manager, NFL LA Huddle Café: Dana Massimiani, Eurest USA, part of Compass Group
Food concept stations support foodservice associates as they prepare everything from pizza to entrees.
Base building architect: Gensler, Los Angeles office
Interior design: Gensler, Los Angeles office: Chris Mitchell, AIA, NCARB, design director and lead designer for the NFL project; Natalie Rios, NCIDQ, designer; Jeremy Schacht, project architect; and Karyn Israel, designer
Base build contractor: Pankow, Pasadena, Calif.
Foodservice consultants: Webb Foodservice Design, Anaheim, Calif.: Carri Sullens, associate principal; Ashley Pratt, CFSP, project manager; and Costel Coca, CFSP, design principal
Equipment dealer: Premier Culinary Solutions, Anaheim, Calif.: Scott Roczey
Construction: Howard Building Corporation (HBC), Costa Mesa, Calif.: Adam Herig, vice president, LEED AP; Tyler Adams, project manager; Joe Krill, general superintendent; and Kyle Smith, assistant project manager
Dana Massimiani, general manager, NFL Los Angeles Huddle Café, Eurest USA. Massimiani joined NFL Los Angeles in 2021. Previously he worked for Sodexo for nearly 13 years at accounts such as Loyola Marymount University in Los Angeles.
Chris Mitchell, AIA, NCARB, design director and lead designer for the NFL project, Gensler. Mitchell joined Gensler in June 2017. He became an architect in 1991. Additional headquarters design projects include TikTok, Bytedance, Warner Bros., The Walt Disney Company and Bloomberg.
Ashley Pratt, CFSP, project manager, Webb Foodservice Design. Pratt joined the company in February 2008. She designs and manages projects through all phases of design. She has an interior design degree and grew up working in restaurants.
Carri Sullens, associate principal, Webb Foodservice Design. Sullens joined the firm in November 2018. She has 20 years of experience as a foodservice consultant.