The University of Illinois at Urbana-Champaign fully opened Illinois Street Residence (ISR) Dining Center in the fall of 2021 after COVID-19 forced a limited opening the prior year.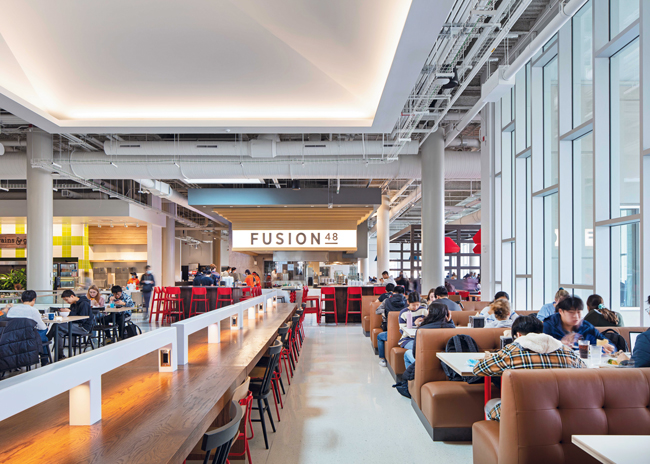 Photo by George LambrosThe multimillion-dollar renovation and addition brought an outdated facility and two residence halls in the ISR complex into the 21st and 22nd century; few updates had been made to the facility since being built in 1962. This $132-million flagship renovation design project, including $77 million for dining and $55 million for two residence halls, introduces a living/learning/dining facility that responds to the nutrition and social needs of approximately 1,200 students residing and studying in the facility, as well as other students on campus.
"This new facility brings the entrance closer to the building's frontage along Green Street, a major retail thoroughfare within the towns of Champaign and Urbana and connects the university to the communities," says David Mann, AIA, LEED AP, principal, director, at Booth Hansen, an architecture and interior design firm based in Chicago.
Residence halls connect on the east and south sides of the dining center. ISR also serves as the social hub of University Housing on the north side of campus, fostering interaction and community building between students, faculty and visitors. Customers can access the dining facility from multiple building entry points and gather in informal areas before and after meals, and at destination meeting sites. Foodservice comprises most of the building's space. The balance of the building includes student program spaces, a student employment office, a library, a counseling center space and a reflection room.
Booth Hansen, together with Grand Rapids, Mich.-based Bakergroup Food Service and Hospitality Consultants introduced an eye-catching, contemporary design for the two-floor dining center. Nine all-you-care-to-eat microrestaurants, each with a distinctive design and menu items authentic to each concept, reside on the upper level. Two retail operations, one for tea and other beverages and the other a retail cafe and market, operate on the lower level.
"This project involved a very collaborative process," says Alma R. Sealine, executive director of University Housing at University of Illinois at Urbana-Champaign. "We were — and still are — very committed to getting student feedback about their preferences for the food, service and decor. They are more food savvy than ever, so their expectations are higher for quality and variety."
Fully staffing the operation will be an ongoing commitment, something the team was aware of when creating the new concepts. "ISR is particularly labor intensive because we're customizing orders and finishing product within each concept," Sealine says. "We're currently running short-staffed and work hard to prepare our staff to work at ISR."
Another project goal sought to balance customer traffic and demand between the microrestaurants. "When balanced, facilities enjoy reduced workloads — in managing production processes, product flow, product costs, control and reduction of food waste — while simultaneously enhancing customer service," says Mona Milius, MBA, senior vice president and senior principal, Bakergroup.
The project team is applying for LEED Silver certification. As part of its LEED-focused planning, the design team reused $270,000 worth of existing equipment.
Floor Plan and Equipment Key
Overall Strategy and Results
The parrilla grill, popular for South American cuisines, contributes to the culinary show at Latitude.
With a focus on creating long-term appeal, the university and the design team wanted to create a restaurant approach for the facility, which includes developing a strong, individual brand identity for each dining destination while also maintaining a cohesive flow as visitors navigated through a facility that seats nearly 1,400 people.
The scalable facility design allows the staff to open or close operations based on customer demand. The dining team can close specific restaurant venues, lower-level retail operations and even the demonstration teaching concept.
Seating areas feature spacious, open ceilings. The design team selected a variety of ceiling types complemented by large wall graphics, all designed to minimize the visual distraction of any ceiling-mounted infrastructure. Each microrestaurant contains adjacent seating that directly relates to each restaurant in style, form and character.
Green plants were added throughout the spaces. Large, expansive windows keep diners connected to the exterior landscape and plant life. "One of the keys to the project was to provide natural light deep into the building," Mann says. Natural light from the oversized skylights and floor-to-ceiling perimeter windows complements the volume of the expansive 17-foot ceilings.
Customers can enter the operation from both ends of the facility, each with a view into the dining center. "The decor of the entry communicates to the customers that these are restaurant-level experiences," says Jim Sukenik, FCSI, president and senior design principal, Bakergroup.
A variety of seating and table types allows customers to dine alone or in large and small groups. Choices include community tables for up to 16 people, rectangular tables for 2 or 4 people, bar counter seating, bar-height tables, booths, community tables and banquette seating. The tables' location fosters easy socializing and community building.
"In consideration of the menu items consumed in the dining areas, colors and materials were selected for their resistance to staining and damage," says Lindsay Grab, NCIDQ, LEED Green Associate, interior designer, Bakergroup. "Variety was sought in material and finish selection. Specialty lighting sets the stage for the restaurant dining experience."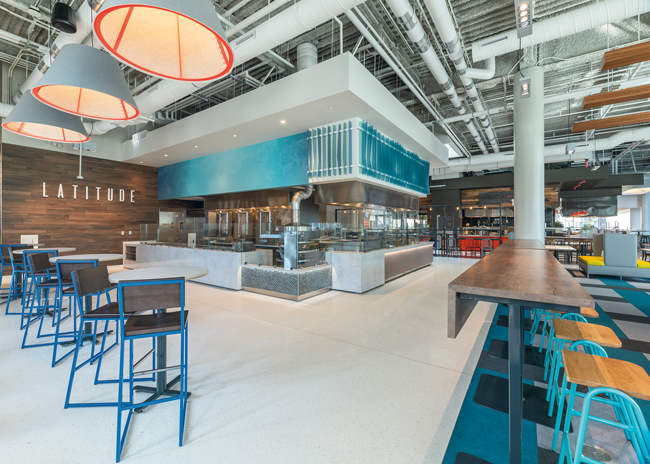 Latitude contains three rotisserie ovens and a parrilla grill.
Back-of-the-House Receiving, Storage and Production
Foodservice deliveries arrive at a covered, recessed dock, which also contains external fill ports for bulk carbon dioxide, pickup for the food waste recycling system (for pre- and post-consumer waste), trash compactor and cardboard recycling bin.
Adjacent to the dock, two steel doors with air curtains open to the receiving area, which includes an office, the central oil waste collection system, a power wash station, floor cleaning machines, battery charging stations, flatbed trucks, a pallet jack, milk crates, bread racks, compost bins and cart storage.
The photograph at left, taken by Fred Zwicky, the university's director of photography, captures a mural that depicts historic round barns on campus.Staff move incoming retail items to the lower-level retail outlet storage areas.
Dock and receiving, walk-in coolers, walk-in freezers and dry storerooms sit adjacent to both delivery areas so staff can quickly place menu ingredients into secured storage areas. One walk-in cooler with an internal freezer holds meats, cheeses and prepped menu items, while another walk-in cooler holds produce. "The setup also includes a built-in blast chiller connected to the walk-in cooler, which is a wonderful piece of equipment that allows us to cool products much more efficiently than any other method we have," says Joshua Cox, unit administrator, ISR.
The main production area includes a back-of-the-house kitchen supporting the microrestaurants. Retail operations use a back-of-the-house production area only for baking at this time. Retail has its own production area within TerraByte.
Because each front-of-the-house restaurant concept contains its own final prep, cooking equipment and food storage areas, and some have undercounter dishwashers, the main kitchen encompasses only 13,200 square feet. "So, it is not as large as a typical kitchen in a facility serving so many meals," says Stephanie Occhipinti, LEED AP, vice president, production principal, Bakergroup.
Back-of-the-house warewashing contains a flight-type, high-capacity dish machine with a blower dryer, a rack dish machine, accumulator, scrapping stations, dish carousel, pot washer, agitating soak tanks, silverware sorting table and an agitating pot sink. A pipe from the food waste recycling system in this space connects to a large holding tank sitting on the dock. "A lot of our post- and pre-consumer waste can be converted into energy and compost that is sent to local farms and the on-campus student-run sustainable farm," Cox says. "So, there's a full loop created from the farm to the sauce to the serving."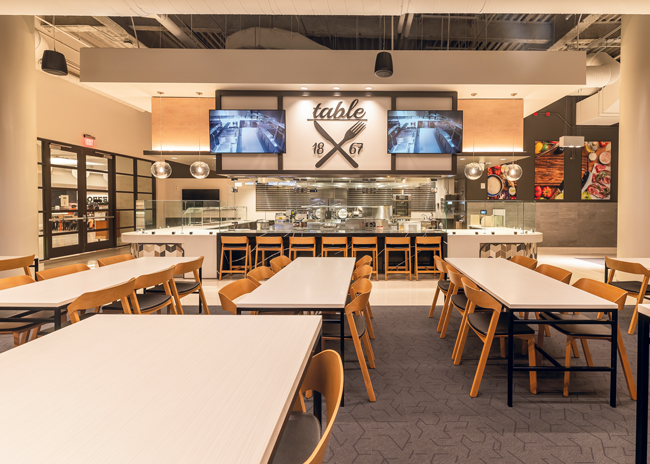 The seating design allows space for some customers to watch the culinary action up close at Table 1867. Screens allow everyone to view the action.Staff use the kitchen primarily for pre-preparation of menu items, with most of the final preparation and assembly occurring in front of the customers at each microrestaurant. The kitchen has separate, designated workspaces for hot and cold food production.
For cold mise en place production, including salads, staff use reach-in refrigerators, the blast chiller, food processors, choppers and mixers. "The wash sink rotates to clean vegetables, many of which come from the sustainable farm on campus," Cox says. Staff use a tumbler/marinator to bulk marinate and tenderize chicken breasts, pork chops and other proteins.
To improve supervision and sightlines, the hot production ranges sit against the perimeter walls. The pressure-style tilt braising skillet is a favorite piece of equipment for Cox. "This allows staff to cut prep time for stews and curries in half compared to previous skillets," he says.
Staff also use convection ovens, combi ovens, fryers, a griddle, steamers and tilting kettles to prepare menu items such as soups, sauces, mashed potatoes and rice.
Front-of-the-House Microrestaurants
Nine different eating concepts offer a variety of cuisine options. "The Saporito restaurant concept took nods from authentic Italian cuisine and carries an old-world quality in a modern, suave and sophisticated manner," says Casey Szcesniak, interior designer, Bakergroup. Penny-round tiles juxtaposed with clean white subway tile pair to the warm glow from two stone hearth pizza ovens.
Staff prepare pizza crusts with dough sheeters and top them with sauces and toppings. The two hearth ovens cook thin-crust pizzas as well as other vegetables and casseroles. Countertop induction warmers keep pizzas, mozzarella sticks and marinara warm alongside freshly tossed Caesar salads.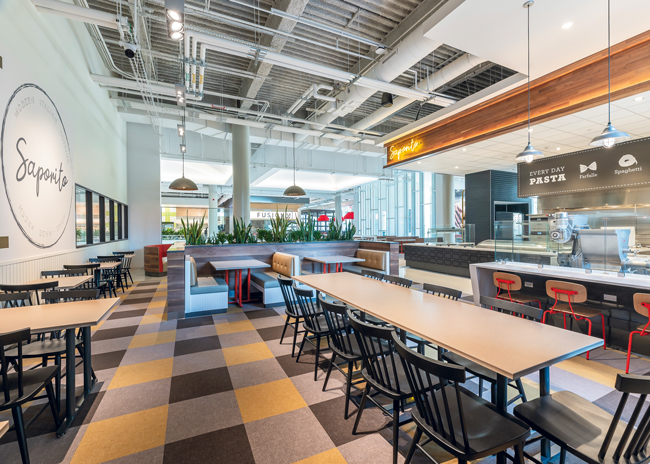 Warm, aged woods along with period-style furnishings create a large Italian family-style dining experience at Saporito.Saporito's exhibition pasta-making area provides education and fun for customers watching staff. Staff place semolina flour and water in a pasta maker, extrude it from the machine and then cook the pasta in a pasta cooker. The pasta extruder, sitting in a glass-enclosed case on the wall, can make many types of noodles, including a custom I-shaped pasta that serves as a nod to the university. Additional equipment in this area includes induction display units for hot menu items, cold displays, a bain-marie, high-speed conveyor ovens, soup kettles and fryers.
The design at Fusion 48, ISR's Asian concept, features clean, sleek lines, light and dark colors and authentic Asian characters from 48 Asian countries. It also features faux teak, bamboo woods, red, blue and gold accents, and graphics incorporating Asian heritage and traditional symbolism.
Counter seating offers a close-up view of the culinary action as staff use a four-burner wok station, dim sum steamers, a robata grill, steamer, fryers and rice cookers to prepare items such as dim sum and stir fries. Induction warmers display hot menu items. "The rethermalizer allows us to make noodle bowls to order for large groups of customers when needed," Cox says.
Located near the main entrance, Greens & Grains creates a light and airy outdoor garden patio ambience with its focal patterns. Customers at Greens & Grains can serve themselves or ask for staff-made, customized vegetarian and non-vegetarian soups, salads, deli sandwiches and fresh tortilla wrap creations. Choices include a variety of freshly chopped leafy greens grown in a student-operated sustainable farm or the automated kitchen microgreens growing unit on display in this microrestaurant. Produce wells, refrigerated rails and cold wells display ingredients. A display case holds many types of bread.
Staff also use lettuce crispers, food processors, a bread slicer, a bowl/plate chiller and a hyper‐cold salad display. They hold hot food in wells and undercounter warmers.
Grillworks features comfort American fare and grilled menu items. The decor includes rustic woods, the school colors of orange and blue on patterned tiles, colorful seating and LED lighting. "Mixed textures and graphic art symbolize the university's long-standing connection to the agriculture and farming industries," says Kaitlin Oppenhuizen, interior designer, Bakergroup.
Staff exhibit their display cooking talents while preparing halal beef hamburgers and sausages on a 60-inch curved custom chargrill. Staff use another chargrill for preparing vegan menu items.
The demonstration kitchenette within Table 1867.Grillworks staff also use a combi oven to cook casseroles, meatloaf and vegetables, a trunnion kettle for cooking sauces and a smoker to prepare up to 400 pounds of meat at a time. They also prepare eggs to order, sauces and garnishes at the fire and ice station.
"Fried menu items are developed by head chef Crystol Smith in such a way that menu items are cooked in order of vegetarian, halal, meat, and seafood to maximize the life of the oil," says Carrie Anderson, administrative executive chef and interim senior assistant director of dining services.
Staff also prepare French toast, sauteed vegetables, hash browns and tofu scrambles on a flattop griddle and vegan menu items on another griddle. Vegan menu items are available at a specially designated production and service area designed to minimize potential for cross contamination with meat products. Customers use self-service for all menu items.
Latitude features a blend of international cuisines and material textures. It integrates exotic wood patterns, ornamental motifs and vibrant global colors to accentuate menu pairings. "Acrylic slats are inspired by waves in the ocean, which is a common thread between countries," Grab says. "Oversized focal lighting creates an exclusive look on both the food preparation and varied seating configurations."
Latitude serves as a demonstration site showcasing a rotating international menu primarily focusing on menu items from countries and regions such as Turkey, the Mediterranean, Latin countries, Armenia and Africa. Customers watch staff make tacos and tostadas using a tortilla steamer, tortilla press and tortilla oven. They also see three vertical rotisseries cooking meats and observe staff using a gyro grill, parrilla grill that can be levitated above the fire, specialty display charbroiler, a plancha for cooking peppers and onions and searing meats and seafood, and fryers.
Table 1867, named for the year the university was founded, serves as a demonstration and teaching kitchen designed to accommodate product and recipe testing, training, student presentations and special events with guest chefs. Chefs are on stage in front of audience members who are either seated in chairs around the demo area or at the surrounding stadium-style tables that allow for unobstructed views.
"Cameras capture the chefs' activities and connect to two large-screen monitors so people can view the action," Cox says. In the fall, Anderson arranged a Chef's Table event for 30 people who watched chefs prepare several menu items.
The space's design uses an uncomplicated neutral color palette to keep the spotlight on food preparation and training. A chef's suite within Table 1867 contains a charbroiler, two fryers, a French stove-top range, combi oven, trunnion kettle and donut system. The demonstration area also includes a plancha, induction ranges and countertop induction wok.
Inclusive Solutions Kitchen features menu items free of the top eight allergens – milk, eggs, wheat, tree nuts, soybeans, fish, shellfish and peanuts— and a ninth, sesame.
Bright pops of color complement more subtle hues throughout the dining area near Inclusive Solutions Kitchen, the allergen-free concept.
Through the Inclusive Solutions program, students can obtain pre‐ordered, customizable meals or wait for staff to prepare customized orders for them. Dedicated equipment and an undercounter dishwasher eliminate the opportunity for cross‐contamination with products containing allergens to occur in production and service.
Customers watch staff cook and assemble menu items in front of them. They use two induction cookers, a four-burner range for cooking sauteed vegetables, pasta and stir-fry, two countertop fryers for french fries and chicken tenders and a rice cooker. "The convection oven has four individually vented sections so menu items can be cooked separately and don't come in contact with other menu items," Cox says. The area also contains a toaster, microwave oven and waffle iron.
"While the Inclusive Solutions microrestaurant provides pre-ordered meals, it is also open for any customer to dine by request," Anderson says. "Many of our students with food allergies or intolerances have grown accustomed to self-navigating our dining spaces using our Eat Smart website or the Illinois app. Having gluten, dairy, egg and other free-from items appeals to many of our students."
A chitwood grill stands out at Grillworks.The warm, comforting, all-day continental breakfast venue at Rise & Dine suggests the comfort of home, family traditions and bright sunny days. A standalone residential-style kitchen island contains open wood shelving, metal brackets, under-cabinet lighting and a subway-tile backsplash. Adjacent seating areas include tufted booth backs, Windsor-style chairs and reclaimed aged-wood tabletops.
Equipment includes dispensers for dairy milk, soy milk, juice and eight cereals, conveyor toasters for bread and bagels, waffle irons, waffle batter dispensers, topping dispensers, a bread display case and display wells for fresh fruit and yogurt. Customers make hot, griddled Belgian-style waffles and toasted bagels and breads with toppings and spreads. They can finish creating and assembling their meals on the oversized locally made butcher-block tabletop.
Eight tables separate Rise & Shine from Café a la Crumb, serving pastries, desserts and coffee. "With its connection to the outdoor patio this concept is intended to be an extension of the outdoors," says Oppenhuizen. Marble, raw woods, varied graphic tile patterns and pops of pastel colors contrasting with striking blacks and whites create a layered effect reminiscent of European outdoor cafes.
This area also contains bakery cases, a self-serve refrigerated display case offering a market-style display of fruits and cheeses, a topping station, and a self-serve, ambient temperature display case. A soft serve ice cream machine sits in between the breakfast and dessert areas; students add their own toppings.
"We have enjoyed mixing our locally sourced ice cream mix with exciting add-ins such as green tea or roasted corn and getting feedback from our students on these limited time offers," Anderson says.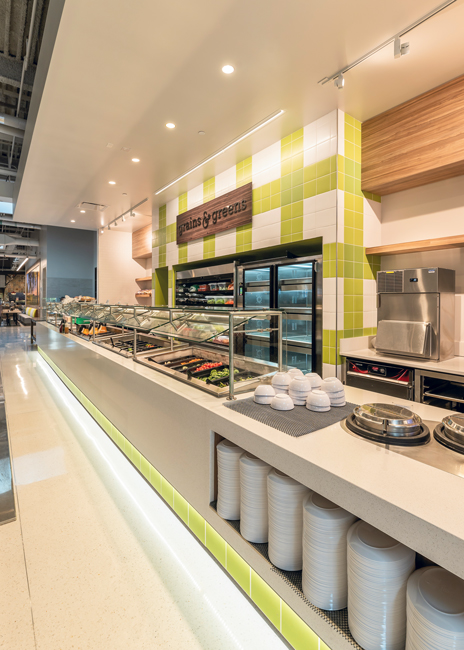 Customers at Grains & Greens choose from a variety of freshly chopped leafy greens grown in a student-operated sustainable farm or the automated kitchen microgreens growing unit on display here.
Retail Operations
InfiniTEA and TerraByte retail cafe and market provide a spot where students can socialize, relax and study. These operations contain refrigerators, freezers, ice machines, under-counter dishwashers and several merchandising cases.
InfiniTEA's modern eclectic interior design features warm natural woods with bright pops of color and bold graphics. Staff use coffee brewers, an espresso machine, craft tea brewers, a citrus juicer, a growing cabinet, blenders, wheat grass and vegetable juicer, a shaved ice machine to assemble the the base for "patbingsu" (a Korean shaved-iced dessert) and a cup sealer for bubble tea. "We're also offering nitro-infused tea, which is ahead of the trends," Cox says. Customers can also purchase bakery items and fruit.
TerraByte c-store provides a fresh market ambience. Customers purchase grocery items displayed in cases and on shelves. A cafe area contains a charbroiler, a griddle, fryers and a ventless conveyor oven for staff to create personal pizzas, toasted subs and wraps and breakfast sandwiches.
Since its opening, ISR attracts students, staff and visitors who want an interactive dining experience with all its bells and whistles. Their interactions with culinary staff give them new ways to understand the art of cooking. The myriad cuisine choices offer a journey into a world of flavors they may have only imagined until now. The equipment is an integral part of the culinary show and education about life and culture.
About the Project
Opened: Soft opening, fall 2020 with limited takeout service due to COVID-19 protocols. The dining facility fully opened fall of 2021.
Scope of project: Complete renovation of Illinois Street Residence (ISR) Halls and an existing dining center originally built in 1962, with no major renovations since. The dining center contains a back-of-house kitchen, nine stand-alone microrestaurants on the first level and two retail outlets, InfiniTEA and TerraByte retail market, on the lower level.
Equipment investment: $6.9 million
Website: housing.illinois.edu/dining
Facts of Note
Size: 106,000 gross sq. ft., including 13,200 sq. ft. kitchen; 33,900 sq. ft. dining area with microrestaurants; and 6,100 sq. ft. for retail concepts.
Seats: 1,385
Daily transactions: 4,000-plus covers; 25,000 average retail items
All-you-care-to-eat concepts:
Saporito — pizza and pasta
Fusion 48 — an Asian concept
Grains & Greens — salad, deli and soups
Grillworks — grill and barbecue
Latitude — international foods
Table 1867 — demonstration teaching kitchen
Inclusive Solutions Kitchen — an allergen-free concept
Café a la Crumb — dessert and coffee
Rise & Dine — all-day continental breakfast
Retail concepts: InfiniTEA and TerraByte cafe and market
Hours: 7 a.m. to 9 p.m. daily, with a short mid-afternoon closure for cleaning. Extended hours service, until midnight, in the two retail outlets.
Employees: 13 management staff, 73 union employees and 300 student employees
Total project cost (dining only): $77 million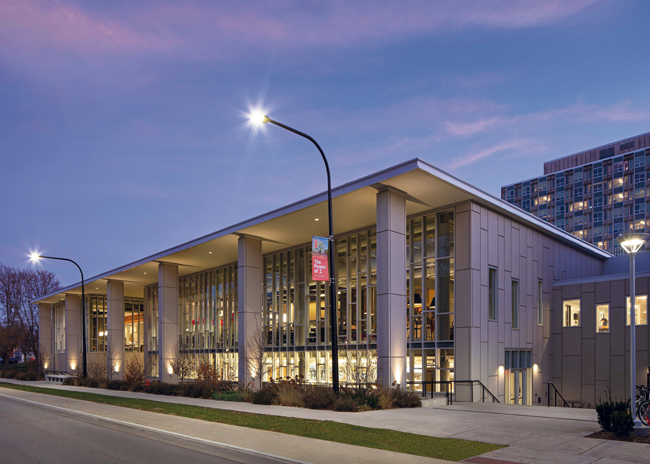 The building brings in natural light and serves as an anchor for the north side of campus. Photo by George Lambros
Key Players
Owner: University of Illinois at Urbana-Champaign, University Housing Dining Services, Champaign, Ill.
Executive director of University Housing: Alma R. Sealine
Assistant director of Dining Services for University Housing: Thurman B. Etchison, III
Director of housing information and marketing for University Housing: Mari Anne Brocker Curry
Assistant director of facilities planning for University Housing: Dale Wise
Facilities planner for University Housing: Melissa Marriott
Project manager for Capital Programs at University of Illinois: Cheryl Bicknell
Administrative executive chef and interim senior assistant director of Dining Services for University Housing: Carrie Anderson
Unit administrator for the Illinois Street Residence (ISR) Dining Center: Joshua Cox
Head chef ISR Dining Center: Crystol Smith
Architect: Booth Hansen, Chicago: David Mann, AIA, LEED AP, principal/director; Scott Cyphers, AIA, LEED AP, design principal; Larry Booth, FAIA, design principal; Chad Hanley, AIA, LEED AP, CSI principal; Sarah Thompson, AIA, LEED AP, WELL AP associate principal and project manager for ISR, and serving as the lead during construction
Interior design: Booth Hansen, Chicago; Bakergroup, Grand Rapids, Mich.: Lindsay Grab, NCIDQ, LEED green associate, interior designer; Kaitlin Oppenhuizen, interior designer; Casey Szcesniak, interior designer
Foodservice consultants: Bakergroup: Jim Sukenik, FCSI, president and senior design principal; Mona Milius, MBA, senior vice president and senior principal; Stephanie Occhipinti, LEED AP, vice president, production principal
Equipment dealer: Johnson-Lancaster and Associates Inc., Columbus, Ohio: Frank Murphy, senior project manager
Construction: Turner Construction, Chicago
Mari Anne Brocker Curry, director of housing information and marketing for University Housing, University of Illinois at Urbana-Champaign. Brocker Curry joined the university in 2004 and has held various roles. Previously she was resident director, assistant property manager and property manager in the private sector.
Carrie Anderson, administrative executive chef and interim senior assistant director of dining services. Anderson's career began in 2000 in University Housing as a front-of-the-house catering supervisor. Her career continued in roles as pastry chef for University Catering, foodservice chef and executive chef for Residential Dining.
Joshua Cox, unit administrator for the Illinois Street (ISR) Dining Center. Joining the university in March 2008 as a supervisor for Residential Dining, Cox subsequently worked on projects at Pennsylvania Avenue Residence Hall and Ikenberry Dining Center; and also worked on the Illini Fuel Program, a collaboration with the department of intercollegiate athletics.
Lindsay Grab, NCIDQ, LEED Green Associate, interior designer, Bakergroup. Before joining Bakergoup in December 2014, Grab was an interior designer at Charter House Innovations.
David Mann, AIA, LEED AP, principal/director, Booth Hansen. During his 26 years with this firm, Mann brings a clarity and focus on the mission and operations to academic projects at 12 colleges and universities. He also worked on The Student Dining and Residential Programs building in Ikenberry Commons at UI.
Mona Milius, MBA, senior vice president and senior principal, Bakergroup. Milius joined Bakergroup in 2007. Previously, she was director of dining services at the University of Northern Iowa. Milius' projects include the Foundry renovation at Colorado State University and New Williams Village Dining at the University of Colorado, Boulder.
Stephanie Occhipinti, LEED AP, vice president, production principal, Bakergroup. After joining this firm in 2007, Occhipinti held a position as interior designer and now serves as project manager and production principal.
Kaitlin Oppenhuizen, interior designer, Bakergroup. Oppenhuizen joined this firm in 2011. Previously she was a teaching assistant in interior design at Michigan State University and an intern at Id9 Design Center in Michigan.
Alma R. Sealine, executive director of University Housing, University of Illinois at Urbana-Champaign. Sealine arrived at University Housing in July 2013 and has extensive experience in university renovation and new construction projects.
Jim Sukenik, FCSI, president and senior design principal, Bakergroup. Sukenik founded Bakergroup in 1984. He has provided consulting and design leadership to many colleges, universities, healthcare facilities, resorts and corporations.
Casey Szcesniak, interior designer, Bakergroup. Prior to joining the firm in July 2013, Szcesniak was an interior designer at Charter House Innovations.
Sarah Thompson, AIA, LEED AP, associate principal, Booth Hansen. Thompson joined the firm in 2014. She specializes in the planning and design of academic and research buildings.