Chef Paul Adair dreamed of opening his own restaurant in the Jackson, Miss., area near where he grew up. In 2019, he found a location in a space previously occupied by a high-end restaurant in the Fondren Place neighborhood, which offers shopping, restaurants, art galleries, eclectic architecture and charming homes.
The construction crew gutted and remodeled the entire space with the exception of a few walls. Electric and plumbing lines remained in their original positions, though some of the electrical lines were rewired. A new HVAC system was installed, and the exhaust hood was refurbished.
Adair remembers that as a boy he spent time at a friend's house where he saw many forms of art. Each time Adair visited he felt that a curtain had been pulled back, introducing him to a new world with a richness of life that he'd never imagined. The design team focused in on these moments from Adair's childhood to use it as inspiration for the relaxed, residential and retro-chic interior atmosphere in the restaurant.
"I wanted a restaurant that feels cutting edge and funky, nothing pretentious but with an eclectic, artistic vibe," Adair says. "Guests should feel like they're attending a dinner party at a stylish friend's house where they are at ease and relaxed."
The restaurant's decor also showcases Adair's globally influenced new southern cuisine.
Photos by Andrew Welch Photo
"We had to find a way on a small budget to make guests forget that the space had previously housed a different restaurant," says Mary Sanders Ferriss, principal, Ferriss and Co., Jackson, Miss. "To create a new experience for guests that is playful, nostalgic and sophisticated, we used new walled-off spaces, dark colors to create a formal but welcoming atmosphere, details like molding and art nouveau-influenced wallpaper to parallel a formal living room, and bright and fun patterns that are reminiscent of a retro-styled family room," Ferriss says.
The restaurant's 1970s-influenced aesthetic features navy blue, tan and various shades of orange in a mixture of patterns on the wallpaper, as well as differing plaids mixed with florals on fabric. Brass accents, woven cane-backed chairs and bankers lamps highlight the '70s period. Wooden tabletops embellished with custom chess-themed designs offer a nod to one of the chef's childhood passions. The tulip-styled, white marble-top tables in the bar area are reminiscent of a period breakfast nook.
Upon entering Dumbo's, guests encounter a host stand in the foyer with a vintage record player. Colorful art, floating shelves, curated books and small plants form the backdrop to evoke a nostalgic feeling for being in a comfortable home. From the foyer, guests see the parlor area, a casual place to enjoy cocktails while customers wait for a table. They also see the library and its painted paneling. The bar area contains custom inset booths, offering casual, close-to-the-kitchen-style dining, common in many vintage residences. The main dining room and private dining room sit up a small flight of stairs beyond the bar, decorated with salmon-colored paint and a vintage bar.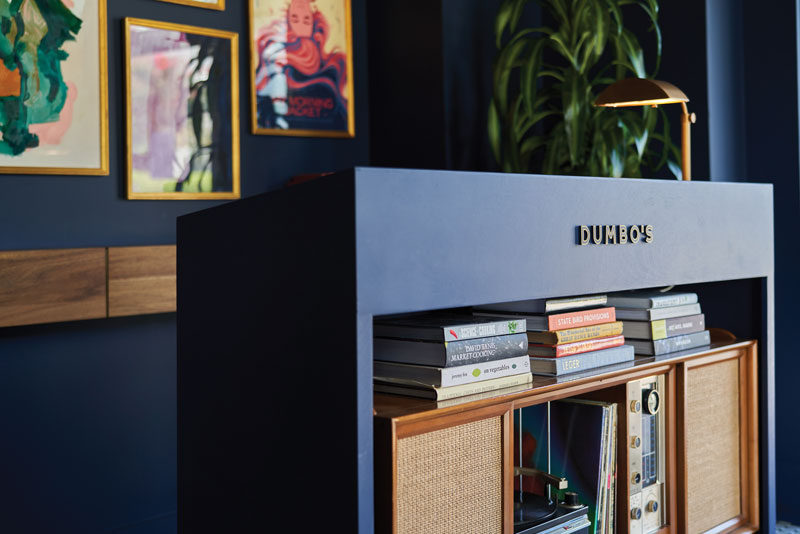 Curated books and additional eclectic items contribute to the retro-chic ambience.
Deliveries and Production
Food deliveries arrive at a back door. Staff place menu items in a walk-in cooler, two upright reach-in coolers/freezers and dry storage.
Nearby, the culinary team prepares mise en place, salads and other cold-prep menu items in an area containing a countertop mixer, slicer, food processor and blender.
"Within a tight space, the kitchen layout had to use existing electrical and plumbing rough-ins," says kitchen designer Cody Allen, co-founder FS-1 Concepts, Flowood, Miss. "We honored as many existing walls as possible to help keep construction costs low. The equipment selection followed guidelines for being budget conscious while also being able to handle high volume." The kitchen's cookline contains undercounter refrigerators, a refrigerated rail and refrigerated prep table so the culinary team has easy access to menu ingredients. Hoods remain in place from the original restaurant's design.
The team uses a proofer cabinet to prepare pastries to bake in the convection oven, which they also use to bake barbacoa brisket, crab dip, cauliflower and a sweet potato appetizer. Team members prepare seared salmon, duck breast, sauces, pasta Bolognese and other pasta dishes on the countertop six-burner hotplate and barbecued short ribs, lamb kefta and beef tenderloin on the charbroiler.
The hotline contains a breading cabinet, flattop, charbroiler, 6-burner hot plate, convection oven and fryers. Refrigerated rails and the pass station sit across the aisle. Photos by Hollie and Brian Hull, Hull Portraits
The flattop griddle supports the team members' preparation of burgers, lightly toasting hamburger buns and heating pecan and blue corn hoecakes for serving with pan-seared duck breast.
The three-well fryer receives a notable workout as team members prepare the renowned fried chicken, which the culinary staff brines in honey, pepper vinegar and a Southern honey butter or Nashville-style wet batter before frying. Dumbo's serves fried chicken with sides such as buttermilk mashed potatoes, collard greens and macaroni. A bread/batter station sits next to the fryer. They also use the fryer to make crispy crab wontons, shrimp, Korean-style chicken with a gochujang glaze for a sandwich, chicken wings and french fries, which are held in a warmer as necessary.
"The kitchen is tight in just 775 square feet — but the larger the kitchen, the more mess you can make," Adair says. "With this space, we're forced to keep it clean, and we have to be very organized."
Allen agrees, explaining that reduction of cross traffic from the back of the house to the front of the house was necessary so staff can communicate but aren't required to intersect. For example, staff enter the kitchen at the door closest to the mobile proofer cabinet in the hot-prep area and move in a counterclockwise path. "We studied each and every workstation to ensure maximum efficiency, which allows workers to be more productive. Each and every step that an employee takes affects the bottom line."
Reach-in refrigerators and a freezer provide easy access for culinary team members working in the cold-prep area.
Also to add efficiency, because the prep kitchen, half of the dining room and the private dining room are about three feet higher than the main kitchen/bar, Allen's team built a pass-through window from the prep kitchen to the main kitchen where staff can easily pass menu items without walking through the dining room.
The full-service bar setup allows staff to prepare an array of wines and beers, as well as an eclectic bar menu with drinks such as a classic jungle bird cocktail, Hemingway's Last Daiquiri, with overproof rum, agave, lime and pineapple. The bar area contains a cube-style ice maker, an ice bin, a condiment rack, hand sinks, back bar coolers and a glass and plate chiller. "The bar had to be easy for bartenders to move around," Allen says. "Bar wells with a pressuresensitive rinser that is built into one of the sinks and quickly cleans mixing tins have been the bartenders' most-used piece of equipment behind the bar."
"The dish room sits close to the dining room to keep servers in close proximity to guests so they can maximize their time with guests to provide good service and encourage ample ordering," Allen says.
The staff wash dishes in a low-temp dishmachine and glasses in a separate machine. They use a two-compartment sink for pot washing.
As guests begin to venture out of their homes for public dining experiences, Adair remains confident they'll find Dumbo's and return again and again. Restaurant reviews in print and online indicate his expectation is right on target.
Dumbo's on Duling Floor Plan
Equipment Key
1. Reach-in freezer
1a. Reach-in refrigerator
1b. Sandwich/salad prep refrigerator
1c. Refrigerated worktable
1d. Glass and plate chiller
1e. Back bar refrigerated cabinet
2. Worktable, 38 inches by 30 inches
2a. Clean dish table
2b. Soiled dish table
2c. Worktable, 48 inches by 30 inches
2d. Hot serving counter/table
2e. Glass
3. Plastic shelving unit
4. Hand sink
4a. Two-compartment sink
4b. Three-compartment sink
4c. Underbar sink unit
5. Dishmachine
5a. Glasswasher
6. Convection oven
7. Equipment stand
8. Countertop six-burner hotplate
9. Countertop charbroiler
10. Countertop griddle
11. Floor fryer, three-well
12. Bread/batter station
13. Bun/sheet pan rack
14. 48-inch knee wall
15. French fry warmer
16. Mobile proofer cabinet
17. Cube-style ice maker
18. Ice bin and condiment rack
19. Bottle display
20. Exhaust hood
This dining room's mirrors show the reflection of the bar and the window.
About the Project:
Opened: June 15, 2020, after a three-month delay due to COVID-19
Scope of project: Demolish and remodel of existing space into a restaurant with several rooms, a kitchen and a full-service bar
Equipment investment: $120,000
Website: dumbosjackson.com
Size: 3,518 sq. ft.
Seats: 125, including 85 inside and 40 outside
Average check: $28
Total projected annual sales: $1.5 million
Daily transactions/covers: 175
Hours:
Monday: Closed
Tuesday through Sunday: 11 a.m. until 9 p.m.
Menu specialties: Fried chicken; brisket barbacoa; braised short rib ragu; pasta barbacoa; pasta Bolognese; yellowfin tuna; New Orleans-style red beans and rice with smoked sausage; and roasted royal red shrimp. An eclectic bar menu offers drinks such as Hemingway's Last Daiquiri with overproof rum, agave, lime and pineapple.
Staff: 43 employees (including 15 in the kitchen and 20 in the front of the house)
Total project cost: $400,000
A dining room on the second floor features orange and blue fabric walls with playful patterns and booth backs in plaid fabric. The room can be closed off as a private dining room.
Key Players:
Owner and chef: Paul Adair, executive chef
Interior design, branding, graphic design: Ferriss and Co., Jackson, Miss.: Mary Sanders Ferriss, principal
Foodservice designer: FS-1
Concepts LLC, Flowood, Miss.: Cody Allen, CSFP, co-founder
Equipment dealer: FS-1 Concepts LLC, Flowood, Miss.
Construction: Carraway Construction, Brandon, Miss.
Paul Adair, owner and executive chef, Dumbo's on Duling. Adair started his foodservice career in a restaurant, spent five years in the U.S. Army and then returned to restaurant work at Table 100 in Flowood, Miss. He attended the Culinary Institute of America in Hyde Park, N.Y., and served as executive chef at The Gathering restaurant in Madison, Miss.
Cody Allen, CSFP, co-founder, FS-1 Concepts. Allen and his business partner Matt Lewellyn started FS-1 Concepts in December 2018. He worked previously for Associated Food Equipment and Supplies and in restaurant operations, holding positions from dishwasher to general manager.
Mary Sanders Ferriss, principal, Ferriss and Co. Ferriss began her career in interior design and expanded her expertise to product design, brand management and business development. She opened her firm in 2017.
---
In March of 2021, Dumbo's on Duling won an rd+d award for Best Full-Service Restaurant Design – Check Average Under $50, find their entry and more photos of Dumbo's front of house on restaurant development + design magazine's website.