Eight microrestaurants greet customers at Ball State University's North Dining complex. Open to students, faculty, staff and visitors, this marketplace-style dining venue primarily serves 2,000 residents living in four large residence halls near the dining facility.
North Dining replaces the foodservice program that was within LaFollette Complex. Part of the campus master plan, North Dining, as its name implies, is within the new North Residential Neighborhood, which contains four new residential halls. In addition to North Dining's microrestaurants, the project also includes a support kitchen and dining spaces indoors and outdoors that seat nearly 700 customers. Students can walk through North Dining to the center of campus. Administrative offices for BSU Dining and Housing and Residence Life sit on the second level of North Dining.
The goal for project team members was to attract both off-campus students as well as faculty and staff to the north end of campus. "Place matters, and that is particularly true on our beautiful campus," says Karen Adkins, senior director of auxiliaries for University Dining, University Catering, Alumni Center Operations, and Conference and Special Events. "Our size, our people, our culture, our technology and our amenities, such as North Dining foster a sense of community."
A view from entryway to the microrestaurants, where large, floating, elegant circular light rings contrast with and add refinement to the exposed mechanical systems and roof structure. Photo by Lindsay Grab, Bakergroup
The majority of the food production takes place in each of the eight microrestaurants. They feature various cuisines, cooking styles and flavors all within a comfortable atmosphere where students can meet friends, study and relax.
The original footprint and design of the building had to be reduced due to budget constraints. This forced the design team and Ball State University Dining to reexamine the design and concepts. For instance, the number of microrestaurants was reduced to eight and the back-of-the-house dish room was eliminated.
BSU Dining is a pure auxiliary, self-supported by revenue generated from sales, primarily consisting of student meal plans, which in turn help support renovations and emergency expenditures. BSU Dining is a member of the Division of Business Affairs and part of the Business and Auxiliary team.
While complete in April 2020, the facility and equipment sat idle for nearly four months. "During the pandemic, we found it very difficult to train employees on equipment, vendors could not travel, and we were limited due to physical distancing requirements," Adkins says. "Once the decision was made to open in August 2020, we experienced equipment issues, and training was difficult. But we made it all happen."
Ambient and refrigerated display cases allow customers to see the range of options available at Bakery.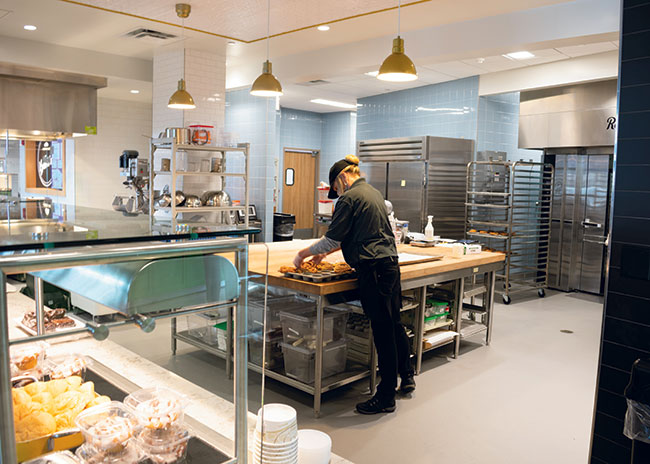 A staff member prepares baked goods in the back of Bakery. Photos by Lindsay Grab, Bakergroup
The Interior Design
The designers were able to bring individual identities to each microrestaurant space while also incorporating black and white materials throughout, says Lindsay Grab, NCIDQ, LEED green associate, interior designer, Bakergroup in Grand Rapids, Mich. "The result is a space that feels attractive and curated without feeling overwhelming," she says.
Each microrestaurant includes tables and chairs, which sit strategically outside of each concept so customers can see the food production. One hundred tables were made from Indiana hickory trees, and dining chairs were made from 111 recycled plastic bottles each.
"We wanted to maintain a level of connectivity between the seating areas and marketplace, which was achieved with perimeter walls of metal grid glass panels," Grab says. "The bold dark framing around the entry and exit area also serves as the housing for the coil closure system." The ability to secure the marketplace after operating hours was a major priority.
A refrigerated rail, induction cookers and a flattop griddle support microrestaurant Allergen Free. Photo by Stepfanie Miller, North DiningNorth Dining has the largest footprint of any building on campus. An all-glass wall on the structure's southern side brings natural light into the microrestaurants, dining spaces and support kitchen. Deep overhangs and exterior sun screening diffuse the abundant natural light to keep the space comfortable for guests and workers. Designers floated large, elegant circular light rings to contrast with and add refinement to the exposed mechanical systems and roof structure, which is painted in a subdued off-white to reflect light and heighten the sense of spaciousness. The space uses LED lighting where appropriate.
The polished concrete floor represents a natural choice for wear resistance, durability, ease of regular maintenance and little, if any, long-term maintenance, according to Rob Reis, AIA, principal, design director, Hanbury, an architectural design firm in Norfolk, Va. "We also liked the polished concrete aesthetic juxtaposed with the many rich, textural and colorful materials used in the restaurants. Polished concrete has a somewhat urban-industrial feel — the kind of vibrancy that students are looking for."
The palette of finish materials includes a matte ceramic wall tile, wood and natural stone, which work together to create a durable and rich combination of materials offering warmth, restraint and the colors of nature.
Paint and gyp board are used in combination with interior windows at the second-level interior office facade overlooking the dining space. "The gray-tone pattern applied in a staggered pattern both frame the windows and include them in a broader composition, adding depth and visual interest, diffusing the monotony of windows otherwise set in an unarticulated expanse of drywall," Reis says.
"The gray-tone pattern is a series of acoustic panels to help diffuse the noise of a large dining hall," adds Matthew Lee, ASID, WELL AP, LEED AP BD+C, principal, interior designer, Hanbury.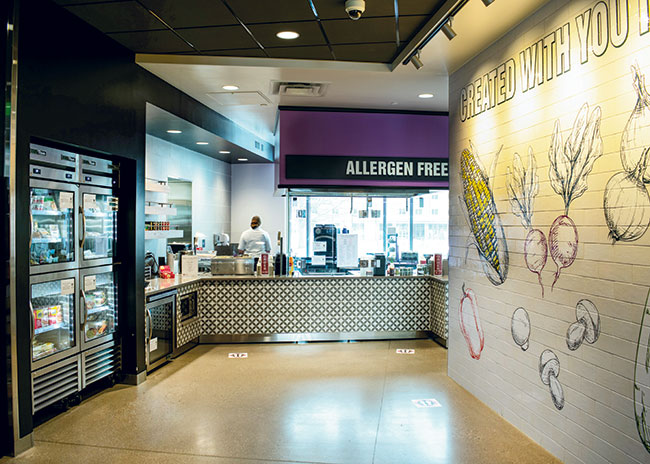 Ample walkway space prevents the facility from feeling confined. Photo by Lindsay Grab, BakergroupBall State DSC 0197 allergen free
Deliveries and Production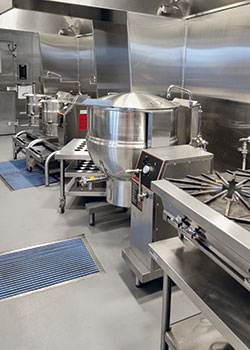 Equipment in the back kitchen includes a 60-quart tilting kettle and two 40-quart tilting kettles. Photo by Stepfanie Miller, North DiningThe enclosed receiving area sits at the back of the building within close proximity to refrigeration, freezer, dry storage and the kitchen. "The dock is enclosed, which is new for us," Adkins says. "Bakergroup suggested this. We had the space and make sure food is safe from arrival to leaving. For instance, we can bring food in more quickly on a hot day."
Staff unload products inside and deliver items to the appropriate storage areas. Refrigeration and equipment are Energy Star rated when available. Recyclable trash containers sit throughout the building.
The natural light in the kitchen contributes to a bright environment, which employees appreciate.
Kitchen production supports the microrestaurants. Staff take food from storage to cold prep in the kitchen and also to microrestaurants. In the kitchen, staff use food processors, slicers and mandolins to prepare vegetables and proteins. A meat tumbler marinates proteins for the Barbecue microrestaurant.
Staff use two kettles to prepare menu items such as macaroni and cheese for Barbecue's menu items and sauces such as garlic cream for various restaurants. They use a four-burner range and tilted braising pan as well as fryers for chips. "There are no fryers in the restaurants and the chefs weren't happy about that, so we put four fryers in the back kitchen," Adkins says. Staff use combi ovens to cook vegetables, proteins and menu items such as quiche. They use steamers to prepare sauces such as marinara and pesto at Italian.
"We're producing food in small batches so cooks can bring food to the microrestaurants multiple times a day," says chef Stepfanie Miller. "We don't want big batches of food to sit at the restaurants. Rather we want fresh food continually brought forward and served immediately."
Vertical rotisseries at Barbecue provide visual entertainment. Photo by Lindsay Grab, Bakergroup
Microrestaurants
Each microrestaurant contains a walk-in cooler and undercounter dishwasher in addition to cooking equipment and refrigerated rails.
Barbecue contains smokers, rotisseries and chargrills to cook barbecue ribs, herb-seasoned rotisserie chicken, smoked pulled pork, pulled pork nachos, rubbed beef brisket and baby back ribs. "This is an authentic barbecue restaurant with the menu and aromas as well," Adkins says. "Customers can even watch the cooks pull the pork."
Boar's Head Deli offers freshly made deli sandwiches that staff prepare using refrigerated rails and glass-top make tables. Customers can also order soup, which is currently held in bains-marie but eventually will be held in the three soup wells embedded into the counter. "Production is very open, and customers can see everything, including the slicer and high-speed ovens," Adkins says.
The Grill contains a chargrill for cooking hamburgers and chicken and a flattop griddle for making grilled cheese, Philly cheesesteaks, gyros and meatless burgers. Staff use a combi oven for preparing french fries, sweet potato fries, and lemon-and herb-roasted potatoes.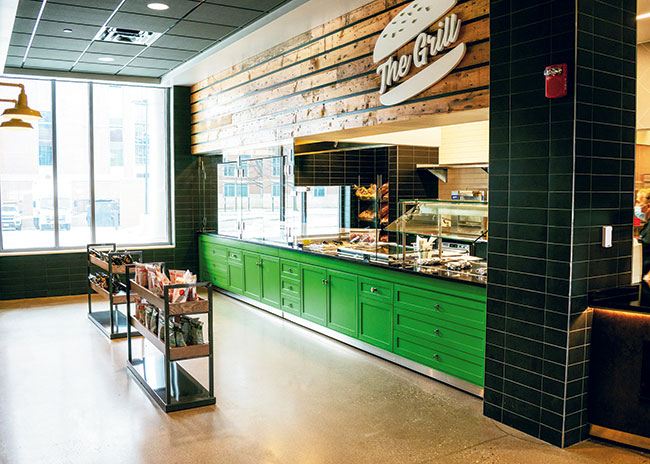 Staff use a combi oven at The Grill for making french fries and other items. Photo by Lindsay Grab, Bakergroup
"A carryout window sits adjacent to The Grill and Boar's Head Deli, which provides customers access to the menus from these two concepts during extended hours when the rest of the marketplace is closed," says Mona Milius, MBA, vice president, senior principal, Bakergroup.
Italian contains a brick hearth oven for cooking calzones, specialty Italian sandwiches, roasted vegetables, roasted meatballs, roasted Chivalini sausage and custom-made Italian pasta entrees. Bains-marie keep pasta, sauces and proteins warm until staff serve them to customers. Staff package calzones in to-go containers with clear lids. The menu also features flatbread pizzas. Customers sit at a counter here and at Barbecue to watch the culinary action close up.
Cold prep tables support production at Boar's Head Deli. Photo by Stepfanie Miller, North DiningBreakfast All Day features a flattop on which staff prepare pancakes, quesadillas and shredded hash browns. They make scrambled eggs, breakfast potatoes and breakfast meats in the combi oven. This area also contains a toaster and high-speed oven. This restaurant also offers cereal, including oatmeal, as well as yogurt parfaits and bagels with cream cheese. Eventually, Adkins and Miller hope to offer more self-service here.
Customers ordering at Allergen Free receive menu items free of the top eight allergens: milk, eggs, peanuts, tree nuts, fish, shellfish, wheat and soy. Customers order customized menu items including pizza, pasta and Jamaican jerk chicken bowls, tacos, stir-fries and vegetables. They watch staff cook all the menu items with a flattop griddle, a high-speed oven, two induction burners and a soup well.
Bakery attracts customers who appreciate staff preparing cakes, muffins, cookies and the specialty item, doughnuts. Customers watch the action through a glass wall that separates the bakery staff from customers. Staff use a doughnut feeder and proofer/retarder to produce up to 10 doughnut flavors daily. "Two bakers hadn't baked before, and now they love it," Adkins says. "Student employees get to decorate doughnuts and have so much fun."
Staff prepare doughnuts and other baked goods in a large convection oven that accepts mobile upright carts that hold 30 sheet trays.
"Keeping customers' interest is always a challenge," Miller says. "We've found that students don't want a choice of 20 items at each restaurant and especially if they want to get to classes on time. They want a few menu items done very well. And they want to customize their orders with lots of ingredient choices. So, we're always working to balance offering menu items with quick service."
Throughout North Dining, customers also find retail items on display. At Barbecue, staff prepare menu items with a locally sourced barbecue sauce that is also available to purchase. Allergen Free sells frozen prepared menu items. Other display racks hold cereal, peanut butter, chips and other snacks.
"The entire design supports mobile ordering and ordering on demand," Milius says.
North Dining has become a recruiting tool, and the facility has been featured in the school newspaper, alumni magazine and other local media outlets. Customers will certainly find entertainment at this new dining facility as they discover new and recognized flavors in the myriad menus that await them every day.
About the Project
Opened: Aug. 3, 2020
Scope of project: North Dining replaces a residential housing facility with dining. The new space includes eight microrestaurants. Both dining and kitchen spaces are located on the main level. The facility also houses administrative offices for BSU Dining and Housing and Residence Life on the second level.
Size: 60,641 sq. ft.
Seats: Approximately 700, including 20 outdoor seats with high-top tables and picnic tables
Average check: $8.95
Total annual anticipated sales: $4.04 million
Daily transactions: approximately 2,489: 413 at breakfast, 824 at lunch and 1,252 at dinner
Microrestaurant hours: 7 a.m. until 9:30 p.m., Monday through Thursday; 7 a.m. until 8:30 p.m., Friday and Saturday; 7 a.m. until 9:30 p.m., Sunday. Starbucks open 6:45 a.m. until 12 a.m. After microrestaurants close, students can stay in the dining facility until midnight.
Menu concepts & menu specialties:


Bakery — fresh baked goods
Breakfast All Day — daily breakfast specials
Boar's Head Deli — freshly made deli sandwiches
The Grill — specialty sandwiches, hamburgers and grilled chicken
Italian — brick hearth oven calzones, specialty Italian sandwiches, custom-made Italian pasta entrees and flatbreads
Barbecue — barbecue ribs, rotisserie chicken and smoked pulled pork
Allergen Free — food free of the top eight allergens
Starbucks — beverages and grocery and retail menu items
Staff: 7 full-time employees, including a general manager, a manager, 2 chefs, 3 supervisors, and 92 full-time and part-time hourly employees and 230 student employee positions
Total project cost: $35 million
Equipment investment: $2.9 million
Website: bsu.edu/campuslife/dining
Key Players
Owner: Ball State University Dining, Muncie, Ind.
Vice president for business affairs and treasurer: Alan Finn
Senior director of auxiliaries for University Dining and Catering, Conference Services and Special Events, and Alumni Center operations: Karen Adkins
Chef: Stepfanie Miller
General manager of North Dining: Amy Grasso
Architect: CSO Architects, Indianapolis: Tom Cheesman, AIA, associate principal
Design architects: Hanbury, Norfolk, Va.: Rob Reis, AIA, principal, design director, and Matthew Lee, ASID, WELL AP, LEED AP BD+C, principal, interior designer
Interior design: Bakergroup, Grand Rapids, Mich.: Lindsay Grab, NCIDQ, LEED green associate, interior designer; Kaiti Oppenhuizen, interior designer; and Casey Szcesniak, interior designer
Foodservice consultants: Bakergroup, Grand Rapids, Mich.: Mona Milius, MBA, senior vice president and senior principal
Equipment dealer: Stafford Smith, Kalamazoo, Mich.
Construction: Shiel Sexton, Indianapolis
Karen Adkins, senior director of auxiliaries for University Dining and Catering, Conference Services and Special Events, and Alumni Center operations. Adkins joined Ball State University in 1986 as a supervisor. She became interim director when former director Jon Lewis passed away in 2015; she then became director in November 2016.
Lindsay Grab, NCIDQ, LEED Green associate, interior designer, Bakergroup. Before joining Bakergroup in December 2014, Grab was an interior designer at Charter House Innovations.
Matthew Lee, ASID, WELL AP, LEED AP, BD+C, principal, interior designer, Hanbury. Lee joined Hanbury in ٢٠٠٧. Other projects include Georgia Tech North Avenue Dining, Atlanta, Ga., and the Virginia Tech Student Athlete Performance Center.
Mona Milius, MBA, vice president, senior principal, Bakergroup. Milius joined Bakergroup in 2007. Previously, she was director of dining services at the University of Northern Iowa. Milius' projects include the Illinois Street residence dining renovation at the University of Illinois; The Foundry renovation at Colorado State University; and New Williams Village Dining at the University of Colorado, Boulder.
Stepfanie Miller, chef. Miller came to BSU in 2012 as a group leader between management and employees. She took the chef's position in 2013 after earning a culinary degree.
Kaiti Oppenhuizen, interior designer, Bakergroup. Oppenhuizen joined the firm in May 2011.
Casey Szcesniak, interior designer, Bakergroup. Prior to joining the firm in July 2013, Szcesniak was an interior designer at Charter House Innovations.
Rob Reis, AIA, LEED AP, principal, design director, Hanbury. Reis joined Hanbury in 2005. Previously, he worked at Ellerbe Becket in Washington, D.C., VOA Associates Inc. in Washington, D.C., and The Leonard Parker Associates in Minneapolis. Other projects include the Verde Dining Pavilion at Arizona State University West Campus and the Stetson University Carleton Union.
North Dining Ball State University Floor Plan
1. Walk-in blast chiller/refrigerator/freezer
1a. Walk-in freezer evaporator
1b. Walk-in refrigerator evaporator
1c. Walk-in blast chiller evaporator
1d. Reach-in Dutch-door refrigerator
1e. Refrigerated base
1f. Walk-in refrigerator
1g. Refrigerated air curtain
1h. Undercounter refrigerator
1i. Walk-in refrigerator/freezer
1j. Roll-in freezer
1k. Reach-in refrigerator/ freezer
1l. Walk-in freezer
1m. Roll-in refrigerator
2. Dunnage rack
2a. Storage rack
2b. Speed rack
2c. High-density storage rack
2d. Pot rack
2e. Bread rack
2f. Undercounter speed rack
2g. Doughnut rack loader
2h. Bread oven rack
3. Hand sink
3a. Faucet
3b. Fog machine
3c. Hose reel
3d. Agitating pot sink
3e. Mobile soak sink
3f. Wall-mount faucet
3g. Filler faucet
4. Worktable with sink and drawers
4a. Worktable with sink
4b. Clean-pot table
4c. Mobile worktable
4d. Worktable
4e. Refrigerated prep table
4f. Doughnut feeder table
4g. Doughnut fryer table
4h. Doughnut glazing table
5. Food processor
6. Utensil storage
7. Slicer
8. Small mixer
8a. Large mixer
9. Floor trough and grate
10. Ice bin
10a. Ingredient bin
11. Overshelf
11a. Custom shelving
11b. Double overshelf
12. Ice machine
13. Mixing bowl and dolly
14. Hot-water dispenser
14a. Condiment dispenser
14b. Soda dispenser
14c. Syrup dispenser
14d. Juice dispenser
14e.Yeast doughnut depositor
15. Ventilation hood
16. Steam kettle
16a. Kettle
17. Four-burner range
17a. Range with refrigerated base
17b. Induction range
18. Tilting braising pan
19. Double combi oven
19a. Microwave oven
19b. Double convection oven
19c. Vertical rotisserie
19d. Smoker
19e. Vertical toaster
19f. Toaster
19g. Convection microwave
19h. Rack oven
19i. Drawer warmer
19j. Hearth oven
20. Hot-holding cabinet
20a. Undercounter hot-holding cabinet
21. Marinator tumbler
22. Steamer
23. Fryer bank
23a. Dump station
23b. Doughnut fryer
23c. Doughnut fryer filter
24. Fire suppression system
25. Undercounter dishmachine
26.Counter with sink and hand sink
26a. Heated counter
26b. Counter
26c. Counter with sink
26d. Checkout counter
27. Hot wells
27a. Cold well
27b. Soup well
28. Food shield
29. Chafer
30. Charbroiler
31. Cup holder
32. Tea brewer
32a. Coffee brewer
33. Waffle iron
34. Ambient display case
34a. Refrigerated display case
34b. Heated
merchandiser
34c. Refrigerated
merchandiser
35. Air pot
36. Pass-through window
37. Filler faucet
38. Griddle
39. Smart wall system
40. Bain-marie
41. Mop sink closet
42. Doughnut feeder
43. Water meter
44. Proofer/retarder
45. Traffic guide
46. Heat lamp
47. Pasta cooker
48. Sheeter
49. POS station