Bay St. Louis, a quaint seaside city in southern Mississippi, recently welcomed Thorny Oyster, an upscale seafood bistro and bar in the new Pearl Hotel. The restaurant's focal point, a display kitchen, allows guests to watch culinary staff create Southern-style menu items ranging from bouillabaisse and red snapper amandine to seafood plateaus.
Photos by Randy Krause Schmidt
A back-of-the-house kitchen supports Thorny Oyster; Smoke, a quick service-style barbecue restaurant; Hinge, the hotel's cocktail bar; and room service. These dining options, headed by a culinary team supervised by renowned chefs Jeffrey and Amy Hansell, attract hotel guests as well as local residents.
"I grew up 10 minutes down the road from here, and I've been wanting to bring something back to my hometown, especially after Katrina wiped out the little towns around here," says Jeffrey Hansell.
Outside seating provides guests with neighborhood and harbor views.Among the first businesses opened in the downtown harbor area of Bay St. Louis since hurricane Katrina in 2005, Pearl Hotel resides in what was previously an empty lot used for parking and festivals. The 54,700-square-foot luxury boutique hotel features 53 rooms with 6 luxury suites, an event space, a lush courtyard and an outdoor pool with private cabanas. The hotel opened in December 2020; Thorny Oyster opened in January 2021.
"This project focused on imagining and framing key views of the historic downtown and waterfront from both the interior and exterior," says Peter Trapolin, FAIA, NCARB, founding principal, Trapolin-Peer Architects of New Orleans. "Each floor system projects beyond the building envelope, allowing the balconies to act as an extension of the guest rooms." Balconies break down the building's scale and give guests an elevated perspective of the Gulf Coast. Guests in Thorny Oyster also have views of the newly developed municipal harbor and the neighborhood.
The architects designed and built a structure that can withstand the regional weather challenges. "Our team thoughtfully created a structure that can mitigate and withstand the impacts of coastal weather," says Regina M. Davis, AIA, LEED AP BD+C, project manager at Trapolin-Peer.
Thorny Oyster's Interior Design
"The overall vision for Thorny Oyster's interior was to create a space that has an upscale feel but is also inviting, approachable and familiar," Amy Hansell says. "We kept the dining room simply decorated to let the space itself shine and allow guests to see the restaurant's open kitchen and bar."
The simplicity of the decoration also calls attention to Amy Hansell's attention to detail, including the colors, linens and logo on the glassware.
Thorny Oyster's airy, elegant dining room features 15-foot-high ceilings and large windows overlooking the newly developed municipal harbor. Entering on the corner of Main Street and Beach Boulevard, guests see brass chandeliers with giant pearl glass balls. "They look like glowing oyster pearls, which resonates with the restaurant's name and the restaurant's branding," Amy Hansell says.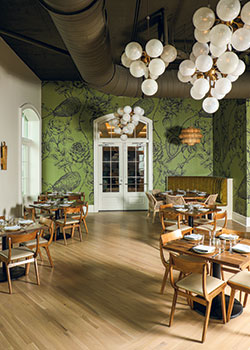 Green velvet booths complement the green wallpaper and coastal-themed decor. Photo by Brian Authement
Brass also appears in other lighting, bar footrests, and 25-by-5-foot shelves that span the entire backbar. Behind the bar and open kitchen, deep turquoise tile lends itself to the coastal ambience and highlights the stainless steel and brass surrounding it.
A tightly woven, thin tan rope wraps the bar stools and banquet chairs, which also feature tan seat cushions. "These cushions pair well with the blues and greens but also bring in a nautical/coastal feel without being rustic or over the top," Amy Hansell says.
On the wall farthest from the front door, images of oyster shells and roses appear on deep marshy green colored wallpaper that extends from the floor to the ceiling. The same wallpaper, in a smaller pattern, also covers the walls in the hallway leading to the bathrooms. The green color palette emerges in the crushed velvet material covering the banquets.
Two-inch-thick oak hardwood floors resemble wooden decks on older yachts and commercial fishing boats. The tables consist of walnut-stained wood with cast iron bases. The slim chairs, also with walnut-stained wood construction, feature leather coverings.
The coastal theme also appears in the antique star-pattern tiles, which outline the chef's counter, marble-topped bar and the entryway. Neutral-colored walls hold gold sconces, which provide contrast to the exposed, deep green ductwork.
Thorny Oyster's Display Kitchen
Thorny Oyster's display kitchen serves as the restaurant's crown jewel, Jeffrey Hansell says. "It's beautiful with the equipment perfectly pieced together to look like one continuous line."
Culinary staff work at five stations to prepare menu items. Each station contains refrigerated rails and a cutting board, giving staff easy access to ingredients and minimizing the steps they must take to execute menu items. Undercounter refrigerated drawers also support staff during menu production. "Each station is built to be self-sufficient," Jeffrey Hansell says. "The layout is very practical and allows staff to be efficient."
Turquoise tile in Thorny Oyster's display kitchen contributes to the coastal ambience throughout the restaurant.
At the garde manger station, staff assemble salads, pastry, Hamachi crudo and ceviche, as well as the seafood plateau.
Thorny Oyster's display kitchen includes a convection steamer, charbroiler, flattop, range and salamander.The fry station contains high-efficiency fryers with built-in filtration systems for staff to prepare french fries, calamari, frog's legs, shrimp toast and crispy fried grouper served with green tomato and coleslaw. To the right of the fryer is a 36-inch range with 2 open burners and a flattop griddle with a convection oven beneath to prepare lobster rolls and large-sized croque monsieur–style ham sandwiches.
The saute station staff handle a large portion of the menu items. They use a 36-inch range with 6 open burners and a flattop griddle with a convection oven beneath to prepare menu items such as mussels, clams, bouillabaisse, flounder, red snapper amandine, barbecue shrimp and lobster bisque. They also prepare baby bok choy, pasta and creamy swiss chard. A salamander sits between the saute and grill stations.
At the grill station, staff use a 36-inch range with 2 open burners and a flattop griddle and convection oven to cook grilled half chicken. Adjacent to this is a charbroiler with refrigerated drawers beneath to cook grilled oysters, a 16-ounce rib-eye steak, burgers and roasted bone marrow.
The end station contains a countertop convection steamer to prepare fresh seafood for menu items including snow crab, marinated crab claws, and the seafood plateau which serves up oysters, crab claws, royal red shrimp, snow crab and lobster salad.
Culinary staff cook all menu items to order and move the food toward the end of the line, which contains a custom wood counter and expo area with a small heat lamp that sits under the shelving. Cold food sits on top of the shelving. This positioning allows the chef and culinary staff to properly execute each plate before servers take them to guests.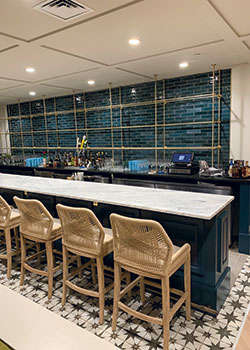 Thorny Oyster's full-service bar positions equipment so bartenders can move quickly and easily through the space. Refrigerated storage and ice containers sit beneath the counter.ThornyOyster IMG 8727 FOH barA full-service bar inside Thorny Oyster provides a large assortment of liquors displayed on brass shelving, as well as wines and beer. Guests sit at the counter or in comfortable seats nearby.
Back-of-the-House Kitchen
A back-of-the-house kitchen supports Thorny Oyster's display kitchen. It also produces menu items for Smoke, room service and Hinge bar. "The placement of prep tables and cooking equipment into the back-of-the-house space helps with efficiency and cross-utilization of equipment, production and storage, and helps contain labor costs," says Dustin Bennett, president, NOLA Restaurant Supply & Design in New Orleans. "The kitchen and foodservice areas were the last items to be dropped into the building layout. Because the same team designed the chef owner's previous restaurant, Oxlot 9 at the Southern Hotel in Covington, Louisiana, the potential layout was familiar."
Deliveries arrive on the ground level. Staff place them into dry storage or walk-in coolers. One cooler holds all proteins, including fresh seafood, meat and poultry. The other, with a small freezer, holds produce, dairy and ingredients made into sauces, stocks, soups, pastry and pasta dishes.
In the cold prep area staff use a four-compartment sink to wash oysters and other seafood. Staff also scale and butcher fish at this station. Other equipment for cold prep includes a slicer, an immersion blender and juicers as well as a planetary mixer that supports staff production of dough for pastas and bread. Staff also use a vacuum-packaging machine to portion whole proteins and menu items that staff fabricate, which helps to lengthen shelf life.
The back of the house also contains a dishwashing area with a ventless dishwasher for all of the hotel's foodservice operations. "We had to go ventless because we would have had to run a duct up four stories, which would have been very expensive," Jeffrey Hansell says.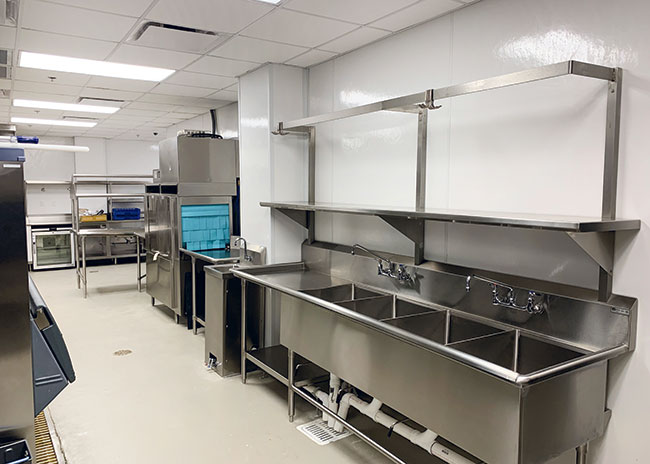 The back of the house also contains a dishwashing area with a ventless dishwasher for all of the hotel's foodservice operations.
The main kitchen's cookline primarily supports menu item prep for Smoke, room service and Hinge. The cookline contains refrigerated rails that hold mise en place for the culinary staff. The line also contains two high-efficient fryers with built-in oil filtration systems for french fries, fish and chips, chicken, pork rinds and okra. Staff use the flattop griddle to sear meats and prepare menu items such as Cuban sandwiches.
An island preparation counter contains a six-burner range for preparing stocks and bulk sauces as well as soups. Staff use the convection oven beneath the range for baking bread and pastries. They broil cheese covering brisket in the salamander overhead and also use the salamander to finish cooking sandwiches.
Preparation for Smoke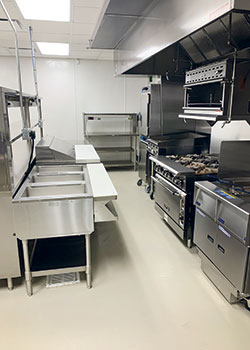 A few equipment pieces were specified specifically for Smoke, a quick service-style barbecue restaurant. Smoke's hotline includes a six-burner range, flattop griddle, and salamander along with fryers and hot holding units. Photos courtesy of NOLA Restaurant Supply & Design Co.Positioned along a side wall in the main kitchen, a smoker mainly supports staff's production of menu items for Smoke, though staff also produce menu items such as smoked pork tamales for Thorny Oyster. "The smoker has its own hood, which you rarely see in restaurants," Jeffrey Hansell says. "This feature allows us to use it easily and all day long." A cook and hold oven tempers meats cooked in the smoker.
Smoke's hotline sits across from a chef's counter with steam wells and a refrigerated rail. The line contains fryers, a 36-inch range with six open burners and a cheese melter above, a countertop griddle and a cook and hold oven.
After staff assemble menu items ordered by Smoke guests, they walk them through a kitchen door to Smoke's front-of-the-house counter. Smoke staff carry orders to guests who sit in a small dining room. Guests can also pick up takeout orders at this counter. At another counter across an aisle from the front counter staff use three daquiri machines to make these drinks while guests look on.
"We kept the Smoke decor very simple because the space is so small that we didn't want it to feel overdone or cluttered," Amy Hansell says. Most of the dining area, including the walls and ceiling, is wrapped in stained walnut planks. Natural polished concrete floors support white enamel tables and metal chairs. The industrial polished red metal lighting provides contrast to the exposed ceiling and duct work. Design elements in the making including a large wall mural and wood rack to hold pecan wood used for the smoker.
The Hansells look forward to realizing the benefits of all the meticulous detail put into the restaurants and the efficiency built into the kitchens. This summer promises to see a robust tourist business as people indulge in vacations and
dining pleasures.
---
Raw oysters sit in their shells with house-made sauces as an accompaniment.
Facts of Note
Opened: Jan. 20, 2021
Scope of project: Thorny Oyster, a full-service restaurant with a display kitchen and full-service bar, plus a back-of-the-house kitchen supporting Thorny Oyster, Smoke, a barbecue quick-service restaurant, Hinge, a cocktail bar, and room service for Pearl Hotel.
Equipment investment: $500,000
Size: Thorny Oyster, 2,188, sq. ft., including 298-sq.-ft. display kitchen; main kitchen, 1,105 sq. ft.; Smoke, 859 sq. ft.
Seats: Thorny Oyster, 90 indoors and 36 outdoors; Smoke, 42
Average check: Thorny Oyster, $175 to $200; Smoke, $60
Total annual projected sales: $2.4 million for Thorny Oyster and Smoke
Daily transactions/covers for dinner: Thorny Oyster, 100 on weekdays for dinner; 275 on weekends; Smoke, 30 to 40 on weekdays and up to 75 on weekends. When lunch and brunch begin, weekend covers for the two restaurants will be up to 350.
Hours for Thorny Oyster and Smoke: 11 a.m. until 10 p.m., Tuesday through Saturday; 10 a.m. until 3 p.m., Sunday.
Menu specialties: Thorny Oyster's regional coastal fare emphasizes local seafood and a well-curated wine and cocktail program. The menu features bouillabaisse; a raw seafood bar; red snapper amandine; flounder and gulf shrimp, lump blue crab and pasta bordelaise; chargrilled oysters; seafood plateaus. Smoke features brisket, hot chicken sandwiches and smoked hot dogs. Hinge Bar offers signature craft cocktails, wines, spirits, and select beers, as well as a light bar menu.
Staff: 22 employees (30 when fully staffed)
Total restaurant project cost: $2 million approximately
Website: thornyoysterbsl.com
Key Players
Restaurant owners: Jeffrey and Amy Hansell
Executive chef: Jeffrey Hansell
General manager: Amy Hansell
Architect: Trapolin-Peer Architects, New Orleans: Peter Trapolin, FAIA, NCARB, founding principal; Regina M. Davis, AIA, LEED AP BD+C, project manager; Blake Kidder, architectural designer; Gabriel L. Virdure, AIA, associate/architect
Interior design: Amy Hansell and studioMV, Covington, La., Matthew Voelkel
Foodservice designer: NOLA Restaurant Supply & Design, New Orleans: Dustin Bennett, president
Equipment dealer: NOLA Restaurant Supply & Design, New Orleans
Construction: Woodward Design+Build, New Orleans
Dustin Bennett, president, NOLA Restaurant Supply & Design. Bennett began working in his family's business in 2007. He started his career in this industry while he was in high school and then worked in restaurants and convenience stores during college.
Regina M. Davis, AIA, LEED AP BD+C, project manager, Trapolin-Peer. Davis joined the firm in May 2017. Post-graduation, she worked at VMDO Architects in Charlottesville, Va.
Jeffrey and Amy Hansell, owners, Thorny Oyster and Smoke. Jeffrey is the executive chef; Amy is the general manager and interior designer. The couple also designed, branded, owns and operates Oxlot 19, a 60-seat upscale bistro in the Southern Hotel in Covington, La., which opened in 2014. They operated a 200-seat restaurant, Veranda on Highlands in Birmingham, Ala., from 2009 to 2014.
Peter Trapolin, FAIA, NCARB, Trapolin-Peer Architects, founding principal. Trapolin's dedication to historic preservation and detailing has saved many local historic buildings and helped repair the urban fabric in and around New Orleans' historic districts. The firm is renowned for innovative and contextual new buildings as well as environmentally sensitive yet appropriate renovations and restorations.
Thorny Oyster Floor Plan Equipment Key
1. Wire shelving
2. Bun/sheet pan rack
2a. Glass rack
3. Walk-in cooler/freezer
3a. Sandwich/salad preparation refrigerator
3b. Undercounter reach-in refrigerator
3c. Undercounter reach-in freezer
3d. Draft beer cooler
3e. Pizza preparation refrigerator
3f. Undercounter freezer
3g. 48-inch refrigerated base
3h. Refrigerated worktop
4. Floor trough
5. Ice machine with bin
5a. Undercounter ice maker with bin
6. Worktable with stainless-steel top
6a. Worktable with open-front cabinet base
6b. Clean dish table
6c. Soiled dish table with prerinse sink
6d. 36-inch enclosed worktable
6e. Worktable with wood top
6f. Worktable with cabinet with sink
7. Planetary mixer
7a. Equipment stand for mixer/slicer
8. Heat lamp
9. Serving counter for hot food
9a. Beverage counter
10. Cook and hold oven in cabinet
11. Countertop griddle
12. High definition range, 36-inches 6 open burners with cheese melter
12a. High definition range, 36 inches, 2 burners, 18-inch griddle
12b. High definition range, 36 inches, 6 open burners with salamander
12c. High definition range, 36 inches, 2 burners, 24-inch griddle
12d. High definition range, 12-inch worktop
12e. High definition range, 36 inches with charbroiler
13. Fryer batter
14. Exhaust hood
15. Tea brewer
16. Drop-in ice bin
16a. Ice bin
17. Weld-in sink
17a. Faucet/kettle/pot filler
17b. Hand sink
17c. 4-compartment sink
17d. Underbar hand sink
17e. Underbar 3-compartment sink
18. Smoker
19. Ventless conveyor dishwasher
20. Frozen drink machine
21. Refrigerated backbar cabinet
22. POS
23. Trash container
24. Countertop convection steamer
25. Drop-in hot food well unit