From its inception, the design of Aba in Austin, Texas, called for 75% of its seating outdoors.
Photos courtesy of Aba, Lettuce Entertain You Enterprises
Given the operating conditions and regulations since COVID-19 began, the fortuitous decision has allowed this new restaurant to comply with social distancing requirements while still introducing new customers to a food and dining experience they wish to repeat time and again. This is a situation many restaurants understandably envy in these challenging times.
The restaurant's owner, Lettuce Entertain You Enterprises (LEYE), decided to enter the hot, fast-growing Austin, Texas, restaurant market with this concept following its success in Chicago's Fulton Market District, home to some of the city's trendiest restaurants. Aba Chicago opened in 2018. "We felt the concept was strong enough to grow into new markets, and are big fans of Austin, its dining scene and its community of people," says Marc Jacobs, executive partner and divisional president, LEYE.
In Austin, a consultant/advisor connected LEYE with the developers of the Music Lane project on South Congress Avenue. The mixed-use project includes apartments, retail elements, a gym, a private club, a hotel and several offices to create community, living and work environments all in one area.
"As with Fulton Market, LEYE fell in love with the location in Austin because it provided the perfect balance of Aba's outside and inside dining experience," Jacobs says. "Our goal is to become a neighborhood destination and meeting place. While the required social distancing guidelines for both indoor and outdoor dining have impacted the business, the Austin neighborhood is active and, so far, has been supportive."
Aba Austin's menu incorporates chef partner CJ Jacobson's lighter style of cooking with influences from the Mediterranean, including Israel, Lebanon, Turkey and Greece. The culinary team prepares the menus from scratch daily for lunch, brunch, dinner, private dining, catering, carryout and delivery.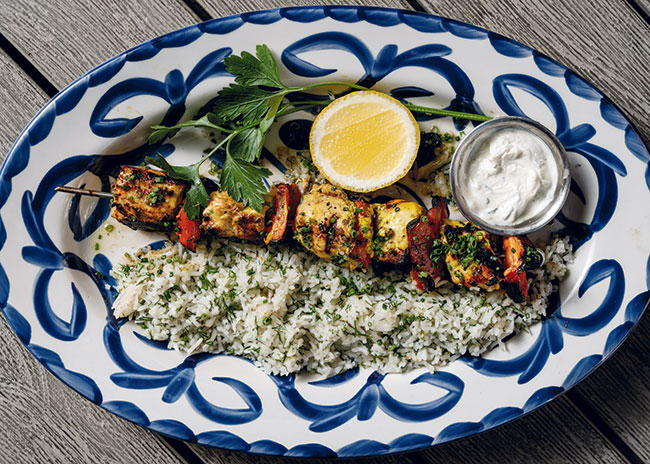 Kebabs, a popular dish, are accompanied by basmati rice. Photo by Chase Daniel
The bar program, crafted by lead mixologist Liz Pearce and divisional bar training manager Thomas Moore, showcases rare Mediterranean-inspired wines and spirits as well as cocktails and recipes that harmonize with ingredients used in the kitchen.
COVID-19 Changes
The Aba design team and architect of record, Austin-based Sixthriver, started working on drawings for this location in June 2019. Plans moved quickly and were submitted for permitting the following October. Construction began in December with a projected June 2020 opening date. "Then the restaurant world as we knew it changed during construction," Jacobs says. "We were committed to the project, so we studied and reformulated our plan to move forward."
As COVID-19 hit in March 2020, construction was paused, safe working conditions were reviewed and implemented, and construction resumed in April with restrictions. Face masks were required, and only a limited number of workers were allowed to be on-site at the same time. The foodservice equipment provider, ADE Restaurant Services in Addison, Ill., had to coordinate all details and required field measurements and verification remotely through the general contractor.
The Aba design team was also limited in its jobsite visits. "All communications were coordinated remotely for several months through the local general contractor," Jacobs says. The Aba team started spending time at the jobsite finally in July 2020; the restaurant opened in October 2020.
Dining room lighting is varied and includes copper, bronze and gold dome pendants and fixtures. Photo by Chase Daniel
"The heart of the restaurant is our family of employees. Interviewing and hiring in a pandemic forced remote and virtual interviews," Jacobs says. "A pop-up tent set up on South Congress Avenue led to eventual in-person communications."
During a traditional opening, LEYE would hire and train staff for every meal period. The October 2020 opening began with dinner only; carryout and delivery were added several weeks later, and just recently the restaurant added the final meal period of lunch. Training was done in smaller groups and mostly outside to accommodate COVID-19 spacing restrictions.
"People are learning differently now," Jacobs says. "It's more interactive and paper materials were supplemented with virtual learning to keep the staff engaged."
Managers reassured the staff of the safe working environment set-up, including providing masks, daily temperature checks, social distancing for tastings and staff meals, and spacing in the kitchen for prep. They also reviewed the responsibility all employees have in keeping guests safe while dining in LEYE restaurants.
An indoor and outdoor trellis brings greenery to the paseo, over the bar and inside the dining room. Photo by Chase Daniel
Design and Lighting
Aba Austin's 25/75 split between indoor and outdoor seating places the emphasis on outdoor dining, compared to Aba Chicago's 50/50 split. The additional outdoor space came with its own set of challenges. "In Austin, we were challenged to create a kitchen and bar program that services the dining room as well as the larger outdoor dining and paseo areas," Jacobs says.
The design team wanted to make the smaller dining room feel bigger and also harness the energy of the space. An operable window wall behind the bar tucks into the ceiling with the push of a button, helping to connect the outdoors with the inside space. "We created a warm and inviting glow with unique pendants and fixtures, and added several oversized mirrors covered in greenery to help make the inside space feel larger and more connected with the outdoors," Jacobs says. "The energy of the warm space transports guests to summer in the Mediterranean and creates an oasis and escape-like feel."
Furniture textures vary with the use of leathers and durable woven materials to add additional warmth to the indoor space. Outdoor furniture pieces complement the palette with the introduction of wicker, teak, rattan, canvas and concrete. An indoor and outdoor trellis brings greenery to the paseo, over the bar and inside the dining room.
Lighting plays an important role inside and out. The dining room is centered around a cluster of copper, bronze and gold shallow dome pendants and fixtures. LED pinspots were strategically placed to brighten the food, accent walls and tables and highlight design elements in the space. "The intent was to create a warm, dramatic and intimate glow with lighting," Jacobs says. "We lean toward the warmer lighting in the 2,600 kilowatts and 2,700 kilowatts range. Much of the glow comes through milk glass and cloth, so the warmth comes through." In the bar, liquor shelves are lit from below to add uplight on the bottles and bring attention to the liquor offerings."
Wooden floor lamps with woven shades, along with candlelight, bring warmth to the outdoor space. Uplights on the honey wood fence, live green wall and potted plants and trees add to the nighttime glow.
One of the most dramatic elements in the outdoor dining space is a native heritage oak tree. "We had to build around this, incorporating the tree into our dining room," Jacobs says. "We placed tables around the tree and worked with the landlord and an arborist to safely add decorative pendant and spotlights to the tree branches that support and complement our design aesthetic."
Deliveries, Production and Flow
The loading dock and receiving area sit on the third level below ground in a parking structure. Staff bring deliveries to two walk-in coolers and dry storage on this level. "To support the square footage and food handling, we secured remote area walk-in coolers and dry storage, but with no direct connection possible to the restaurant space," says foodservice consultant Beth Kuczera, president, Equipment Dynamics Inc., Chicago. Staff use an elevator to bring deliveries up to the main floor where the restaurant resides. Refrigerated space here includes a walk-in cooler, an upright reach-in refrigerator, upright freezer and chef line refrigeration, all of which sit adjacent to the prep and cooking areas and give staff easy access to prepped ingredients and proteins.
Guest entry and seating were the initial priority for plan development, and with the emphasis on outdoor seating, the kitchen areas were defined along the rear wall.
Designers reviewed every inch of the relatively small prep space to incorporate all stations for the made-from-scratch menu: bread production, pastry, butchery, braising, hummus and spreads, and kebabs/vegetable prep. "We planned for the best visibility in traffic patterns from dual-point kitchen service entries and made sure there were no dead ends," Kuczera says. "Every station, including the cookline, dish area and prep area, have continuous flow for the team to get around easily to make a tight kitchen manageable."
The staff produces a diverse menu with consistent quality in this tight footprint. They prepare only the food necessary for a particular shift. "The large amount of menu items that are served cold allow us to control food cost and waste," Jacobson says.
Preparation and Service
Before prep begins, staff clean ingredients and place them in clear containers. They note on the side of the containers the quantity of the items inside each storage vessel. Staff take what they need for preparing mise en place to the cold prep area and use a 40-quart mixer, two food processors and immersion blenders to prepare the ingredients for the main cookline and assembly of cold menu items.
The hot and cold cooking lines allow for fast kitchen entry and food exit. "This is especially important in this Mediterranean concept where the menu is mezze style, with small plates meant for sharing," Kuczera says. "How guests navigate through the space and maximizing seating are top priorities, and the space for the kitchen and its proximity to the indoor and outdoor dining areas then left limited options." The prep stations sit adjacent to the line to allow both the line cook and prep cook to service and share the same equipment. The dishwasher is strategically placed so that clean dishes are accessible for line, prep and service staff.
Equipment placement supports staff efficiencies.
The hot cookline contains a tilting braising pan that culinary staff use to make crispy short ribs and cook garbanzo beans, which they puree for hummus and place on each table with house-made pita bread. Double-stacked combi ovens allow the staff to cook proteins such as lamb in the oven overnight. The ovens are also used for roasting proteins and vegetables and for warming up hummus.
"We use the double-stacked combi oven and a blast chiller extensively," Jacobson says. "The capability for multiple preparations are contained in a small footprint, and the blast chiller ensures quality production standards."
This back-of-the-house setup accommodates the restaurant's signature hot bread program.
Staff use a heavy-duty, high-Btu 36-inch charbroiler to grill kabobs served with basmati rice; cauliflower with Medjool dates, red onion, turmeric and tzatziki; as well as chicken with a yogurt marinade, sweet pepper and zhoug. The culinary team also prepares some fish on the charbroiler. They use a 24-inch flattop griddle to make smoked chili served with roasted garlic dip, and a six-burner range to heat sauces. Convection ovens beneath the range and griddle support production. A salamander heats slow-braised leg of lamb wrapped in eggplant, as well as shrimp for escargot dishes and cheese covering short ribs. Staff use a fryer battery with a right splash and pan holder — which also supports fast hot line execution — to cook falafel, Brussels sprouts and Halloumi cheese, a Greek cuisine staple.
A frozen yogurt machine dispenses the restaurant's house-made frozen yogurt.
"The menus in Chicago and Austin are about 70% the same, but in Austin we have more access to chilis and different types of produce to make dishes such as muhammara with roasted pepper, isot chili, walnuts and pomegranate molasses," Jacobson says.
Nearby, and perpendicular to the cold and hot lines, staff prepare made-to-order bread and pitas using a dough divider/rounder, a dough sheeter and a conveyor oven that can reach 600 degrees F and includes undercounter tray storage and basket storage above. "An intentionally small hot-holding and staging area was designed to support peak periods," Kuczera says. Each table receives the restaurant's signature house-made hot bread with hummus and spreads. Staff prepare nearly 1,000 pieces of the bread daily. Staff also use the conveyor oven to heat bougatsa, a Greek dessert.
"Tight trash storage within the space required the creation of an attractive garbage cart to allow transport through the dining areas to a remote garbage space during service," Kuczera says.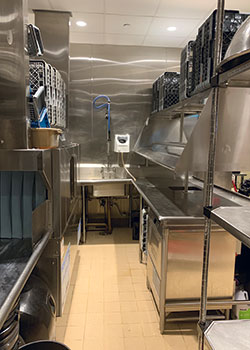 The dishwashing area contains a dishwashing machine and pot-washing space, which allows for wet areas to be contained and provides space for staff to share job tasks and for two people to work in a shared space.The dishwasher's strategic position allows dirty dishes to easily come from all seating areas. In addition, line, prep and service staff can access clean dishes. The dishwashing area also contains a pot-washing space, which allows for wet areas to be contained and provides space for staff to share job tasks and for two people to work in a shared space.
In support of the cocktail program and business volume, and to ensure efficient delivery of drink orders, on weekends, cocktail runners help service drinks from the outdoor bar and tight service bar in the kitchen. "Drinks are assigned seat positions like food, so runners are able to more quickly serve the guests their drink orders," Kuczera says.
A service bar supports the efficient delivery of quality cocktails. A system installed at all three bars fills open wine bottles with nitrogen gas to maintain quality for the wine-by-the-glass program.
While carryout and delivery expectations were originally programmed to come off the hot and cold line, the COVID-19 curveball required the development and implementation of a stand-alone carryout/delivery program. Designers worked within the tight space to create systems that allowed staff to efficiently prepare, cook and deliver food and drinks to guests. "We took over a piece of the kitchen and added a carryout/delivery printer, POS, sticker machine and phone," Jacobson says. "We rezoned carryout containers and lids into our hot and cold cooklines, and supported storage on the expo side." They also developed a carryout and delivery runner to label and put the orders together, with a triple-check system that ensures the right items are placed in the right package and secured to avoid tampering. Lastly, they secured spaces in the building parking garage to be able to provide guests with quick, contactless pickup.
A remote refrigeration rack was used for chef's counter refrigeration, the walk-in coolers and ice makers to remove excess heat from the kitchen and reduce the electrical requirements for this equipment. Energy Star equipment was used wherever possible: reach-in refrigeration, fryers, combi ovens, and dish- and glass-washing equipment.
"We installed high-end, trusted and durable kitchen equipment to perform at high levels for our projected business for the next 20 to 30 years," Kuczera says. "Every piece was analyzed for today's menu and in support of tomorrow."
The LEYE team is pleased with Aba Austin's debut into this restaurant market. Guests are returning and expressing their approval of this Mediterranean-style concept with an emphasis on outdoor seating. No doubt this restaurant is off to a positive start.
About the Project
Opened: Oct. 1, 2020
Scope of project: Restaurant new build in Austin, Texas
Equipment investment: $700,000
Website:abarestaurants.com/austin
Size: Kitchen, just under 1,500 sq. ft.; dining room, 2,000 sq. ft.; outdoor patio/paseo, 3,000 sq. ft.
Seats: Approximately 226
Staff: 90
Average check: Dinner, $46; brunch, $28; lunch, $28
On-premises daily transactions/covers during COVID-19: Approximately 150 to 200 for lunch or brunch; 200 to 250 for dinner
Hours:
Monday through Thursday: 11 a.m. until 10 p.m.
Friday: 11 a.m. until 11 p.m.
Saturday: 10 a.m. until 11 p.m.
Sunday: 10 a.m. until 9 p.m.
Menu concept: Mediterranean restaurant incorporating chef CJ Jacobson's lighter style of cooking with influences from Israel, Lebanon, Turkey and Greece
Menu specialties: Crispy short rib hummus, muhammara, Jerusalem bagel with smoked salmon spread, slow-braised leg of lamb wrapped in eggplant and black garlic shrimp scampi. The menu also supports a gluten-free lifestyle and includes many vegan and vegetarian options.
Key Players
Owner: Lettuce Entertain You Enterprises Inc.
President, LEYE, Chicago: R.J. Melman
Executive partner and divisional president, LEYE, Chicago: Marc Jacobs
Senior chef partner, LEYE, Chicago: John Chiakulas
Chef partner of Aba, The Dalcy, Ēma and Rotisserie Ēma, Chicago: CJ Jacobson
Architect of record: Sixthriver, Austin, Texas: Stephanie Guariglia, senior associate. The firm worked in conjunction with John Cinelli, LEYE's director of architecture, to stamp/prepare drawings for approval by the city.
Interior design: LEYE: Marc Jacobs, executive partner and divisional president; Avril Zayas, senior designer; Variant Collaborative, Chicago
Foodservice consultants: Equipment Dynamics Inc., Chicago: Beth Kuczera, president
Equipment dealer: ADE Restaurant Services Inc., Addison, Ill.: Steve Schoop, president; Phil Rivera, project manager
Construction: Rand Construction, Austin, Texas
Stephanie Guariglia, senior associate, Sixthriver, Austin, Texas. Joining this architectural firm in December 2010, Guariglia's experience spans project types such as corporate interior remodels, restaurants, Shell Office buildings, and multifamily ground-up construction.
Marc Jacobs, LEYE executive partner and divisional president of Aba, Antico Posto, Bar Ramone, Beatrix, Beatrix Market, Ēma, Rotisserie Ēma, Foodease, L. Woods Tap and Pine Lodge, and The Dalcy. Jacobs began his LEYE career serving as general manager of R.J. Grunts, LEYE's first restaurant, where he worked alongside company founder Rich Melman. Jacobs joined the corporate management team and has been a partner with LEYE for the past 14 years. He sits on LEYE's executive board and is a member of the LEYE Consulting Group as well as an advisory council member at DePaul's School of Hospitality Leadership.
CJ Jacobson, LEYE chef partner of Aba, The Dalcy, Ēma and Rotisserie Ēma. Jacobson joined LEYE in 2016. Previously he worked at restaurants including Girasol in Studio City, Calif., Intro in Chicago, The Yard in Santa Monica, Calif., Campanile in Los Angeles, and Axe in Pasadena, Calif., and as a private chef for VIP families. He starred on two seasons of the television show "Top Chef."
Beth Kuczera, president, Equipment Dynamics Inc. Kuczera has been the foodservice consultant for more than 30 years on more than 100 LEYE restaurants ranging from fine-dining to fast-casual concepts. LEYE's Beatrix concept was named FE&S 2015 Facility Design Project of the Year, and Kuczera was named FE&S 2017 Top Achiever-Consultant. While still supporting restaurants with productivity and profitability insights, Kuczera began focusing on not-for-profit guidance and support in 2019.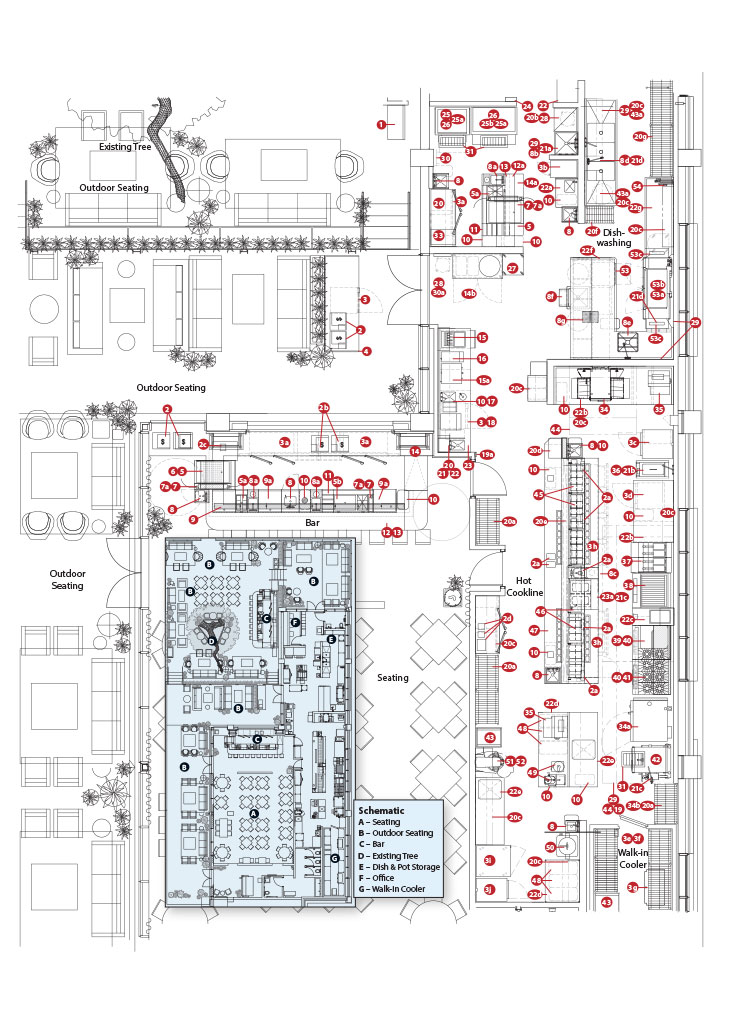 1. Server station
2. POS with printers for servers
2a. Data system
2b. POS with printers at bar
2c. Printers at bar pickup
2d. POS label maker/printer
3. Undercounter refrigerator
3a. Backbar refrigerator
3b. Refrigerator
3c. Upright refrigerator
3d. Undercounter freezer
3e. Walk-in cooler combination
3f. Bi-parting strip curtain
3g. Cooler coil
3h. Remote raised rail refrigerator
3i. Blast chiller/shock freezer
3j. Reach-in freezer
4. S/s water station with POS counter
5. Pass-through ice chest
5a. Juice chest
5b. Ice chest/juice chest
6. Pass-over drain pan
7. Soda gun holder
7a. Soda guns
8. Hand sink/soap and towel dispensers/splash guards
8a. Dump sink w/rinser
8b. Mop sink
8c. Sink w/splash guards/trash
8d. Three-compartment sink
8e. Prerinse sink
8f. Silverware soak sink
8g. Dump sink
9. Corner drainboard
9a. Drainboard w/glass rack
10. Trash container
11. Liquor step
12. Bar top
13. Bar die wall
14. S/s storage cabinet
14a. Glass storage cabinet
14b. Enclosed s/s trash mobile transport cabinet
15. Tea brewer
15a. Coffee brewer
16. Drop-in soda tower
17. Coffee grinder
18. Espresso machine
19. Fire-suppression system
19a. Fire-suppression pull switch
20. Overshelf
20a. Storage shelving
20b. Chemical shelving
20c. Wall-mounted overshelves
20d. Wall shelves w/heat lamps below
20e. Double overshelf
20f. Soiled-pot shelving
20g. Clean-dish shelving
21. Filtered water faucet w/filter
21a. Mop sink faucet
21b. Wall-mounted faucet
21c. Fill faucet
21d. Prerinse faucet
22. Beverage table w/dump sink
22a. Worktable w/water station and filter
22b. Worktable22c. Filler table w/drop-in warmer
22d. Prep table
22e. Prep table w/sink
22f. Soiled-dish table
22g. Clean-dish table
23. Dipper well w/faucet
23a. Hot food wells
24. Time clock
25. Cubelet ice machine
25a. Ice machine filter
25b. Square-cube ice machine
26. Ice bin
27. Dollies
28. Mop bucket
29. S/s wall panels
30. Ice scoop holder
30a. Broom holder
31. Floor trough
32. Soap and towel
33. Frozen-drink machine
34. Conveyor oven
34a. Double-stacked combi oven
34b. Combi oven filter
35. Dough sheeter
36. Yogurt machine
37. Fryer battery w/right splash and pan holder
38. 36-inch charbroiler/stand
39. Two-burner 24-inch griddle w/convection oven base
40. Salamander
41. Six-burner range w/convection oven base
42. Tilt braising pan
43. Rolling racks
43a. Wall-mounted pot rack
44. Exhaust hood
45. Light strip
46. Dual heat lamps w/lights
47. Waitstaff pickup counter
48. Ingredient bins
49. Food processor
50. Dough divider/rounder
51. 40-qt. mixer
52. Utensil hooks
53. Undercounter dishwasher
53a. Dishmachine w/booster heater
54. Hose reel