This renovation blends a foodservice and grocery market concept and also creates a large halal-certified residential dining facility.
The redesigned Canyon Vista Marketplace exemplifies the University of California San Diego's celebration of the diversity of its campus, encouragement of inclusivity and efficiency, and pursuit of opportunities to enhance the student living and learning experience.
"It has been amazing to watch the venue transform from a dated, cafeteria-style dining facility into a welcoming and modern marketplace," says Jeffrey Palmer, director of dining in the Housing, Dining and Hospitality (HDH) department at UC San Diego.
Photos by Lawrence Anderson Photography
The new Canyon Vista Marketplace inside the Earl Warren College building features a multiplatform restaurant-style offering with an integrated grocery concept along with enhanced seating spaces for student engagement and interaction. "This transparent operation is designed very much like a public market, with the kitchens out front and glass-door refrigerators displaying fresh produce so customers can see what's being prepared," Palmer says. "It also contains displays of retail items on shelving and gondolas."
Creating a halal-certified dining facility, not just a station, for the Muslim students on campus was at the core of the renovation project. In addition to halal-certified menu offerings, the dining team provides services for students with the strictest level of adherence to the faith. "This is the largest halal-certified residential dining facility in the U.S., which elevates the quality and variety of halal food served," Palmer says. All food served at the three menu concepts meets halal certification. Packaged grocery/retail items sold throughout the marketplace are not halal certified.
Nearly eight years ago, students from the Union of Jewish Students and the Muslim Student Association lobbied HDH, asking for more menu options that catered to their dietary needs, specifically halal and kosher. Halal is an Arabic term meaning "permissible" and often references foods produced in accordance with Islamic law, specifically ethical butchering practices. While UC San Diego's Thurgood Marshall College's OceanView restaurant contains a kosher section as well as some halal ingredients, HDH saw the opportunity to design a fully halal eatery to be even more inclusive. HDH worked with the Islamic Food and Nutrition Council of America (IFANCA) and the university's Muslim Student Association to provide guidance on the halal certification process for Canyon Vista Marketplace. The dining team reviewed hundreds of recipes with IFANCA, vetting more than 1,000 ingredients across seven different vendors to ensure the recipes met the needs of the Muslim community.
"Our partnership with the university's Muslim Student Association and IFANCA shows the value in student and campus community representation and feedback," Palmer says.
The cookline in the back of the house contains convection ovens, combi ovens, a tilting fry pan and a tilting kettle. Photo by Dave DeCaro
The Renovation
In order to mitigate heat gain in the former dining location, which had no air conditioning, dark film had been applied to the glazing, resulting in a gloomy quality inside and an unwelcoming character outside. The outdated foodservice facilities and uninspired menu offerings drove many students across campus for better options.
"Updating the original Canyon Vista facility required infrastructural upgrades, and it created a much-improved flow and connection between the dining location and residential life spaces," says Tom Clarke, senior project and planning manager, HDH, UC San Diego. A cafeteria-style dining facility operated on the ground floor of the two-story building. The second floor housed Earl's coffeehouse and market as well as a student lounge and study space.
Prior to the renovation, Earl's coffeehouse and the student lounge had no interior connections. "The entryways were not clearly marked and forced visitors to access each area through a series of exterior stairs and made a very confusing and frustrating sequence to visit the building," says Ben Kracke, AIA, LEED AP, principal, STUDIOS Architecture, Los Angeles.
The design team brought Earl's to the main level and completely redesigned the dining facility into a spacious and bright open market concept that allows for a wider variety of food offerings to meet a more diverse range of community foodservice needs. In addition, designers added an internal connection, a central staircase, to the highly utilized and expanded student lounge and study space upstairs.
Extensive studies analyzed circulation in and out of the building, metrics on peak hours, and utilization of venue types, market sales and operational hours. The studies revealed the student population utilized this facility 24/7 to study, meet and participate in community events. Since the renovation, staff can now close off the foodservice component from study spaces on both levels of the facility. This allows students to use the study spaces at all hours, but culinary staff can also clean, restock and prep the main floor each day.
"All of the data provided by the HDH team was utilized to provide a hierarchy to the facility and a layout and flow that were intuitive to navigate, fun to explore, and most importantly visit again and again," Kracke says.
Three-Sixty contains a Mongolian grill as well as a cooking suite with a flattop griddle, a four-burner open range with a convection oven and refrigerated drawers beneathBy exposing the ceilings in Warren College, the architects provided a more open feeling throughout the building. The design team carefully organized the mechanical, electrical and plumbing equipment to provide an industrial look that highlights the working components of the building. A new mechanical system adds air conditioning to the entire building.
As the first location on campus to combine a market and food concept station in one location, Canyon Vista aims to be a one-stop shop offering healthful menu choices. In addition to Earl's, the first floor contains Fusion Grill; Fresh, a garden bar and soup concept; and Three-Sixty, featuring bowls, entrees and sides. Throughout the space, gondola-style counters and shelving display groceries and living essentials that customers can purchase before or after dining.
"The renovated dining facility increased transparency so customers passing by can see the culinary activity, which spotlights the food theater," Palmer says. Newly branded and bold signage brings attention to newly designed food concept stations and Earl's coffeehouse.
"This facility is now a destination and provides students with a sense of community and inclusivity — and most importantly a sense of home," Kracke says. "These changes brought these amazing programs together and created a social heart to this student-oriented community building."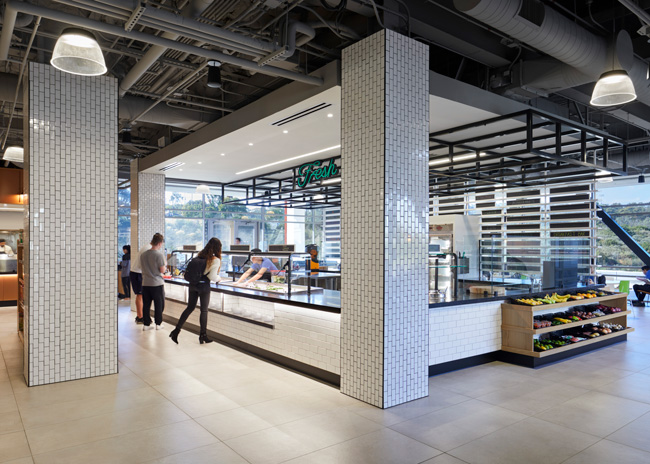 Fresh, the campus's largest garden bar, also features a build-your-own scratch-made soup station and fresh-squeezed juices. Its central placement emphasizes the health and wellness focus of the entire facility.
Back of the House with Food Storage and Prep
Working closely together, HDH, STUDIOS Architecture and Ricca Design Studios identified key characteristics at the various food venues and sought to balance them with the existing infrastructure. "Venues requiring large grease hoods, refrigeration requirements, plumbing and back-of-the-house commissary functions were strategically located to allow other venues to spread out and occupy different areas of the dining hall and establish their own identities, allowing the marketplace to feel diverse in its character and offerings," says Ted Doyals, FCSI, principal, Ricca Design Studios, who works from the Dallas-Fort Worth location.
Food deliveries arrive at an underground loading dock. Staff move halal-certified ingredients to a designated storage area containing a walk-in cooler, a walk-in freezer and dry storage. Retail food products are kept in a separate storage space with a walk-in cooler and dry storage.
For the small amount of back-of-the-house mis en place food prep that occurs, staff use a double-deck convection oven, two combi ovens with smokers, a tilting skillet, a tilting kettle and a rice cooker. Two pass-through heated cabinets keep food warm before staff take it to stations. Pass-through refrigerators allow customers to see the ingredients culinary staff use for menu preparation.
An ice machine and bin also sit in the back of the house, as well as a pot and dishwashing area containing a food waste collector, a rack conveyor dishwasher and a glass rack dolly.
The warewashing and dish-drop window are conveniently located adjacent to the dining room but out of view of the seated guests. Silverware chutes and a dish drop along the corridor allow guests to drop off their soiled wares prior to exiting the building and dining areas. "A dish accumulator or conveyor transports soiled wares to staff members at the scrapping station, who sort wares into racks and prerinse prior to sending the racks to a conveyor-driven dish machine," Doyals says. "A blower/dryer and gravity rollers on the clean side allow racks to dry before they are unloaded, stacked, or sorted into clean storage carts and shelving."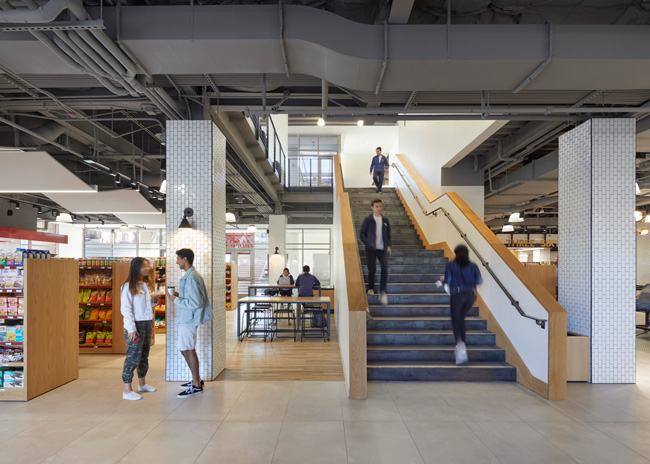 The opening of the interior stairway provides added natural light to the first-floor facility and study space access on the second floor. Display shelving holds retail products.
Menu Offerings
An important part of the design, food education focused on everything from food prep to the final plate appearance. "Allowing these venues to be viewed from 360 degrees was a challenge, and finding the right equipment to support this visibility from a function, safety and health perspective was essential," Kracke says.
The food hall and marketplace showcase and educate the student population on the ingredients in menu items, sources of food and how staff prep it. "All of the food venues are entirely open, with the back-of-the-house kitchen turned inside out, and preparation areas on display and the cooking in full view," Palmer says.
Part of the education includes conveying the message that Canyon Vista Marketplace is one of the top three contributors to an increase in plant-forward protein purchases in the residential dining facilities. The new dining facility showcases UC San Diego's latest dining initiative, Rooted in Flavor, which focuses on sustainable, healthy and thoughtfully crafted meals. The initiative is inspired by Menus of Change, a concept created by The Culinary Institute of America and the Harvard T.H. Chan School of Public Health. Dining goals include increased seafood and whole grain options as well as reduced amounts of beef. "By providing nutritious, delicious and environmentally sustainable food options, the aim is to show how small choices make a big difference," says Vaughn Vargus, HDH senior executive chef.
When designing the menus that offer customers myriad choices, Vargus prioritizes fewer processed ingredients, while still focusing on delicious taste and full flavor. "If I wouldn't feed the menu items to my family, I wouldn't serve them to students," he says. "We were originally leaning toward more vegetable-forward recipes because of Rooted in Flavor, so when we decided to make Canyon Vista completely halal, it wasn't difficult to make that transition at all."
Menu selection began in 2018 when student dining ambassadors gathered student feedback via focus groups and tasting sessions in campus restaurants. The culinary team reviewed student comments and incorporated their responses into the menu development process. "We cross-promoted Canyon Vista Marketplace at our existing restaurants to encourage students to visit the renovated facility," Palmer says. "In addition, we presented and offered menu tastings to our department staff and campus colleagues, partners and organizations, including the university's marketing council."
Frozen display cases hold retail products. Digital signage explains emphasis on Rooted in Flavor menu items. Photo by Dave DeCaro
Front-of-the-House Platforms
The servery was sized to consider space for queuing at stations and traffic between platforms. Serving platforms are large enough to provide properly sized equipment for high-volume dining. The use of heavy-duty equipment increases throughput at each platform and, combined with efficient workstation design, also offers opportunities for menu enhancements and reduced labor cost. "Display cooking is the focus of the design, with equipment selection that allows for menu flexibility, easy concept change-out, and maximizing merchandising of fresh food and cooking techniques," Doyals says.
Serving counters throughout the servery showcase engineered stone countertops supported by stainless-steel bodies with utility chases to house all the plumbing and electrical requirements. The backside of the servery includes additional refrigerated and nonrefrigerated storage components. "On the customer side, beautifully appointed finishes on all the exposed cabinet bases blend with the interior surrounding finishes," Doyals says. "The backline refrigeration and prep counters adjacent to the cooking components support the live preparation and topping, which is all visible to the guests during mealtimes."
Fusion Grill offers breakfast all day, as well as Rooted in Flavor-inspired bowls and grill favorites such as black bean burgers with sweet potato fries, shrimp burritos and fish tacos. Signature dishes include a mushroom and leek risotto base with an add-on protein choice, a spinach fettuccini pasta bowl with an add-on protein choice, tofu banh mi and grilled asparagus sides.
Equipment supporting the culinary staff at Fusion Grill includes a walk-in cooler, a small freezer, a countertop griddle, a salamander, a countertop charbroiler and a fryer battery.
Fresh, an upscale salad bar that HDH refers to as a garden bar, includes items such as ancient grains, in-house roasted and pickled vegetables, nuts and seeds, lettuces and herbs from grow towers on-site, proteins, composed grain salads and house-made dressings. "Produce butchers" replenish these items, says Clarke.
There is also a build-your-own scratch-made soup station and fresh-squeezed juices. Staff use a juicer and extractor to prepare signature selections including orange cucumber mint juice, watermelon beet salad and curried cauliflower soup. "Bright columns, a slotted back wall and glass-enclosed refrigerated storage help brighten the restaurant by maintaining sightlines with the floor-to-ceiling windows facing the canyon to the west," Clarke says.
The back-of-the-house culinary staff supporting Fusion Grill prepare soups, while front-of-the-house staff use a grinder, a juicer and a portion scale to prepare menu items and display them in myriad display units with wells and other shelving units. Fresh herb displays planted outside the Canyon Vista administration building sit in vertical hydroponic towers. Staff harvest them weekly for a variety of menu items. "We're trying not to let anything go to waste and emphasize a farm-to-table vibe," says Leo Acosta, assistant director of dining, HDH.
Three-Sixty features made-to-order Mongolian-style bowls with proteins, noodles, fresh locally sourced vegetables and grains as well as scoop-and-serve entrees and sides. A Mongolian barbecue range/grill offers customers a 360-degree view of culinary staff preparing menu items. Staff also use an island cooking suite with a flattop griddle and four-burner range with a convection oven and refrigerated drawers beneath to prepare ingredients. Signature Three-Sixty specials include an ahi or beet poke bowl, ramen bowls, orange cilantro salmon and build-your-own bowls.
Beverages, condiments and china stations, all strategically located throughout the servery and dining room, offer convenient, easy access for customers. However, their positioning prevents main circulation paths and queuing lines at serving platforms and seating areas. Beverage stations contain a carbonated beverage dispenser with an onboard ice maker, spa waters, juice, coffee and tea.
Earl's features a full espresso and coffee menu as well as smoothies and boba drinks made with milk and Thai tea. (Boba are the tiny, chewy black balls at the bottom of the drink made from tapioca.) The coffee station also features a bagel bar with a house-made sundried tomato and spinach spread as well as fresh pastry selections.
Earl's contains a dipper well, an ice cream freezer, a spindle drink mixer, a blender, a coffee brewer, an espresso machine, a tea dispenser and an ice bin.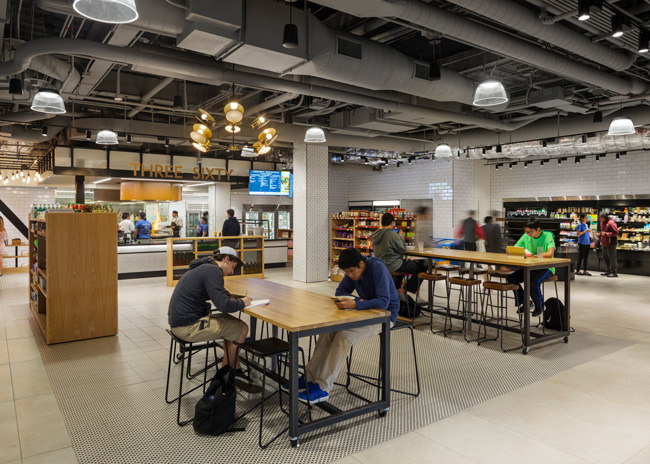 A variety of seating choices include built-in booths, high-top tables, and window and lounge seating.
Meeting the Mission
Students appreciate the one-stop destination for foodservice and retail products at the new facility, as well as the halal offerings. "A conversation I had with a Muslim student at the ribbon-cutting resonated the importance of this approach to inclusion," Palmer says. "She sees this new facility as a place of inclusion where she feels safe and welcome. That's what we hope for here."
Sustainable and Energy-Saving Features
Canyon Vista Marketplace design and build was awarded LEED Silver certification, continuing the university's mission to achieve sustainable buildings. Specific energy-related features include:
Right-sized cooking equipment under low-flow hoods reduces overall building energy needs
Low-water-use dish machines reduce overall water consumption
Energy-efficient building systems
Energy-efficient lighting
Energy Star-rated equipment was specified when available and appropriate to reduce both energy and water needs
Water conservation using low-flow plumbing fixtures
Fuel-cell system supplying electricity to campus microgrid
Low-volatile organic compounds and healthy building materials utilized for building components
Green-cleaning policy for all housekeeping measures
Specified materials with life-cycle analysis and material
Ingredient reporting
Purchased carbon offsets and renewable energy credits to offset the building's annual energy consumption
Accessibility to surrounding public transit
About the Project
Transactions: 3,100 per day prior to COVID-19; 1,425 per day as of fall 2020 with roughly 55% of undergraduates residing on campus
Hours: 7 a.m. to 1 a.m., Monday through Friday; 9 a.m. to 1 a.m., Saturday and Sunday
Menu concepts: Fusion Grill; Fresh (garden bar and soups); Three-Sixty (bowls, entrees and sides); Earl's (espresso bar, smoothies, Thai tea, bagel bar and fresh pastry selections)
Staff: 25 full-time employees; 120 student employees
Total project cost: $12 million (construction)
Equipment investment: $1.76 million
Opened: Oct. 30, 2019
Scope of project: A halal-certified residential dining facility with three food platforms and a cafe
Size: 21,500 sq. ft.
Seats: Nearly 200
Average check: $7
Total annual sales: $2.4 million
Website: hdhhome.ucsd.edu
Key Players
Owner: University of California San Diego: Housing, Dining and Hospitality
Executive director: Hemlata Jhaveri
Director of dining: Jeffrey Palmer
Assistant director of operations-dining services: Leo Acosta
Assistant director of business development & planning-dining services: Ralph F. Dauphin
Foodservices manager: Scott Spangler
Senior executive chef: Vaughn Vargus, CEC, CCE
Chef, Canyon Vista: Tiago Battastini, CCC
Senior dining project and planning manager: Tom Clarke
Architect: STUDIOS Architecture, Los Angeles: Ben Kracke, AIA, LEED AP, principal; Melissa Duffy, managing principal; Stephen Cornelius, associate
Interior design: STUDIOS Architecture
Foodservice consultants: Ricca Design Studios, Greenwood Village, Colo.: Ted Doyals, FCSI, principal; Nick Morales, director; Daniel Levinson, project manager; Jamison Day, project manager
Equipment dealer: Kamran and Co. Inc., Santa Barbara, Calif.
Construction: Balfour Beatty, San Diego, Calif.
Tiago Battastini, CCC, chef, Canyon Vista, HDH, UC San Diego. Tiago joined the university team in 2014. Born and raised in Brazil, he began his love of cooking around the family dinner table.
Tom Clarke, senior project and planning manager, HDH, UC San Diego. Clarke's foodservice management experience in colleges, restaurants and private resorts totals 40 years. He joined UC San Diego 25 years ago and has played integral roles in 15 dining facility remodels, major renovations and/or new construction projects on campus.
Stephen Cornelius, associate, STUDIOS Architecture. Cornelius joined STUDIOS in 2016. His work includes projects in dining, retail, student life and housing. Workplace project clients include firms in tech, entertainment and law.
Ted Doyals, principal, Ricca Design Studios, Greenwood Village, Colo. Doyals has 25 years of hands-on experience in the foodservice and retail grocery industries. His background encompasses all phases of foodservice design in corporate, hospitality, schools, healthcare, correctional, and colleges and universities. He also served as a designer/project manager in retail grocery.
Melissa Duffy, managing principal for the San Francisco and Los Angeles offices of STUDIOS Architecture. Duffy joined STUDIOS in 1998. Her projects include Nickelodeon's Burbank campus, multiple locations for Lyft, and academic and student life facilities for UCLA, UC San Diego and The University of Texas at Dallas.
Ben Kracke, AIA, LEED AP, principal, STUDIOS Architecture. Kracke joined STUDIOS 12 years ago, starting in Washington, D.C., and moving to the Los Angeles office in 2014. He became a principal in 2019. Recent projects include Eataly, Nickelodeon's Burbank campus and the renovation of Watt Plaza in Century City.
Nick Morales, director, Ricca Design Studios, Dallas-Fort Worth, Texas. Morales joined the firm five years ago. His 22 years of experience include CAD/programming experience, crafting and implementing new engineering standards and creating BIM content. In his current role, Morales translates 2D CAD documentation into 3D BIM renderings.
Jeffrey Palmer, director of Dining, HDH, UC San Diego. Palmer's experience spans 30 years in the food and beverage industry, including hotel dining management and operations, airport restaurants and concessions. He oversees 19 residential dining and market facilities.
Vaughn Vargus, CEC, CCE, senior executive chef, HDH, UC San Diego. Vargus began working in restaurants at age 14. He joined the HDH team in 2009. He competes in culinary competitions and administers competitions nationwide.
Floorplan Equipment Key
1. Trash chute
1a. Trash receptacle
2. Pickup counter
2a. Back counter
2b. Serving counter
2c. Trash counter
2d. Condiment counter
2e. Beverage counter
3. Dipper well
3a. Soup well
3b. Hot/cold drop-in wells
4. Ice cream freezer
4a. Undercounter freezer
4b. Undercounter refrigerator
4c. Glass door pass-through refrigerator
4d. Walk-in cooler
4e. Merchandiser refrigerator
4f. Merchandiser freezer
4g. Freezer evaporator coil
4h. Walk-in freezer
4i. Cooler evaporator coil
4j. Air curtain
4k. Walk-n cooler
4l. Refrigerated equipment stand
4m. Reach-in freezer
5.Spindle drink mixer
5a. 20-qt. mixer
5b. Mixer stand
6. Ice bin
6a. Ice maker
6b. Ice caddy
7. Blender
7a. Blender container rinser
8. Coffee brewer
8a. Espresso machine
9. Water filtration system
10. Microwave convection oven
10a. Conveyor toaster
10b. Combi oven w/smoker
10c. Double-deck convection oven
11. Drop-in hand sink w/soap and towel dispenser
11a. Mop sink
11b. Wall-mount service faucet
11c. Prerinse faucet
11d. Hand sink
11e. Service faucet
11f. Soak sink
12. Load center
13. Cold pan
14. Knock chute
15. Grinder
16. Vertical food shield
16a. Food shield
17. Cup dispenser
17a. Flatware holder
17b. Condiment dispenser
17c. Water dispenser
17d. Ice dispenser
17e. Soda/ice dispenser
18. POS system
18a. POS printer
19. Ambient display case
19a. Refrigerated display case
19b. Refrigerated grab-and-go case
19c. Mobile end display
19d. Produce display
19e. Low-temp, self-service merchandiser
19f. Refrigerated self-service case
19g. Refrigerated self-service display case
20. Market shelving display
20a. Bus tub shelving
20b. Clean dish storage shelving
20c. Chemical storage shelving
20d. Glass rack shelf
20e. Pot and pan shelving
20f. 3-rail shelf
20g. Double wall shelf
20h. Frozen storage shelving
20i. Cooler storage
20j. Dry storage shelving
20k. Single wall shelf
20l. High density shelving
20m. Heated drop-in deck
20n. Single-tier overshelf
21. Lug rack
21a. Dunnage rack
21b. Hose rack
21c. Mat rack
21d. Compressor rack
21e. Soda box storage rack
21f. Pot rack
22. Butcher block island
22a. Soiled dish table
22b. Clean dish table
22c. Desk
22d. Worktable w/sink
22e. Worktable
22f. Refrigerated prep table
23. Juicer
24. Portion scale
25. Drip trough
25a. Floor trough w/grate
26. Soda system conduit exit
27. Corner guard
28. Food waste collector
28a. Scrap collector
29. Rack conveyor dishwasher
29a. Vent duct
Dish machine
30. Trench drain
31. Glass rack dolly
32. Wall flashing
33. Soap and towel dispenser
34. Service cart
34a. Pan rack cart
35. Time clock and kiosk
36. Fire suppression system
37. Heated pass-through cabinet
37a. Undercounter hot cabinet
38. Food processor
39. Exhaust hood
39a. Hood control panel
40. Tilting skillet
41. Tilting kettle
42. Rice cooker
43. Rice warming drawer
44. Mongolian barbecue range
44a. 6-burner range
45. Wood cutting board
46. Ingredient bin
47. Slicer
48. Cooking suite with flattop griddle and four-burner range with a convection oven and refrigerated drawers beneath
49. Office chair
50. Key box
51. CO2 tank
52. Carbonator
53. Countertop
charbroiler
53a. Salamander broiler
54. Countertop griddle
55. Fryer battery w/filter
55a. Dump station
55b. Spreader