Blueprint on 3rd, Birmingham, Ala.
Dean Robb and Jim Keet set out to open a new restaurant in Birmingham, Ala., back in 2017. The new partners, who met while working at Taziki's Mediterranean Café, looked at 25 locations before finding the right spot.
"One day, we saw an old building that was absolutely charming and perfect for our needs," Robb says. He contacted the landlord, Cathy Sloss Jones, who immediately met with the duo. "Within an hour of meeting with Cathy, we knew this would be the perfect location."
The building, constructed in 1948 and previously the headquarters of Birmingham Blueprint Company, is located off 3rd Avenue South. The owners weaved the location into the restaurant's name: Blueprint on 3rd. The American brasserie-style restaurant sits near The Market at Pepper Place, one of the largest farmers markets in the state.
Just as Blueprint on 3rd was about to celebrate its second anniversary and success, the COVID-19 pandemic arrived. The restaurant closed March 16 and reopened for curbside service on May 6, then reopened with COVID-19-related new guidelines on June 10.
"We did offer takeout before, but it was less than one percent of our business model," Robb says. "We furloughed our entire staff — except for the chef and myself, and we took 30% wage cuts." Most of their days were spent researching the Paycheck Protection Plan and submitting all the necessary information and then meeting with creditors, landlords and bankers to set up terms among all the parties involved. Robb took out an emergency loan with no interest or payments for 12 months. PPP will pay labor, rent, utilities and interest expense for two months, Robb says, "and then we are back out on our own. We're always looking forward to new challenges, as long as everyone is safe.
"We brought our kitchen staff back first to practice curbside service and train for it," Robb says. "We know we will lose seating when we reopen fully and will need a supplemental plan for bringing in revenue." In late May, the staff returned for retraining.
Blueprint on 3rd features American food with a New Orleans influence. "The main mission and objective behind this concept was to create a dining experience where guests can get high-quality, white-tablecloth food in a comfortable, casual environment with reasonable prices," Robb says. "A lot of people from Birmingham drive or take the train to New Orleans and love that city's style of food, so we wanted to bring these flavors and style of cooking to them here."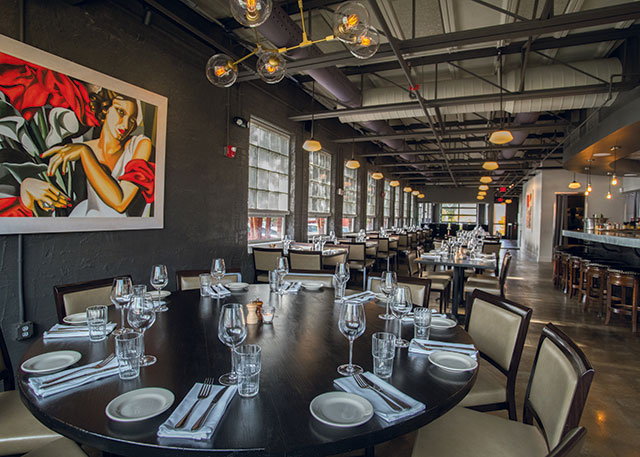 Guests can enjoy seasonal, local dishes and cocktails in the industrial art deco dining room and at the zinc-top bar.
The restaurant does not define a dress code and instead welcomes guests whether they arrive wearing suits from work, special-occasion attire or even casual tennis outfits. Dining options include the main dining room and outside patio as well as a private room for functions.
To differentiate from nearby high-end restaurants, Blueprint on 3rd prices entrees from $14 to mid-$20, which helps to attract a more diverse customer base, including families. Robb and executive chef James "Huck" Huckaby keep costs as low as possible by purchasing seasonal products. "I will trade a point of food cost for a point of labor cost every day," Robb says.
Customers can sit at the full-service bar and watch the activity throughout the restaurant.
The partners signed the lease in June 2017, and workers started to gut the space in December. Construction started in February 2018, and the restaurant opened in June 2018. "The restaurant is a little off the beaten path to offer lunch, and parking is limited," Robb says. "At night we use parking space for a building that is closed at night. Of course, we will open for catered events during the day if we're asked to by guests."
Robb and his wife, Jenny, traveled to New York, New Orleans and Chicago in search of interior design elements to complement their desired aesthetic. "The aesthetic project goal was to preserve the integrity of the 1920s building and keep it timeless to fit the period of the infrastructure and surrounding area in the historic Sloss Furnace precinct," Robb adds. "This was done by using design, decor and features that are industrial art deco."
In Chicago, they found retro schoolyard lights and a zinc-topped, horseshoe-shaped bar that became the focal point in the dining room. "The bar promotes customer interaction between guests at the bar because it is easier to see and talk with one another instead of at a traditional straight bar," Robb says.
"My mission for the project was essentially to create a timeless architectural dining space without overcomplicating the details and to keep it simple," says Tom (Chung Kai) Hsu, owner of CKH Architects in Birmingham. "The highlight of the project for me was when everything started to really come together with the millwork, lighting, finishes and bar counter, and I could tell that Dean and the team were able to see their vision materialize."
Glass walls separate the main dining room from the private dining room.
The designers preserved the building's original windows to maintain the historical integrity of the building. Window panes were replaced to add to the industrial art deco styling and increase the natural light penetrating into the dining area.
A polished concrete floor, exposed ceiling joists, acoustical tile and the original concrete slab ceilings add to the aesthetic. The art deco color palette includes bronze, gray and pops of red. Exterior and interior walls were finished with painted brick. For the private dining space, a glass wall system allows staff to close off an area of the dining room. This helps define a space for private parties and can also make the dining room feel more intimate during slower nights at the restaurant. Likewise, it allows staff to expand the space and maximize seating capacity for weekends. "The walls allow for the flexibility to change from a 60-seat to a 94-seat restaurant," Robb says.
Another notable interior feature: artist Andreas Loboda's hand-painted reproductions of artwork from the art deco era, imported from Poland. Strategically placed pin lighting accentuates the artwork.
Workflow and Production
"The workflow was of paramount importance, and it works very well," Robb says. "Staff walk into the L-shaped kitchen, drop off dirty dishes, turn right to pick up new orders, then walk immediately out to the waiter aid station, pick up drinks from the bar and move back into the dining room. This efficiency prevents bottlenecking at doorways. Saving waiters steps gives them more time to spend at the tables and be present to the customers."
Shelving holds plates and other dishes to give staff easy access. Photo by Jenny Robb
Storage drawers at left help staff to efficiently prepare ingredients at the hot cookline at right. When customers enter the restaurant, the large U-shaped bar captures their attention. The kitchen sits directly behind the bar. "We chose this location for the kitchen because of large garage doors on the left side of the building," Robb says. "We purposely placed the kitchen directly behind the bar to help with workflow."
One of the main project goals was to build a high-performance kitchen. "The three highlights of the kitchen are flow, flow and flow," says Neil J. Ross, senior project manager/design build, for Bresco, a foodservice equipment supplier in Birmingham. "This kitchen was designed to maximize space and productivity and minimize steps and crossover."
Customers do not have a view of the kitchen. "We didn't want an open kitchen," Robb says. "There's so much to see in the dining room and on the tables with the food and at the active bar scene. Seeing the kitchen doesn't add to the romanticism."
Convection ovens support the culinary staff's production of multiple menu items, including spicy baked oysters, cast iron skillet pimento cheese and desserts. Photos by Jenny Robb
Menu Preparation
The office for managers sits adjacent to the service entrance and kitchen so they can see the entire preparation process from deliveries to menu item completion.
Food deliveries arrive at the restaurant's back door. Staff place items into dry storage, supply storage, a walk-in cooler and a double-door freezer specifically for shrimp and sorbets. "The dry storage and walk-in cooler are at the apex of an L-turn in the kitchen, so all the food and serviceware is accessible to staff from both the cold and hot line, which minimizes crossover," says Ross. "It's a very efficient kitchen throughout."
Flexible purchasing practices allow the chef to change the menu with the seasons but also during each week depending on the products the restaurant can buy at the best price. Using European-style preparation, culinary staff use all the parts of every ingredient purchased for the menu. Ingredients that don't become part of the center of plate dish or a side dish become part of a stock or soup. "I've never visited the restaurant when a stock pot isn't cooking," Ross says. "And the place is spotless."
"We keep our inventory very low," Robb says. "We buy local seasonal foods, so we don't prep days in advance. If you're having someone for dinner, you don't serve leftovers and we don't do that here. Our goal is to run out of most food by day's end."
The cooking suite enables staff to produce myriad menu items using many different cooking techniques.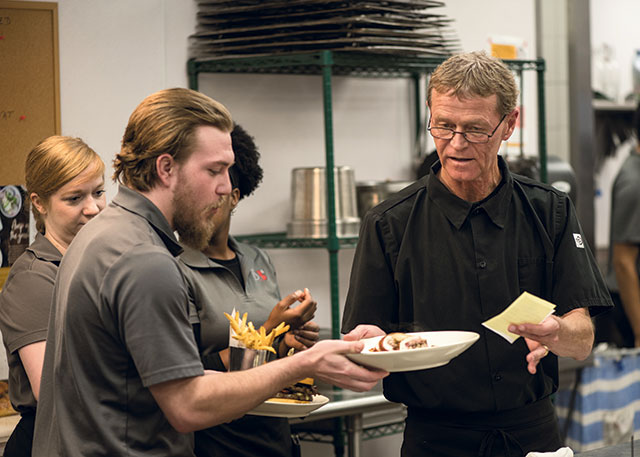 Staff ensure every preparation detail is perfect.
In the cold prep area, staff can use sink covers to convert the three-compartment prep sink into horizontal prep space. Removable splashguards give staff flexibility to pivot from prep tasks to plating tasks. Staff use the covers when they plate desserts and salads. Because this prep area sits right behind the garde manger area, staff can continually cycle food through and avoid bottlenecks for food plating.
A cooking suite with a 12-burner open range sits in the front of the kitchen, where staff prepare fried bologna carbonara, classic beef stroganoff, New England-style chowder, chicken breast, duck breast, rabbit and pork shoulder.
"The cooking suite makes it possible to produce virtually any menu item using any technique," Robb says. "There is a balance of which entrees utilize which pieces of equipment in order to keep orders from overwhelming any one piece of cooking equipment. There are no computerized controls on the equipment, which reduced acquisition costs and costs of repairs and maintenance," Ross says.
Staff prepare a house-cured salmon appetizer, roasted winter vegetable plate, fish of the day and beef tenderloin on the charbroiler. They use a griddle on a refrigerated base to cook the pork belly appetizer, surf-and-swamp entree and the signature Blueprint burger, and use fryers to make a calamari appetizer and Southern-fried catfish entree.
In the double convection oven, staff prepare spicy baked oysters, Magic City mushrooms, cast iron skillet pimento cheese, cornbread baskets and desserts including chocolate pecan brownie, warmed cinnamon spice cake and white chocolate bread pudding.
A reach-in freezer holds desserts such as ice cream and sorbets, while a reach-in refrigerator contains creme brulee and four different types of salads offered each evening.
"Because the concept is a la carte and a la minute, there is adequate cold holding and very little hot holding space," Ross says. A hot food well holds steamed potatoes and grits. Staff use food warmers and heat lamps on the main line primarily as plate warmers. "Food that is ready for service doesn't sit long at all, and the warm plates help keep it at the perfect temperature," Robb says.
Staff deliver hot food as quickly as they can, but Robb insists that servers do not rush to the customers. "One of my favorite exercises for our team is to time themselves running through the dining room, which takes about four seconds," he says. "Then they saunter, which takes about nine seconds. Customers feel so much more comfortable when servers aren't running through the space. These details are so important."
Sustainable Practices and Driving Efficiency
The restaurant was repurposed in a historical building. "We did not have to design or build the foundation, floor, walls or roof structure, so we realized great savings in materials, labor and fuel/energy costs because these elements were in place," Ross says. LED lighting is used where appropriate. Refrigeration equipment is Energy Star rated. The restaurant recycles oil and contains low-flow faucets. Robb and Huckaby visit farmers markets several times a week to find fresh ingredients. A seasonal menu minimizes food waste.
Robb uses extensive management reporting and analyzes data on a daily and weekly basis to help identify any patterns in food pricing and receiving that might necessitate purchasing adjustments by the chef. The data also provides historical data for planning purposes and provides information that the owners and executive chef use to adjust the menu. This helps them to utilize foods on hand, keep proper inventory and suggest necessary pricing changes in order to keep the menu balanced.
"Menu analysis also helps identify food cost issues," Robb says. "If you are selling a lot of a particular product, perhaps it isn't priced to show its true value and the price should increase. This helps encourage diners to try other items on the menu and helps to keep the kitchen from getting overwhelmed cooking the same few dishes repetitively."
The project design team also took a hard look at equipment purchases with an eye toward the bottom line. "We chose to buy new equipment over used equipment in order to get warranties," Robb says. "I also only work with people I trust who are experts in their field."
Funding supported items Robb considered an investment instead of an expense. "My design-build team was a great asset in considering return on investment for every decision made," he says. "For example, I spent a lot on tabletops because I didn't want linen tablecloths that are expensive to clean. The tables paid for themselves in 11 months." He also considers the flexibility to use the dining room as one large space or divide it by glass walls for private functions a long-term investment well worth the cost of the glass walls.
Training employees is another investment rather than an expense Robb considers essential to the restaurant's success. "Turnover is really expensive, so retention of employees is an investment," he says. "Restaurant operations are not a one-man show, it's a theater production. Employees are our most valuable asset."
Employee Development in 4 Steps
Blueprint on 3rd takes a four-step approach with employees as they transition from newbie to more tenured staffer. "Our goal is to get them to step number four and retain them for years," says Dean Robb, co-owner of Blueprint on 3rd. Here, he defines each step.
Unconscious incompetence This is every new employee. "In short," Robb explains, "you don't even know what you don't know yet."
Conscious incompetence While still definitely not fully trained, employees reach this step when they at least know when to ask questions.
Conscious competence This is the point when employees have the knowledge and training to complete a successful service, but they have to pay special attention to avoid mistakes.
Unconscious competence When employees reach this step, they know their job well, and it becomes second nature. "You see this with cooks who can bang out food without seeming to try," Robb says, "or waiters, who start making more suggestions to patrons, thus balancing the menu and resulting in higher ticket prices."
---
Facts of Note
Opened: June 19, 2018
Scope of project: A complete build-out and renovation of an existing 1940s building into a polished-casual American brasserie
Total annual sales: $2.1 million
Website: blueprinton3rd.com
Size: 4,286 sq. ft.
Seats: 94 indoors, 18-seat bar; 34 on patio
Average check: $60 per person
Daily transactions/covers: 125
Hours: Mon. through Sat., bar, 4:30 p.m. to closing; foodservice, 5 p.m. to 10 p.m.
Menu: Daily seasonal menu with a southeastern/New Orleans influence
Staff: 40 employees
Total project cost: $1.1 million-plus landlord tenant improvement (plumbing, grease traps, roof, etc.)
Equipment investment: $220,000 kitchen and bar
Furnishings investment: $41,000 dining room tables and chairs
Key Players
Partners: Dean Robb and Jenny Walls Robb, operating partners; Jim Keet, business partner; Charles Collat, investor
Executive chef: James Huckaby
Architect: CKH Architects, Birmingham, Ala.: Tom Hsu, owner
Interior design: CKH Architects: Tom Hsu; Monika Parker, interior designer; and Jenny Walls Robb from Blueprint on 3rd
Foodservice design consultant: Birmingham Restaurant Supply Inc. (Bresco), Birmingham, Ala.: Neil J. Ross, senior project manager/design build
Equipment dealer: Bresco
Construction: Murray Building Co., Birmingham, Ala.
Tom Hsu, CKH Architects PC. Hsu started the firm in February 2000. Prior to going out on his own, he worked for AXIS/GFA Architecture + Design, WBA Architecture, and Robinson + Hsu Architecture. Other Birmingham, Ala., projects include Taco Mama restaurant projects, the Taziki's Mediterranean Cafe and Little Donkey, a Mexican restaurant.
James "Huck" Huckaby, executive chef. After trips abroad, Huckaby returned to Alabama to connect with Blueprint. Previously Huckaby also worked with Frank Stitt as chef de cuisine of Highlands Bar & Grill and Chez Fonfon, both in Birmingham. His food comes with a little New Orleans twist.
Jim Keet, president and CEO, Blueprint on 3rd. In addition, to Blueprint on 3rd, Keet and his sons opened Petit and Keet, and Taziki's Mediterranean Café, both in Little Rock, Ark. Taziki's grew to 11 restaurants. Keet's other affiliations include Maxie's of America Inc., Rally's Inc., Guesthouse International LLC and Barnhill's Buffet.
Dean Robb, operating partner, Blueprint on 3rd. Early in his career, Robb worked with James Beard Award winner Frank Stitt as operating partner with Bottega Restaurant and Bottega Café in Birmingham, Ala., and Watermark and Miro District in Nashville, Tenn. When he served as vice president of operations at Taziki's Mediterranean Cafe, back in 2012, he met Jim Keet, who was then CEO of the chain. The two eventually partnered to create Blueprint on 3rd.
Jenny Walls Robb, operating partner, Blueprint on 3rd. Robb focuses on front-of-the-house hospitality. Growing up in Birmingham, Ala., she was influenced by the traditional Southern warmth and welcome, and a love of gathering at a table to break bread among family
and friends.
Neil James Ross, senior project manager, design/build, Birmingham Restaurant Supply Inc. Ross joined the firm in 1989. Previously he held positions as owner, general manager and executive chef at Down Under Restaurant in Huntsville, Ala., procurement officer for the Royal Australian Navy (working out of the embassy in Washington, D.C.) and operations manager for Redbank Plains Hotel in Queensland, Australia. He was FE&S magazine's DSR of the month in May 2006.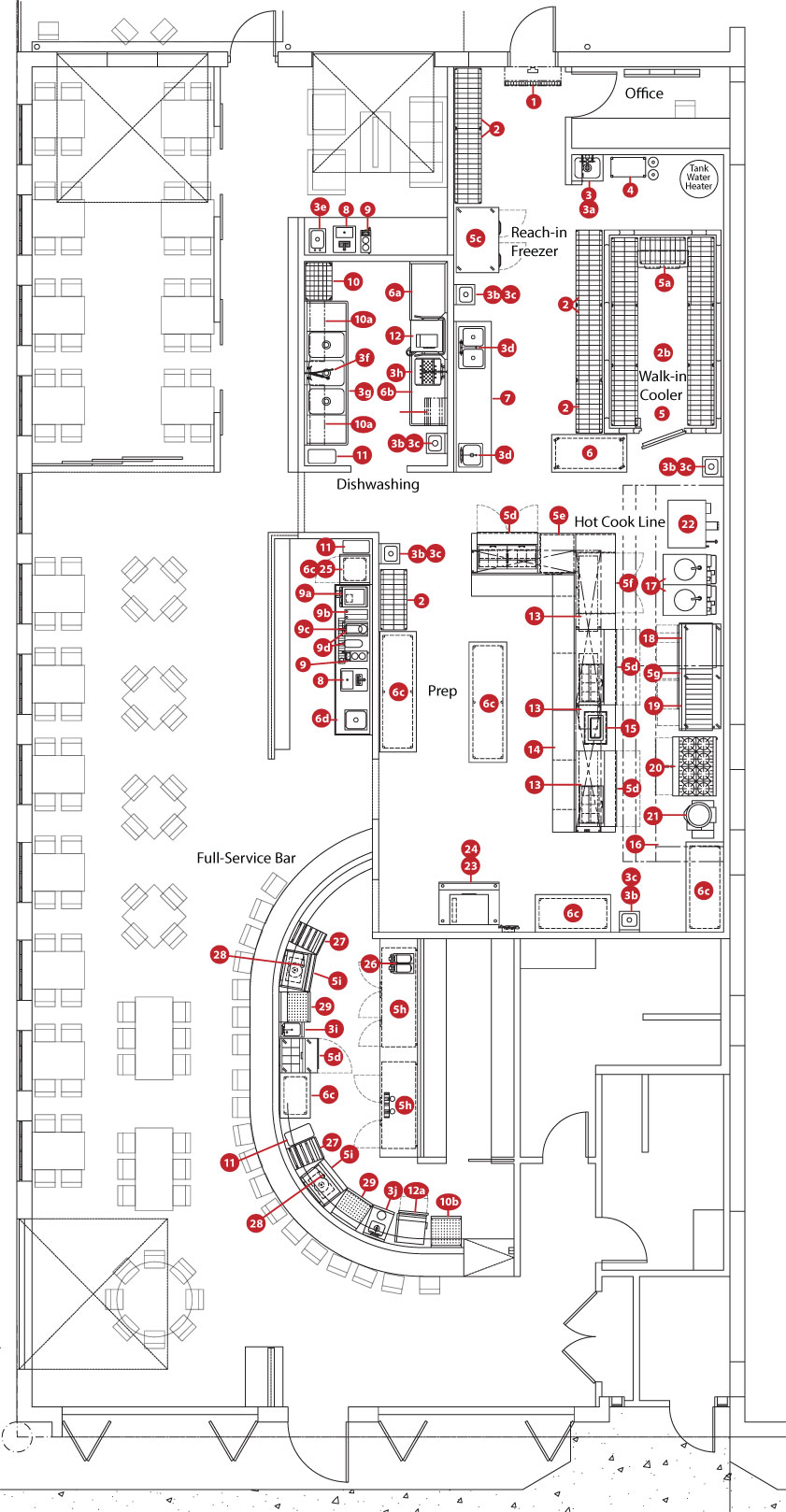 Floorplan Equipment Key
1. Air curtain, unheated
2. Dry-storage shelving
2a. Dish sorting shelf
2b. Walk-in shelving
3. Mop sink
3a. Service sink
3b. Wall-mounted hand sink
3c. Wall-mounted faucet
3d. Deck-mount faucet
3e. Drop-in sink
3f. Prerinse unit with add-a-faucet
3g. Three-compartment sink
3h. Prerinse faucet
3i Underbar hand sink
3j. Underbar wet/dry dump sink
4. Bag-in-the-box system
5. Walk-in cooler
5a. Cooler evaporator
5b. Cooler condensing unit
5c. Reach-in freezer
5d. Sandwich, salad prep refrigerator
5e. Undercounter compact freezer
5f. Undercounter freezer
5g. Refrigerated equipment stand
5h. Backbar cooler
5i. Underbar ice chest w/speed rail
6. Mobile worktable
6a. Clean dishtable
6b. Soiled dishtable
6c. Worktable
6d. Beverage table w/enclosed base
7. Prep table w/sinks
8. Ice & water station
9. Coffee brewer
9a. Espresso machine
9b. Coffee grinder
9c. Iced tea brewer
9d. Tea dispenser
10. Dish-drying rack
10a. Wall-mounted pot rack
10b. Glass rack
11. Trash container
12. Dishwasher
12a. Glass washer
13. Food warmer, overhead
14. Chef's counter w/double overshelf
15. Drop-in hot wells
16. Exhaust hood w/fire suppression system
17. Gas fryer
18. Countertop griddle
19. Countertop charbroiler
20. Eight-burner range
21. Tilt kettle
22. Convection oven
23. Ice maker
24. Ice bin
25. Countertop refrigerated display case
26. Frozen beverage dispenser
27. Underbar liquor display
28. Soda gun
29. Underbar filters & drainboards