Melotte Marketplace at Lambeau Field
Prior to the Green Bay Packers kicking off football season last year at Lambeau Field, the foodservice team was hard at work creating a new fan food experience. Called Melotte Marketplace after its sponsor, local meat processing and wholesale distributor Melotte Distributing, the foodservice offering includes six upscale concession stands in an open-concept environment.
Housed on the fourth level and serving premium ticket holders in suites and club seats, Melotte Marketplace complements the grab-and-go stands at Lambeau Field. Both were part of Lambeau Field's multiyear concourse renovation project. "While marketplace concepts have been created in the past, no one has done them on the scale that we've done here and certainly not at any NFL stadium," says Charlie Millerwise, director of development and hospitality for the Green Bay Packers. "The marketplace was a major undertaking considering we took the entire club level plus six other stadium locations and made them all self-checkout.
"The marketplace is a stark contrast to the prerenovated foodservice consisting of one large concession stand," says Millerwise. "We flipped that around. Fans come in here and shop and have a much wider array of food options than ever before. Wait times decreased considerably."
The remodeled concession area features a showcase kitchen with various stations, including a noodle bar, a dessert and gelato bar, and a hot drink venue. Customers can also grab a packaged beverage from self-serve coolers.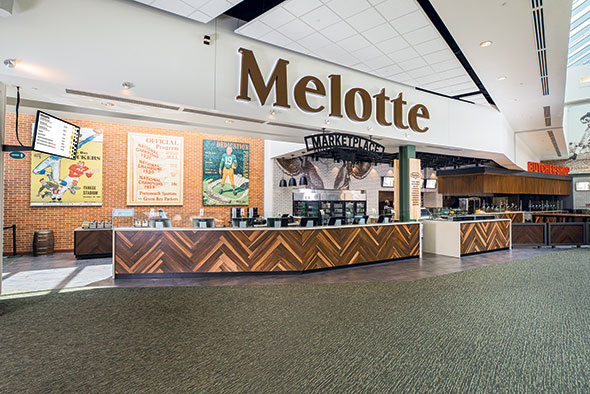 Melotte Marketplace welcomes premium ticket holders into a foodservice environment at Lambeau Field.
"By replacing outdated belly-up-style concession stands with top-notch experiences for fans in a food and beverage space, they also expected to add more flexibility and showcase kitchen amenities," adds Matthew J. Schachtner, NCARB, AIA, president and principal in charge, Somerville Architects/Engineers, Green Bay, Wis.
To tie in to the existing aesthetic and introduce some new elements that will extend into future renovation phases, the design team selected materials such as heat-resistant, zero-porosity ultracompact solid surfaces for the foodservice counters under the heat lamps. Wood-grain porcelain tile in a herringbone pattern adds durability, visual warmth and extends use in adjacent exterior spaces exposed to environmental extremes. Cream-colored, glazed, thin brick tile contrasts with the dark copper-toned metallic finish under the cooking hood area. The brick is a nod to the team's connection to Milwaukee, dubbed the Cream City because of the tint of the soil and local clay there. The Green Bay Packers have a strong connection to the city — located 120 miles from Green Bay — and the team once played a portion of its home schedule there.
Cooking that once took place in the back of the house now sits on full display in the front of the house. This greatly improves the product integrity and perception, Millerwise says. Guests enjoy seeing culinary staff prepare fresh food right in front of them. "Instead of being handed a prepackaged hot dog or burger, guests are handed their food directly off the grill," he explains. "This has proven to be transformative, truly a game changer."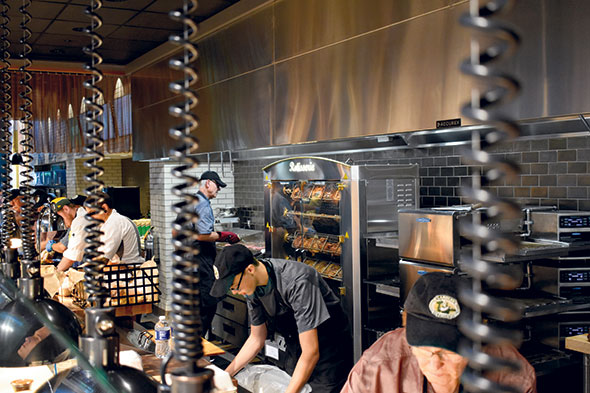 Guests watch culinary staff cook at Butcher Shop.
The New Culinary Environment
The new foodservice setup allows the culinary team to prepare menu items never before offered at Lambeau Field, says Dustin Anderson, general manager, Delaware North Sportservice, Lambeau Field/Titletown District. Delaware North, based in Buffalo, N.Y., manages food and beverage operations at stadiums, entertainment venues and more around the world.
One previously renovated area was the main kitchen, where staff prepared the majority of game-day hot foods. As the space began to reach capacity, the idea came about to expand hot food equipment in the main kitchen to support a new front-of-the-house, open-concept dining solution.
"With stadium foodservice evolving from roller grills and cooking and holding food well ahead of serving it, the new reality is that guests want to see their food cooked fresh, in front of them, and be able to choose from multiple options," says Anderson.
"Everybody says they want healthy," Anderson says. "But I can tell you that's not necessarily the case. Healthy and fresh is sometimes a perception, and most of our fans are still coming for brats, cheese curds and ice-cold Miller Lite. But this really gave us the capabilities to create a concept offering a shopping experience like you find at Eataly in New York and Chicago rather than a traditional concession experience."
A tilting skillet, fryers and griddles are among the back-of-the-house kitchen equipment supporting all foodservice at Lambeau Field.
Delivery, Production and Service
After food arrives at a loading dock, staff use a freight elevator to transport it to the main kitchen on the fourth level, which supports all of Lambeau Field's foodservice operations. Staff place menu ingredients in a walk-in cooler, walk-in freezer and dry storage.
A few pieces of equipment were added to the main kitchen to support the adjacent Melotte Marketplace, including: six roll-in combi ovens, two griddles, six fryers, a tilt skillet, a blast chiller, work tables, six hot food holding cabinets and a large walk-in cooler.
Staff prepare hot food that supports the stations using two griddles, two fryers, a rotisserie oven and stacked conveyor ovens. The two blast chillers in the kitchen enable staff to quickly cool down hot food. Staff complete prep and transport menu items to the front-of-the-house action stations. "We have ample refrigeration at all the stations, so cooks don't have to leave their stations to replenish ingredients during service," Anderson says.
When guests walk into the marketplace, they select their food choices by looking at digital menu boards and glass food shields that display hand-written names of menu items. Guests approach a station containing their desired menu items. They watch culinary staff prepare the day's selections, ask for customized menu items or pick up menu items presented in a variety of compostable carryout containers. Guests either pay at self-checkout kiosks or the two staffed registers, which also accept cash. Custom lighting draws attention to the POS area.
Introducing a frictionless transaction approach to fans required an education period, Anderson says. "We were, however, pretty confident that once they understood the process and realized that instead of a two-and-a-half-minute wait time, they could shave this to 45 seconds, they would be very pleased. The feedback has been very positive."
Fryers, a flattop griddle, a rotisserie and convection ovens support production at the Butcher Shop.
Food Stations
At the noodle bowl station, guests select a bowl of pasta from a reach-in refrigerator and hand it to a culinary staff member. This staff member uses a hot bath to cook the noodles and then adds vegetables cooked on a flattop grill, plus a sauce. Staff also prepare made-to-order salads in this area.
The Butcher Shop action station contains two griddles, a three-deck conveyor oven, two fryers and a rotisserie oven. Menu items at this station include roast turkey sandwiches, barbeque beef brisket, sliced sausage hoagies, burgers, bratwurst, hot dogs and steak-and-cheese stromboli with Calabrese dipping sauce. "Staff will customize a dish to accommodate food preferences or allergies," Anderson says.
Menu items at Miller Lite Haus include a Polish sausage plate, a beer-braised pastrami sandwich, smoked cheddarwurst, bratwurst and Bavarian pretzels.
Heat lamps keep menu items such as the Polish sausage plate and smoked cheddarwurst, warm for pickup at Miller Lite Haus.
Customers select all items from a grab-and-go style counter in compostable containers. "We increased the heat level of the lamps, so they keep the food as hot as possible," says Brett Kroening, project manager/designer at The Boelter Companies, Waukesha, Wis.
A dessert section offers cakes and other fresh-baked goods, cookie sandwiches, gelato, gelato sandwiches and hot chocolate with or without liqueurs. A bank of backlit refrigerators contain beer, sodas, water and other beverages.
"Certainly this concept offers guests a lot more variety," Anderson says. "Just like at a good restaurant, we started by crawling with a limited menu. Then we started walking, then running and by the end of the season we were rotating specials. So, say when [the San Francisco 49ers] are in town, we'll make a seafood option, or we'll offer menu items geared toward the visiting team. This offers our fans a little variety, and for the folks who are in from out of town, they can order something that has a little bit of flavor of home."
"Delaware North has a lot of firepower to work with in this space, particularly in the Melotte Marketplace, due to its size and the fact that it is attached to the updated fourth-floor production kitchen," Kroening says. "This allows for an almost unlimited menu. Additionally, the concept provides excellent speed of service. This is key in providing quantity and quality of food to the fans as they need it. Enter the space, pick out what you want, exit to the self-checkout, and get back to the game; it's so smooth. If you would like something in particular, the culinary staff is just over the counter and there to assist. The system is really an awesome thing for the fan experience, and it drives revenue for the owner and operator."
Ventilation, Pot Washing and the Future
Exhaust hoods with demand-controlled systems allow for variable volume and reduce energy consumption. Designers installed a catwalk above the ceiling in the front-of-the-house space to provide safe access to the grease ducts for cleaning. "We had to provide cleaning access to grease ducts in the showcase kitchen without affecting the aesthetics of the space and accommodating a major building expansion joint running right through the center of the front-of-the-house foodservice equipment," Schachtner says.
Designers installed cleaning access to grease ducts in the showcase kitchen without affecting the aesthetics of the space.
All pot washing and cart washing takes place in the back-of-the-house kitchen. Staff transport items through designated passageways for optimal sanitation standards.
Since the renovation, throughput and revenue have increased 70%, Millerwise says. The marketplace and support kitchen also increased options for trade shows and conventions in the Lambeau Field Atrium. Revenue increased by about 40%, and transactions went up by more than 18%, Anderson says. After one season, fans are responding favorably to this game changer.
About the Project
Opened: August 2019
Size: 4,500 sq. ft.
Location: Fourth level of the stadium
Scope of project: Complete renovation of a concession-style foodservice area to create an open marketplace concept on the premium ticket holder-level of Lambeau Field in Green Bay, Wis. The space includes display cooking concessions, grab-and-go selections and self-service checkout.
Foodservice concessionaire: Delaware North Sportservice
Hours: On football game days, the building opens two hours prior to the game and staff serve food until the end of the fourth quarter. Hours vary for catered events.
Menu specialties: Stir-fry noodle bowl with Korean chicken skewer, bacon-wrapped turkey breast, steak sandwiches with bearnaise sauce, mini jalapeno brat corn dog, pastrami melt, chicken parmesan meatballs, Polish sausage plate, short rib poutine
Melotte Marketplace staff: 25 employees on game days
Website: packers.com/lambeau-field
Key Players
Owner: Green Bay Packers
Director of development and hospitality for Green Bay Packers: Charlie Millerwise
General manager, Delaware North Sportservice, Lambeau Field/Titletown District: Dustin Anderson, Lambeau Field/Titletown District
Executive chef: Heath Barbato, Delaware North
Vice president, operations: Tom Olson, Delaware North Director, brands and concepts: Eric Babcook
Architects and engineers: Somerville Architects/Engineers, Green Bay, Wis.: Matthew J. Schachtner, NCARB, AIA, president and principal in charge; Aaron Baumgartner, engineer
Design architect: Rossetti, Detroit: Kirk Phillips, NCARB, design lead
Equipment dealer: The Boelter Companies, Waukesha, Wis.: Brett Kroening, project manager/designer
Construction: Miron Construction, Neenah, Wis.: Rick Seeley
Aaron Baumgartner, PE, mechanical project engineer, Somerville Architects/Engineers. Baumgartner joined Somerville in 2012. Among his many jobs, he creates HVAC systems for buildings that help people feel at ease and comfortable.
Matthew J. Schachtner, NCARB, AIA, president and principal in charge, Somerville Architects/Engineers. Schachtner joined Somerville in 1998. He seeks to create spaces that work on a human scale. Another recent project was The Automobile Gallery in Green Bay, Wis.
Brett Kroening, project manager/designer, The Boelter Companies. Kroening joined the company in 2003. Another project includes Miller Park, home of the Milwaukee Brewers baseball team.
Charlie Millerwise, director of development and hospitality for Green Bay Packers. Millerwise oversees all food and beverage events at Lambeau Field, as well as daily operations at Titletown, a mixed-use development across the street from Lambeau Field. Before joining the Packers, Millerwise worked for Delaware North Sportservice.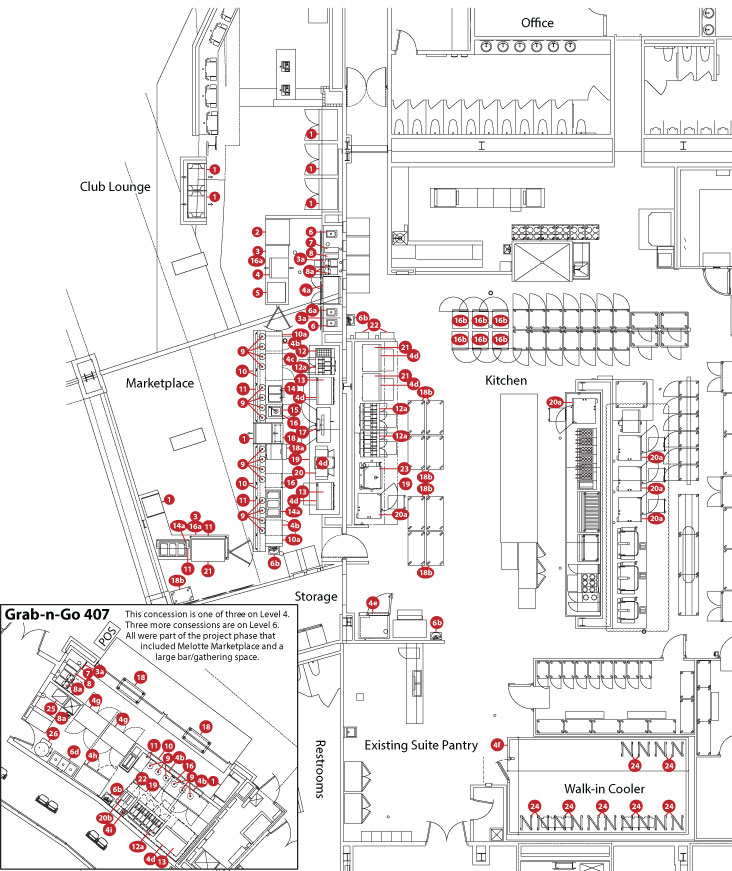 Floorplan Equipment Key
1. Refrigerated merchandiser
2. Gelato case
3. Countertop
3a. Millwork beverage counter
4. Refrigerated base
4a. Worktop refrigerator
4b. Undercounter refrigerator
4c. Undercounter freezer
4d. Refrigerated equipment stand
4e. Blast chiller
4f. Walk-in cooler
4g. Pass-through refrigerator
4h. Reach-in freezer
4i. Worktop freezer w/block top
5. Countertop dry case
6. Drop-in hand sink
6a. Drop-in service sink
6b. Hand sink
6c. Mop sink
6d. Three-compartment sink
7. Coffee maker
8. Cup and lid dispensers
8a. Hot beverage dispenser
9. Retractable heat lamp
10. Serving top; die wall
10a. S/s top w/leg supports
11. Food shield
12. Dump station
12a. Fryer battery
13. Griddle
14. Drop-in hot wells
14a. Drop-in hot/cold wells
15. Carving station
16. Undercounter warming cabinet
16a. Cabinet base
16b. Heated cabinet
17. Rotisserie
18. Worktable
18a. Refrigerated prep table
18b. Mobile worktable
19. Exhaust hood
20. Three-deck conveyor oven
20a. Combi oven
20b. Food warmer
21. Flattop grill
22. Fire suppression system
23. Braising pan w/drain drawer
24. Pan racks
25. Storage shelving
26. Water heater