Two new Yale Colleges, Benjamin Franklin and Pauli Murray, officially opened their doors in August 2017 after a three-year construction period.
Founded in 1701, Yale is the third-oldest institution of higher education in the U.S. The university's 70-year-old residential college system enables students to have a small-school experience within the larger Yale University campus. The buildings received the U.S. Green Building Council's LEED Gold certification.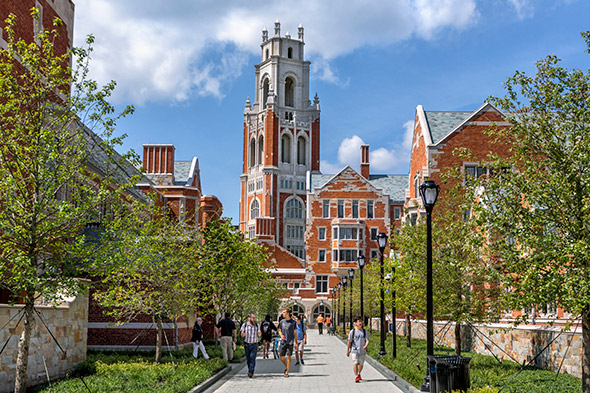 Photo by Peter Aaron/OTTO
"As we designed the new buildings, we climbed on the shoulders of architect James Gamble Rogers [who provided the design of 8 of the 10 original residential colleges built in the 1930s] and landscape designer Beatrix Farrand to show us the way, to inspire our reconciliation of the complicated patterns of modern student life with the demands of an urban campus," says architect Robert A.M. Stern, FAIA, senior partner of New York City architectural firm Robert A.M. Stern Architects. These and many other Yale buildings feature Gothic-style stone and brick.
"These buildings exemplify how we are respectful of Yale's history," says Rafi Taherian, associate vice president, Yale Hospitality. Taherian was one of the stewards of Yale culture who had a voice in the design process of the new colleges. "Yale's standard for building isn't for 50 years longevity — it's for 500 years, so we had to address the question of how you build something that will age but age gracefully and be stamped in history and architectural expression. Being part of this was an honor that one experiences once in a lifetime."
With the underlying goal to increase Yale University's undergraduate student population by more than 15 percent, this project became the first expansion of Yale's 12 colleges since the admission of women in 1969. Design began in 2008 on the two new residential colleges. During the lengthy planning process and delay due to the 2008 financial crisis, the dining concept went through changes as the architects altered their plans. Construction finally began in 2014.
When deciding how to approach the new residential colleges' dining facilities, Taherian says, "The mission was to create facilities that would become a catalyst for building community among our team members by integrating receiving, production, service and seating in a harmonious way. At the same time, we wanted to seduce our customers by evoking memories, promoting freshness and being visually stimulating to become an integral part of each student's education. The answer for us was to offer an a la carte dining experience in an all-you-care-to-eat operation."
Each college contains its own servery with a staging and open finishing kitchen and dining room. A kitchen two stories below supports the serveries with storage, staging, menu preparation space, minimal cooking equipment, dishwashing and cart wash areas.
"One of the original project objectives was to have the kitchen on the main level and a single 'floating' bridge servery for both colleges to share, connected by two independent dining rooms," says Adam Millman, senior director, Yale Hospitality. Millman's involvement with the project began in 2008 and continued until 2009 while he was working as regional manager of Cini-Little's New York office. He became involved with the project again in 2013 when he joined the Yale Hospitality team and put the operational plan into action.
"When we originally designed the facilities, the kitchen had been programmed as a full cooking facility that would supply the majority of the food for the serveries," Millman says. "But as planning progressed, the program shifted so the serveries feature all a la carte cooking. The serveries now have their own pantries and prep kitchens. The downstairs kitchen was designed mostly for staging, so the cooking equipment was kept to a minimum. However, the ductwork system was kept above the ceiling as originally designed, so we can go back to cooking in the kitchen if we want to."
Food Receiving and the Kitchen's Functions
Food deliveries arrive at a loading dock on the building's main level, which connects to a storage warehouse via an elevator to the floor below that contains cold and dry storage space. "Our receiving here is unique to Yale and cost-effective," Millman says. "Drivers are bonded, so they can deliver at 3 a.m. and other early-morning, nonpeak traffic times." Delivery drivers drop off pallets into a designated locked area on the opposite side of the entrance.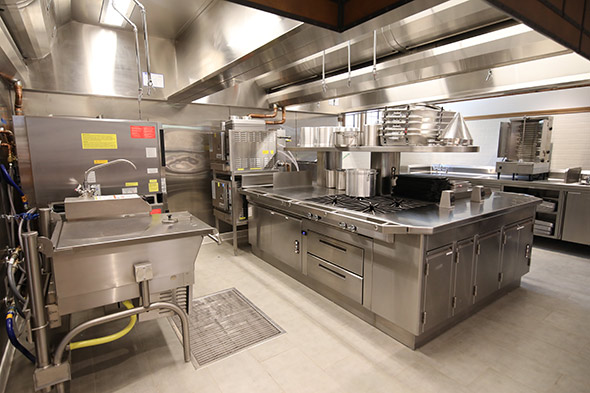 The cooking suite at Benjamin Franklin College contains a four-burner range, undercounter refrigerated drawers, vertical broiler, shelving, a flattop, fryer and steamer on the opposite side. A tilting braiser and the adjacent combi allow staff members to cook large quantities of stews, roasts and braised dishes to keep up with customer demand.
When staff arrive at 6:30 a.m., they work in a staging area kept at 50 degrees F, breaking down the pallets and placing food into a large walk-in cooler, walk-in freezer and dry storage. "Storage is a very intricate walk-in complex of doors connecting to doors connecting to walk-ins. There are pallet drop-off, pallet storage and pallet staging areas, so this is a very efficient way of receiving goods," Millman says.
Each morning, staff also place food that the culinary team will need for the day on various types of mobile carts. "Staff members know which food is needed as part of our integrated receiving and production model, which uses predictable analytics for on-demand purchasing, receiving and distribution," Millman says.
Elevators at Pauli Murray College connect the pantry and servery to the lower-level kitchen. Photos by Bob Consolatore Photography
Cooks from each servery come to the kitchen, pick up the carts and roll them to designated elevators at opposite ends of a corridor. Elevators transport the cooks and their carts up two stories to their respective serveries. Each elevator bank contains two designated elevators, one for food and clean dishes and the other for waste and soiled dishes.
"This storage system allows us to minimize the time we touch the food, how long it is in storage and overall inventory," says Gerry Remer, director of procurement, Yale Hospitality. "We also minimize the cost of deliveries and inventory and keep food as fresh as possible throughout the production process."
Kitchen staff use a food mixer, a food processor, a food cutter and slicers to cut vegetables, cheese and proteins. For bulk preparation, staff prepare stocks and ramen broth in two 30-gallon tilting kettles and slow-roast meats in cook-and-hold ovens.
The kitchen also contains a large scullery with a conveyor-type dishwasher and pot-washing sinks with agitators. The space design allows for high-volume processing, maximizing efficiency and minimizing staffing requirements.
In the kitchen, two conveyor toasters, ingredient bins and prep tables support meal prep.
"We run this very much like a hotel-style operation," says Dan Flynn, director of asset renewal and planned projects, Yale Hospitality. "From the beginning, our goal was to have a dish room that typically has peaks and valleys and operates at a constant pace. We increased the china, glass and silver inventory to create a system of washing for the next day versus the day of. We also increased the drying table to offer more staging space and reduce the amount of staff members needed."
A section of the kitchen is dedicated to clean trays and pans. Photos by Bob Consolatore Photography
Adjacent to the dishwashing area sit dedicated areas for washing, sanitizing and drying transport carts. Additional areas contain a floor scrubber, grease extraction systems, employee lockers, managers' offices and a laundry room for washing towels.
Designers also paid attention to the kitchen's aesthetics. The kitchen features natural light and food photography on the walls. "It was very important that the same level of detail was given to the back of the house as the front of the house, so team members feel excited and comfortable here in a lively space that doesn't feel like a basement kitchen," Millman says.
A la Carte, Interactive Serveries
On the dining levels, multiple elevators open to a small staging area that houses a reach-in and a roll-in refrigerator that holds a day's production; hot beverage equipment; prep tables; storage containers for menu items such as jams, peanut butter and milk; plus a soda system. The staging area also houses control panels for the exhaust hoods and water filters, and a dish drop area where the mobile carts sit.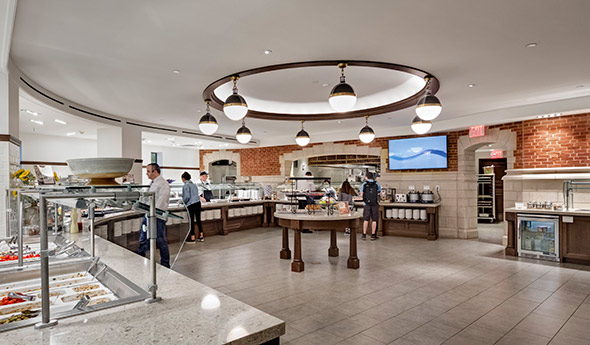 The center farm table and light fixtures around the circular cover ceiling at Pauli Murray College create a defining moment for circulation and provide a focal point. Photo by Peter Aaron/OTTO
Each servery contains most of the same equipment laid out slightly differently for the space allotted. "We had a finite space for serveries, seating and the kitchen below, so we had to creatively place equipment," says Theodore Farrand, FCSI, FMP, senior associate at Cini-Little, Germantown, Md.
Another challenge, adds Kurt Glauber, AIA, associate partner, Robert A.M. Stern Architects LLP, was coordination of the services necessary for the different stations and keeping all of these elements highly functional and at the same time invisible to the students.
"The design supports Yale Hospitality's intention to shift the dynamic of grazing in an all-you-care-to-eat operation to chef-designed, meal-based dining within an all-you-care-to-eat setting," Millman says. "For example, at the global station, customers can take an entree and two sides. At the Mediterranean area, they can order pizza and pick up soup and salad nearby."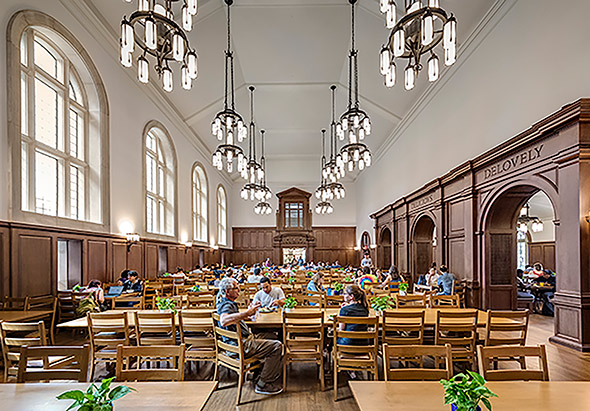 The dining hall at Pauli Murray College is identical in program to the dining hall at Benjamin Franklin but different in character. Photo by Peter Aaron/OTTO
"The stations provide a striking display of freshly cooked foods to order," says Richard Eisenbarth, FCSI, vice president, strategic relations, Cini-Little New York. "There's live chef action at each station."
"In addition to the excitement and activity, there is ample circulation space for movement between and among stations, as well as a visual perspective of all the stations," Farrand says.
Each servery contains a grill/street food/entree station, which includes a combi oven, a steamer and a 30-gallon tilting skillet that supports production for stews, sauces and menu items such as cioppino and curries that require cooking in sauce.
At the global station, hot tops hold daily entrees and sides. A hand-hammered copper hood over the cooking suite stands out at Pauli Murray College. Photo by Bob Consolatore Photography
A cooking suite serves as a focal point for chefs to prepare global cuisine. "It was important for the beauty and functionality of the island suite to be the highlight of the servery," Flynn says. "The ability to customize the configuration allowed our team the firepower required to produce high-quality food right in front of the customer in a very small footprint."
The suite contains a large four-burner range to sear vegetables such as cabbage for German lamb stew and saute seasonal vegetables.
On the opposite side of the suite, chefs use flattops, fryers and a steamer to prepare made-to-order street food such as blended burgers, kati rolls and artisan grilled cheese sandwiches. Chefs also use two vertical broilers to prepare meat, chicken and vegetables that chefs carve to order for skewered street food such as Middle Eastern shawarma.
Benjamin Franklin College servery features a large pizza oven with a hand-hammered copper hood and dark oxidized brass straps. The back walls' tile wainscot with stained wood trim and cabinetry create a more domestic scale to the space. Photo by Peter Aaron/OTTO
The Mediterranean station features a hearth pizza oven front and center in the servery space. Chefs cross-utilize the oven for baking rectangular pizzas served daily and roasting meats and potatoes for a made-to-order global rustic menu platform.
A new concept at Yale, a bowl station on the main serving line next to the pizza station, also features chefs cooking international cuisine to order. The menu rotates weekly and features bowls such as ramen, posol, bibimbap, and Middle Eastern and Northern African shakshuka. "Guests don't mind waiting a few minutes to get freshly prepared, authentic cuisine," says Chase Sobelman, managing director and executive chef, Yale Dining. "Guests can see ingredients and mise en place and make alterations to the menu items featured, but we encourage them to take the dishes as they are designed."
A salad bar also adds a striking visual element to each servery. Chefs take fresh produce and cooked vegetables from vertical air screen refrigerators and chop them while customers watch. Chefs place everything from roasted cauliflower and carrots to charred broccoli in wells so customers can assemble their own salads. "This concept minimizes food waste because vegetables are chopped as needed in small quantities rather than in bulk quantities," Millman says.
Nearby, customers pick up ice and beverages including water, coffee, tea and juice. Another area features frozen yogurt and toppings, a waffle maker, dispensers for milk and a toaster. A farm table with a dessert display and fresh fruit sits in the middle of an open area, which gives customers easy access to these menu items.
Designers agree that the team members' cooperation remained strong from the beginning to the end of the project. "Many times, when a project runs over eight years and is on hold for portions of that time, something gets dropped," says Eisenbarth. "With this project, we feel all areas of the project benefited directly from the cooperation among members of the design team that ran from the beginning to the end."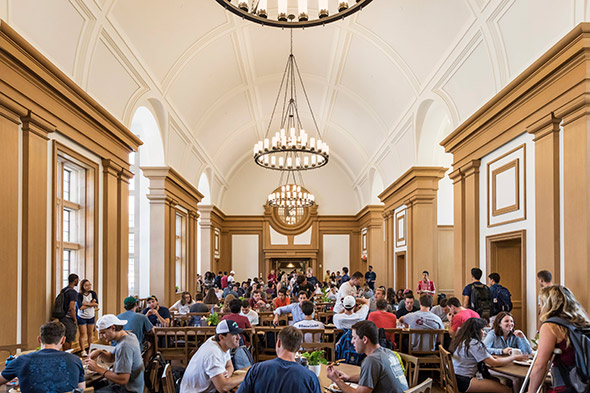 Benjamin Franklin College dining hall's classically-inspired doorways and window openings are articulated by simplified pilasters, molding and architraves. Three custom-designed chandeliers consist of two concentric wrought-iron cable-stayed rings with 35 cylindrical lights in each fixture. Photo by Peter Aaron/OTTO
The response to the new serveries has been very positive. "All foodservice spaces were designed to create engagement, excitement and education for students and employees," Taherian says.
"We're changing the mindset of campus dining by preparing food to order in these all-you-care-to-eat dining facilities. These are two of our busiest residential dining locations," Millman adds. "We built these concepts to use as a platform to test new food and serving ideas that are different from those offered at other dining locations on campus. Traffic has been so high that we had to roll out some of these concepts to other locations earlier than planned."
Design Details: Pauli Murray Servery and Dining Room
Dark-stained quarter-sawn white oak millwork on the main counters in the servery provides a place for plate storage.
The brick wall features framed openings with Indiana limestone arches that lead to the cooking area, which features a hand-hammered copper and brass hood.
The center farm table and light fixtures around the circular ceiling area create a focal point and define flow. The pizza ovens have a custom hand-hammered copper hood.
The configuration of Pauli Murray is identical to Benjamin Franklin, with the servery at one end and a large fireplace at the other.
The 3,500-square-foot dining facility's main hall, capped by a 36-foot-tall tray ceiling, adjoins a secondary dining room that seats up to 60 students, providing a change of scale from the 4,250-square-foot space of Benjamin Franklin's dining room.
The main space is lit by five south-facing arched windows and eight custom-designed wrought-iron chandeliers inspired by those in Yale's Trumbull College but vertically proportioned and composed of a central cylindrical lamp surrounded by two stacked rings of eight smaller cylindrical lamps.
Design Details: Benjamin Franklin Servery and Dining Room
Service countertops comprise a U shape. This design carries through into the ceiling and soffit with large, oil-rubbed brass light fixtures.
This servery, as with the one at Pauli Murray, uses quarter-sawn white oak large custom-turned table legs to create shelves for plate storage. This same motif shows up in the freestanding center farm table.
Another focal point is the large pizza oven, which features a hand-hammered copper hood and dark oxidized brass straps.
The back walls have a tile wainscot with stained wood trim and cabinetry to create a more domestic appearance.
A series of six intimate alcoves faces south into the quadrangle, each seating 16 to 20 people. Both new dining halls combine a main central space with more intimate spaces along the periphery.
Recessed seating niches offer a unique space within the floor-to-ceiling window bays.
A 33-foot-high barrel-vaulted acoustic plaster ceiling, embellished with molding, defines the main space.
Three large custom-designed chandeliers suspend from the space; they consist of two concentric wrought-iron cable-stayed rings with 35 cylindrical lights in each fixture.
Simplified pilasters, molding and architraves articulate the classically inspired doorways and window openings.
The red oak plank flooring was harvested from the forest Yale manages following Forest Stewardship Council protocol.
Facts of Note
Yale University: 14 residential colleges and dining halls; 12 retail locations
Opened: August 2017
Benjamin Franklin and Pauli Murray Residential Halls: 450 beds each
Scope of Project: New construction of two residential colleges containing two separate dining facilities with their own serveries and dining rooms, connected by a central kitchen, storage warehouse and scullery
Size: 550,000 sq. ft.
Seats: Benjamin Franklin College, 306; Pauli Murray College, 286
Average Check: $10.34
Total Annual Sales: $2.5 million each
Meal Plan Participants: 6,100
Daily Transactions/Covers: 1,500 per location per day
Hours: 8 a.m. to 11 a.m., continental breakfast, Monday through Friday; 11:30 a.m. to 1:30 p.m., lunch, Monday through Friday; 11 a.m. to 1:30 p.m., weekend brunch;
5 p.m. to 7:30 p.m., dinner, Monday through Thursday; and 5 p.m. to 7 p.m., dinner, Friday through Sunday
Menu Specialties: Globally themed hot entrees, grill station, soup and salad, super bowl station, pizza station, interactive salad bar
Staff for Yale Dining: 400 full-time equivalents, 350 casual/banquet servers
Staff for Franklin and Murray: 46 team members combined, in addition to a managing director/executive chef, culinary excellence manager and two guest-experience managers
Total Project Cost: $450 million
Equipment Investment: $2.2 million
Website: hospitality.yale.edu
Key Players
Ownership: Yale University, New Haven, Conn.
Associate Vice President, Yale Hospitality: Rafi Taherian
Senior Director, Yale Hospitality: Adam Millman
Director of Asset Renewal and Planned Projects, Yale Hospitality: Daniel R. Flynn
Director of Procurement, Yale Hospitality: Gerry Reamer
Managing Director/Executive Chef, Yale Dining: Chase Sobelman
Director of Operations, Yale Dining: Robert Sullivan
Director of Capital Program, Yale University Office of Facilities: Keith Fordsman
Associate Director of Construction, Yale University Office of Facilities: John Olsen
Architect and Interior Architects: Robert A.M. Stern Architects, New York; Robert A.M. Stern, FAIA, senior partner, and team, including project partners Melissa DelVecchio, AIA, Graham S. Wyatt, FAIA, and Jennifer L. Stone, AIA; Kurt Glauber, AIA, associate partner
Foodservice Consultants: Cini-Little, New York and Washington, D.C.; Richard Eisenbarth, FCSI, vice president, strategic relations; Theodore Farrand, FCSI, FMP, senior associate; Marleen St. Marie, senior project coordinator; Adam Millman, regional manager of the New York office before coming to Yale in 2013
Equipment Dealer: Kitteridge Equipment Co., Agawan, Mass.; John Roche
Construction: Dimeo Construction, Norwalk, Conn.
Meet the Players
Richard Eisenbarth, FCSI, vice president, strategic relations, Cini-Little. Eisenbarth designs efficient food and beverage facilities for hotels and resorts around the world in addition to contemporary higher education campuses, major stadiums, arenas and convention centers, and corporate dining facilities. He serves as a judge for the National Restaurant Association's Kitchen Innovations Awards.
Theodore Farrand, FCSI, FMP, senior associate, Cini-Little. With more than 40 years of experience in hospitality operations, management and consulting, Farrand consults with clients in all segments of the hospitality industry. He is known for his knowledge of emerging industry trends and collaborative leadership style.
Daniel R. Flynn, manager of asset renewal and planned projects, Yale Hospitality. As a member of the senior leadership team, Flynn plays a key role in design functionality of multiple Yale renovations, including contract management, equipment selection and design functionality. Prior to joining Yale University, he worked for 15 years in the restaurant industry as a restaurant owner and chef.

Kurt Glauber, AIA, associate partner, Robert A.M. Stern Architects LLP. Glauber has worked at Robert A.M. Stern for 21 years, serving as project manager and leading the technical development of most of his projects. He focuses primarily on institutional projects, including the Harvard Law School Wasserstein Caspersen Student Center and the Spangler Campus Center at the Harvard Business School.
Adam Millman, senior director of Yale Dining. Millman's responsibilities include providing operational leadership, concept development and innovation leadership to ensure operational excellence for more than 14,000 meals daily. Prior to joining Yale Hospitality, Millman was regional manager of the Cini-Little International, New York office.

Marleen St. Marie, senior project coordinator, Cini-Little. St. Marie provides assistance and organization on graphic coordination of projects in all market segments. She brings experience in front- and back-of-the-house operations.
Rafi Taherian, associate vice president for Yale Hospitality. Taherian oversees a department with a $55 million annual budget that includes 840 culinary, service, management and clerical personnel serving 15,000 meals per day. His numerous awards and honors include the 2016 IFMA Gold Plate Award.
Yale University Pauli Murray College and Benjamin Franklin College Serv ery Floorplans
Differences:
The dining room at Benjamin Franklin College contains 306 seats; Pauli Murray College's contains 286 seats. Benjamin Franklin's lunch rush is busier due to its proximity to Prospect Street, which is a main campus thoroughfare.
Pauli Murray College contains one less station, the salad and soup station.
The location of the cooking suite and pizza oven at Pauli Murray College was based on space limitations due to window and column location.
Benjamin Franklin College contains a built-in water and ice station. Space constraints prevented the inclusion of a similar station at Pauli Murray College.
Benjamin Franklin College contains a slightly larger walk-in cooler.
Equipment Key
1. Corner guard
2. Mobile Queen Mary cart
3. Roll-in refrigerator
3a. Reach-in refrigerator w/back counter
3b. Mobile worktop freezer
3c. Walk-in cooler
3d. Undercounter refrigerator
3e. Reach-in refrigerator
3f. Mobile undercounter freezer
3g. Evaporator coil
4. Mobile universal rack
5. Coffee brewer
6. Insulated beverage
dispenser
6a. Soda ice and beverage dispenser
6b. Milk dispenser
6c. Hot water dispenser
6d. Juice dispenser
6e. Tea dispenser
6f. Ice dispenser
6g. Beverage dispenser
7. Mobile work table
7a. Refrigerated prep table
7b. Prep table w/sinks
7c. Farm table
7d. Pizza prep table
8. Sink
8a. Hand sink
9. Trash container
10. Table-mounted overshelf
10a. Drop-in heated shelf
10b. Mobile shelving
10c. Bread shelf
10d. Cereal shelf
10e. Shelving unit
11. Water filter assembly
12. Soap dispenser
12a. Paper towel dispenser
12b. Cereal dispenser
12c. Cup dispenser
13. Mobile, stacked combi oven
13a. Water filter for combi oven
13b. Pizza oven
13c. Conveyor toaster
14. UV control panel
14a. Water wash control panel
14b. DCV control panel
14c. Controls (for equipment)
15. Steamer
15a. Water filter steamer
16. Bag-in-box soda system
17. Carbonator
17a. Carbonator shelf
18. Drop cord
19. Fire suppression system
20. Wall sheathing
21. 30-gal. tilting skillet
22. Floor trough
22a. Trough and sink
23. Cooking suite: 4-burner range, flattop griddle, vertical broiler, fryer, steamer, undercounter refrigerated drawers
24. Exhaust ventilation
25. Food shield
26. Counter w/sink
26a. Back counter w/tray slides
26b. Front service counter
26c. Back counter w/sink and hand sink
26d. Back counter w/hand sink
26e. Dessert counter
26f. Beverage counter
26g. Back counter w/anti-splash drain
26h. Cereal counter
26i. Back counter
27. 8-inch-high partition
28. Drop-in soup well
29. Undercounter heated cabinet
30. Air screen
31. Food slicer
32. Countertop soft-serve machine
33. Double waffle maker
34. Nugget-style ice maker
Kitchen Floorplan, Yale University, Benjamin Franklin College and Pauli Murray College Kitchen
1. Corner guard
2. Mobile shelving
2a. Storage shelving
2b. Ceiling-mounted overshelf rack
2c. Pot rack wall shelf
2d. Wall shelf
2e. High-density shelving system
2f. Table-mounted overshelf
3. Dunnage rack
3a. Mobile universal rack
4. S/s wall sheathing
5. Floor trough
6. Hose reel assembly
6a. Ceiling-mounted hose reel assembly
6b. Hose reel mixing valve
7. Conveyor-type dishwasher
7a. Dishwasher vent duct, unload end
7b. Dishwasher vent duct, load end
7c. Utensil washer
7d. Dishwasher vent duct
8. Blower dryer
9. Mobile glass rack dolly
9a. Mobile dish dolly
10. Clean dish table w/rollers
10a. Soiled dish table w/conveyor
10b. Mobile work table w/overshelf rack
10c. Silver sorting table
10d. Slide
10e. Prep table w/sinks
10f. Mobile work table
10g. Work table w/sink
11. Mobile silver soak sink
11a. Hand sink
11b. 3-compartment sink
11c. Prerinse unit w/ add-on faucet
11d. Prerinse unit
12. Compost container
12a. Recycling container
12b. Trash container
13. Mobile Queen Mary cart
13a. Mobile soiled linen cart
14. Washdown hose bib
15. Soap dispenser
15a. Paper towel dispenser
16. UV knife cabinet
17. Food processor
18. Slicer
19. Can opener
20. Food butter
21. Drop cord
22. Exhaust ventilation
23. Tilting kettle
24. Mobile cook-and-hold oven
25. Food mixer
26. Fire suppression system
27. Evaporator coil
28. DCV control panel
29. Walk-in control panel