Redesigning the entire circulation of space throughout the historic Memorial Union presented daunting challenges for the design team.
Preserving the history of an iconic building and modernizing it to meet the needs of a new generation of students can be a daunting task. No one knows this better than the project team working on Memorial Union at the University of Wisconsin – Madison.
Renovations to the historic Memorial Union and the connected outdoor Memorial Union Terrace were completed in two phases starting in 2014. The final space reopened in 2017. Photos courtesy of Uihlein/Wilson – Ramlow/Stein Architects
One of the first U.S. college unions, Memorial Union was built in 1928 and expanded in 1939 and 1957. "The Memorial Union, although still a campus and community magnet, was aging, and the infrastructure didn't allow us to capitalize on the demand for student space for dining and studying," says Carl Korz, associate director, Memorial Union, Dining and Hospitality. "To complicate matters, support space was far from sufficient to meet the demand and increasing operating needs of the Union."
So the Wisconsin Union team set out to renovate Memorial Union as part of a student referendum-approved $140 million project. This initiative, approved in 2006, also included Union South, which earned FE&S' Facility Design Project of the Year Award in 2013.
The historic renovation and rework of Memorial Union and the adjoining Memorial Union Terrace overlooking Lake Mendota was completed in two phases. The first phase, completed in 2014, saw the renovation of Der Stiftskeller, a student hangout spot that includes pool tables and craft beers on tap; the Paul Bunyan Room, which provides additional seating; and programming spaces. The renovation also included a new 200-seat black-box play circle, an art gallery and administrative offices.
Memorial Union Terrace food concepts include BBQ Stand and Brat Stand, both of which are popular outside venues with students and locals during summer months. Photo courtesy of Uihlein/Wilson – Ramlow/Stein Architects
The second phase primarily updated the East Wing and included rolling opening dates for various parts of the building. The East Wing contains most of the revenue-generating retail functions. The renovation team developed new concepts and scaled back equipment and design to handle the demand created by an increasing student population. The regraded and expanded Memorial Union Terrace opened in spring 2016. The first floor, basement and loading dock opened in late 2016. The remaining floors reopened in September 2017. Alumni Park, the Wisconsin Alumni Association's green space adjacent to Memorial Union, opened in October 2017.
"The project's key highlights create universal access to the various spaces in the building, including the major dining and studying areas," adds Korz. "The designers made the adjacency to the Terrace and Alumni Park as seamless as possible by strategically connecting the indoors and outdoors. Nano-doors create an outdoor living room effect, as well as enhance sight lines to artists performing on the stage, and keep sight lines to the lake and sail boats as clean as possible."
Lakeview Lounge offers students a spot to dine, study or socialize. Floor-to-ceiling glass windows allow views to the lake; the area also connects directly to Memorial Union Terrace, a popular outdoor spot. Photo courtesy of Uihlein/Wilson – Ramlow/Stein Architects
"The design team had to redevelop the entire circulation of space," adds Kathleen Seelye, FFCSI, LEED AP, CEO, Ricca Design Studios. "We wanted to find ways to bring people through the building and to the outside terrace so everyone would experience it as one space. For example, we wanted to preserve the heritage of the oldest operation, Der Rathskeller, yet there was no access to the terrace. To create an open pathway to the terrace, we refocused on the staging area and developed an island bar that looks as if it has always been there. This makes a huge difference in how guests use the building. On the Terrace, The BBQ Stand and The Brat Stand are an integral part of the foodservice. For the entire project, the food served outdoors is just as important as the food served inside."
Architects had to resolve no less than 53 grade changes to accomplish the circulation feat, Korz says. "Duct work and plumbing were equally challenging, in addition to understanding where old code and new code met, specifically in the few areas that were designated ETR — existing-to-remain. We had blueprints, of course, but when we opened up walls, we found pipes that we had no idea were there. When hammering through walls at Der Rathskeller, which was originally a YMCA building before it became a union in 1928, the crew found an old brick facade and an old archway from a window that hadn't been exposed for 75 years. And a boiler for a steam train, which was apparently put in as backfill, was found underneath the Terrace."
Other major improvements to the historic building included overall life safety upgrades such as fire alarms and sprinklers. Additional improvements included new air conditioning systems, elevator upgrades, window restoration, stone restoration and improvements to interior and exterior building accessibility for the Terrace.
"The main challenges we faced for the foodservice operations in the building were creating new, fresh, up-to-date venues with the existing footprint while not sacrificing the historic character of this iconic building," says Nat Stein, AIA, LEED AP, vice president, Uihlein/Wilson – Ramlow/Stein Architects in Milwaukee. "When we began the project there was only one elevator that the staff used to provide catering access to the entire building. Our project included the introduction of a new service elevator to connect the main production kitchen in the basement to all of the floors, creating a separate back-of-house circulation for the catering staff to the upper kitchens on each floor level."
Deliveries and the Main Support Kitchen
Deliveries to Memorial Union required creative problem-solving design. In tandem with Memorial Union's expansion, the university erected Alumni Park. The park replaced what was a highly visual deck area and poorly utilized parking lot situated next to Memorial Union with what is now beautifully landscaped gardens that include views of Lake Mendota.
Nearly half of the park now sits over a massive loading dock structure. The design team had to preserve Memorial Union's routine building functions and services, which included 300 weekly deliveries and serving as the home of a student services building, the Red Gym, and a conference center, the Pyle Center.
The underground loading dock includes a 60-foot turntable that allows truck drivers to rotate their vehicles and back into the adjacent loading bays. Photo by Grant Kessler
"The team concluded that there was no effective at-grade solution that would not disrupt the park experience," says Korz. "Instead, the team researched and incorporated a highly engineered subsurface loading dock and entry tunnel that provide service vehicles with underground access to the adjacent buildings."
The underground loading dock includes a 60-foot turntable-style loading dock. Semi-tractor trailers up to 55 feet long pull onto the turntable, rotate 180 degrees and move back into three adjacent loading bays, where staff unload shipments.
"The flow has been improved immensely since the days of an unprotected two-bay dock with a single circa-1928 elevator," Korz says. "The Memorial Union manages the dock, which also provides underground access to three buildings where the Memorial Union provides contract dining services through its catering division. Since the kitchen is on the same underground plane, we can have food out of the oven and moved to our clients seamlessly, underground, in less than 10 minutes. Previously, the food and staff were subjected to 30 mile-per-hour January winds coming off the frozen lake, which was far from ideal for foodservice." The dock also provides space for recycling and trash and underground access to buildings housing Memorial Union catering clients.
"A specialty software to calculate turning radii for different-size vehicles was enabled to deal with the fact that the dock could only come so close to its neighbor, the Red Gym, which is on the National Historic Registry," Seelye says.
"Our facility had to maintain a 15-foot clearance from the Red Gym footings," says Korz. "This in turn compressed the loading dock size. The only solution to deal with the unique constraints and allow the size of vehicles we need to handle our deliveries was the turntable, which allows precise placement of the vehicles to the right loading bays without unwieldy maneuvering by the driver."
The major production kitchen services more than $4 million in catering and events. "We expanded and renovated about 60 percent of this space, including the coolers and HVAC," Korz says.
Inside, the product flow and security were significantly improved by card access and staff access to a bank of seven walk-in coolers, a freezer and dry storage that service the kitchen. "Staff check in bulk storage goods here, saving valuable production space," Seelye says. "Day production storage, connected by a new service elevator, is located at the first-level kitchen."
Left: A bank of seven walk-in coolers near the loading dock makes for a seamless transition of items for kitchen staff. Photo by Grant Kessler
Food flows from the coolers to either cold food production, featuring refrigerators, two slicers, two mixers, a food processor and a chopper; or to hot food production, which contains three convection ovens, a combi oven, a four-burner range, a six-burner range, a charbroiler and eight bays of fryers. Staff place some prepared food into blast chillers and then into a holding cooler for shipping the next day. They move prepared food through double doors to the building's elevators or to the dock for distribution to catering events on campus. This kitchen also contains a potwash and warewash area where a full-size flight machine has replaced the previous 45-year-old machine.
Retail Operations
The East Wing's retail foodservice self-operated concepts include: Der Rathskeller, Der Stiftskeller, Carte, Strada, Badger Market, Daily Scoop Ice Cream, Memorial Union Terrace's The Brat Stand and The BBQ Stand, and Lakeview Lounge. In contrast, Peet's Coffee runs as a licensed-partner operation.
The restaurant kitchen serves as a back-of-the-house hub to Der Rathskeller, Carte and Strada. "The restaurant kitchen's benefit is ease of access, storage and surge space for production during our busy summer season when the Memorial Union Terrace operates," Korz says. "The kitchen allows us to scale up on a retail level and continue to serve the quality of food we want and in a quantity that is necessary. We were able to add to the fast-food-type food with fresh and healthier menu items. Weekend and summer business during warm weather can be enormous. The Terrace space alone holds over 1,000 people."
The restaurant kitchen supports three food concepts: Der Rathskeller, Carte and Strada. Photo by Grant Kessler
The hot food equipment lineup includes a range, flattop, double-stacked ovens and a combi oven along one wall. The easy access to everything in the new kitchen space enables staff to keep up with demand. Photo by Grant Kessler
The equipment lineup on the other side includes a flattop, fryers and dump station. Photo by Grant Kessler
"Significant thought was put into the design and branding of the operations," says Seelye. "The success at Union South inspired the project team to push further into the realm of specialty restaurants and understand how to effectively develop a concept that could compete with the street. The team understood the barriers to doing this, especially when launching several new concepts at once. But their experience and support from the design team, in-house marketing and a partnership with a local experiential design firm allowed them to overcome the hurdles."
The support kitchen for Der Rathskeller, Carte and Strada contains a walk-in cooler and walk-in freezer. Hot food production equipment includes a griddle, charbroiler, three double-sided fryers and a dump station and freezer at the end of this line.
A service space for Der Rathskeller sits across the aisle, with a refrigerated work counter, heat lamps, hot wells and hot/cold pans. Sitting in an iconic space originally built in 1928, Der Rathskeller contains rustic furniture, carved tables, warming and cozy fireplaces and walls covered with historic photographs.
This specialty restaurant features traditional Wisconsin pub fare and comfort food, including a weekly fish fry, burgers, sandwiches, wraps, salads and shareable menu items such as cheese curds, beer-battered onion rings and giant Bavarian Pretzels. Breakfast items include omelet sandwiches on toasted cheese rolls with a variety of ingredients such as sausage patties, bratwurst, cheese, avocado and tomato.
Originally built in 1928 and recently refreshed, Der Rathskeller serves up sandwiches, classic pub fare and craft beer.
Carte, a light and clean space with natural and quirky design features, specializes in freshly made panini sandwiches including the CBR (chicken, bacon, ranch); the Cranberry Harvest with cranberry wild rice bread, shaved turkey, Babcock dairy cheese; and the Monterrey Turkey with fresh avocado, Babcock Hall cheese, shaved turkey and chipotle mayo. Carte features two high-speed ovens that toast the sandwiches and can produce six hot sandwiches every three minutes. Refrigerated cases hold ingredients for custom-made salads such as black bean quinoa with sesame ginger dressing and the more traditional Cobb. All salads feature locally grown aquaponic lettuce from an operation developed by an emeritus professor. The menu also features homemade salad dressings and soups. Carte's grab-and-go program offers soups, sandwiches and salads, as well as homemade chips and beverages such as craft teas and craft sodas. The unit also features vegan bakery items for dessert.
Specialty restaurants, such as Carte were designed to compete with local concepts in the Madison area.
Strada, an open and bright Italian, fast-casual restaurant features a gas-fired 700-degree hearth oven that bakes 11-inch thin crust Neopolitan style pizzas in just under three minutes, including the time staff take to garnish and serve them piping hot. The restaurant also serves piadinas (traditional Italian flatbread sandwiches with cheese, meats and vegetables), which are also available as bowls.
Popular pies include the Pesto Pie (red pesto, Wisconsin cheese blend, sausage, mushrooms and grilled peppers, topped with a basil pesto swirl after it comes out of the oven) and the Chicken Artichoke (alfredo base, Wisconsin cheese blend, grilled chicken and artichoke hearts with a topping of arugula added after it comes out of the oven). Guests can customize their pies by choosing from an array of toppings and sauces, including vegan cheese and sausage. "The dual-sided oven allows student staff to hone their skills at the craft while tending to as many as 12 pizzas at a time, which allows the operation to meet its financial targets," Korz says.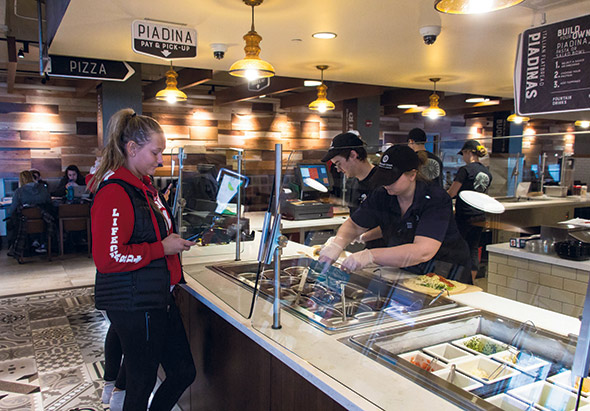 Strada is a University of Wisconsin – Madison brand. Photo courtesy of Uihlein/Wilson – Ramlow/Stein Architects
The operation also contains a charbroiler to cook grilled meats and vegetables for bowls and sandwiches. Staff use a four-burner range to saute ingredients for the pizzas or piadinas in small batches. "We just keep it fresh all day in the amounts we need," Korz says.
Customers can skip the lines at Der Rathskeller, Carte and Strada by ordering menu items on an app and then picking up their food near Der Rathskeller's cash register. Food deliveries are also made within a limited range around campus.
The Daily Scoop operation, featuring Babcock Ice Cream, which is made on campus with milk from local farms, doubled in size to accommodate demand from summer business and elementary students who frequently visit the university on field trips. The unit contains a walk-in cooler and walk-in freezer along with ice cream-dipping cabinets that display 12 flavors at a time. Selections rotate from roughly 50 flavors that are produced over the course of the year. The Daily Scoop also offers smoothies and malts that staff make in blenders and a variety of sundaes such as the Freshman 15. This offering consists of 15 scoops of Babcock's finest ice cream, 5 additional customer's-choice toppings, whipped cream, a single cherry and 15 spoons.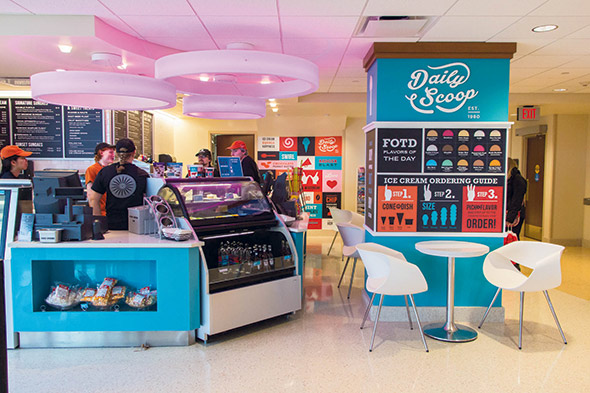 The Daily Scoop serves up campus-made ice cream and frequently meets the needs of busloads of campus visitors. Photo courtesy of Uihlein/ Wilson – Ramlow/Stein Architects
Badger Market offers grab-and-go food options, beverages, local drip coffee, bakery items, Terrace-branded clothing and souvenirs. Equipment here includes coffee and tea brewers and dispensers, plus ambient and refrigerated cases for grab-and-go lunch items, grocery items and snacks.
Memorial Union's only licensed partner, Peet's Coffee, contains blenders, coffee and ice tea brewers and dispensers, two espresso machines and flavor bottles, along with an undercounter refrigerator, undercounter dishmachine and ice cart to support preparation and sales of hot and cold beverages. Peet's Coffee also offers bakery goods and grab-and-go snacks, sandwiches and salads displayed in ambient and refrigerated cases.
Tripp Kitchen, a second-floor catering support kitchen, contains a countertop induction range, microwave-convection oven, a walk-in cooler, a dishmachine, ice machine, ice bin and several worktables and overshelves. Another staging kitchen on the fourth floor contains high-volume coffee brewers, flexible plug-in space for hot boxes, cold storage for salads and desserts and basic warewashing equipment.
As part of the Memorial Union Terrace redesign and enhancement, the space features full ADA accessibility, two new outdoor concessions, a new outdoor stage, new lighting and landscaping. "The Lakeshore Path waterfront was also reimagined and stabilized as part of this effort," Stein says.
The Brat Stand contains a beer tower with 20 taps, a charbroiler, a smoker, popcorn popper, nacho chip warmer and heated cheese pump, as well as a refrigerator and freezer. A hot food counter sits in the front where staff take and deliver orders containing brats, sandwiches and beverages.
The BBQ Stand contains a charbroiler, 20 taps, a smoker and holding unit, as well as two six-tub dipping wells. This unit features smoked brisket and chicken options, cold beverages and Babcock Ice Cream.
Sustainable Features and Evaluation
The building earned LEED Silver certification from the United States Green Building Council. Key contributions to this design include the use of certified wood, reuse of more than 95 percent of the existing building core and shell, products with high-recycled content, low-flow plumbing fixtures and a green cleaning program implemented by the Wisconsin Union.
On the Terrace, many trees were saved, but one that was rotting internally was taken down and recycled for interior use in the bar at Der Stiftskeller and as wood paneling at Strada and Lakeview Lounge.
"As part of rethinking all the operations, we also had to rethink the support systems," Korz says. "We realized we're rolling the dice. How much can we grow if we renovate? If we put in 30 percent more dining, what does that do to waste removal and recycling? Do we have enough storage? As Kathleen kept reminding us, we had to look at all of this without ego or pretense. What are our needs, and how can we all make that work?"
One of the needs will be adding operations to meet customer demands. The design team will decide whether to add operations inside or outside while meeting health code requirements for seating.
Compliments from former and current students, faculty, parents and community members indicate Memorial Union is well on its way to achieving success. Only time will tell if it measures up to nine decades of experiences and memories as well as today's financial expectations.
---
Facts of Note
Memorial Union Opened: West Wing, summer, 2014; East Wing, December 2016, and remaining upper floors in September 2017
Scope of Project: Memorial Union renovation included an overhaul of the entire first-floor retail space with five interior dining concepts; a new terrace meeting ADA requirements and including two outdoor open-air restaurants, The Brat Stand and The BBQ Stand, as well as an outdoor stage and landscaping; the Lakeview Lounge. Lakeshore Path waterfront was also reimagined and stabilized; and several catering support spaces with a support kitchen on upper floors refurbished. Also part of the renovation were a new underground loading dock with a turntable; a rework of the major production kitchen for the retail units; and new offices and support spaces for dining and hospitality staff. The new Alumni Park project was headed by Paula Bonner, former Wisconsin Alumni Association president.
Size: Total building, 275,000 gross sq. ft. This includes Peet's Coffee, 345 sq. ft.; Badger Market, 988 sq. ft.; Carte, 532 sq. ft.; Der Rathskeller, 330 sq. ft.; Strada, 755 sq. ft.; Daily Scoop Ice Cream, 672 sq. ft.; The Brat Stand, 542 sq. ft.; The BBQ Stand, 590 sq. ft.; Lakeview Lounge, 305 sq. ft.; The Sunset Lounge, 2,044 sq. ft.; main kitchen, 1,864 sq. ft.; catering kitchen, 12,974 sq. ft.; 2nd floor Tripp kitchen, 1,050 sq. ft.; fourth-floor staging kitchen, 727 sq. ft.
Seats: 550 interior seats; 750 exterior seats seasonally
Average Check: ranges from $3.25 in coffee and ice cream units to $8.00 in units offering freshly made menu items
Total Annual Sales: $13.5 million
Daily Transactions/Covers: between 3,000 and 10,000
Hours: Building Hours, 7 a.m. to midnight (open until 1 a.m. on Friday and Saturday). Peet's Coffee, 7 a.m. to 9:30 p.m.; Badger Market, 7 a.m. to midnight; Carte, 11 a.m. to 9 p.m.; Der Rathskeller, 7 a.m. to 10 p.m.; Strada, 11 a.m. to 10 p.m.; Daily Scoop Ice Cream, 10:30 a.m to 11 p.m.; The Brat Stand on the Memorial Union Terrace, 11 a.m. to 12 midnight seasonally (April through September); The BBQ Stand on the Memorial Union Terrace, 3 p.m. to 12 a.m. seasonally (April through September); Lakeview Lounge, 3 p.m. to 10 p.m. seasonally (April through September); The Sunset Lounge, 3 p.m. to 9 p.m. on weekends, seasonally (April through September)
Menu Specialties: Peet's Coffee — espresso-based beverages, iced drinks, blended drinks, bakery, grab-and-go options, drip coffee; Badger Market — c-store and sundries with grab-and-go food options, an array of beverages, drip coffee, bakery items, Terrace-themed clothing and souvenirs; Carte — custom-made salads using local aquaponic lettuce, paninis and toasted sandwiches, sides, and grab-and-go items with a focus on local and fresh product on the healthier side (kombucha, juices, veggie chips, vegan products); Der Rathskeller — traditional Wisconsin pub fare and comfort food, including a weekly fish fry, burgers, sandwiches, wraps, salads and shareable items such as cheese curds and giant Bavarian pretzels; Strada — fast-casual-style operation serving pizzas, bowls and sandwiches with an Italian flair, prepared in an open kitchen with a gas-fired brick oven; Daily Scoop Ice Cream — campus-made Babcock Ice Cream, sundaes, smoothies, nondairy options such as lemon ice, as well as retro candies and souvenir t-shirts; The Brat Stand — grilled items such as the eponymous brat and other sandwiches and cold Wisconsin beverages including a vast selection of Wisconsin craft beers; The BBQ Stand — smoked brisket and chicken options, cold beverages, and Babcock Ice Cream, all steps from the Lake; Lakeview Lounge — shareable items and specialty family-size pizzas; Sunset Lounge — tapas trays and "picnic baskets," specialty lemonades and wine.
Staff: 25 full-time dining employees; 500 students
Total Project Cost: $52 million for Phase I; $55 million for Phase II/Alumni Park
Equipment Investment: $2.185 million
Website: https://union.wisc.edu
Key Players
Owner: University of Wisconsin, Wisconsin Union
Director: Mark Guthier
Deputy Director: Susan Dibbell
Associate Director, Administration: Jane Oberdorf
Associate Director, Wisconsin Memorial Union, Dining and Hospitality: Carl Korz
Assistant Director, Facilities: Paul Broadhead
Assistant Director, Programs: Heidi Lang
Executive Chef: Jay Schoenbeck
Architect: Uihlein/Wilson – Ramlow/Stein Architects, Milwaukee; Nat Stein, AIA, LEED AP, NCARB, vice president; and with Moody Nolan Architects, Cleveland
Interior Design: Uihlein/Wilson – Ramlow/Stein Architects, Milwaukee
Landscape Architect: SmithGroupJJR, Madison, Wis.
Branded Signage Design: Thysse, Oregon, Wis.
Foodservice Consultants: Ricca Design Studios, Greenwood Village, Colo.; Kathleen H. Seelye, FFCSI, LEED AP, CEO
Equipment Dealer: Streich Equipment Co., Wausau, Wis.; and Kavenaugh Restaurant Supply, Madison, Wis.
Construction: Phase I, Boldt Construction, Madison, Wis. office; Phase II/Alumni Park, Miron Construction Co. Inc., Madison, Wis., office
Meet the Players
Carl Korz, associate director, Wisconsin Memorial Union, Dining and Hospitality. Since 2007 Korz has overseen significant growth and expansion of the Wisconsin Union's dining operations. The Wisconsin Union awarded Korz with the Porter Butts' Creative Achievement Award for his work in dining services, specifically the Union South building, which also won FE&S' Project of the Year Award in 2013. Before joining the university, Korz held food and beverage and event management positions with hotels, country clubs, restaurants and catering operations primarily in Maryland and Virginia.
Kathleen Seelye, FFCSI, LEED AP, CEO, Ricca Design Studios. With 30 years of culinary experience and having worked at Ricca since 1984, Seelye focuses on creating what's next at marketplaces, emporiums, bistros, prototypical restaurants and central production systems. As the first U.S. Green Building Council LEED-accredited foodservice consultant in the country, Seelye pioneers sustainable design and operations planning for dining facilities. She is the 2018 recipient of FE&S' Hall of Fame Award.

Nat Stein, AIA, LEED AP, NCARB, vice president, Uihlein/Wilson – Ramlow/Stein Architects. Stein joined this architectural firm 21 years ago and became vice president in October 2017. In addition to the Memorial Union, Stein's projects include renovations at Miller Park's food and beverage; Milwaukee Youth Arts Center; and many additional university projects.
Equipment Key

1. Bar top
2. POS equipment
3. Soda gun section
3a. Soda gun
3b. Soda gun section
4. Underbar glass rack storage unit
5. Ice bin with hot plate
6. Beer tower (20 taps)
6a. Beer tower (10 taps)
7. Drip trays
8. Dump sink
8a. Hand sink w/soap and towel dispenser
8b. Underbar sinks
8c. Hand sink, undermount
8d. Hand sink w/side splashes
9. Trash
10. Undercounter heated cabinets
10a. Spreader cabinet
10b. Heated cabinet, mobile
10c. Proofer holding cabinet, mobile
10d. Hot cabinet
10e. Refrigerated sandwich case
10f. Back bar cabinet, refrigerated
11. Pizza display/holding
12. Pan rack
12a. Spice rack
13. Roll-in refrigerator
13a. Undercounter refrigerator
13b. Refrigerated base
13c. Prep refrigerator
13d. Freezer refrigeration system
13e. Walk-in freezer
13f. Freezer evaporator coil
13g. Walk-in cooler
13h. Cooler evaporator coil
13i. Cooler refrigeration system
13j. Freezer
13k. Refrigerated open-air screen
14. Worktable
14a. Mobile worktable
14b. Display table
14c. Hot food table
15. Overshelf
15a. Double-tier wall shelving
15b. Freezer shelving
15c. Cooler shelving
15d. Storage shelving
15e. Wall shelf
15f. Dry storage shelving
15g. Pass-thru shelf w/heat lamp
15h. Chemical storage wall shelf
16. Exhaust hood
16a. Hood control cabinet
16b. Ventless hood
16c. Ventless exhaust system
17. Work counter
17a. Serving counter
17b. Beverage counter
17c. Refrigerated prep counter
17d. Back counter
18. Fire suppression system
19. Fire deck oven
19a. Microwave-convection oven
19b. Double convection oven
19c. Combi oven
19d. Double-deck oven
19e. Double panini press
20. Wall flashing
21. Charbroiler
22. Four-burner range
22a. Range w/convection oven
23. Heated deck
24. Hot/cold pan
24a. Cold pan
25. Hot/cold wells
25a. Hot food well
25b. Soup wells
26. Food shield
27. Paper cup dispenser
27a. Soda/ice dispenser
27b. Soap and towel dispenser
27c. Condiment pumps
28. Cutting boards
29. Smart wall grid unit
29a. Slat wall display
30. Dough press
30a. Dough sheeter
31. Food processor
32. 12-qt. mixer
32a. Mixer stand
33. Slicer
33a. Slicer stand
34. Water filtration system
35. Floor trough
35a. Drip trough
36. Ice machine, water cooled
37. Ice bin
38. Griddle
39. Prep table w/sinks
40. Disposer
41. Undercounter dishmachine
42. Coffee brewer
43. Fryers
43a. Fryer filters
43b. Fryer assembly
44. Fry dump station
45. Soda system
46. Glass filler faucet
47. Mop holder