This high-end gourmet cafe in Nashville, Tenn., moves production out front and provides the convenience and functionality of a market.
Caviar & Bananas' fifth and newest location serves as the company's flagship and its model for future restaurants, nearly 10 years after the first store opened in Charleston, S.C., in 2008.
"The concept caters literally and figuratively to the food and beverage needs of a loyal customer base throughout varying dayparts and formats," says Kris Furniss, who co-owns the concept with his wife Margaret. The two also own the concept's parent company, Furniss & Company LLC, which solely owns Caviar & Bananas. The Nashville, Tenn., location, which sits in a residential apartment complex adjacent to a new Kimpton hotel and other office and residential buildings, offers guests a gourmet market that is sophisticated, casual and flexible. This meets the demands of today's customers who want varying foodservice offerings and formats to fit within their busy schedules.
The Furniss duo's venture into this concept came about following Kris's experience as general manager at New York City's Dean & DeLuca and Margaret's experience in brand development. "We decided to move south and start our own store, which quickly evolved into a broader concept," Kris says. "As Michael Silverstein so eloquently argued in his book Trading Up: The New American Luxury, customers are willing to pay an accessible premium for products that offer technical, functional and emotional benefits. When comparing the choice of a typical turkey sandwich to 'The Usual' from Caviar & Bananas — roasted turkey, brie, arugula, shaved red onion and house-made apricot-rosemary marmalade on a toasted multigrain bun — guests have proven they are more than willing to pay a buck or two extra for the gourmet experience."
The Flagship Store
Coffee/Wine Bar features breakfast in the morning and wine and charcuterie offerings later in the day. The Caviar & Bananas flagship establishment offers more of everything: seating, small plates, wine, coffee drinks, a variety of beer and other beverages on tap and essential pantry items. Additional components that are unique to this location include a more prominent wine and charcuterie experience and table service. Changes to the concept include localized warewashing areas (one in the back of the house and the other behind the Coffee/Wine Bar station), an expanded center work station and a reconfigured salad station and cooking line.
"The entire concept is based upon immersing the guest in the food and beverage offerings, moving the main preparation and production areas into the guest spaces," Kris says.
The cafe and market seamlessly weave together dining areas with retail components. "As customers walk through the space they have different dining and shopping experiences," says Katie Vance, senior interior designer at Nashville, Tenn.-based Powell Architecture and Building Studio. "For example, in one area, retail shelving is built into the back of banquette seating, so literally one eats on one side of the banquette and shops on the other side."
Entering the restaurant, customers see pops of brass hidden in a field of glossy black-and-white elements. The floor's herringbone gray tile pattern consists of a custom rug inset with black-and-white hex tile. "These help with wayfinding, create zones within the open space, while also providing a casual and fun atmosphere," Vance says. Designers also incorporated several different wall tiles to emphasize different areas. For instance, they selected black beveled subway tiles for the base of bar walls, white beveled subway tiles for the exterior walls and black-and-white hex tiles for the bakery.
"We also emphasized the juxtaposition of caviar versus bananas by mixing in industrial concrete with sleek marble and quartz," Vance adds. "Since the best part of the show is delicious food, we highlighted different foodservice areas with marquee lighting just like a vintage theater. The Wine Room is an experience unto itself surrounded by steel and glass windows providing an inviting way to shop and explore, along with a surprise tile message — 'Yay Wine!' — on the floor."
Local artisans contributed to the interior design's cherry and brass shelving, communal table and handmade wallpaper.
Back of the House
High-speed ovens, a flattop griddle, charboiler and range support Gourmet Sandwiches/Prepared Foods.Food arrives at a loading dock that Caviar & Bananas shares with a neighboring fine-dining restaurant. Staff monitor all products entering and leaving the facility from a work station on the loading dock. From there, all products route to a storage space that serves the main store area and functions as a remote storage annex. "Both spaces can be easily accessed by the culinary team and purveyors as appropriate," says Lee Simon, principal of Innovative Foodservice Design Team, who works from the Boulder, Colo., office.
The walk-in cooler in the remote annex holds raw ingredients and proteins while another cooler in the main storage area holds vegetables and mise en place items. A small freezer contains parbaked breads and bagels and a few bakery items. The primary cooler near the back door allows staff to conveniently stage catering orders.
In the back-of-the-house cold prep area, staff cut vegetables and prepare ingredients for hot prep, which resides in the front of the house. An ice bin and ice maker also sit in the back-of-the-house kitchen.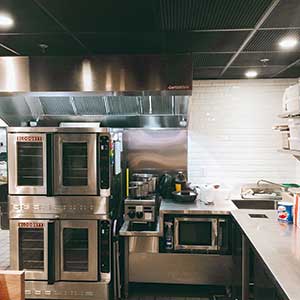 Convection ovens at Bakery send aromas of freshly baked goods into the restaurant.The back of the house, which is limited in size and scope, contains functional components such as warewashing with a ventless dishmachine. "The concept has limited permanent warewashing requirements with respect to overall sales, so a minimal warewashing station has proven sufficient," Simon says. Staff, however, can access the warewashing station from the front-of-the-house production stations through one door, while bussers access warewashing from the dining area through a separate, dedicated door. "This alleviates conflicting flow patterns by staff members with different dedicated functions," Simon says.
Other back-of-the-house components include an ice maker, a mop sink, bulk prep and offices.
Front of the House
"The design strategically locates the various stations in key anchor points within the market's footprint, allowing guests to mentally digest the offerings before making their selections, similar to a mini food hall," Simon says. "The stations were also placed to ensure quick in-and-out access for guests in a hurry while simultaneously moving longer queuing lines further away from the entry doors and critical flow paths."
Wide aisles allow guests to move easily throughout the space. Wine displays stand at right; candy, fruit and nuts sit at left with a salad station along the back wall."Each station features layers of activity, which we consider to be a critical element in front-of-the-house foodservice design," Simon says. "For example, the front-of-the-house hot prep area contains cooking equipment to support preparation of the a la carte gourmet sandwiches, soups and main entrees such as Maryland-style crab cakes, eggplant Parmesan and sesame-glazed beef. The hot prep station is anchored by the European-style glass deli cases, with plating and cooking happening behind. The salad station utilizes fresh greens in open-air-screen refrigerators as a backdrop, which is both eye-catching and functional.
All critical equipment, which was strategically placed within reach of staff, was selected with a specific design intent when it came to station efficiencies. The locations minimize staff's additional steps and trips to the back of the house, reducing the total number of footsteps throughout a shift.
A variety of lighting helps define various areas of the space. Design of each station was also a key consideration, with the goal to ensure that the number of personnel could expand or contract based on demand, and that the team could work seamlessly together despite the number of staff on hand. For instance, in the Gourmet Sandwiches/ Prepared Foods station, the number of staff preparing gourmet sandwiches on the a la carte line may vary, but the process still includes staff passing finished orders to the prepared food attendant for delivery to guests. At the Coffee/Wine Bar, a varying number of culinary staff members can work at dedicated positions.
Staff at each station prepare food and deliver it to guests across each respective counter. Guests requesting takeout receive their selections in to-go containers. For convenience, orders e-mailed or called-in ahead of time are staged by the front cashier station. Guests who want to dine-in receive food on plates. Bussers clear tables and transport all permanent ware to the warewashing station in the back of the house through the dedicated access door.
Shelves display wine for retail purchase. Tiles spelling out "Yay Wine" greet customers as they enter the establishment.Caviar & Bananas' Coffee/Wine Bar meets guests' fluctuating food and beverage needs throughout different dayparts. In the morning, guests line up to place breakfast orders. The station's equipment (high-speed ovens, ingredient rails and a conveyor toaster) enable staff to produce breakfast sandwiches quickly and efficiently. Coffee grinders, coffee and tea dispensers and a blender support hot and cold beverage production. Refrigerated and ambient display cases and countertop ambient displays present food and beverage offerings.
"During breakfast hours, staff tuck in stools below the countertop so they don't obstruct guests," Kris says.
In the afternoon and evening, staff pull out the stools so guests can sit and enjoy wine and charcuterie offerings while they interact with culinary staff. "The bagel display is concealed while the beer taps that match the cold brew and kombucha taps take center stage — literally — as culinary attendants explain craft brews," Simon explains. "This approach provides long-term flexibility so the offerings can be changed as customer demand changes, while also promoting guest interaction."
Adjacent to the main prep area, refrigerated display units reside with air screens to display charcuterie offerings. "The prepared foods cases are sleek and modern with a lower-than-normal overall height to help facilitate a more comprehensive food display with a limited footprint," Simon says.
Food Stations
Guests select from chef's boards, sandwiches, soups and design-your-own options. Gourmet Sandwiches/Prepared Foods comprises the heart of the operation and supports both a la carte production and catering functions. Staff prepare and display most of the operation's iconic food offerings including house-made specialty sandwiches such as the duck confit, French dip, Bama salmon and pimento cheese BLT. On weekends the a la carte line converts to support the concept's brunch menu featuring menu items such as lemon oatmeal pancakes, prosciutto and
fried egg sandwich, and crispy chicken buttermilk biscuit. Equipment in this area includes a countertop range, fryer battery, charbroiler and griddle.
A front counter displays prepared food offerings in modern glass display cases. Staff work at the main production line containing a refrigerated pizza-style prep table holding mise en place. A manual slicer draws customers' attention to this station and encourages them to buy sliced deli meats. Staff heat sandwiches and other hot menu items in quick-speed ovens. "Other locations had panini presses for heating sandwiches, but those units struggled to keep up," Simon says.
"The work areas were strategically located and configured to ensure proper communication and flow of food between the front and back sides of the station, while simultaneously avoiding any conflicting flow patterns," Simon says. "Even the to-go containers were considered in the planning effort under the theory of mise en place, or 'everything in its place.' "
Bakery, enclosed in glass, occupies a highly visible position adjacent to Gourmet Sandwiches/Prepared Foods so guests can see the staff using the 20-quart mixer, countertop range and two double-stacked convection ovens to prepare, bake and finish baked goods. "Its central location provides adjacencies to the back-of-the-house kitchen as well as the sandwich station and Coffee/Wine Bar displays," Simon says. Bakery provides catering support if and when needed. The Nashville site produces all baked goods in house, with the exception of bread, which comes from a Charleston bakery and is produced to Caviar & Bananas' specifications.
Gourmet Sandwiches/Prepared Foods and Bakery sit closest to the back of the house because they have the greatest storage and warewashing needs. All stations have sufficient storage to minimize restocking.
Open-air-screen refrigerators showcase fresh greens.The Salads station features a greens wall with air screen refrigerators as a backdrop. This station also holds ambient containers for ingredients for hand-tossed salads. "This design provides aesthetic appeal, improves time and motion efficiency and communicates the freshness of offerings provided," Simon says.
Grab + Go contains refrigerated and display cases holding myriad alcoholic and nonalcoholic beverages, yogurts and other refrigerated side items. Candy/Fruits/Nuts offers self-service packaged selections.
The Furnisses' focus on sustainable practices includes using Energy Star equipment where viable, right-sizing walk-in coolers to limit inefficient cubic space that will not yield additional storage, cross-utilization of ingredients and repurposing food ingredients within prime usage periods. "We want to serve clean, high-quality, healthy products, prepare menu items from scratch and give chefs discretion to develop menus with seasonal ingredients," Kris says. The team maintains direct relationships with local farmers.
Cross-utilizing ingredients and repurposing food components within their prime usage periods also helps to keep food quality high and minimize food waste. For example, the roasted chicken breast of today can easily become roasted chicken and pecan salad or chicken soup the following day. Today's bread may be tomorrow's salad croutons.
Although no specific expansion plans exist at this time, Kris says, "We intend to grow in a smart way and be sure systems are in place to maintain quality and consistency." The Nashville flagship exemplifies what the future will bring.
Facts of Note
Opened: June 21, 2017
Scope of Project: New tenant build-out from "vanilla box"
Size: 6,400 sq. ft.
Seats: 112
Average Check: $13.75
Total Annual Sales: $5 million
Daily Transactions/Covers: 1,000
Hours of Operation: 7 a.m. to 8:30 p.m., Monday through Thursday; 7 a.m. to 9 p.m., Friday; 8 a.m. to 9 p.m., Saturday; 8 a.m. to 8 p.m., Sunday
Menu Specialties: Made-to-order salads, sandwiches, prepared foods; The Tennessee Trio; curated wine and beer selection
Staff: 50, including 25 in the kitchen
Total Project Cost: $2.5 million
Equipment Investment: $617,500
Website: www.caviarandbananas.com
Key Players
Owners: Furniss & Company LLC, headquarters in Charleston, S.C.; Kris Furniss and Margaret Furniss
Director of Operations: Jake Wright
Director of Culinary Operations: Scott Roule
Director of Merchandising: Tina Heath-Schuttenberg
Director of Marketing: Ashley Warnock
Executive Chef: Joseph Denomme
Architect: Powell Architecture and Building Studio, Nashville, Tenn.; Manley Seale, architect and partner
Interior Designer: Powell Architecture and Building Studio, Nashville, Tenn.; Manley Seale, architect and partner; Katie Vance, senior interior designer
Foodservice Consultant: Innovative Foodservice Design Team, Boulder, Colo.; Lee Simon, principal; Whitney McClintock, design captain in Tampa, Fla., office; Vince Ferraro, senior design captain in Tampa, Fla., office
Equipment Dealer: Louis Wohl & Sons Inc.; Tim Calhoun, senior project captain in Tampa, Fla., office
Construction: Powell Architecture and Building Studio, Nashville, Tenn.; Chad Roberts, project superintendent
Meet the Players
Joe Denomme, executive chef of Caviar & Bananas' Nashville, Tenn., location. Denomme trained with the Charleston, S.C., staff for several months in 2017 before hiring and opening with his own team at the Nashville location in June. A Detroit native, Denomme landed his first restaurant gig at age 14 for a small Italian restaurant in Detroit. After completing culinary school, he worked at a variety of restaurants.
Vince Ferraro, senior design captain, Innovative Foodservice Design Team. With 10 years of experience in foodservice design, Ferraro's projects include facilities in North America, Central America, the Caribbean, and the Middle East. For this project, he oversaw development of the project documents, focusing on quality control.
Kris Furniss, co-owner and co-founder, Caviar & Bananas. Before opening the first Caviar & Bananas cafe and retail market 10 years ago, Kris was the general manager of Dean & Deluca for the Madison Avenue and Soho locations in New York City. Prior to that, he was the general manager of New York City's The Biltmore Room, a three-star fine-dining establishment.
Margaret Furniss, co-owner and co-founder, Caviar & Bananas. Margaret has led the branding and retail arms of the company from its conception in 2009. Prior to her role with Caviar & Bananas, she worked as an account director at Arnell Group advertising (now Omnicom Group) in New York City. She also managed marketing for General Nutrition Centers.
Whitney McClintock, design captain, Innovative Foodservice Design Team. McClintock brings 10 years of experience in operations, interior design and foodservice design to her current position. She led development of the design documentation in a three-dimensional format for Caviar & Bananas.
Scott Roule, director of culinary operations, Caviar & Bananas. Roule joined the operation in 2013 as executive chef for the Charleston S.C., locations and assumed his current role in 2016. Following college graduation, he worked for FS Food Group in Charlotte, N.C., where he served as corporate executive chef, supervising five restaurants, opening several and overseeing the catering division.
Manley Seale, partner and senior architect, Powell Architecture and Building Studio. During Seale's 12 years in the architecture, design and construction industry, he has designed a variety of project types, always with a focus on hospitality.
Lee Simon, principal, Innovative Foodservice Design Team. Simon maintains final responsibility for the design and procurement teams, and all project-related coordination efforts. With 22 years of foodservice design experience, Simon is the author of The Restaurant Dream, and a former restaurant owner. He is also a past winner of FE&S' Facility Design Project of the Year (2002).
Jake Wright, director of operations for Caviar & Bananas' five locations. Wright oversees hiring, team development and day-to-day logistics. He began working in hospitality as a teenager at a mom-and-pop seafood place. His background includes working with a variety of restaurant concepts including Starbucks, PF Chang's and Weber Grill Restaurants.
Katie Vance, senior interior designer, Powell Architecture and Building Studio. During Vance's decade in the commercial and hospitaliy interior design field, her projects have included C&B Nashville, East Nashville's Butcher & Bee and Butchertown Hall in Nashville's Germantown neighborhood. In 2011, she created and launched modern handmade market Porter Flea.
Equipment Key
1. Walk-in cooler
1a. Remote compressor
1b. Flexible cooler curtain
1c. Walk-in freezer
1d. Blower coil
1e. Undercounter refrigerator
1f. Undercounter freezer
1g. Mega-top refrigerator
1h. Freezer merchandiser
1i. Refrigerated merchandiser
1j. Cold brew/kombucha cooler
1k. Ice drawer
il. Back bar cooler
2. Storage shelving unit
2a. Wall-mount shelf
2b. Glass rack shelf
2c. Dish table undershelf
2d. Wall-mount pot shelf
2e. Utility shelf
2f. Tubular wall-mount shelf
2g. Wine shelves
3. Air curtain
3a. Refrigerated air screen
4. Mobile pan rack
4a Dunnage rack
4b. Syrup rack
4c. Wine glass rack
5. Prep table w/sink
5a. Worktable
5b. Soiled dish table
5c. Clean dish table
5d. Refrigerated prep table
6. Wall-mount cabinet in storage
7. Trash receptacle
8. Prerinse sink w/add-on faucet
8a. Pedestal base hand sink
8b. Prerinse faucet
8c. Splash-mount faucet
8d. Three-compartment sink
8e. Mop sink
8f. Service faucet
8g. Hand sink w/built-in soap and towel dispenser
8h. Deck-mount faucet
8i. Drop-in hand sink
8j. Drop-in dump sink w/faucet
9. Soap and towel dispenser
9a. Drop-in soap dispenser
9b. Drop-in towel dispenser
10. High temp, ventless
dishwasher
10a. Undercounter warewasher
11. Floor trough
12. Ice bin
13. Ice maker
14. Water filter
15. Water heater
16. Office chair
16a. Bar stool
17. Computer/POS
17a. POS printer
17b. POS system w/ cash drawer and scale
17c. POS system w/ cash drawer
18. Desk
19. S/s wall flashing
20. Double convection oven
21. L-shaped prep counter w/ sink
21a. L-shaped bakery prep counter
21b. Prep counter w/ sink and hand sink
21c. Work counter
21d. Chef counter w/ hand sink
21e. Soup/sandwich counter
21f. Prep counter
21g. Salad counter w/ pan drop-in
21h. POS counter
21i. Back bar counter
21j. Beverage work counter
21k. L-shaped beverage counter
21l. Island counter
21m. Condiment counter
21n. To-go counter
22. Two-burner countertop range
22a. Eight-burner range
23. High-speed microwave oven
23a. High-speed oven
23b. Conveyor toaster
24. 20-qt. mixer
24a. Mixer stand
25. Ingredient bins
26. Toaster display cabinet
26a. Wall-mount cabinet
26b. Wall cabinet
27. Fryer battery w/ filter
27a. Fryer shield
28. Refrigerated equipment stand
29. Charbroiler
30. Griddle
31. Fire suppression system
32. Slicer
32a. Prosciutto slicer
33. Heat lamp
34. Bread display case
34a. Refrigerated display case w/ POS mount
34b. Ambient display case
34c. Built-in refrigerated
full-service display case
34d. Built-in refrigerated
self-service display case
35. Butcher paper roll
36. Drop-in soup warmer & control panel
37. Food shield
38. Cup dispenser
39. Coffee brewer/dispenser
39a. Tea brewer/dispenser
39b. Tea dispenser
39c. Espresso machine
39d. Air pot
40. Coffee grinder
41. Blender
42. Drop-in dipperwell
43. Mobile ice cart
44. Drip pan
45. Beer dispensing tower
45a. Cold brew/kombucha dispensing tower
45b. Wine dispensing tower