This upscale version of Aqua Grill in Ponte Vedra Beach, Fla., keeps loyal guests happy while attracting new guests with creativity, efficiency and a commitment to high standards.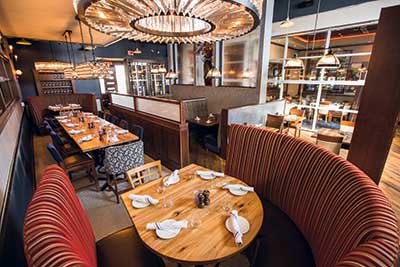 Aqua Grill spent the better part of 33 years cultivating an excellent reputation as a high-end seafood restaurant. Its location in Sawgrass Village, a high-end residential community and commercial shopping complex in Ponte Vedra Beach, Fla., attracted local and out-of-town guests. The village is near the Sawgrass Golf Club and The Players Championship (TPC) Sawgrass, host to the PGA's annual The Players Championship golf tournament.
"The village's new owners wanted to rebuild everything, so if we wanted to stay in business we had to move into a new space," says Cary Paige, managing partner of Aqua Grill, who has worked with proprietor Cary Hart since the restaurant's opening.
Hart, Paige and the project team wanted the new location to be casual, approachable, chic and warm to guests dining in the restaurant or having a drink in the full-service bar. They wanted Aqua Grill to appeal to guests from multiple generations. The project team included Craig Meek, president of Meek Development Group, who served as the owner's representative and construction manager; Raymond R. Schaefer, AIA, NACARB, president and architect, Gravity Architecture and Design LLC; Marianne L. Poltar, IIDA, NCIDQ, director of interiors and brand and project manager from Gravity Architecture and Design LLC.; and Thomas Galvin, FCSI, president of the Galvin Design Group.
"The overall scope of the restaurant turned out well beyond our wildest dreams," Paige says. "We still have the sleek, warm feeling that made the original restaurant successful, and now we also have a more industrial, contemporary yet sophisticated appearance. We've increased the business by 75 percent since the move."
Guests in the main dining room see the water wall and private dining room with removable center walls. Overhead lighting brings a sparkle to the overall ambiance. The water wall and glass liquor displays are visible throughout the restaurant.Layout was the biggest challenge the team faced, according to Poltar, who served as interior designer for this job. "We had to provide a large private dining area for about 50 people. We wanted to make it feel part of the main dining area and not a secluded room off to the side. In addition, the owner wanted the bar to be separated from the main dining area but easily accessible from the main entry and main dining."
As guests walk through the door, a host greets them. An eclectic industrial light fixture sparkles over the host stand. Straight ahead stands a glass-enclosed wine display. Walking further into Aqua Grill, guests continue either to the left, where they enter the full-service bar, or to the right, into the main dining room, which features a display window that looks onto the exhibition kitchen and site of the culinary show. Decorative light fixtures, mosaic tiles, reclaimed wood, colorful painted walls and warm woods are featured throughout the space.
"The old restaurant had mostly booths and few tables," Paige says. "The new restaurant has mostly tables and only four booths."
Two massive 15-foot-high water walls rise in the middle of the main dining room. With the water features on their left and the kitchen on their right, guests look through floor-to-ceiling windows to see an outside patio deck. This outdoor space overlooks a pond surrounding a water fountain. "When the weather is cooler or rainy, the patio can be fully enclosed with the automatic screens and is warmed by ceiling-mounted heaters," Poltar says. The patio also features a fire pit that when lit warms the space.
Walking to the left of the water wall, guests enter a private dining room, which can seat up to 48 people. "When the dining room is being used for private functions it can be closed by large industrial garage doors," Paige says. "We subdivide the space into two rooms for smaller groups. When it is not being used, the room is open and is part of the main dining room."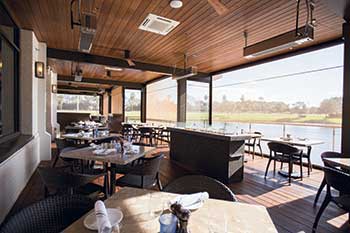 The fire pit on the patio deck exemplifies the use of form and function. Thanks to air conditioners, ceiling fans, heaters and pull-down rain covers, the patio remains open year-round.The project team also wanted the full-service bar, which is in a separate area on the left side of the building, to feel like a part of the whole dining area, Poltar says. "We added large glass panels along the back bar so guests in the bar can see through into the main dining area of the restaurant, and those seated in the main dining area can see back into the bar. Aqua Grill wants to give its guests a great experience, and the ambiance is as important as the food quality."
The bar area's intimate setting features decorative industrial light fixtures, rounded booths in the corners, multiple screens for watching sporting events, plush faux leather bar stools, cork checkered flooring, and brick and tile walls. "This is a perfect spot for locals and out-of-town guests to catch a game, grab a drink and a bite to eat," Poltar says.
The Kitchen and Menu Production
The main kitchen gives the culinary team enough firepower to produce menu items quickly during slow and peak periods. "We appreciate that the designers worked with us to determine what we needed and like rather than coming in and giving us a kitchen that just looked good on paper," says Mike Thomashunis, executive chef. "The result is better than we could have imagined."
Staff exit the kitchen through one of two doors. One door leads to the main dining room, and the other leads to the outdoor patio deck dining area. This approach divides the flow of staff and allows the team to serve the guests more quickly. At the opposite end of the kitchen sits the bar, which has its own entry door when the restaurant is closed or sold out for a function. The bar also has its own outside patio deck area.
After deliveries arrive, team members place food items in a walk-in cooler, a walk-in freezer and dry storage areas. "The footprint of this restaurant was smaller than the original restaurant, so we placed the walk-in cooler, which contains a meat cooler, fish cooler and freezer, in the outside area to eliminate the space problem," Galvin says. "The outside walk-in as well as kitchen equipment that have dual tasks to prepare multiple types of menu items contributed to lowering the overall building cost. This allowed the owner to place more money into weatherproofing the outside deck for a 365-day operation."
"Overall, the operation is more efficient than it was in the original restaurant," Paige says. "And we have air conditioning throughout the front and back of the house. The kitchen hoods are extremely efficient and exhaust the air very well, which contributes to a better and cooler environment."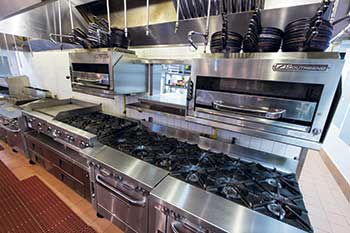 A pass-through window enables culinary staff to move menu items easily from the kitchen to the service line.A cold prep area includes slicers, a countertop mixer and a salad spinner. Refrigeration equipment, including blast chillers, sits in strategic positions throughout the kitchen. Culinary team members use a pantry area to prepare salads and desserts. The team makes approximately one-half of the desserts on the menu, including bread pudding, key lime pie and chocolate cake.
"We have a lot more space on the lines to move around, which is great for us," Thomashunis says.
The a la carte menu at the new restaurant offers fewer items than the menu featured at the original restaurant. "We had been in business for a long time, and we wanted to please all of our guests," Paige says. "Many regular customers had their menu favorites, and we didn't want to disappoint them by taking the menu items off the menu. When we moved, we cut the umbilical cord and decided that less is more. Chefs can be more creative this way and use more locally sourced ingredients." For example, Thomashunis focuses his menus on locally sourced products, including fish, produce and micro-greens.
A hot line in the back of the kitchen supports the restaurant's daily service as well as special events. The line features double-stacked combi ovens for cooking proteins and bread, a tilt skillet for soups and sauces, a four-burner range with an oven beneath, a steamer for vegetables, a cook-and-hold oven and live Maine lobsters that sit in a tank in the front of the restaurant. "We didn't have a tilt skillet or cook-and-hold oven until we moved," Thomashunis says. "Production is much more efficient with these pieces of equipment."
The hot line sitting further toward the service line features two six-burner ranges, two convection ovens, a salamander and another six-burner range and salamander. Culinary team members grill steaks on a flattop griddle and chargrill while preparing fries, calamari and chicken wings in the fryers.
"We order fish daily," Paige says. "At the end of the night, we don't mind if we run out of a specific species because we want fish to be fresh every day."
Across from the saute station, a custom-built chef's table features refrigeration, hot wells and heat lamps overhead. Built-in soup wells and bread warmers contribute to the team's efficiency. At the end of the line, culinary staff finish off plates and assemble sides and appetizers. The expediter stands on the opposite side of the chef's counter, which contains ice wells for garnishing stations.
POS, Dishwashing, the Full-service Bar and Transition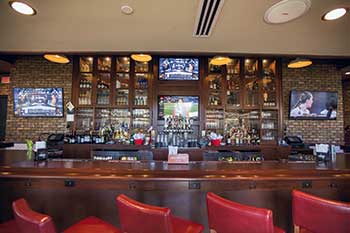 The bar area's intimate setting features decorative industrial light fixtures, multiple screens for watching sporting events, plush faux leather bar stools, cork checkered flooring and brick and tile walls.The restaurant uses a POS system that Paige says "has been terrific for us." The waiter takes orders from the guests and transmits the order to the production stations from two different locations. Two additional POS stations sit in the bar.
Enhancements in the dishwashing area include larger dish tables and a more efficient dishwasher and glasswasher. "Enclosed dishwashing in the kitchen eliminates cross contamination," Galvin says.
The full-service bar is popular with diners who want drinks before they move to the dining room and guests — many of them local residents — who want to visit the bar only for drinks, appetizers and items from the main menu. "Our old bar had one long line and just one exit, while this one has two exits, which is extremely helpful because the bartenders can come and go more easily and don't get bottlenecked on the line," Paige says.
The beer system upgrade also contributes to the operation's efficiency. The kegs now sit in a beer cage in the back of the house. The liquid is pumped through a nitrous system that allows beer to come through at 29 degrees F to a new beer tower. "The beer tower is much more eye-appealing and more functional because bartenders don't have to up-tap and re-tap," Thomashunis says.
"And no one is getting hurt by picking up kegs," Paige adds.
Making a transition from the old restaurant to the new required the entire team's dedication to reviewing every detail so they could keep what was working and make appropriate changes to adapt to a new space and welcome in a new generation of guests. With the exception of a six-week transitional period, the operation remained open during construction.
Back to the Project's Start
An antiquated retail shopping center housing the original Aqua Grill was designated for a major redevelopment project. Phase one of the redevelopment was to rebuild stores such as Publix and CVS and expand the shopping center with more retail shops. Aqua Grill sat in a major cross-section of this space.
"Building a new shell for Aqua Grill and relocating the restaurant to another part of the development was included in phase two," says Meek, who worked as owner's agent for the project developer during phase one and then served as Aqua Grill's owner's representative and construction manager for Aqua Grill during its transition to the new venue.
"Before Aqua Grill moved, this was a tough time for the restaurant because so much construction was going on around it," Meek says. "It was like operating in the middle of a war zone. The owners had to work in these very disruptive conditions and do things like bring in valets for parking because the main parking lot area was ripped up during the site construction of phase two."
Meek worked with Aqua Grill to negotiate the financing and develop a new restaurant to meet Hart's and Paige's needs. "The outside objective of the transition to a new restaurant was to be open for the The Players Championship, one of the most prestigious golf tournaments in the country," Meek says. "However, our goal was to be open by October 2015 in time for the huge college football rivalry game between the University of Florida and the University of Georgia held annually in Jacksonville. We were able to meet this objective."
The main challenge in moving into the space allocated for Aqua Grill was to properly situate and finance the restaurant to allow for the outdoor patio to overlook the lake. The landlord was cognizant and respectful of the fact that Aqua Grill had to open as soon as possible from the time it was shut down on Sept. 13, 2015, until it opened on Oct. 28, 2015. "They were shut down for six weeks," Meek says. "They closed on September 13, and on September 14 an auctioneer came in to sell what was possible."
During this transition and shut-down time, Aqua Grill continued to pay the core management team and retained many of the hourly staff.
"In spite of all the challenges, Aqua Grill's business blossomed," Meek says. "In spite of all the physical challenges they were confronted with, they opened up with a bang and hit a home run."
Facts of Note
Opened: Original in 1988; new facility, Oct. 28, 2015
Scope of Project: New facility, including front and back of the house, located 800 yards from the original site
Size: 5,643 sq. ft. (one-third is the front and back kitchen; two-thirds is dining space)
Seats: 247, including 112 inside in the dining room and private dining room, 85 on the climate-controlled deck and 50 in the bar. The private dining area can accommodate 48 people. Lowering a pair of industrial garage doors divides the space into 2 dining rooms that can each seat up to 24 people.
Daily Transactions/Covers: 400
Average Check: $45
Total Annual Sales: N/A
Hours: 11:30 a.m. to 2 a.m.
Menu Specialties: Gourmet seafood, most of which comes from the ocean located two blocks from the restaurant, and steak
Staff: 45 to 50 full-time and part-time employees
Total Project Cost: $2.8 million
Equipment Investment: $800,000
Website: aquagrill.net
Key Players
Proprietor: Cary Hart
Managing Partner: Cary Paige
Executive Chef: Mike Thomashunis
Architect and Interior Designer: Gravity Architecture and Design LLC, Orlando, Fla.; Raymond R. Schaefer, AIA, NCARB, president and architect; and Marianne L. Poltar, IIDA, NCIDQ, director of interiors and brand, and project manager
Foodservice Design Consultant: Galvin Design Group Inc., Winter Garden, Fla.; Thomas Galvin, FCSI, president
Equipment Dealer: Edward Don & Company, Miami office; John Koehler, project manager
Owners Representative and Construction Manager: Meek Companies, Jacksonville, Fla.; Craig Meek, president
Construction: D.W. Meyers, Jacksonville, Fla.; David Meyers, president
Meet the Players
Cary Hart, proprietor. After moving to Gainesville, Fla., in 1983, Hart opened a restaurant, Aw Shucks, which remained open until 1993. When he moved to Ponte Vedra Beach, Fla., in 1988, he opened another Aw Shucks and changed the name to Aqua Grill in 1998. In 1990, he started a golf tournament to raise funds for Lukeumia research, which ran until 1997, and he also organized a Child Cancer Fund event in 2012 after 9/11 that raised more than $158,000. He continues to run annual fundraisers in conjunction with anniversary parties for the Child Cancer Fund.
Cary Paige, managing partner. Opening Aqua Grill in 1988 as a partner, Paige left the industry to help his family's business in 1994. He returned to Aqua Grill in 2001 as managing partner. The restaurant business has always been his passion, and he appreciates that the day-to-day business operation is never the same.
Mike Thomashunis, executive chef. Born in Germany and moving as a child with his military family to the U.S., Thomashunis took his first job as a dishwasher at the age of 15. He quickly worked his way up to a cook's position and worked in numerous Central Florida restaurants. After receiving a degree from the American Culinary Academy, he interned at the Terrace Hotel in Lakeland, Fla., and later took a sous chef position. Moving to Jacksonville, he worked his way up to sous chef at Aqua Grill, moved to Park Place Café in Atlanta as chef de cuisine and returned to Aqua Grill in 2012 as executive chef. He has a love for local fresh ingredients and developing new ideas and techniques.
Thomas Galvin, FCSI, president, Galvin Design Group Inc. Galvin has been a food facilities and architectural design consultant for 35 years. He has worked on projects in 32 countries for every segment of the hospitality industry, including restaurants, amusement parks, businesses, schools and resorts. He has also taught foodservice design at colleges, including Rosen College of Hospitality Management in Orlando, Fla., and Boston University.
Craig Meek, president, Meek Development Group, Jacksonville, Fla. Meek served as the owner's representative and construction manager for Aqua Grill. A native of Jacksonville, Fla., he formed Meek Development Group in 1991. Meek Development Group provides comprehensive commercial real estate, project, development and construction management services throughout Florida. It has been involved in the delivery and development of more than 2.6 million square feet of commercial-related facilities.
Marianne L. Poltar, IIDA, NCIDQ, director of interiors and brand, Gravity Architecture and Design LLC, Orlando, Fla. Born, raised and college educated in Ohio, Poltar joined the design industry 13 years ago. She joined Gravity Architecture and Design in 2007 and brings her experience to projects in hospitality, retail, education and commercial business. She serves on the Florida Central Chapter board of the International Interior Design Association.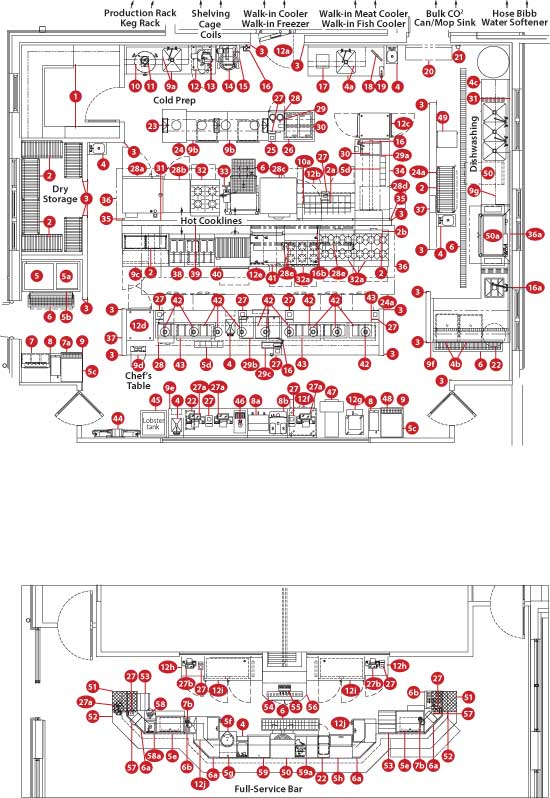 Aqua Grill Equipment Key
Equipment Key
1. Desk
2. Shelving
2a. Overshelf
2b. Pass shelf
3. Corner guards
4. Hand sink
4a. Prep sink
4b. Soak sink
4c. Three-compartment sink
5. Ice cuber
5a. Ice flaker
5b. Ice bin
5c. Ice maker
5d. Insulated ice bin
5e. Ice chest
5f. Ice shaver
5g. Equipment stand
5h. Ice holder
6. Trough drain
6a. Corner drainboard
6b. Drainboard
7. Soda system
7a. Soda dispenser
7b. Soda gun
8. Iced tea maker
8a. Coffee maker
8b. Espresso machine
9. Brewing table
9a. Produce table
9b. Banquet table
9c. Breading table
9d. Chef's table
9e. Beverage table
9f. Dirty dish table
9g. Clean dish table
10. Lettuce spinner
11. Food processor
12. Shock freezer
12a. Walk-in cooler
12b. Salad refrigerator
12c. Pass-thru refrigerator
12d. Reach-in refrigerator/freezer
12e. Griddle refrigerator
12f. Undercounter refrigerator
12g. Batch freezer
12h. White wine coolers
12i. Back bar refrigerator
12j. Beer cooler
13. Slicer
14. Mixer
15. Power pack
16. Fill faucet
16a. Prerinse faucet
16b. Range faucet
17. Vacuum sealer
18. Display monitor
19. Can opener
20. Air door
21. Phone
22. Trash container
23. Overhead raceway
24. Can rack
24a. Pot and pan rack
25. Dessert station
26. Ice cream unit
27. Printer
27a. POS
27b. POS/cash
28. Microwave oven
28a. Combi oven
28b. Cook and hold oven
28c. Convection oven
29d. Bread warmer
28e. Overhead oven/broiler
29. Dipper well
29a. Soup well
29b. Heat wells
29c. Slim hot well
30. Light kit
31. Wall cladding
32. Four-burner range w/oven
32a. Six-burner range
33. Tilt skillet
34. Salad counter
35. Gas pipe
36. Exhaust hood
36a. Dishwasher/condensate hood
37. Electrical panels
38. Fryers
39. Wall tile
40. Chargrill
41. Griddle
42. Heat lamp
43. Pan chiller
44. Water filter
45. Lobster tank
46. Still/sparkling water
47. Pasta machine
48. Soda dispenser
49. Spray wash
50. Glass washer
50a. Dishwasher
51. Drink pickup
52. Drink rail
53. Liquor bin
54. Drip pan
55. Beer tower
56. Back bar cabinet
57. CO2 glass froster
58. Blender
58a. Blender station
59. Clean glass unit
59a. Dirty glass station