Menu authenticity and unconventional brand identity support Microsoft's core goal of enhancing the employee experience.
Over the past five years, Microsoft has been implementing Café Lifecycle remodels on its Redmond, Wash., campus as part of a strategy
to continuously improve and enhance the Microsoft employee experience. "By focusing on bringing culinary advancement, technology integration, innovative brands and improved ambiance, we drive overall customer satisfaction and employee participation," says Mark Freeman, senior manager of Microsoft's Global Dining Services. "By driving our cafe participation, we enhance Microsoft employee productivity."
By creating cafes that are compelling to company associates, the dining services group also supports Microsoft in its mission to attract, develop and keep the industry sector's most sought-after talent.
Selected for lifecycle remodeling due to the age of the facility and declining performance metrics, Café 36, located in Building 36, was closed on Nov. 1, 2015 when construction began and reopened June 6, 2016. Planning began nearly 14 months prior to the cafe's closure.
"The old cafe was aging, dark, closed-off, uninspiring and had encumbered sight lines and a disjointed design unrelated to the building and the external environment," Freeman says.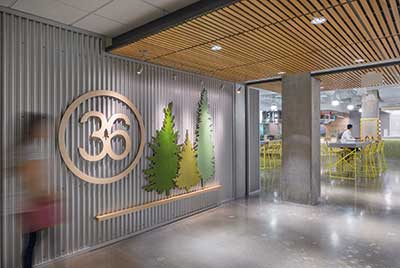 Café 36's entrance depicts the theme of bringing the outside to the inside and the use of natural woods. Photography courtesy of MG2; photo by Lara SwimmerThis old environment is in sharp contrast to what attracts Microsoft's associates to cafes. Many are Gen Yers, a group Freeman describes as diverse, smart, innovative and hungry for options and authenticity. They have very high expectations for dining experiences with food transparency and clean food.
Remodel goals include driving participation, enhancing meaningful technology into the customer experience, driving guest satisfaction and enhancing customer convenience, in part by expanding offerings as well as reducing queue times.
Since the renovation, customers walk into Café 36 and become immersed in what project designer Peter Stocker, PSAMA, associate principal at MG2, calls approachable industrial design. "We wanted the cafe to look authentic to the original building," Stocker says.
MG2 also wanted to take advantage of the building's surrounding forest-like environment with fir trees flanking the structure on two sides. "When we learned we could expand the building footprint by 4,750 square feet and raise the ceiling over 3 feet in some areas, we wanted to bring the outside inside and maintain sight lines and unfettered views to the tree line," Stocker says. Floor-to-ceiling windows bring in natural light that emphasizes the use of natural materials such as clear woods, polished concrete flooring and powder-coated metal, as well as a color palette featuring celadon and geometric wall tiles.
The MG2 design team members were inspired by the dedication Freeman and team members at Microsoft and foodservice provider Compass Group brought to create menus that reflect current thinking about food and nutrition. "Our strategy to pay homage to the level of attention given to the food was to develop an overall retail brand in its generic form," Stocker says. "We developed stand-alone brands with names, logos and a design language for seven mini-restaurant venues that respected the level of creativity and intention brought by the culinary team."
Efficiency in Design
Butcher•Baker•Barista features comfortable wood-and-metal seating at the counter.Integrating the back of the house and the front of the house creates more opportunities for exhibition cooking and food concept variety. "The efficiency of the design allows for limited inventory, just-in-time processes for fresh ingredients," says Richard Nettle, senior project program director for Compass Group. "Ordering and production format includes a flow of fresh product, prepared as ordered for immediate delivery. Returned material or dishware duplicate the same process theory."
Café 36 also features cashless, cashierless payment systems with touch-screen order-and-pay kiosks. "Customers aren't waiting in line as long, and so they are more productive during the workday," Freeman says. "Participation is higher because more people can come in and get through faster."
"We're very transparent about the way we prepare food so customers can see what we're doing," says Craig Tarrant, culinary director, Dining at Microsoft for Compass Group. "We're doing scratch-prepared cooking here, and by using the cashless payments, we can use more labor in the back of the house to prepare."
Café 36 features four anchor stations: Himalaya, featuring Indian food; Dekotora, offering teriyaki and ramen; Bosque Burrito; and Veloce Pizza. "These were created by the Dining at Microsoft culinary team," Freeman says.
Additional stations include Tetrix, a salad bar and hydroponic farming station; Coop de Grille, offering luxurious chicken and ranch fare; Butcher•Baker•Barista, a deli, bakery and espresso concept; and The Evergreen Plate, featuring locally sourced entrees and sides.
Urban Farming
A total of 55 hydroponic towers produce nearly 15,000 pounds of greens annually on the Microsoft campus.The diverse stations at Café 36 are all part of a movement at Microsoft that encourages the use of local, GMO- and chemical-free food, scratch-cooking, food-chain transparency and even includes urban farming on campus. This Dining at Microsoft initiative — dubbed an "ingredient revolution" — is an extension of Freeman's interest in local sourcing and clean label foods. "This is about understanding where our food is grown and how farmers are growing it, and then making sure we can communicate that to our customers," he explains.
Under the umbrella philosophy, Microsoft's food programs use as little food with genetically modified ingredients and chemicals as possible. "This is not just about using farmers who we believe care about the food they grow and the animals they raise. It's also about ensuring that Microsoft can make those farmers as productive and profitable as possible," Freeman says.
For instance, Microsoft created a Misfit Produce Rescue where Dining at Microsoft buys more than 75,000 pounds of produce from local farms that meet the taste requirements of produce purchased from regular suppliers, but fall short of grocery-display appeal. This helps reduce carbon footprint and supports the local food chain as well.
Another element of Microsoft's ingredient revolution is urban farming on campus, which includes primarily hydroponics and urban cultivators that grow greens and micro-greens. A total of 55 hydroponic towers on campus produce nearly 15,000 pounds of greens annually. Urban cultivators placed in each cafe enable micro-greens to be served campus-wide. Sophisticated software monitors water temperature and pH (acidity) content, humidity, electricity and so forth.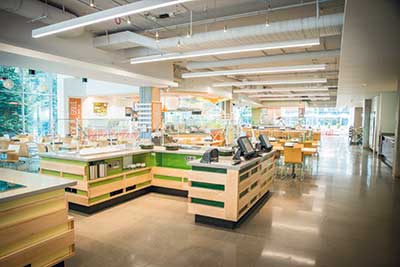 Steel, concrete and glass create the cantilever structure at Café 36. Natural materials give each station its own identity.Employees test their innovation skills by finding ways to improve the gardening program. For example, while testing LED and halogen lights in a lab, employees found that plasma lights made red lettuce more vibrant in color, while other lights produced fairly green and limp leaves.
Next steps may lead to aquaponics, a variation on
hydroponics where fish live in the water and their waste feeds the plants. The parts of the plants that go unused decompose and feed the fish.
Another sustainable-focused project in test phase — Power BI data — takes data from POS systems and determines how many calories and quantities of each nutrient are being consumed.
"So, if we introduce a cantaloupe into the menu mix, for example, we'll know how many people ate the product and if they continued to eat healthy foods," Freeman says. Not only will we plug in data from the POS system, but we'll plug in data about traffic, weather, moon phases and other data. This will create a picture of what is happening in the moment and what may happen. So, we'll begin to predict how many chicken burgers or whatever we should be producing on a particular day given the data factors. There's probably data that will help us to determine the usage of the equipment over time based on consumption."
Freeman is also pleased to report, "We're 92.8 percent zero waste in foodservice."
Back of the House
Culinary team members dish up freshly prepared Indian food at Himalaya. Food items that are not homegrown arrive at the loading dock. Team members then place them into a large cooler, two small freezers and dry storage in the minimally sized back-of-the-house kitchen. "We increased the size of the storage area relative to increased participation, but still kept the back of the house as small as possible to minimize task redundancy and so customers can watch the culinary activity in the front of the house," Nettle says.
Housing worktables, prep sinks, shelving, a tilt skillet, steam-jacketed kettle, a four-burner range with oven beneath, a slicer and blast chiller, this space also allows team members to wash and cut vegetables, produce stocks and prepare meats for the deli operation at Butcher•Baker•Barista.
MG2 also added a new scullery section relative to increased participation. "The former scullery was inadequate," Nettle says. "We had to add square footage because the old cafe's scullery was very small and didn't have as much dish requirement as the new cafe. We put in a higher-capacity warewashing machine and added more space for staging and storage."
Most production takes place in the front of the house at the branded concepts. Each concept contains shelving, undercounter and/or reach-in refrigerators, cold and/or hot food holding cabinets, and, as necessary, refrigerated rails and exhaust hoods.
Branded Concepts
Menu inspiration at Himalaya derives from northern Indian street food and is delivered in traditional tiffin lunch buckets. "We created the environment around the fresh, casual menu," says Stocker. "We added screen-printed patterns to wood panels, and special tile was added to back prep space."
Tarrant adds, "This is the first Indian food concept on campus featuring all from-scratch cooking."
Himalaya features from-scratch Indian fare incorporating fresh-ground spices.Ingredients at this concept sit in containers on a 60-inch make line. The tandoor ovens offer visual intrigue as they bake naan, tandoori, chicken, lamb and other Indian dishes for thali (Indian-style platters) and chaat (small plates). Team members use a six-burner range with an oven beneath, a 36-inch griddle and a single bank fryer to saute, grill and fry menu items and to heat sauces.
A spice grinder attracts much attention at Himalaya because all spices used at this station are ground in house. "It's so important to have this because freshly ground spices accentuate the taste of the food and authenticates the menu," says Nettle. A large framed sign says it all. It reads, The Story of Indian Spices Featured at Himalaya.
Tarrant developed a process for cleaning the machine so the culinary team can maintain the pure flavors of the spices. Dining at Microsoft may soon distribute the spices to other cafes on its campus.
Dekotora's name comes from the incredible works of art embedded onto trucks seen on the highways of Japan. "The owners of these trucks give great time and expense to add thousands of lights and colors to their delivery trucks and thereby create rolling works of art," Stocker says. Colors, materials, art and a brand logo give this venue a fun and dynamic backdrop for the creativity of the food, which includes ramen and teriyaki.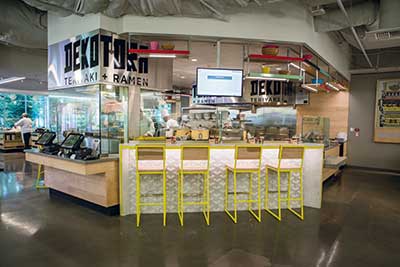 Colors, materials, art and the brand logo provide a fun and dynamic backdrop for the creativity of the food at Dekotora.On the teriyaki side, team members use a charbroiler and rice cooker to prepare authentic teriyaki bowls and kebabs. On the ramen side, team members make all noodles using a 20-quart mixer, two dough sheeters and a pasta cooker. They use the eight-burner range to create rotating ramen dishes including pork tonkatsu, shoyu ramen, yuzu ramen and black forest mushroom ramen.
For Tetrix, the culinary team listened to customer recommendations about the traditional salad bar concept. "We rethought how the customer shops or selects product in the salad bar and totally revised how the concept works," Nettle says. "The design elements use fixtures and separate presentation wells to present the desired items so customers do not have to go down the line like they do in a traditional salad bar."
Taking its inspiration from the classic video game Tetris, Stocker explains, "We broke the old two-sided line model into pieces, allowing guests to flow through stations, focusing on what they want and not having to queue for items they don't. The look and feel represent pallets of fresh produce just unloaded from the farm." Fresh bread sits in a display unit to entice customers.
This venue also plays host to three hydroponic towers that grow produce to be served on-site.
Coop de Grille, featuring what the culinary team refers to as luxurious chicken and ranch fare, serves a hybrid version of what the team created in Café 83. Offering popular yet much more upscale burgers, chicken filets, fish and chips, chicken sandwiches and meatloaf sandwiches, this concept "is based on a requirement by Millennials to have traditional grill options and locally sourced chicken in their cafes," Nettle says.
The grill's equipment package includes two fryers and a dump station, a pressure fryer and its own dump station, two 36-inch convertible grills, a 67-inch make line and a conveyor toaster.
"A playful tribute to chicken and burger stands, we approached this venue knowing it would share the design language with its neighbor, Bosque Burritos," Stocker says. Features include custom-colored glass and back-painted glass, as well as a creative direction that plays with an old American hood ornament as a visual to go with the quirky name. The venue shares space with its Coop de Grille neighbor, so the crossing framework and colored glass are shared, yet specific to each brand.
"For Bosque Burritos, the colorful tree art goes back to the name and the intention of this venue as super-fresh, scratch-made burritos for lunch and breakfast," Stocker says.
Bosque Burritos allows customers to walk along the service counter's 48-inch refrigerated make line and choose Latin and Mexican ingredients for build-your-own burritos, breakfast bowls and chilaquiles. Other breakfast menu items include oatmeal and fruit, potatoes, eggs, guacamole, beans, sausage links and bagels. Hot and cold food wells hold ingredients for breakfast and lunch menus. Steamers keep the tortillas hot.
Customers receive a culinary show as team members prepare Veloce's Roman-style pizza.At Veloce Pizza, team members mix dough for Roman-style pizza in a 60-quart floor mixer and hand-stretch the dough into a pan. After baking in a deck oven in an 18-inch by 26-inch rectangle, team members remove the pizza base, add ingredients and then place it back into the oven. Staff take cooked pizzas and slice them into two-inch by two-inch squares. "This is a unique program that we've never done before on campus," says Nettle.
"The design, brand and menu of this venue are closely tied back to the style of this pizza and the fact that it is ready to go for the guests when they get there," Stocker says. "The logo is inspired by scooter culture as well as the blue, rectangular pans the pizza is formed in. The materials and finishes are modern interpretations of traditional materials but oversized and used in less expected ways."
The Evergreen Plate features locally sourced entrees and sides that team members produce on equipment in the back kitchen.
Butcher•Baker•Barista features both traditional and open-faced sandwiches, such as eggless egg salad baguette, smoked salmon, peppered beef and porchetta, that team members prepare or customers build to meet their tastes. Team members proof dough, but don't make it from scratch. Sandwiches can be warmed in a rapid-speed oven. The menu also features quiches and pastries.
"As a coffee, sandwich and pastry venue, the concept is both modern and comforting with a familiar but exploded-scale buffalo plaid pattern and comfortable wood and metal seating and counters," Stocker says. "Like all the other venues, this venue features power and accessibility for guests to not only dine but work and have casual meetings."
This concept features espresso drinks with beans sourced from a local purveyor, Caffe Ladro. The beverage menu also features blended drinks, some hot and some cold.
Café 36 contains beverage stations featuring flavored, infused waters, multiple flavors of soda and a hot-water dispenser. A microwave allows customers to heat beverages and menu items.
Giving attention to sustainability and energy-saving features, the cafe contains trash-recycle-compost areas and a Compass Group-developed service that provides information for monitoring daytime/nighttime/after-hours energy integration into building controls. The cafe also features energy-efficient hood management systems and reusable dishware with all-compostable materials.
Freeman, the Dining at Microsoft Compass team and cafe designers are recognized throughout the hospitality industry for continuously raising the standards of culinary excellence and customer experience. They've effectively made cafes an integral part of the corporate culture and share generously with industry peers who wish to visit. They believe that the Café Lifestyle Strategy continues to be a major factor in attracting, developing and keeping the industry sector's most sought-after talent.
Facts of Note:
Overview/Microsoft Puget Sound Campus: 50,000 daily population; 90+ dining destinations (33 cafes, 32 espresso locations, 25+ Market@Stores) and The Commons, featuring 23 restaurants, shops and services. Campus-wide dining options serve approximately 45,000 people daily.
Opened: June 6, 2016
Scope of Project: Café 36 remodel of front and back of the house
Size: 14,517 sq. ft. (prior to remodel: 9,763 sq. ft.)
Seats: 379
Average Check: $6.12
Daily Transactions: 1,300
Hours: Breakfast, 7 a.m. to 9:30 a.m.; lunch, 11 a.m. to 2 p.m.; espresso, 7 a.m. to 4:30 p.m.
Menu Specialties: Himalaya (Indian comfort food); Dekotora (teriyaki and ramen); Tetrix (salad bar and hydroponics); Coop de Grille: (luxurious chicken and ranch fare); Bosque Burrito; Veloce Pizza (cut-to-order Roman-style pizza); Butcher•Baker•Barista (deli, bakery, espresso); The Evergreen Plate (locally sourced entrees and sides)
Average Check: N/A
Total Annual Revenue: N/A
Staff: 49 employees
Total Project Cost: N/A
Equipment Investment: N/A
Website: No external website
Key Player
Ownership: Microsoft, Redmond, Wash.
Senior Manager of Global Dining Services, Microsoft: Mark Freeman
Senior Project Program Director, Compass Group: Richard Nettle
Culinary Director, Dining at Microsoft, Compass Group: Craig Tarrant
Architect and Interior Design: MG2, Seattle, Wash.; Peter Stocker, PSAMA, associate principal
Consultants: Compass Group and CBRE managing consulting team, both international companies with dedicated teams on the Microsoft campus
Equipment Dealer: TriMark Gill Group, Seattle
Construction: Howard S. Wright Construction, Seattle
Meet the Players
Mark Freeman, senior manager of Global Dining Services, Microsoft. Freeman's tenure at Microsoft spans 10 years, during which he successfully launched local-branded restaurants to the cafes, The Commons restaurant and retail complex, full-service celebrity chef restaurants and hydroponic growing systems into the dining program.
Richard Nettle, senior project program director, Compass Group. Nettle's career spans 38 years. Joining Compass in 2010 as the senior director for program projects at Microsoft, he is responsible for Dining at Microsoft campus-wide and drives the strategic direction. He strategically blends the architectural concept, facility objectives, culinary direction, technology and models to deliver an operationally efficient food facility.
Peter Stocker, PSAMA, associate principal, MG2. As a brand development specialist, Stocker creates memorable experiences for consumers and patrons interacting with retail, hospitality and mixed-use environments. His entrepreneurial experience includes owning a brand design and development business serving global companies such as Amazon, REI and Uniqlo, as well as local neighborhood restaurants and retailers.
Craig Tarrant, culinary director for dining at Microsoft with the Compass Group. For 30 years, this Puget Sound native's passion has led him to connect with customers by using foods from his childhood and combining classic flavors with unique, seasonal and global flavors. At Microsoft he oversees 50 chefs campus-wide, drives the strategic direction of food and purchasing on campus, helps create many branded cafe concepts and spearheads Microsoft's campus-wide approach to transforming the food experience.
Microsoft's Cafe 36 Floorplan
Equipment Key
1. Free beverage cooler
2. Holding cabinet
2a. Heated holding cabinet
2b. Stainless cabinet
3. Frost top
4. Heated shelf
4a. Double overshelf
4b. Wall shelf
4c. Storage shelving
5. Mobile cart
5a. Dough cart
6. Reach-in refrigerator
6a. U/c refrigerator
6b. Refrigerated base
6c. Refrigerator
6d. Work-top refrigerator
6e. Blast chiller
6f. Walk-in cooler (converted from freezer)
6g. Reach-in freezer
7. Fire suppression system
8. Exhaust hood
8a. Water wash hood
8b. Hood control panel
8c. Vent duct
9. Gas connection kit
9a. Water connection kit
10. Tandoor oven
10a. Oven/proofer
10b. Rapid-speed oven
10c. Microwave oven
10d. Conveyor toaster
10e. Pizza oven
10f. Combi oven
11. Six-burner range w/ oven
11a. Equipment stand
11b. Eight-burner range w/ rail
11c. Four-burner range w/ oven
12. 36" griddle w/ rail
13. Single bank fryer
13a. Dump station
13b. Pressure fryer
13c. Fryers w/ filter
14. Dump station table
14a. Butcher block table
14b. Worktable
14c. Worktable w/ double overshelf
14d. Clean dishtable
14e. Soiled dishtable
15. 60" make line
15a. 67" make line
15b. 48" make line
16. Drop-in hand sink
16a. Sink faucet
16b. Dump sink
16c. Dump sink faucet
16d. Dipperwell w/ faucet
16e. Single compartment sink
16f. Hand sink, wall-mount
16g. Two-compartment prep sink
16h. Eye wash
16i. Prerinse faucet
16j. Three-compartment sink
17. Waste container
18. Drop-in cold pan
18a. Well insert
18b. Drop-in hot/cold pan
18c. Hot food wells
18d. Narrow drop-in cold well
19. Charbroiler
20. Rice cooker
21. Fill faucet
21a. Water filter
22. Dough sheeter and cutter
23. Pasta cooker w/ rinse
24. Hose reel
25. Food shield
26. Induction top
27. Bread display
28. Cultivator
29. Bread rack
29a. Mobile drying rack
29b. Slant rack
29c. Soda rack
30. Hot water dispenser
30a. Soda dispensing machine
31. Blender
32. U/c dishmachine
32a. Warewasher w/ rack conveyor
33. Ice bin
34. Espresso machine
35. 36" convertible grill
35a. Refrigerated equipment stand
36. Tortilla steamer
37. 60-qt. mixer
37a. Pot filler faucet
37b. Pot filler filter
37c. 20-qt. mixer
38. Flour bin
39.Tilt skillet
40. Steam-jacketed kettle
41. Slicer
42. Ice flaker
43. Ice machine