A one-of-a-kind experience brings culinary food exploration and education in partnership with local food concepts.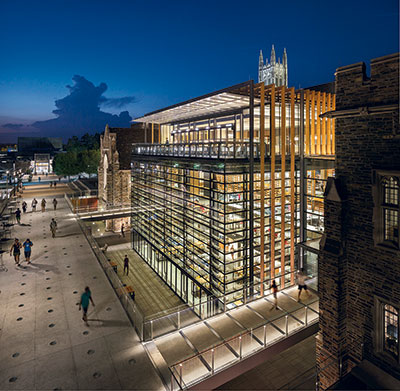 Duke's West Union renovation removed the center of the building and left the three gothic exterior walls in tact while inserting a new core featuring a four-story glass wall. Photo by James EwingRooted in the university's rich heritage and inspired by modern innovation, Duke University's West Union renovation is an architectural phenomenon. The project required removing the center of the building and leaving the three gothic exterior walls intact while inserting a new core featuring a four-story glass wall. The 4-level design contains 13 dining venues, large family-style dining areas and working and lounge spaces to provide a number of open, comfortable areas for relaxing, studying, meeting and socializing. The space also contains performance venues to house live music, small performances, art shows and more.
The project team behind the $150 million building includes architects David Cook, B. Arch, MSAAD, AIA, LEED AP and Brooke Gasaway from Grimshaw in New York City; Vincent Celano, founder and principal of New York-based Celano Design Studio; additional interior designers at Celano; and Jimi Yui, founding principal of Takoma Park, Md.-based YuiDesign Inc. and his colleague, Todd Jackson.
"Duke wanted to provide a community space on West Campus, located in the heart of campus, for students to gather, break bread together and engage with faculty outside of the classroom," says Rick Johnson, associate vice president of student affairs/housing, dining and residence life.
"To be successful our goal was and is to serve world-class, authentic, global food," Johnson says. He, Robert Coffey, executive director for Duke Dining, and other dining team members looked to the innovators in the hospitality market to determine what form West Union dining should take. Gathering inspiration, they visited well-known, highly acclaimed independent restaurants like Eataly in New York City, Jaleo and Strip Steak in Las Vegas, Monsoon in Seattle, David Burke's Prime House in Chicago and several other open-air food markets in the U.S. and around the globe.
"Duke University invited us to join their team in pursuit of their aspiration to do something that's never been done before. That got our attention," Yui says. "The idea that food on Duke's campus should be as fresh and good as what is available in the restaurant environment meant something profound to us. Why shouldn't food be cooked fresh at the moment of consumption just like in a restaurant?"
Seating at the Garden Level near Au Bon Pain offers students a spot to dine, relax and study.Duke's call to Yui invited him to design individual kitchens that would facilitate a la minute cooking at 12 restaurants in West Union. Owners of highly rated local restaurants in the Durham, N.C., area operate each of these 12 kitchens. "By teaming up with local restaurateurs, Duke has created a dining facility that is truly a small village with a collection of individual and unique dining experiences," Yui says. "There is no doubt that Duke is at the forefront of a new trend in food delivery in higher education."
Duke owns West Union and the name of each restaurant. The university also has a separate commission-based agreement with each restaurateur. "Each restaurateur was selected through a rigorous, multi-layer process of testing and student feedback on food and menus. The restaurateurs don't just set up a duplication of their local restaurants on campus," Johnson says. "We oversee the operations and guide the menus and price points and set standards for labor, sanitation and other operational functions. But ultimately our relationship is a true partnership."
The 13th venue, an Au Bon Pain corporate-run location, is the only national chain in the group. All restaurateurs hire their own staff and purchase food for their units.
Two one-of-a-kind pieces of cooking equipment designed only for Duke draw the diners' attention. These include the dim sum/Asian bun steamer in Ginger + Soy and the 8,600-pound custom wood-fired cooking platform in JB's Roast and Chops. "Each custom piece of equipment has a specialized use and is expertly crafted to provide the highest quality preparation methods to ensure authentic cuisine," says Coffey. Other attention-drawing equipment includes a flywheel broiler, rotisserie with multiple cooking rings, duel tandoor ovens and cooking suites with induction cooking surfaces.
Even though some updates had to be made to West Union to serve the needs of today's students, the structure of Great Hall and Cambridge Inn remained as unchanged as possible. With the addition of dining balconies, students now have an even better view of the beautiful 100-year-old, completely restored wood ceiling. A nearly 20-foot glass skylight spans between the existing walls of the Cambridge Inn, Great Hall and the Market core. The skylight and "street" below create a bright, day-lit environment that feels like a bustling, outdoor market.
Each of the 13 restaurants features a distinct and unique custom design, finishes and furnishings. "This was extremely important to be able to create this independent look and feel for each venue to give a real streetscape, open-air market feel as you walk the natural light-filled glass interior walkways [streets] within West Union," Johnson says. "The challenge was to make the building appear to be an open-air market where the outside and inside blend and make the restaurants appear to be these independent authentic venues that flowed within the space."
The Kitchen and Restaurants
Food arrives at the main kitchen dock on the garden level. Team members from all 13 restaurants use designated walk-in coolers, walk-in freezers and dry storage space as well as prep spaces and a shared production kitchen. Each restaurant has access to equipment in the production kitchen, including a 6 open-burner range, a combination range, griddle-top range, mobile fryers, wall-mounted cheese melter, mobile charbroiler, combi ovens, a grill, induction warmers, a tandoor oven, 12- and 20-gallon tilt kettles, and a 30-gallon tilting braising pan.
A potwashing area includes a potwash machine and three-compartment sink that serve all restaurateurs' kitchen prep and cooking. The Commons and The Devil's Krafthouse on this level contain dedicated dishwash machines. A dishroom on the Plaza Level handles all customer dishes in West Union.
All restaurants on all levels contain upright and/or undercounter refrigeration, utility sinks, electrical circuit breaker panels, exhaust hoods, prep tables, counters, food shields, heat lamps, storage cabinets and shelves positioned for team members to work efficiently throughout service periods.
On the Garden Level, The Devil's Krafthouse serves as a casual dining venue featuring classic yet far from ordinary pub fare and craft beers. Andy Magowan operates The Devil's Krafthouse and also owns off-campus restaurants Geer Street Garden and The Boot. "Driven by a modern industrial aesthetic, concrete floors and reclaimed wood materials provide a rough, durable texture that is softened by leather banquette seating throughout," Celano says. "Custom aged-steel light fixtures and seating details add to the raw feeling of the space." Large graphic elements that highlight available menu items and historical Durham fun facts decorate the existing Duke stone walls on the perimeter of the space. These graphic elements and branded collateral pieces provide a fun layer of accented color and character.
Customers can sit and watch sports and other television and cable stations on digital screens at the hand-carved wood bar featuring a curated beverage program, a draft microbrew beer dispenser and a cold rail that keeps glasses chilled. Customers also can sit outside on the patio to dine, play foosball and hang out by the giant screens.
Au Bon Pain also occupies the Garden Level. The fast-casual bakery chain moved from its previous campus location in Bryan Center to this facility. "This is much different than the units with the old yellow tones with its palette of muted earth tones," Johnson says. "They brought the bakery out front, so customers can smell and see the bread and pastries."
Plaza Level
Team members fire up dishes for JB's Roasts & Chops at the custom fire pit, which features a fly wheel grill, rotisserie and paella rings.The Plaza Level contains nine restaurants within an open, streetscape-scene environment designed in the spirit of the restaurant Eataly and street markets all over the world.
"These markets, filled with fresh foods and space to interact and mingle, represent a healthy eating culture that includes and sustains the entire community," Johnson says.
Located in the Great Hall, JB's Roasts & Chops is operated by Sam Clowney and Chris Holloway of Pitchfork Provisions. The duo also operates West Union's The Skillet, The Chef's Kitchen and The Commons, as well as Café Edens and Café De Novo on campus. A chic ambiance with a slightly raw and dark tone in the overall palette reinforces JB's as a site for a primarily meat-centric menu. Customers watch an entertaining show as team members prepare everything from London flank steak, hamburgers, chicken, fish, vegetables and Valencia-style paella. "We looked at many restaurants for inspiration and improved on what we saw," Johnson says.
To prepare the menu fare, the team work at a custom wood, open-flame fire pit, which uses no electricity, and consists of a flywheel broiler, grill and rotisserie.
"This fire pit is unique," Yui says. "I don't know of anywhere else that has all three pieces together in one fire pit. We invented this because Duke wanted steak grilling, an open-flame paella pit and rotisserie combined in one device."
"Discussions with fire marshals were essential to be able to operate this equipment," Coffey says. "We had to install a custom hood with more fire suppression systems than you'll find on traditional hoods."
A carving station that sits next to the hot entree display, cold food station and cashier also adds to the entertainment.
The Skillet Southern Cookery sits adjacent to JB's and celebrates unique and regional Southern flavors. The venue focuses on an open kitchen as the hearth of the home. With warm tones in both the color and material's palette, the space's design aims to be as comforting as the food it serves.
Team members use a 30-gallon tilting braising pan, two combi ovens, a fryer and two pressure fryers to produce a menu featuring pulled pork barbecue made from pork shoulders that team members smoke overnight, fried chicken, po' boy sandwiches on New Orleans-style French bread and various salads including cole slaw, potato salad, dirty rice, baked beans, green beans, collard greens and mac and cheese. Desserts include apple bread pudding with caramel whiskey sauce, banana pudding and seasonal cobbler with vanilla ice cream. The Skillet also features breakfasts with scrambled eggs and biscuits with jam or gravy.
Bun and dumpling steamers allow team members to produce traditional Asian cuisine at Ginger + Soy.In the Cambridge Inn portion of the Plaza Level, a 100-year-old roof offers a unique, treasured ambiance. Don Yoo, who also owns Maru in Cary and Sushinara in Durham, operates Gyotaku and Ginger + Soy. Sitting at the 12-seat, full sushi bar, customers at Gyotaku watch team members produce sushi, sushi bento, Gyotaku special roll and other Japanese specialties. The Japanese word "gyotaku" describes the ancient practice by fishermen to catalog their daily catch by using ink rubbings on rice paper. At tables in this section for Gyotaku and Ginger + Soy, customers can order by tablets and receive their orders from team members.
The adjacent restaurant, Ginger + Soy, offers cuisines from East and Southeast Asia, including a full ramen/noodle bar, to-order wok station, dim sum, poke bowl and Asian buns and dumplings. The menu, much of which team members produce by using induction cookers, features ginger and sesame chicken, as well as chicken, beef and shrimp teriyaki. Poke bowls, displayed in a custom refrigeration well, and Japanese, Korean and Chinese dumplings remain extremely popular. A custom round steamer for buns and dumplings provides an impressive display. "We think this is only one of four such custom round steamers for buns and dumplings in the
nation," Coffey says.
"Though dishes are unique and flavorful, they don't contain a lot of saturated fats and oils so they appeal to customers looking for healthy foods," Coffey adds.
Customers also see a spice shelf that brings a colorful touch to this area, which contributes to the simple back drop in this restaurant.
Glass-Enclosed Core
Tandoor ovens produce authentic Indian cuisine at Tandoor.The glass-enclosed core inserted into Cambridge Hall and the west and east wings includes three market-style restaurants. "This is where glass meets Duke stone," Coffey says.
Tandoor, featuring Indian cuisine, is operated by PC Davis of Sitar Indian Cuisine of Durham. In Tandoor customers can gaze behind a glass wall and watch team members make dough for naan. Staff bake naan in one of two copper tandoor ovens and proteins and tandoori in the other tandoor oven. Team members in the ground floor kitchen made and bake other breads on Tandoor's menu. "Tandoor ovens had to be specially designed to fit with the West Union space while still delivering the distinct flavor these ovens are known for," Coffey says.
Staff also use a charbroiler, grill, flattop griddle and induction cookers to cook a variety of Indian dishes such as ghunas, jalfrazies, vindaloos, makhanis and masalas. Thematically, geometric patterning and a bright color palette serve as a modern representation of India.
Sprout's menu features vegetarian, vegan and raw foods. "Here, no meat touches equipment and we have dehydrators that support the raw part of [the] menu," Coffey says. Fares Hannah of Three Seasons Catering operates Sprout, Farmstead, Twinnie's and Blue Express on Duke's campus and Mesa Latin Kitchen in Durham.
The Farmstead Garden Market features farm-to-fork sustainability with local ingredients. "A green tiled back wall acts as a beacon for the freshest vegetarian options around," Celano says. "Simple, with a slight industrial edge, hand-drawn illustrations lend a friendly and approachable balance to the overall design."
Hannah also operates the adjacent Farmstead. Featuring a sustainable, farm-to-fork menu with locally sourced products, this garden market restaurant contains grills, induction cookers, refrigerated rails and cold pans to cook and assemble fresh garden salads, homemade soups and sandwiches such as the Farmstead burger, pulled pork from smoked paprika-roasted pork shoulder, brisket, herb-roasted chicken and grilled cheese. This restaurant also serves hot entrees such as chicken/turkey pot pie, salmon, trout, shrimp and grits, beef stew, lamb stew, meatloaf, barbecue country-style ribs and jerk chicken. Sides include kimchee slaw, maple-roasted Brussels sprouts, creamed corn and buttermilk mashed potatoes. A carving station features herb-roasted chicken/turkey, slow-roasted brisket, cedar-roasted salmon, smoked paprika-roasted fresh ham, porcetta-style pork loin and garlic-roasted beef tri tip. This restaurant also features a smoker and conventional ovens.
Farmstead's palette of reclaimed weathered materials and bold vintage-style graphic reproductions are an ode to the golden age of American agriculture.
More in the Plaza Level
Il Forno's wood-burning ovens allow team members to produce pizza and pasta dishes.At the southern side of the Plaza Level, in the core, sits Il Forno, an Italian concept operated by Scott Morse of Enzo's Pizza in Durham. Customers can choose from a selection of hand-crafted pizzas or create their own at the Pizza Bar. "A wood-burning pizza oven anchors the venue between two walls clad in white subway tile that provides a clean, minimalist backdrop for black environmental graphics and merchandised items," Celano says.
The oven bakes pies customers select at the pizza bar. Team members use a sheeter to make about 200 pounds of pizza dough daily for up to 400 pizzas. Customers watch as team members press the dough balls and flamboyantly, though carefully, toss them into the air.
The restaurant also contains a pasta/salad/sandwich station with induction warmers. This a la carte station also features a pasta sheeter and extruder for the team to cook fresh pasta.
Also on the Plaza Level, Café, operated by Robert and Fida Ghanem, owners of Saladelia Café and Mad Hatter in Durham, serves as a quick-stop venue for coffee, pastries, and nitrogen ice cream. Open early in the morning to late at night, this small island station's sleek, contemporary design features a neutral color palette, clean typography and subtle pops of color. Café contains a gelato kitchen where team members create 12 flavors of the Italian-style treat. It also features a crepe station where team members make sweet and savory crepes front and center for customers to view. Café also contains two nitrogen-cream machines, which allow the team to create customized flavors of nitro-cream, an ice cream made by flash-freezing ingredients with liquid nitrogen on demand. "We may be the only university that has one," Johnson says.
The island design of the Café concept meshes well with the quick-stop nature of the venue, which offers coffee, pastries and nitrogen ice cream and crepes.This area also features equipment for team members to make fresh squeezed juice, paninis, desserts, coffee, espresso and tea drinks.
Third Level: The Chef's Kitchen
The Chef's Kitchen serves a dual purpose as a flexible, educational culinary teaching kitchen featuring professional chefs' demonstrations and as a pop-up restaurant venue. The space's clean, modern design comes together with state-of-the-art equipment including 16 teaching pods. Each pod contains an induction cooker, mixers, food processors and all small wares for prep, cooking and baking needs. Participants have access to individual ovens.
Chefs' actions can be caught on mirrors, cameras and digital screens. "Students have a huge interest in learning to cook and to cook healthy," Coffey says. "They watch cooking shows and want to learn. We've been bringing in national, regional and local chefs to do demos in this state-of-the-art facility."
Much to the delight of Duke Dining and students, Mario Batali, whose Eataly concept was a main inspiration for West Union, visited the operation in early November 2016 to break in the kitchen by giving a culinary demonstration. "He was very impressed with our facility," says Coffey. Jimi Yui also attended the event.
"As a pop-up restaurant, this facility gives us the opportunity to change themes quickly and rotate hot, trendy fare," Coffey says. "Currently, students want Latin so we're featuring that now and serving about 200 customers at lunch.
"What's great about this chef's kitchen is kids who are interested in food for many reasons love the demonstrations," says Coffey. "For example, chemistry class students show up and they learn a variety of culinary skills and cooking techniques. They never cut this class."
Top Floor: The Commons
The Commons, on the top level of West Union, serves as the premier fine-dining restaurant at Duke University. The Commons serves lunch Monday through Friday for faculty and staff and transforms into The Commons Steakhouse for dinner, open to all, with full table service
and an upscale menu.
"We had a restaurant on the top floor in the pre-renovated building," says Johnson. "Designers put in a glass penthouse that takes up a large portion of the roof. Now we have a light-filled space with views of historic gothic rooflines and buildings that few people could have had an opportunity to see from this vantage point before. We now also have a covered patio."
Team members work in a self-contained kitchen with a 1,600-degree F broiler that cooks steaks like those found at restaurants such as Ruth's Chris. The broiler also cooks chicken. Team members also prepare an extensive steakhouse menu using a 36-inch six-open burner range, an 18-inch char broiler, a 36-inch flattop griddle, combi oven and pasta maker.
"The use of simple but elegant furniture and materials provides an upscale experience, while the subtle nods to mid-century modern aesthetics create a space that is both classic and timeless," Celano says.
When Mario Batali visited West Union to kick off the opening of the Chef's Kitchen and to tour all 13 restaurants, he described Duke Dining's West Union venues as the "Temple of Excellence." Johnson, Coffey and all members of Duke Dining couldn't have been more pleased to hear these words from a chef who inspired the West Union concept. "Our goal was to set a new bar for college dining and create dining experiences that are one of a kind and never before been attempted in a college dining program," Johnson says. "We took trips from coast to coast to experience the most cutting-edge, innovative restaurants and chefs to inspire our design and programs. And we feel our efforts were completely worthwhile."
The efforts to keep exceeding the bar won't be easy. For three consecutive years Duke Dining has secured a top 10 ranking with The Daily Meal, culminating with the number one spot for 2016. "Our team has worked hard to create the best dining program in the country, but we won't stop there," Coffey says. "We will continue to provide state-of-the-art facilities, cutting-edge menus and true authentic flavors. It's our mission to continue to provide a world-class dining program."
Sustainable Features
Sprout restaurant focuses entirely on vegan, vegetarian and organic fare.
Multiple compost pulpers reduce waste and trips to the dumpster by team members.
Priority goes to purchasing Energy Star equipment.
All dishware is made from bamboo and is biodegradable.
Building sensor monitors conserve energy by minimizing systems, such as HVAC and lights.
A centralized fry oil tank dumping system connects fryers, so all used oil travels directly from the fryer to the tank. That means no handling by team members.
Centralized CO2 safely delivers CO2 to 4 floors for the 13 restaurant locations.
The building received LEED certification.
The Architectural and Interior Design
Every aspect of the West Union project, including menus, design, finishes, equipment and furnishings, was vetted in three years of design work with Duke Dining, Celano Design Inc. and YuiDesign.
Outside, the building's terracotta fins functionally provide shading for the interior atrium. Vincent Celano explains that from a design standpoint, the fins add filigree that complements the surrounding gothic architecture. Also, that orange color matches the orange hues naturally occurring in the Duke stone.
To help bridge the aesthetic from the old gothic structure to a new glass structure, blackened steel was fabricated for use in the portals that connect the historic spaces to the central market. Some of these portals rise a full three stories tall. The process of blackening steel can be unpredictable and inconsistent, so careful attention was paid to get the look just right.
The large glass facade — the surface area extends nearly 6,000 square feet — on the south side does more than just fill West Union with natural light. It blurs the line between outside and inside, so those enjoying a meal can still feel connected to campus.
Above, a nearly 20-foot glass skylight spans between the existing walls of the Cambridge Inn, Great Hall and the Market core. The skylight and "street" below create a bright, day-lit environment that feels like a bustling, outdoor market.
When visitors look around they see more wide-open spaces than walls. The majority of the public space is designed as an atrium, with high ceilings and open sight lines. In some places, one can stand on one side of the building and see all the way through to the other.
The gargoyles in the The Devil's Krafhouse were removed from the building during renovations, then returned and incorporated in the updated design.
Facts of Note
Opened: August 2016
About Duke: Enrollment: 14,950 undergraduate and graduate students; 59 restaurants and cafes on campus, including the West Union; East Union Marketplace, a traditional all-you-care-to-eat residential dining facility for first-year students, all of whom must have a dining plan. 17 restaurants deliver food to residence halls; 7 food trucks come to campus.
Scope of Project: Total renovation of entire West Union building, including all restaurants and a kitchen for storage and production. The state-of-the art facility houses 13 restaurants; of these 12 are operated by local Durham restaurateurs and one (Au Bon Pain) is a national brand. West Campus includes academic buildings and apartment buildings for upper classpersons.
Size: 113,000 sq. ft.
Dining Seats: 995
Average Check: $10
Total Annual Sales: $11 million
Daily Transactions/Covers: 8,000+ on peak days
Hours: Building, 24/7; Dining, 7 a.m. until midnight
Menu Specialties: Ground Level: The Devil's Krafthouse with local craft beers and house-made Italian sausage and bratwurst; and Au Bon Pain with signature sandwiches and specialty salads made fresh to order. Plaza Level, in Great Hall: JB's Roasts & Chops with carved steak and cheesy twice-baked potato and wood-fired paella mixta; and The Skillet Southern Cookery with pulled smoked pork and Southern cookery sides. Plaza Level, in Cambridge Inn: Gyotaku with sushi bento, Gyotaku special roll and a full sushi bar; and Ginger + Soy with a full ramen/noodle bar, to-order wok station, dim sum, poke bowl and Asian buns and dumplings. Plaza Level, in the Core, on the northern side: Sprout with vegetarian and vegan selections such as fattouch salad and spinach lasagna; Tandoor with Indian cuisine such as tandoori naan and chicken tandoori; The Farmstead Garden Market with farm-to-fork sustainability featuring local ingredients in dishes such as slow-cooked North Carolina brisket with North Carolina cheddar mac. Plaza Level in the Core, on the southern side, Il Forno, an Italian kitchen featuring hand-crafted, wood-fired pizzas with dough made in-house daily and create-your-own pasta dishes with in-house, daily-made pasta. Also on the Plaza Level in the East Wing, Café, a bakery and coffee spot featuring house-made gelato, nitrogen cream and savory and sweet crepes. On Level 2: The Chef's Kitchen, a dining, teaching and learning venue also serving as a pop-up restaurant offering trendy fare. On the Mezzanine (top level), The Commons Dining Room/Commons Steakhouse featuring an upscale, sit-down, rooftop dining experience with 1,600-degree F broiled dry-aged porterhouse and classic lobster mac and cheese.
Staff in West Union: 150
Total Project Cost, Including Dining: $150 million
Equipment Investment: $5 million
Key Players
Owner: Duke University, Durham, N.C.
Vice President for Student Affairs: Dr. Larry Moneta
Associate Vice President Student Affairs/Housing, Dining and Residence Life: Rick Johnson
Assistant Vice President for Student Affairs: Chris Robey
Executive Director for Duke Dining: Robert Coffey
Architect: Grimshaw, New York; David Cook, B. Arch, MSAAD, AIA, LEED AP, associate and registered architect USA; Brooke Gasaway
Interior Design: Celano Design Inc., New York; Vincent Celano, founder and principal
Foodservice Design Consultants: YuiDesign Inc., Takoma Park, Md.; Jimi Yui, founding principal; Ellen Yui, principal; and Todd Jackson, senior associate
Equipment Dealer: Baring Industries, Fort Lauderdale, Fla.
General Contractor: Skanska USA Durham operations
Meet the Players
Vincent CelanoVincent Celano, founder and principal of Celano Design Studio. Born in Toronto, Canada, and raised in Brooklyn, N.Y., Celano launched Celano Design Studio in 2006. He has collaborated his hospitality design and architecture with brands including Centurion Restaurant Group, Grove Bay Hospitality and Fenwick Hospitality. His professional motto is "Do not fall in love with the idea, fall in love with the process."

Robert CoffeyRobert Coffey, executive director for Duke Dining. Before joining Duke Dining, Coffey started his foodservice career owning a restaurant in Lynchburg, Va., In addition to Duke University, his college dining management career with private and public universities includes the University of South Carolina, Virginia Tech, Greensboro College, University of North Carolina at Greensboro, and Longwood University.
Rick JohnsonRick Johnson, associate vice president student affairs/housing, dining and residence life. Before joining Duke, Johnson served as director of housing and dining services at Virginia Tech, where he oversaw construction and renovation of multiple residential and dining facilities on campus.
Jimi YuiJimi Yui, FCSI, founding principal, YuiDesign Inc. Yui's career spans 36 years in foodservice and hospitality design, consulting and management. He received a James Beard Award for the SONY Club in New York City. The world-renowned commercial kitchen designer's projects include: multiple locations for Morimoto; Del Posto; Eataly; Lincoln at Lincoln Center in NYC; multiple locations of Nobu; L'Atelier; Tak Room and Bouchon. Yui Design's tagline is "Putting Ideas on the Table."