A U-shaped tasting bar, a patio with a retractable roof, a fireplace on the patio and an island prep space in the restaurant's organized, efficient kitchen are among the elements first introduced at this location.
Cooper's Hawk Winery & Restaurant, the inspiration of food and wine enthusiasts Tim and Dana McEnery, was introduced to Orland Park, Ill., in 2005. One of the first Illinois operations to house a winery and restaurant in a single location, the concept grew in popularity. Just short of two years ago the owners selected Tim's hometown of Oak Lawn, near the first location in Orland Park, to introduce a restaurant with unique design features, including a U-shaped tasting bar, a patio with a retractable roof, a fireplace on the patio and an island prep space in the kitchen. The event marked the opening of the company's 19th location.
Today, the company operates 21 restaurants in Illinois, Florida, Indiana, Missouri, Ohio and Wisconsin and has an ambitious plan to open 5 a year over the next 5 years. The expansive menu pairs with wines produced exclusively at the central Cooper's Hawk wine production facility in Countryside, Ill.
"This brand is redefining casual dining with a great culinary program and a focus on handcrafted wine," says John Inserra, president and chief operating officer, who joined the company in September 2015. "We are giving guests a reason to come back over and again by giving them multiple experiences in one location. In today's society, people are looking to be engaged and participate. Though the concept is now located in affluent suburban locations that meet specific criteria for density and household income demographics, it may eventually make its way into urban areas."
Guests first start their visit by experiencing wine tasting at the center wine bar in the retail area. The wine tasting bar's shape encourages social interaction. Photograph courtesy of Gregory Pierce Photography, This email address is being protected from spambots. You need JavaScript enabled to view it.Cooper's Hawk staff members offer guests opportunities to engage in unique dining experiences by suggesting how to pair menu items with wines. In the tasting room, novices and aficionados can sample and learn about wines, and a wine club encourages guests to become more involved in wine selection and education. Guests can also dine in the private barrel-aging room.
The Oak Lawn location's 10,820-square-foot footprint features a 325-seat dining area, 2 private event spaces and a Napa Valley-style tasting room and artisanal retail space that greets guests at the building's entry, encouraging them to sample wines and discuss selections with knowledgeable staff before dining or purchasing bottles.
The full-service bar offers Cooper's Hawk wines from bottles and on tap (which prevents oxidation) as well as wines poured directly from barrels. The beverage menu also includes an array of liquor and beer.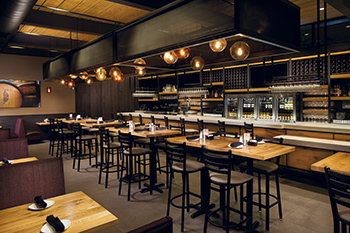 By locating numerous tables at bar height in the center of the bar, designers allowed for the flexibility of various-sized groups and socializing in a casual environment. A center ceiling element contains this area as a focal point and prevents the center tables from becoming overwhelming to the eye. Photograph courtesy of Gregory Pierce Photography, This email address is being protected from spambots. You need JavaScript enabled to view it."The overall exterior architectural design of the building is a nod to the wineries in the West Coast regions," says Shannon Sterne, AIA, project design architect at Aria Group Architects. "Our mission was to create an iconic and unique design of a flagship store that reflected the quality of the food, wine and service. What makes this Cooper's Hawk unique is the simplified, honest approach to using the building's structure as an element of design that exposes the structural beams and trusses."
The natural use of four of Tim McEnery's favorite materials — wood, concrete, metal and glass — as the exposed structural elements as well as the decorative features is what Sterne says makes this Cooper's Hawk unique. Throughout the restaurant, the materials bring forth a Western winery-inspired aesthetic. "All of the architectural and interior finishes combined give this building its own identity but also become a new model to follow for future stores in terms of elevating the overall customer experience," she says.
The building layout focuses views to the exterior's natural areas and water feature and the tall, concrete, finished, stand-alone fireplace sitting at the center end of the patio.
"A pitched, metal, standing-seam roof was used over the dining areas," Sterne says. "A rhythmic pattern of metal columns and full-height glass storefront windows create a more modern look along the retail and the bar areas. The exterior kitchen walls were finished with a concrete plaster finish and a metal screening, which provided a backdrop for signage."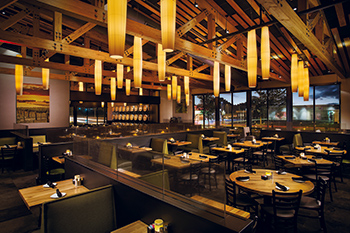 Long, suspended fabric pendants, which reflect light to the warm-toned wood trusses and ceiling finish, create a warm and inviting atmosphere for the dining room. The seating throughout is simple and neutral so as not to take away from the prominent ceiling design feature. Photograph courtesy of Gregory Pierce Photography, This email address is being protected from spambots. You need JavaScript enabled to view it.Blending exterior materials into a cohesive design challenged the designers. "In the interior, structural wood trusses become the sculptural ceiling element in the dining room," Joe Vajda, AIA, LEED AP BD+C LL, principal of Aria Group Architects, explains. "Because the trusses were needed for the structure, this finished element had to be installed early in the project. Keeping them protected from damage throughout the rest of construction as well as the winter weather was a unique challenge. A protective covering and a watchful general contractor made it happen."
Each of Cooper's Hawk's three primary customer spaces — the dining room, full-service bar and its dining space, and the tasting bar and retail area — has a core design element. The dining room features tall ceilings with exposed structural wood trusses and suspended linear decorative fixtures. "The challenge was to have an open structural ceiling and keep it clean of the utilities that needed to get across the space," Vajda says. "We utilized soffiting around the perimeter to run the utilities above ground as well as running piping underground before the slab pour."
In the bar room, a metal and wood structure behind the bar provides wine storage as well as creates a strong visual backdrop. Custom-fabricated metal ring fixtures suspended over the center of the bar impart artisanal craftsmanship to the restaurant. "The challenge was keeping custom lighting costs within budget," Sterne says. "Over the central group of bar-height tables, we positioned a cluster of off-the-shelf pendants contained within an oversized metal framework for a custom effect but with stock components."
In the wine tasting and retail space, a central U-shaped tasting bar creates heightened energy and encourages social interaction. It becomes the focus in order to maximize the amount of linear feet of counter space for wine tastings. "The challenge was maintaining circulation in the balance of the restaurant while keeping this a strong focal element," Vajda says.
The Cooper's Hawk culinary team serves a seasonally inspired menu with unique takes on classic dishes that incorporate peak-of-season ingredients and innovative preparations. Each dish is created in a scratch kitchen and paired with a Cooper's Hawk wine. Highlights include award-winning Asian pork belly tostadas, pistachio-crusted grouper, red wine–braised short ribs, gnocchi carbonara and ooey gooey butter cake.
The Culinary Action and Production
Refrigerated rails hold ingredients so staff members can work efficiently. Photography by Ron GouldFor viewing culinary action, guests can peer through a glass wall and watch as staff prepare the expansive menu. "This gives the dining room an energy level that it otherwise wouldn't have if the kitchen was closed off," says Inserra. "It also enhances the fact that it is a from-scratch kitchen operation."
"For the kitchen design, because Oak Lawn was new construction, we could build the space around the kitchen and incorporate new design aspects requested by Rob Hartley, director of culinary operations," says Ann H. Smith, CFSP, senior designer/project manager, TriMark SS Kemp. "For example, this location includes a centrally located island prep table and compartmented cooler storage. The collaboration process involved weekly conference calls among the owner, architect and engineers that allowed everyone to communicate, coordinate and incorporate details and revisions to the plans, equipment specifications and utilities throughout the design process to produce a cohesive package."
Deliveries arrive in the southwest rear of the kitchen, adjacent to the office. Staff place menu ingredients in walk-in coolers designated for either meat or produce, a walk-in beer/wine cooler, a walk-in freezer or dry storage, which are all situated along the west rear wall to allow for efficient delivery and flow of ingredients. "In addition to the care for ingredients, a major focus is on serving the best quality wine," Smith says. "One of our greatest challenges is maintaining proper wine temperatures. Red wines need to be served at a higher temperature than white wines. We include thermostats with the wine coolers so staff can adjust the temperature in each cooler individually."
An island prep space with worktables, drop-in food wells and a recipe monitor sits directly east of the coolers and storage. "This is the first Cooper's Hawk kitchen with an island prep table in the back of the house," says Matt McMillin, vice president of culinary and beverage innovations. "We appreciate having this open communal concept where chefs face each other and can interact as they cut vegetables and prepare other ingredients. This is a great improvement over chefs standing at long linear tables and looking at a wall."
The hot cook line divides into pantry, fry, griddle, broiler and pasta stations. Photography by Ron GouldThis worktable, along with all the kitchen's equipment, allows culinary staff to produce what McMillin says is a 20-60-20 menu. Twenty percent of the menu consists of items he calls "approachable." This includes burgers, house-made meatballs, filet mignon, chicken potstickers, Dana's parmesan-crusted chicken and Ellie's chicken piccata. (Several menu items, including the last two, are named after Tim's family members.) Sixty percent of the menu consists of "spins on classic dishes," such as chicken chorizo flatbread; churrasco grilled steak with chimichurri-rubbed skirt steak and cilantro-lime aioli; gnocchi with roasted butternut squash; and Betty's potatoes. And the remaining 20 percent of the menu features "more cutting-edge" dishes such as Asian pork belly tostadas; a maple, mustard and pretzel-crusted boneless pork chop; and a knife-and-fork pork belly BLT with applewood-smoked bacon, fried egg, arugula and roasted garlic aioli served on an English muffin.
In the cold prep area, the culinary staff added a food processor to support them with cutting vegetables and shredding cabbage for slaw. "This saves us a ton of knife work," McMillin says. A vegetable dicer and slicer also contribute to labor efficiency. Staff use two mixers to combine ingredients for baked goods and prep.
Hot Prep Efficiencies
For hot-food prep, staff use a hot box to hold soups, mashed potatoes and seared tenderloin for plate-up during events. The double-stacked oven bakes flatbreads, pastries, banana bread, key lime and other pies, cookies, salty crème brûlée and other desserts. Staff also use the oven to braise vegetables. A tilt skillet allows staff to prepare from-scratch soups, sear short ribs and whip up large batches of specialty sauces.
Also in this section of the kitchen, staff use a six-burner range to prepare hot sauces such as garlic cream, marinara, tomato and other varieties, making reductions and par-cooking risotto in a stainless steel rondeau. Staff also use convection ovens below the range to braise short ribs.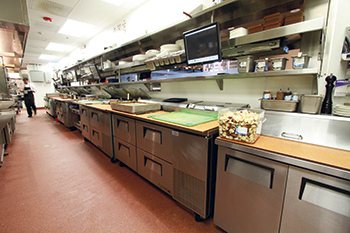 Undercounter refrigeration and hot holding drawers contribute to the operation's efficiency. Photography by Ron GouldOn the front expo line, upright and undercounter refrigerators hold ingredients so culinary staff have continuous easy access during production. At one end, the pantry station staff prepare salads and desserts. A small freezer holds ice cream in this area, and staff can use a dipper well when portioning the frozen treat.
Also in the pantry area, a high-speed microwave-
convection oven heats flatbreads in slightly more than one minute. This oven also reheats appetizers, cookies and desserts. "We use it for research and development," McMillin says.
At the fry and griddle station, a small freezer contains chicken tenders, egg rolls, and French fries cooked in the three-fryer bank. Staff also use the fryers to prepare calamari and a Mexican drunken shrimp appetizer. At the griddle, staff prepare prime sirloin steak, burgers and sandwiches. "During the last two years, in the new prototypes we've added a griddle in the sauté station, and we're adding them when we retrofit the older restaurants," McMillin says. "This allows us to cook more sautéed items, such as parmesan chicken, at one time."
At the pasta station, staff have access to all the ingredients so they can prepare the many pasta dishes quickly and efficiently. Photography by Ron Gould.A double-stacked broiler and six-burner range sit adjacent to the griddle. Here, staff prepare steaks, a trio of medallions and other steak dishes, chicken, grouper, salmon, pork chops and burgers. At the broiler, staff also blacken tomatoes, roast peppers, char corn and grill broccoli. An overhead broiler melts cheese for French onion soup.
A nearby pasta maker allows staff to make pasta dishes such as gnocchi carbonara, chicken linguini reggiano and spinach and cheese cannelloni with shrimp. On the three six-burner ranges staff sauté chicken items and specialty fish. "We use the adjacent griddle for breading chicken more consistently than in the sauté pan," McMillin says. Chefs at both the broiler and sauté stations prepare a horseradish-coated salmon.
The expediter stands in the middle of the line on the outside nearest to the customers.
A service line toward the dining room contains beverage equipment, drop-in hot wells for holding rice and sauces, and warmers for holding rice and mashed potatoes.
The placement of the stations allows culinary staff to work as experts in assigned stations, but over time they learn to work at multiple stations so they can be available to support stations when necessary. "We cross-train so team members can be available to work where they are most needed," McMillin says.
Technology also contributes to efficiency. "For example, when we do research and development on dishes, we create a dish and know exactly how long it takes to produce it," McMillin says. "This information is programmed into our computer system, and algorithms begin to run to determine the longest cooking item and the slowest. The intention is that everything comes up at one time. Information transfers to culinary staff on the line via tablet computers. We'll transition to using monitors and electronic versions of all recipes."
A double-stacked oven bakes flatbreads, pastries, banana bread, pies, cookies and other desserts. Photography by Ron Gould.A glass wall with barrels at the bottom rising about four feet separate the service station from the dining room. "We're a very high-volume restaurant, and the wall blocks some of the noise but allows guests to see and feel some of the action in the kitchen," McMillin says.
The dishwashing room with a conveyor-type dishmachine and clean and dirty dishtables, sits off to the side of the kitchen space closest to the island prep table. "Dirty dishes come in and never have to cross any ingredient paths," McMillin says.
Keeping the equipment clean and in good working order is a critical part of McMillin's organization. "Managers must insist that equipment is taken care of well," he says. "It's hard sometimes to do this, but we know that if we don't we'll be in serious trouble if a piece of equipment goes down."
Cooper's Hawk restaurants feature LED lighting and low-flow flush valves to minimize energy and water usage. Much of what was learned at Oak Lawn will be applied to applying for LEED certification in the Florida facilities.
"We will continue to develop a culture that emphasizes a great experience and select technology and equipment that enhances the relationship between the staff and guests," Inserra says. "We continue to commit to developing efficient flow from receiving to prep to execution. The whole process should be seamless to our guests. Each dish should feel as if it were customized for a great experience." FE&S
Winery Floorplan
Cooper's Hawk Winery Equipment Key
1. Dry storage shelving
1a. Overshelf
1b. Meat cooler shelving
1c. Produce cooler shelving
1d. Freezer shelving
1e. Beer cooler shelving
1f. Wall shelf
1g. Dish shelving
1h. Pass-through shelf
1i. Slant-rack shelf
2. Water filter assembly
3. Ice bin
3a. Ingredient bin
3b. Mobile ice bin
3c. Drop-in ice bin
3d. Pass-through ice bin
4. Ice cuber
5. Floor trough
6. Corner guard
6a. Endcap
7. Soda system
7a. Bag-in-box system
8. Fire pull
9. Mop sink w/faucet
9a. Hand sink
9b. Two-compartment sink
9c. Drop-in sink
9d. Three-compartment sink
9e. Underbar hand sink unit
9f. Three-compartment underbar sink units
10. Wall flashing
11. Mop/broom holder
12. Nitrogen tank
12a. CO2 tank
13. Walk-in cooler
13a. Walk-in cooler
13b. Walk-in freezer
13c. Walk-in beer/wine cooler
13d. Reach-in refrigerator, one-sec.
13e. Refrigerated sandwich unit
13f. Worktop freezer
13g. Refrigerated equipment stand
13h. Refrigerated pizza table
13i. Reach-in undercounter refrigerator
13j. Bottle cooler
13k. Refrigerated bakery merchandiser
13l. Standard ice chest w/cold plate
14. Bun pan rack
14a. Dunnage rack
14b. Keg rack
14c. Coat rack
14d. Pot rack
14e. Utensil rack
14f. Glass rack slides
15. Security cage for chemicals
16. Island worktable
16a. Worktable
16b. Worktable w/open base
16c. Cabinet base worktable
16d. Soiled dishtable w/sink
16e. Clean dishtable
17. Hot food drop-in wells w/drain manifest
17a. Dipper wells
17b. Drop-in hot well
18. Heat lamp
19. Recipe monitor
20. Tilting skillet
21. Vegetable slicer
22. Food processor
23. Slicer
24. Trash container
25. Ice cream dipping cabinet
25a. Mobile heated cabinet
25b. Underbar cabinet
25c. Underbar drain board/glass storage
25d. Chemical storage cabinet
25e. Three-door refrigerated back bar cabinet
25f. Three-door ambient back bar cabinet
25g. Two-door refrigerated back bar cabinet
25h. Four-door refrigerated back bar cabinet
25i. Wine dispensing cabinet
25j. Wine dispensing tower
26. Mixer (planetary)
27. Pot-filler faucet
27a. Glass-filler faucet
27b. Single-mount faucet
27c. Prerinse faucet
27d. Faucet
28. Six-burner range
28a. Six-burner range w/convection oven
28b. Six-burner modular range
29. Boilerless steamer w/water filter
30. Convection oven
30a. Microwave convection oven
30b. Microwave oven
31. Hood system controls
31a. Prep exhaust hood
31b. Main exhaust hood
31c. Condensate hood
32. Utility cart
33. Fryer (pump)
34. Countertop griddle
35. Deck broiler
35a. Overhead broiler
36. Pasta cooker
37. Display light
38. Hot-food serving counter
38a. Service counter
39. Soda dispenser
39a. Iced tea dispenser
39b. Tea tower beer dispenser
40. Iced tea maker
40a. Espresso machine
40b. Coffee maker
41. Ticket rail
42. Built-in warming drawer
43. Coffee grinder
44. Half drop-in cold food pan
44a. Drain pan
45. Rack dolly
46. Conveyor-type dishwasher
46a. Glass washer
46b. Glass rinser w/drain pan
47. Booster heater
48. POS
49. Underbar bottle step display unit
50. Modular bar system
50a. Drain rail
51. Soda gun holder
52. Underbar drain board unit
53. Underbar blender station
Facts of Note
Headquarters: Countryside, Ill.
Units: 20 company-owned restaurants; no franchises
Oak Lawn Opened: May 2015
Scope of Project: New-build, free-standing building; modern-casual restaurant includes interior and exterior; a Napa-style tasting room and artisanal retail market; a full-service bar offering wines from Cooper's Hawk Winery in bottles and on tap (which prevents oxidation) as well as barrel tastings (wines poured directly from the barrel)
Size: 10,820 sq. ft., including a 2,200-sq.-ft. dining area; a 900-sq.-ft. Napa Valley-style tasting room and retail space; and 2,500-sq.-ft. private event spaces. The full-service bar occupies 1,050 sq. ft.
Seats: 325
Check Average: $30
Total Annual Sales, 2014: $140 million system-wide
Hours: Tasting Room and Restaurant, lunch and dinner, Monday through Thursday from 11 a.m. to 9:30 p.m.; Friday and Saturday from 11 a.m. to 10:30 p.m.; and Sunday from 11 a.m. to 9 p.m. Bar, Monday through Thursday from 11 a.m. to 11:30 p.m.; Friday and Saturday from 11 a.m. to 12 a.m.; Sunday from 11 a.m. to 11 p.m.
Menu Specialties: A seasonally inspired menu with creative interpretations of classic dishes, incorporating peak-of-season ingredients and innovative preparations. American menu intertwined with Latin, Asian and Italian influences. Each scratch-prepared dish pairs with a Cooper's Hawk wine. Menu highlights include steaks, fish, Asian pork belly tostadas, pistachio-crusted grouper, red wine–braised short ribs, gnocchi carbonara and ooey gooey butter cake. Gluten-free menu items also available.
Staff: 3,000+ system-wide; 150 at Oak Lawn
Total Project Cost: $4.379 million (build only, not including design, equipment and other elements)
Equipment investment: $511,000
Website: www.coopershawkwinery.com
Key Players
Owner and CEO: Tim McEnery
President and COO: John Inserra
Senior Vice President of Development: Jo-El Quinlan
Vice President of Culinary and Beverage Innovations: Matt McMillin
Director of Culinary Operations: Rob Hartley
Vice President of Winery Operations: Ben Hummer
Winemaker: Rob Warren
Director of Purchasing: Bob Fitzgerald
Director of Construction: Walter Fisher
Architect and Interior Design: Aria Group Architects Inc., Oak Park, Il.; Joe Vajda, AIA, LEED AP, BD+C LL, principal; Shannon Sterne, AIA, LEED AP BD+C, project design architect; Dan Bernatek, AIA, project manager; Ilias Saoukbaev, AIA, project coordinator
Kitchen Design: Trimark SS Kemp, Cleveland; Ann H. Smith, CFSP, senior designer/project manager; Kristin Salay, designer; Heather Boden, manager of contract services, Columbus
Consultants (Structural): Hart, Gaugler & Associates,
Dallas, Texas
Consultants (MEP): Klaucens & Associates, Northbrook, Il.
Equipment Dealer: ADE, Addison, Il.
Construction: Englewood Construction, Lemont, Il.
More about The Players
John Inserra, president and COO, Cooper's Hawk Winery & Restaurants. Throughout his career, Inserra has held senior leadership positions in upscale hospitality brand corporations including the Ritz-Carlton Hotel Company and Kimpton Hotel and Restaurant Group. Prior to joining Cooper's Hawk he was the chief operating officer of The ONE Group, leading the international restaurant brand STK.
Ben Hummer, vice president of winery operations, Cooper's Hawk Winery & Restaurants. For the past decade Hummer has worked in nearly every facet of the wine industry. Before joining Cooper's Hawk he was vice president of operations and winemaking at Precept Wine in Walla Walla, Wash.
Tim McEnery, founder and CEO, Cooper's Hawk Winery & Restaurants. An industry veteran who started as a dishwasher at the age of 11, McEnery held positions with industry titan Aramak and Lynfred Winery before launching Cooper's Hawk at the age of 29. A decade later, Cooper's Hawk has grown to 20 restaurants with locations throughout the Midwest and Southeast and an award-winning winery.
Matt McMillin, vice president of culinary and beverage innovation, Cooper's Hawk Winery & Restaurants. McMillin is responsible for the continued elevation and innovation of food and beverage. McMillin's diverse restaurant industry background includes working with Chicago's Lettuce Entertain You restaurant group for 15 years and with such fine French restaurants such as Carlos, Le Francais and Café Provencal.
Ann H. Smith, CFSP, is senior designer/project manager at TriMark SS Kemp. During her 30 years of experience in the foodservice industry, she developed a diverse portfolio of work with an emphasis on hotel and restaurant foodservice design.
Shannon Sterne, AIA LEED AP BD+C, project design architect, Aria Group Architects. Sterne directs and oversees the design for projects within the JV Studio, which include many national, multiunit clients and independent restaurateurs. She has led the design for several Cooper's Hawk Winery & Restaurant locations throughout the country as they continue to expand.
Joseph Vajda, AIA, LEED AP BD+C, principal, Aria Group Architects. As a principal, Vajda provides overall leadership to the firm on matters of construction technology and sustainability. In 2009, Vajda became a LEED-accredited professional; he has completed two LEED-certified gold projects in the firm.