An extensive restaurant renovation brings authentic Italian cuisine to this five-star, five-diamond resort.
Inspired by The Broadmoor property's environs and classic villas of Italy's Lake Como, Ristorante del Lago's dining room features convertible glass walls that showcase the breathtaking lake and mountain views. Diners at these tables see the main building on the property's east side. The patio tiles come from reclaimed materials brought in from historic Italian villas. Photos courtesy of The Broadmoor; photography by Chad ChisholmOn May 9, 1916, Spencer Penrose, a Philadelphia entrepreneur who had made his fortune in
mining, purchased a casino and hotel, along with the adjoining 400 acres, which became The Broadmoor. His dream was to turn the Pikes Peak region into the most interesting, multifaceted resort area that anyone could imagine.
If Penrose were alive today, 99 years later, he would most certainly applaud the vision of the current owner, Philip Anschutz and his 1,800-person team. The Broadmoor now occupies 3,000 acres, and the property features 779 rooms and suites, 3 championship golf courses, a spa and fitness center, a nationally recognized tennis program, 26 retail boutiques and 19 restaurants, cafés and lounges. The team maintains the resort's five-star rating and Forbes Travel Guide AAA five-diamond status while preserving the property's decades-old elegance, charm and anticipating and responding to contemporary guests' preferences.
Most recently, The Broadmoor ventured into an ambitious, $60 million expansion and renovation of Broadmoor West and several Broadmoor restaurants. One of many changes was the replacement of the Broadmoor West's Charles Court, a white-tablecloth, American-themed restaurant steeped in formal tradition, with a less formal, authentic Italian-themed restaurant, Ristorante del Lago. The project also transformed the adjacent West Lobby Bar into Bar del Lago.
In the dining room, rustic materials such as walnut, terra cotta, leather and richly textured fabrics serve as a counterpoint to sophisticated, modern elements in both the dining room decor and the display kitchen. Some design features, such as the patio tiles, are reclaimed materials brought in from historic Italian villas. Diners can see the exhibition kitchen shown here at the back of the photo. Photograph by Chad Chisholm"Ristorante del Lago and Bar del Lago offer our guests an additional dining choice that delves into the various regions of Italy while adding diversity to our food and beverage program," says C.W. Craig Reed, director of food and beverage. "Ristorante del Lago translates to mean 'restaurant on the lake' to reflect its stunning location overlooking our beautiful Cheyenne Lake with outstanding alfresco dining and views. In addition to our resort guests, we are also very fortunate to have a strong local following, so our presenting something new to them was very important."
Developing and Implementing the Concept
"In developing Ristorante del Lago and Bar del Lago, we asked Adam D. Tihany [founder and owner of Tihany Design] to create the feeling of a Lake Como villa, using reclaimed and authentic materials wherever possible — and he delivered," says Steve Bartolin, Broadmoor's chairman. "Even the tiles on the patio were reclaimed from a 130-year-old Tuscan villa."
Guests enter Ristorante del Lago and Bar del Lago from inside and outside Broadmoor West. "The restaurant conveys a warm environment with rustic materials such as exposed wood beams, custom walnut millwork, terra-cotta tile, custom leather banquettes and richly textured fabrics, which serve as a counterpoint to sophisticated, modern elements in both the dining room decor and in the display kitchen," Tihany says. Tihany also designed The Broadmoor's Summit restaurant, featured in FE&S in 2006.
The glass-enclosed private dining space affords a view of the 2,000-bottle wine room, and diners can also see the climate-controlled salumi and formaggi rooms. This room features a custom-designed walnut table and chairs, along with an antique rug. Photograph by Kevin SymsThe restaurant also displays chandeliers and pendants, glass-rondel entry doors, an indoor/outdoor fireplace, a glass-enclosed private dining room with a custom-designed walnut table and chairs and an antique rug, and a striking wine and liquor display that provides a dramatic entrance to the restaurant. An additional 2,000 bottles sit in a separate room.
In order to develop an authentic regional Italian menu, David Patterson, The Broadmoor's executive sous chef of restaurants, and Justin Miller, chef de cuisine, traveled to Italy for three weeks in early 2014 in search of authentic recipes and to observe service styles. The two chefs received hands-on education from noted cheesemakers, winemakers, salumieri and chefs from the Veneto, Piedmont, Tuscany and Emilia-Romagna regions. Ristorante del Lago's menu features many of these Italians' products.
"In response to Mr. Anschutz's request for an authentic Italian restaurant, we wanted our cuisine to represent traditional Italian food. We met families who grow products and run companies so we could understand not only the food quality but also the pride and heritage they bring to their businesses," Miller says. "We also visited restaurateurs to observe their style of preparation and layout of their facilities."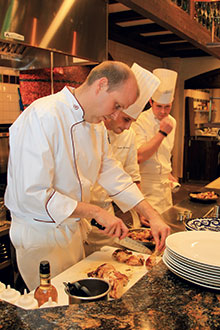 Dining guests watch as chefs prepare ingredients at the service counter in the exhibition kitchen. Photograph by Chad ChisholmWhen Patterson and Miller returned to Colorado Springs, they began the intense process of recipe testing and making sure their vision of the menu worked symbiotically with the equipment selection.
"Our menu reflects the same care that one would find in a family-run restaurant in Italy, with distinctive pastas made by hand, sauces and accompaniments showcasing our local produce, and a menu format that encourages slowing down to enjoy a meal with family and friends over a glass or two of wine,"
Patterson explains.
Ristorante del Lago's menu reflects the chefs' research. "We restrict menu items to five ingredients and serve in courses the way it is in Italy," Miller says. "We consider portion sizes and price points so guests will want to order three courses and dessert. The menu features antipasti misti, including verdure (which translates to "lush green vegetation"), formaggi (cheese) and salumi (salami); pizza; primi piatti (pasta); secondi piatti (main course); contorni (vegetables); and dolci (desserts).
Prep, the Exhibition Kitchen and Pasta Station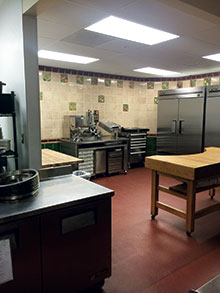 The renovation transformed this part of the kitchen into a pasta-making station. Photograph by Krista HeinickeFood deliveries arrive at the back dock of the back kitchen. Staff place the food in walk-in coolers and distribute ingredients to various stations twice a day for breakfast and lunch. For the most part, staff at each station prepare their own mise en place.
"My vision about kitchen in general is if staff members do their own prep for the stations, they have more pride in what they do and maintain prep a little better because there is a better connection between the mise en place and the finished products. Because there is a sense of ownership, staff are very careful not to let any of the ingredients go to waste," Miller says.
Bordering the northwest side of the dining room, an exhibition kitchen allows restaurant guests to watch the culinary staff in action. At the far end, diners can see wood shelving in the climate-controlled salumi and formaggi aging room holding wheels of Parmigiano-Reggiano cheese; other cheeses from Veneto and Alta Garfagnana in Tuscany; olive oil from the Chianti Classico region; balsamic vinegar from Modena; and locally sourced honey.
Adjacent to this room, an antipasti prep area contains cold wells with small stainless steel inserts holding ingredients, a counter with a hand sink and refrigeration below, an undercounter cooler and worktable. The focal point in this area is a manual-crank slicer, specially designed to commemorate the 50th anniversary of the Consorzio del Prosciutto di Parma.
Staff roll out dough on the sheeter. Designed particularly for prosciutto di Parma, a "heavy" ham that must be sliced as thinly as possible, the flywheel slicer allows a smooth and gradual mechanical feed of the carriage, which guarantees a slower rotation of the blade and prevents overheating that could damage the ham. Because the ham rests entirely on the base of the carriage rather than the blade, slices can be produced with accurate thinness.
"Setting up the coolers for the exhibition kitchen was tricky because there isn't a lot of room and we were limited to get ducting space," says Jon Bluhm, sales engineer/designer at United Restaurant Supply. "We had to put in a low-profile coil system and used the janitor's closet for compressors."
The hot cookline contains a wood-fired oven for pizzas, vegetables and breakfast frittatas. Thin-crust pizzas contain ingredients including Tuscan olive oil, sea salt, Italian-cured salami, tomato sauce, basil, mozzarella, house sausage, broccoli rabe, prosciutto di Parma, oregano and ricotta.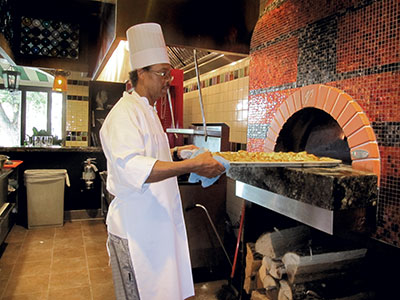 Cook Donovan Clark must test the oven temperature — which should reach 700 degrees F — before inserting potatoes."We use pecan, apple and cherry woods with no gas reinforcement," Miller says. "For the first few weeks we made fires everyday to find how to cook the perfect pizza. We were shooting for 750 degrees F to 800 degrees F, and we found we have better results at 700 degrees F. This has been a learning process. We found out how to balance giving the pies a light char but not too much because guests say they are overdone. Whatever we're making, the cooks have to be very attentive each time they put something in the oven to be sure it doesn't burn. This gets you out of the mentality to put food into an oven at 350 degrees F for 10 minutes and all will be fine."
Meeting code requirements for duct work and the exhaust hood presented design and installation challenges. "This was an existing building, so adding the wood-fired oven and another exhaust hood presented a puzzle of sorts to figure out the route to get the duct work to the outside. We had to do a little reconfiguring to meet the mechanical inspector's requirements for the amount of space in between the oven and zero-clearance hood," Bluhm says. "The general contractors had to do only a little reconfiguring and remove the drywall above the hood to meet the 18-inch clearance requirement."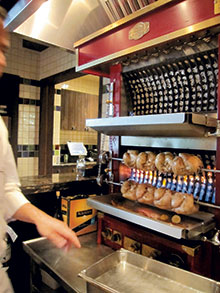 The red-enameled rotisserie oven, one of several showpieces in the exhibition kitchen, cooks poultry, meat and fish. Photography by Donna BossThe hot cookline also features a rotisserie for main course dishes, which executive chef Bertrand Bouquin selected based on his experience at Daniel Boulud's high-end restaurant Daniel in New York City. Made with steel and cast iron with an enamel finish and polished brass trim and fittings, the rotisserie's cooking hearths contain vertical and horizontal spits that hold chickens, pork, whole legs of lamb and lobster tails. Cages contain whole fish.
"What's great is poultry and meat drippings fall into a trough where we'll place prosciutto skins and roast delicious potatoes," Miller says.
At an adjacent range, staff occasionally heat sauces and prepare antipasti dishes and heat special request orders in the convection oven below.
On the front service line across from the hot line, "we reconfigured the hot and cold pickup area to add a middle mobile hot section that fills in between the cold and hot so staff has more capacity to hold hot food in times of need," Bluhm says. For the line itself, a few older-style counters built up on curbs were removed and replaced, while new doors were put on those remaining, with cabinetry underneath for heated plates.
For the primi portion of the menu, staff make several varieties of pasta at a designated station in the back kitchen. "We didn't want to buy dry pastas, so we make all of our pasta here," Miller says.
Staff place flour, eggs and water into a machine. After ingredients combine, staff place dough into a sheeter that extrudes sheets that meet exact specifications for thickness, soft leathery texture and shape, including spaghetti, ravioli, tortellini, penne, fettuccine or other shapes. The machine can also pipe filling into the pasta. "We're so fortunate to have this machine, which is used in retail settings," Miller says.
Culinary staff use steamers, a tilting braiser and ranges to prepare menu items for Ristorante del Lago. Photography by Krista HeinickeBecause there's such high demand for pasta — most guests order at least one pasta dish — staff freeze filled pasta to prevent the filling from sweating and making the dough soggy, and refrigerate non-filled pasta for a maximum of two to three days.
Just before service, staff cook the individually sized pasta portions à la minute in a 12-basket hot pasta cooker that holds boiling water on one side and ice water on the other for cooling down if needed.
Also in the back of the house, staff use 60-gallon and 30-gallon tilting kettles to make brodo (broth) and housemade pomodoro sauce for Ristorante del Lago. The kitchen, which also includes a French top that reaches 1,000 degrees F in the center and 700 degrees F on the sides in what Miller calls "the hottest station on Broadmoor property," is used to prepare dishes for the secondi course. A newly refurbished pastry station produces desserts for Ristorante del Lago and Play at the Broadmoor. Desserts for Ristorante del Lago are displayed on a trolley that staff bring to guests at their tables.
The dishwashing area remains the same as it has been for many years in the main kitchen. Clean dishes sit in storage outside of the dishroom while dirty dishes are staged in the dishwashing area.
At the adjacent Bar del Lago, a back bar contains blenders, bar guns, back bar coolers, drain boards and glass storage, as well as a glass washer, drop-in hand sink and beer dispenser. Staff show off tiramisu classico and torta limone di caprino — lemon bars with brown butter crust, goat cheese cream and pine nuts — on the trolleys.
Since the restaurant and bar's opening, guest counts have surpassed expectations. "As we approach our first full year in operation, we are thrilled with the response we have had on the quality of the design, authentic Italian culinary offerings and Broadmoor service," Reed says. Of course, he and the entire team anticipate buona fortuna in the coming years.
Facts of Note
Opened: May 2014
Scope of Project: Complete renovation of the bar, dining room, patio seating and exhibition kitchen in West Broadmoor
Size: 4,913 sq. ft. with the new entry addition, not including the main kitchen. This includes exhibition kitchen, 270 sq. ft., with oven; salumi and formaggi, 71 sq. ft./ wine room, 133 sq. ft.; private dining, 270 sq. ft.; main dining room, 2,334 sq. ft.; terrace dining, 1,250 sq. ft.; new entry, coat closet, maître d', vestibule, 585 sq. ft. The existing main kitchen serving RDL, Play, room service and more, 4,559 sq. ft.; Bar del Lago includes the bar interior, 945 sq. ft.; bar itself, 193 sq. ft.; exterior bar terrace, 1,292 sq. ft.
Seats: 148
Average Daily Transactions: 180 in the restaurant; 150 at the bar
Hours: Breakfast, 7 a.m. to 11 a.m.; dinner, 5:30 p.m. to 9 p.m.; Bar del Lago, 4 p.m. to midnight
Menu Specialties: Salads; cheese and salami for antipasti misti; pizza; main courses with poultry, fish and meat; housemade pasta; sides and desserts
Staff: 16, including 2 on antipasti, 1 on pizza, 1 on rotisserie, 2 on pasta, 1 on secundi, a chef, and 2 on pastries
Total Project Cost: $60 million, which includes Broadmoor West and its Ristorante del Lago, Bar del Lago, Play at the Broadmoor and Natural Epicurean, and nearby Golden Bee pub and La Taverne's Le Jardin
Equipment Investment: $329,000 for kitchen
Key Players
Owner: The Anschutz Corporation, Denver
Chairman: Steve Bartolin
President and CEO: Jack Damioli
Director of Food and Beverage: C.W. Craig Reed
Executive Chef: Bertrand Bouquin
Executive Sous Chef of Restaurants: David Patterson
Executive Pastry Chef: Adam W. Thomas
Chef de Cuisine, Ristorante del Lago and Play: Justin Miller
Ristorante del Lago Sous Chef: Angus McIntosh
Architect: CSN Architects, Colorado Springs, Colo.; John Goodloe, AIA; Terry McHale, Broadmoor; Jerry Phillips, AIA
Interior Design: Tihany Design, New York City; Adam D. Tihany
Equipment Dealer: United Restaurant Supply, LLC, Colorado Springs, Colo.; Roger Boyles, president; Jon Bluhm, sales engineer/designer; and Gene Medina, sales person of record
About the Players
Jon Bluhm, sales engineer/designer for United Restaurant Supply, LLC, has designed and specified commercial kitchens for 15 years in Colorado and surrounding states. In addition to many projects at the Broadmoor, Bluhm's other projects include Hacienda Colorado, MorningStar and other senior care facilities, and public schools in Denver, Boulder and Colorado Springs.
Bertrand Bouquin, executive chef, is only the fifth executive chef in The Broadmoor's history. He joined The Broadmoor's legendary team of chefs in 2005, overseeing the Summit and Penrose Room. Prior to his arrival, he served as executive chef at the Mobil five-star-rated Maisonette in Cincinnati. Bouquin trained under several world-famous chefs, including Alain Ducasse, Daniel Boulud and Jean-Pierre Bruneau.
Justin Miller, chef de cuisine at Ristorante del Lago and Play, a casual recreation area, joined the Broadmoor 15 years ago. Before his journey at The Broadmoor, Miller supervised the culinary and operational aspects of the Sheraton Hotel and the Fluted Mushroom in Pittsburgh.
David Patterson, executive sous chef at The Restaurants at The Broadmoor, joined the resort from the Adour Restaurant at The St. Regis in New York City. Previously, Patterson worked with Chef Bertrand Bouquin at the Maisonette in Cincinnati and at Hotel Hana Maui as executive chef. In the winter of 2007, he took a step back from the range at Hotel Hana Maui and pursued a lifelong dream to travel around the world.
C.W. Craig Reed, director of food and beverage, during his 24-year tenure as the head of The Broadmoor's vast array of food and beverage teams and programs, has overseen multiple culinary additions and renovations, including the reimagining of Broadmoor West, which houses the new Ristorante del Lago and Natural Epicurean, the Broadmoor's healthy, wholesome, organic and natural dining establishment.
Adam D. Tihany, founder and owner of Tihany Design, collaborated with celebrity chefs, creating signature restaurants for culinary pros such as Thomas Keller, Daniel Boulud, Jean-Georges Vongerichten, Charlie Palmer, Heston Blumenthal, Paul Bocuse and Wolfgang Puck. In addition to restaurants and hotels, Tihany has developed design concepts for the next wave of cruise ships for Holland America and Seabourn brands.