Page 1 of 3
Eastern European cuisine welcomes customers at a brasserie featuring a display cooking suite, an eclectic wine and cheese bar, and a grab-and-go skyway café that utilizes ventless cooking equipment.
A chef prepares a dish on the French top. The island suite's parts appear to be seamless. Photo courtesy of Premier Restaurant Equipment & DesignWhen the owners of the historic Soo Line building in downtown Minneapolis decided to convert office spaces into luxury rental apartments, they wanted the property to contain a fine dining restaurant that would attract tenants. The building's location was also ideal for drawing in neighborhood residents, businesspeople and visitors. To realize their vision for the restaurant, the owners approached Russell and Desta Klein, whose St. Paul restaurant Meritage had earned numerous accolades since its opening in 2007.
"We didn't want to operate another Meritage," Russell Klein says. "But the developer wanted us to be part of the building project. So he offered us a chance to develop and operate my dream kitchen, which was an offer we couldn't refuse. And Desta and I realized that, if we don't grow the company, some of our long-term employees might go elsewhere."
Following negotiations, the Kleins agreed to run a multifaceted operation featuring the 4,000-square-foot, 150-seat Brasserie Zentral, including a private dining room that seats 10; the Foreign Legion Wine & Cheese Bar, with 50 seats in the main dining area, plus a pair of private dining rooms that seat 45 people each; and the 1,000-square-foot, 25-seat Café Zentral on the skyway, which connects the Soo Line building to other downtown Minneapolis buildings. A 6,000-square-foot basement prep kitchen and storage area supports all operations. Also part of the Kleins' operations is a 500-square-foot retail store that sells wine and liquor.
When envisioning the restaurants' themes, Klein says he and his wife "wanted to avoid the smoke and mirrors found in many restaurants' molecular, modernist cooking today and find what is enjoyable about eating, which is to feel full and satisfied. And we wanted sophisticated, yet unstuffy places where people want to come regularly." The Kleins turned to Russell's Austrian-Hungarian and Jewish heritage for inspiration and direction and drew from their experiences exploring the cuisine and brasseries in those central European countries as well as in Eastern France, Belgium, Switzerland, Germany and Northern Italy. Also influencing the decision was Russell Klein's experience working for renowned New York chefs, including David Bouley at the Austrian-themed Danube, and the fact that Minneapolis has a larger German than Scandinavian population.
The name "Zentral," selected for the brasserie and skywalk café, is German for "central." Brasserie Zentral produces a menu with what Klein calls "culinary nostalgia" that includes continental European food, including everything from foie gras and corned veal tongue salad to house-made spaetzle.
Basement Storage and Prep
Prep for all three operations takes place in the basement. A utility rack hangs in front of the ovens and hot cooking equipment so staff can easily reach their utensils as needed. Photo courtesy of Premier Restaurant Equipment & DesignFood for all the restaurant operations arrives on a dock in the back of the building at the Fifth Street entrance. Staff use elevators or a staircase to bring food items down and place them in one of three walk-ins: one for produce, one for meat and the third for prep. Two reach-in freezers sit across from the walk-ins. These and a small undercounter unit upstairs are the only freezers in the operations.
"The ceiling height in the lower level was a little tight, so I specified a low-profile hood," says the project's kitchen designer, Brian D. Cepek, CFSP, of Premier Restaurant Equipment & Design. "This type of hood is appropriate because it is only 12 inches in the front and 24 inches in the back."
Because the menu contains a lot of meat, including game such as rabbit and venison, a designated butcher shop area allows staff to process the proteins and keep this function separate from other production tasks. "The heavy-duty counters were brought in in pieces," Cepek says. "A hose reel facilitates sanitary practices."
For production, staff use two stockpot stoves to make stocks and soups. "We originally included a kettle in our design, but I value-engineered it out," Klein says. "I'm happy with that decision. The candy stoves are a fraction of the cost and more versatile for what we do here."
Staff also use a fryer to blanch french fries and other items for private dining, and use two six-burner ranges for making sauces and soups, braising and performing prep work. A combi oven is the workhorse, which staff use to smoke meats, roast chicken stuffed with foie gras, braise pork cheeks and bake custard. "I use combis at Meritage and had worked with them before, so I am a huge fan because this gives us so much flexibility and control over quality," Klein says.
Staff use a double-stacked convection oven to bake pastry and bake bones for stocks; a deck oven bakes bread and pretzels.
A spacious, dedicated pastry and baking kitchen sits within the kitchen. The temperature-controlled room contains large windows so staff working here can see out and their colleagues can see in. This area contains a floor mixer, proofer, chocolate tempering machines and worktables. In addition, an ice cream machine allows staff to make this dessert from scratch. The ice machines also reside on this level, and staff transfer ice into containers and transport it to the brasserie, wine bar and café in carts.
The scullery, also on this level, includes a rack conveyor warewasher that handles the large volume of dishes and glasses the various operations generate. "A large landing area for soiled wares allows the staff to stay organized," Cepek says. "We put in a scrapping area upstairs so dishes can be partially cleaned and glasses emptied before they are put in tiered carts and glass rack dollies for transport to the basement. When they arrive, they are ready to go into the machine."
Staff transport food for the brasserie, wine bar and café through a dedicated elevator that offers access to the first and second floors. Staff use this same elevator to transport soiled dishes and glasses down from the main and second levels for washing.
Cooking Suite at Brasserie Zentral
Brasserie Zentral was inspired by classic Eastern European design and service. Natural tones, rich tufted seating, dark wood finishes and antique brass elements fill the space with a warm glow and timeless feel. The exhibition kitchen can be seen in the background. Photo courtesy of Premier Restaurant Equipment & DesignGuests enter Brasserie Zentral from a staircase connecting to a residential lobby or from the street, where they can see the restaurant's interior through floor-to-ceiling windows. Inside, the windows welcome in daylight. Seating lines the windows so guests can see the outside activity and be seen by passersby.
"The brasserie was inspired by classic Eastern European design and service," says the project's interior designer, Amanda Iverson of Shea Inc. "The environment is designed to feel like it was a part of the building when it was erected in 1915. Using natural tones, rich tufted seating, dark wood finishes and antique brass elements, the space is filled with a warm glow and timeless feel found in the best brasseries."
Taking advantage of the low ceiling, the designers created an intimate, residential scale space "that provides an instantly inviting and charming atmosphere," Iverson says. "The overall layout is meant to create a flawless flow of the chefs, servers and customers. The server stations with menus and utensils are just as important as the largest, most prominent features."
As charming as the low ceilings appear in the overall decor, they presented challenges for the architects and designers. "Because the building has a mixed housing and retail usage, the entrances have to strike a balance between historic criteria and retail needs," Iverson says. The street-level space, due to the construction above, was left with low ceilings and the challenge of providing restaurant infrastructure that would not disrupt housing above. In addition, the construction was phased for completion after residents had moved in, leaving strict parameters on schedule and space use.
he Brasserie Zentral bar displays an Old World clock and customized beer taps. Photograph courtesy of Shea, Inc., photography by Travis Anderson Photography"The solution to the challenge was to create false ceiling beams with coffers to grab space where we had height," Iverson says. "We kept all of our lighting pretty minimal so we didn't have a lot of clutter along the ceiling plane. We took advantage of any ceiling height, especially along the exterior, which helped bring in natural daylight and energy from the city streets." In addition to the ceiling height concerns, plumbing and mechanical systems further challenged the designers to produce a polished interior ambiance.
The focal point of the space, a lively, bright open kitchen, features an island suite and a counter for guests who want an up-close and personal dining experience that allows them to watch culinary staff. "It may be the first of its kind in the twin cities," Klein says. "I cooked on a suite at Danube in New York, and I'm a huge fan because it allows us so much versatility and we can maintain consistent quality. Here, we did about eight or nine drafts of the design, which we kept testing and eventually value-engineered so we could afford it."
"Significant benefits of a suite are the aesthetics, efficiencies and sanitation," says Cepek. "Though each piece of equipment is bolted together, there are no cracks and crevices, so it looks seamless and is easier to clean than equipment that is at different heights and depths. Also, there is a lot of work surface, which helps the team with efficiency and helps build camaraderie."
"Because the suite is visible, the culinary team must keep it clean," Klein says. The equipment also helps Klein attract staff members because they want to learn to cook on it. Klein's colleagues also stop by to watch the action and learn about the efficiencies.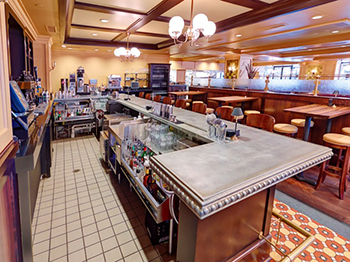 The Brasserie Zentral bar is visible from the restaurant but is a private area thanks to the space dividers and overhead lighting. The combination of colors, materials and lighting was designed to create a feeling of intimacy. Photo courtesy of Premier Restaurant Equipment & DesignOn one side of the suite, staff use French cooktops to prepare dishes with the pasta made nearby. At the adjacent fish station, staff use three French cooktops to prepare dishes such as paprika-cured Spanish mackerel, trout and Alaskan halibut. Klein worked with French cooktops in New York City. "I like them because they provide significantly more working space," he says. "In addition, the combination of hot and warm spots means we can move pans around rather than constantly adjusting a flame to get the right fire power. However, we do have to buy good cookware." Klein and/or his sous chef stand near the pasta and fish stations at the pass to expedite production.
At the other side of the station, at the grill and meat station, staff cook California sturgeon, pork cheeks and Austrian boiled beef shoulder with bone marrow. The hot apps station contains a fryer and flattop burner so staff can prepare foie gras and soups.
At the adjacent, labor-intensive schnitzel station "someone's always actively cooking here on the French tops," Klein says. Staff panfry the schnitzels in a small amount of oil. "The key is to constantly move the pan so oil moves over it and the bread is light rather than greasy."
In response to strict local plumbing codes, the suite required additional gas shutoffs. "Usually we'd have one master turnoff, but because the Minneapolis codes are so strict we had to add four more shutoffs to appease the local plumbing inspector," Cepek says.
In order to install the proper ventilation, Cepek again selected low-profile hoods in the upstairs kitchen. "There was so much ductwork and piping above the hoods that we ended up hanging them a little lower than we normally would have," he says.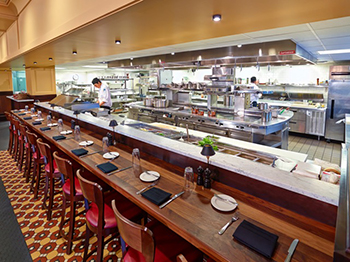 Customers who like the culinary activity sit directly in front of the cooking suite. Photo courtesy of Premier Restaurant Equipment & DesignOn the other side of the pass, staff prepare desserts and salads.
Throughout the space, ingredients sit in various refrigerators and a cold rail so staff have easy access while cooking.
When evaluating the entire operation, Klein says managing labor is by far his biggest challenge. "When we first opened, we had to figure out how many cooks we needed at the suite during busy times and slow times. It took some time to learn how to adjust setup, stations and scheduling. We continue to work at this. A display kitchen must be spotless and requires sufficient labor."