Page 1 of 2
By working with Culinary Institute of America-trained chefs to develop menus, the IU culinary staff give customers a new dining experience at nine microrestaurants in a unique campus environment.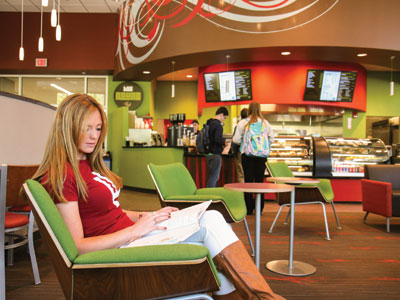 A renovated, 34,200-square-foot dining environment is enhancing the Indiana University–Bloomington (IUB) culture. Located in the center building of Forest Quadrangle in the southeast part of campus, the facility — The Restaurants at Woodland — is open to all students, faculty and staff, but primarily serves 4,500 students living in 4 large residence halls and 2 nearby apartment complexes. Unique to this beautifully landscaped campus, the facility features nine microrestaurants, a supporting kitchen, four dining rooms and two exterior terrace spaces. The LEED Silver–certified structure contains notable sustainable elements.
"We needed to offer more contemporary and expanded dining services on the southeast part of campus, so we were going to renovate the Read Residence Center building, which was serving 1,500 to 2,000 customers daily with traditional dining, a c-store and bistro," says Sandra Fowler, Indiana University's director of residential programs and services (RPS). "But given the difficulty, complexity and high cost to build onto that building, architects recommended building in the Forest Quadrangle, which had only a kitchen and dining area used exclusively for catering and training. We gutted the entire area and added on to include enough space for all the restaurants, dining areas and kitchen. In addition to adding new services to this part of campus, the new operation helps even out the traffic flow at the operations in the center of campus."
Deciding which concepts to bring in became a cooperative project among dining services, foodservice consultants and a student-led meal-planning committee. "Students gave input and did a lot of taste testing," says Fowler. "Through our research and informal inquiries, we determined that customers want authenticity and are willing to pay a little more for quality. Though many people want the more traditional burgers and fries, many are also interested in healthy, fresh food."
The result of all the planning is nine microrestaurants with food concept themes featuring Italian, Latin, global and American cuisines. The west side of Woodland features The Round, a full espresso bar with baked goods; The Club House, a breakfast grill and sandwich shop that becomes a deli at lunch; and Bloomingberry, which sells frozen yogurt and smoothies. The building's east side contains Mangia, featuring Italian cuisine; Romaine, a salad and soup concept; Fusion, a rotating international station; Caliente, old world Latin food; The Stone Grill, with burgers, chicken and fries; and A Cut Above, a chop shop. A dishwashing area sits in between the east and west sides, while the support kitchen is on the east side. The facility also contains four main seating areas and two outside terraces. The scalable nature of these spaces allows them to accommodate small and large functions, meetings and gatherings.
Interior Flow, Design Materials and Equipment Selection
From the moment customers enter The Restaurants at Woodland, they see a space with multiple concepts. Though each concept has its own unique appearance, they all feature specific elements that support the space's overall design.
"The microrestaurants are positioned to minimize the congestion when there is high-volume traffic," says Mona Milius, vice president, senior principal at Bakergroup, which provided foodservice design. "And for customers who want more grab-and-go items, coolers and ambient display cases are positioned at the restaurants and close to the cashiering area so they can find menu items they want and leave quickly."
In addition, customers can avoid long lines by ordering online and picking up pizzas at Mangia's ordering window. Customers can also place orders at A Cut Above. The positioning of the concepts on the east side allows them to stay open later than the restaurants on the west side.
"The material selection for the IUB Woodland dining project was a combination of durable yet engaging finishes that were appropriate to student life on campus," Milius says. "It was important to take into consideration the facility's location and LEED goals for the project, as well as consciously select materials that could be sourced regionally — within 500 miles — of the site. All of these factors had a large impact on finish selection as we proceeded to make decisions throughout the project."
The design gives a nod to natural materials, specifically limestone, visible throughout the main circulation space, dining locations, and accents throughout the servery and venues. "This approach allowed the remodel to bring in subtle echoes of continuity taken from other buildings located throughout campus," Milius says.
Vibrant colors, with a special emphasis on IU red, work in tandem with the stone and patterned terrazzo floor to unify the entire facility as customers travel from space to space. "One of the main goals was to create a unique identity for each of the nine microrestaurants while still maintaining a sense of cohesion with the adjacent dining and common areas," Milius says. Each microrestaurant stands out as a distinct restaurant within the larger servery zone due in large part to the finishes chosen, all of which took cues from the various menu offerings as well as concept development and visioning.
"This facility set the tone for new restaurant branding throughout the campus, making it important to give each microrestaurant its own individual flare and distinguishing elements that would be easily recognizable at multiple locations all over campus," Milius adds.
"We wanted to get away from the institutionalized-style operation, so we brought production in front of the customer as much as possible so they'll know we're preparing fresh food cooked to order," says Ancil Drake, associate director for production and procurement for RPS. "Throughout the facility, we selected equipment that is as versatile as possible so menu concepts can be flexible and change with customers' needs."
Design and Operational Efficiencies
Each of the microrestaurants allows staff to have the foods, equipment and supplies they need to provide service during a meal. "This keeps them close to the point of service, engaged with the customers and reduces the number of steps they need to take throughout the day," Milius says. For example, walk-in coolers and freezers sit adjacent to each restaurant so staff can conveniently access the foods in these storage areas. "The chefs and production staff can easily monitor the amount of food they are preparing and maintain fresh production throughout service, improving quality and reducing food waste," she adds. Dishwashers also sit at most concepts, along with refrigerated drawers and rails as needed.
Designers also built in another operational efficiency by positioning the dishroom within easy reach of dining, the servery and kitchen. "This way, it's convenient for staff to move dishes and equipment to the dishroom and for students to drop off their dishes," Milius says. In addition, staff use a designated pathway to get food and supplies from the kitchen to the microrestaurants without going through the customer circulation spaces.
Food and supplies arrive at the campus' centralized warehouse facility, where staff check orders for accuracy and quality. Other staff members deliver products to facilities throughout campus based on orders culinary staff submit through the ordering system. At each unit's dock, including The Restaurants at Woodland, staff again make sure deliveries match orders before transporting the items to their designated storage areas. "Some of the deliveries first go the lower-level's two walk-in coolers, two walk-in freezers and dry storage areas," says Drake. "We try to maintain separate inventories for the east and west restaurants, and we maintain separate areas for products used by the various restaurants."
Chefs at each restaurant requisition food and supplies from these storage areas, and staff from each restaurant transport what they need from storage areas to their specific prep and cooking areas.
"Woodland is such a large facility, and we're preparing mostly from scratch, so there's more refrigerator and freezer storage here than at the central warehouse," Drake says. "We're doing more from-scratch cooking here than at any other facilities. And, we're buying as much locally produced vegetables and meat as we can."